Araby Acres RV Resort is an age-qualified (55+) Encore Resort located in scenic Yuma, Arizona. There are 337 full hook-up sites at Araby Acres. Most of them are occupied by long term and seasonal residents in Park Models.
One thing we notice with the Covid Pandemic going on is a lot of properties are vacant and for sale. We heard a lot of units are owned by Canadians that couldn't make it across the border with the Covid protocols. It's a very clean and well-kept resort even though a lot of the park models are somewhat older.
This post contains affiliate links. As a participant in Amazon Associates and various affiliate programs, we are compensated when qualifying purchases are made through our referral links at no additional cost to you. Full Disclosure
We do all our trip planning with RV Life Trip Wizard. RV Trip Planning Made Simple! RV Life Trip Wizard is by far the best RV route planner we've found. Get your 7 day Free Trial

Location
Easy access to 32nd Street and Interstate 8 Araby Acres is in a great location to see Yuma and the surrounding areas.
Prices
Sites are $72.00/night or $61.29/night weekly rate during the peak season.
As a Thousand Trails Member with the Trails Collection add on you have access to this park for free.
Reservations
For Reservations Non-Thousand Trails Members go to: rvonthego.com or call 877-570-2267.
For Thousand Trails Members with Trails Collection add on go to: ThousandTrails.com or call 800-388-7788.
If you're not a member and would like to purchase a Camping Pass to get started, click here to save $100.
We heard seasonal/yearly rent of a space is a little over $2000 per year making it an economical option if you're in the need.
Our Review
Araby Acres is one of seven Encore Resorts in the Yuma area and from what we've seen is the nicest of them. We spent two separate stays at Araby Acres. The first was January 26-February 8, 2021 and the second was March 15-22, 2021.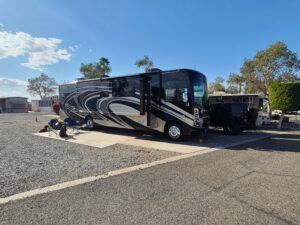 Our first site (#95) was a pull-thru site on the first row between Oleander Circle and Dove Drive. It was a nice site but road noise from 32nd Street with what sounded like cars drag racing at all hours was our biggest complaint.
We preferred the site we got on our second visit. Site 132 is a back-in site across from the Office, Gym, Laundry, and Pool area. The location is much quieter than the pull-through section.
The sites are gravel with a concrete patio pad. Each site has 20/30/50 amp sites and power, water, and sewer all worked well. One thing missing is a picnic table. No sites have them.
When we visit Yuma Araby Acres is our first choice!
Amenities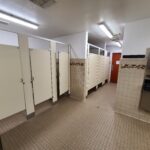 Araby Acres has most of the amenities you'd want from a campground. The staff is very friendly and helpful with any questions you may have.
The restrooms and showers are in good shape and were spotlessly clean when we were there.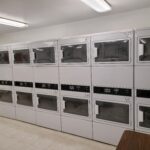 The laundry room is located in the restroom/shower building near the pool by the office. The cost to wash was $1.75 and the cost to dry was $1.75. You do need to purchase a card from the vending machine for $5. The card purchased then has a credit of $3 on it to use and add more money too. We've found that the card works at all the Arizona parks we've been to. But the card we purchased at a Thousand Trails Park in California didn't work here.
Dog Park
Our dogs loved running and playing in the dog park. The Dog Park at Araby Acres is a huge area at the back of the property. There is plenty of room for them to sniff around and stretch their legs while playing with other dogs.
The Office/Lodge was closed due to Covid during our stay. Upon arrival, our paperwork was located in a box outside the office. We filled out what was required and returned the paperwork to the drop box.
Pool/Spa
Araby Acres has two pools and two spas both are really nice and relaxing. They do have limits in place for a number of users at a time but we never saw too many people in them while we enjoyed them.
Phone and Internet Service
We use T-Mobile for our phone service. Service at Araby Acres was OK with 3 to 4 bars of 4G service.
Our Verizon MiFi received 2-3 bars of service and we were able to use our Fire Stick and stream Netflix with no problems.
You can receive mail at Araby Acres. They have a "Mail Shed" where mail is received and you can pick it up Monday thru Friday 2-4pm.
Sports, Recreation, and Playground Areas
There are plenty of recreational activities including Shuffleboard, Curling, Horseshoes, Billiards, and a Fitness Center. Being a 55+ Community there are no amenities for kids. There is a three-hour window when kids can use the pool. One thing we see at other parks that they don't have here is Pickleball.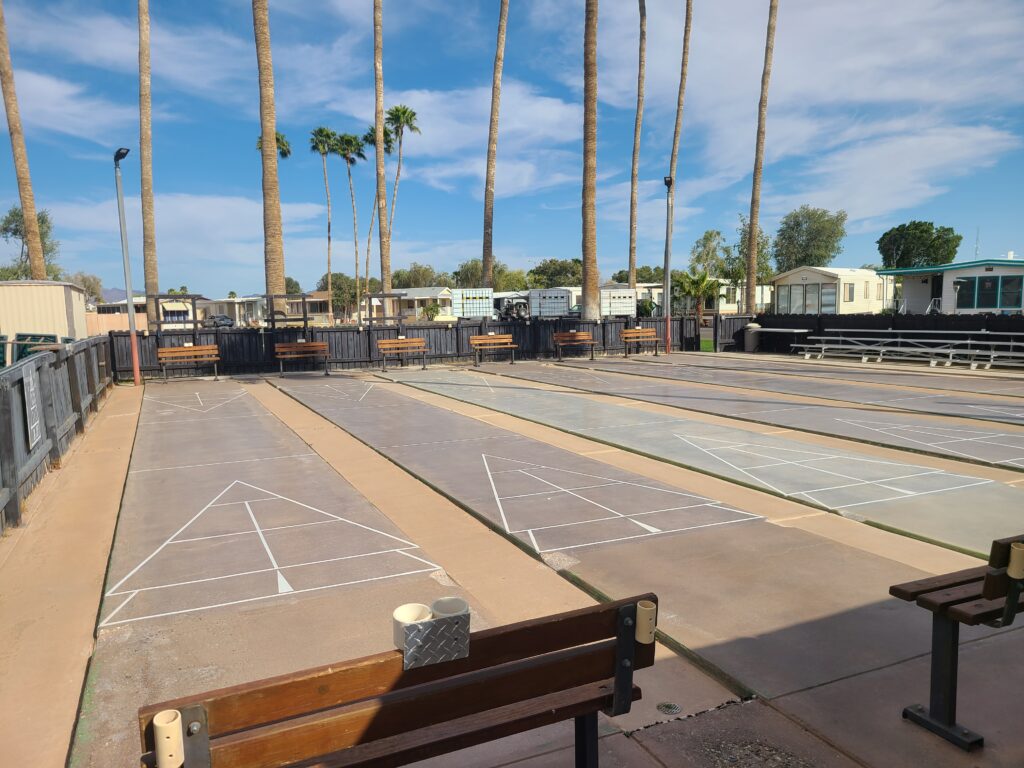 Things to see/do nearby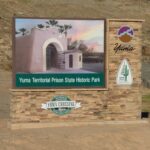 Los Algodones, Mexico – Molar City is home to the largest concentration of Dental Clinics in the world. With over 300 dental clinics tourists flock to Los Algodones for cheap dental care.
Yuma Territorial Prison – Yuma's #1 attraction, The Yuma Territorial Prison is a living museum of the Old West.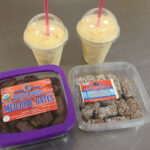 Martha's Gardens Date Farm – Our favorite place to get a Date Shake! If you haven't had a Date Shake you need to go here and try them out. They are amazing.
Yuma Marine Corps Air Station – Go and check out the aircraft flying in and out of the Air Station. F-35s, Harrier Jump Jets, V-22 Osprey, Apache, Blackhawk, and Sea Stallion Helicopters all fly out of this Marine Base.
Other Encore Parks in Yuma

Conclusion
When in Yuma, Araby Acres is one of the nicest RV Resorts in the area. If you're a Thousand Trails Member it is by far the nicest of the Encore parks in the area and a great place to stay if you have the Trails Collection. It is a lovely 55+ community where the people are friendly and they make you feel at home right away.
Where do you stay when traveling through Yuma? Let us know if you have any comments or questions below. Thank you for reading our Review of Araby Acres.