When we started thinking about RVing I knew we would need an air compressor to fill the tires of whatever RV we decided to purchase. I did lots of searching for what was available and how each performed. When we purchased our Class A motorhome I knew we would need a compressor that could handle the large truck tires. That's when I ran across the VIAIR 450P-RV Compressor.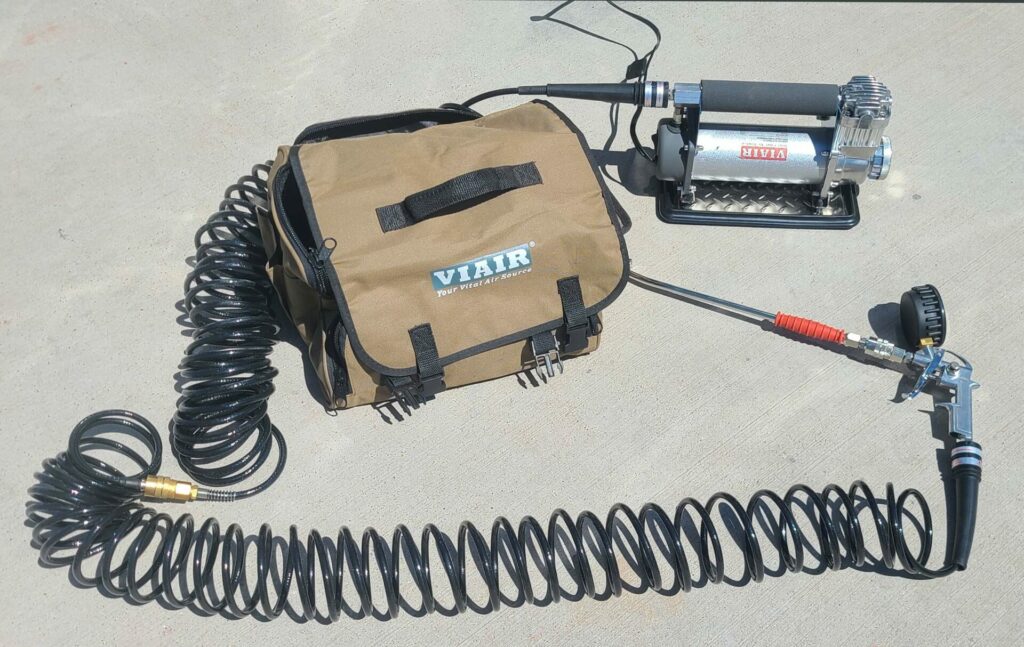 The VIAIR 450P-RV compressor will easily inflate large RV/Truck tires up to 275/80/22.5 to a max of 150PSI. Our motorhome tires are aired to 100PSI. While this unit is intended for RV use, it can also be used for virtually any tire or inflatable item since it comes with accessories for many inflation needs.
This post contains affiliate links. As a participant in Amazon Associates and various affiliate programs, we are compensated when qualifying purchases are made through our referral links at no additional cost to you. Full Disclosure
Viair Compressors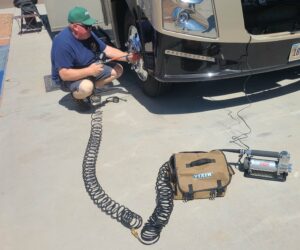 VIAIR makes a wide range of high-end, quality air compressors for RVs. The 450P-RV model is specifically designed with Class A motorhome needs in mind. While this compressor is designed for Class A motorhomes it will work on any tire.
The quality of the 450P-RV is much higher than other compressors I have used. What makes it better than others is the higher quality components, better airflow, enhanced features, continuous run time, greater flexibility, increased ease of use, and lower noise. I've been very impressed with the quality of our VIAIR compressor.
If you don't have a Class A motorhome one of their other compressors may be all you need. Designed for Class C motorhomes, the 400P-RV model is the next step down from the 450P-RV. For towable RVs, they have the 300P-RV and for Class B's they have the 89P-RV.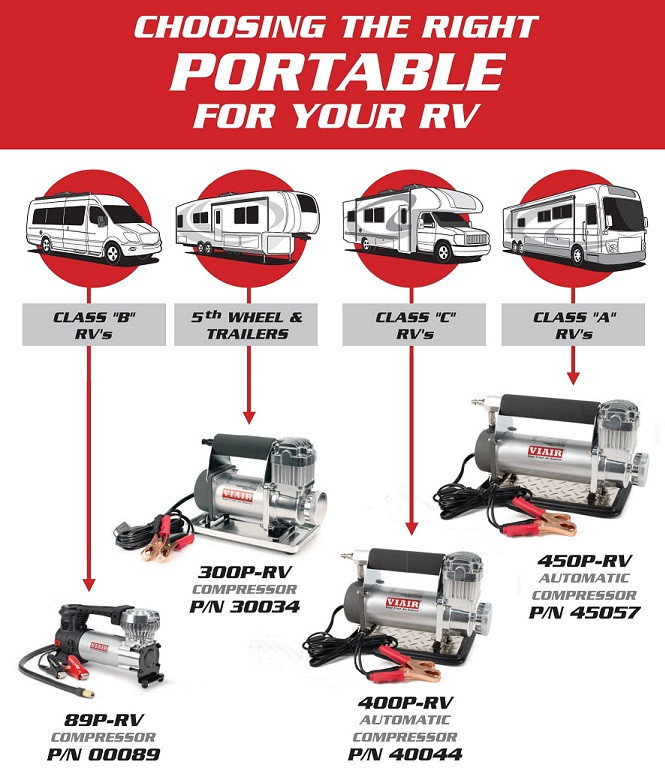 Why Tire Pressure Maintenance for RVs is Important?
Keeping your tires properly inflated is key to safety on the road. This is especially true for bigger vehicles such as RVs and motorhomes. Once you own an RV, tire pressure maintenance becomes a necessity. Since tires are the foundation of your home while on the road, tire pressure maintenance is essential for all RVers.
By maintaining proper tire pressure, you increase your RV's gas mileage, steering ability, prevent blowouts, and can prolong the life of your RV tires. By utilizing a VIAIR portable tire inflator, avoid wasting time searching for a place to fill your tires and reduce the risk of being stuck on the side of the road.
Viair 450P-RV Use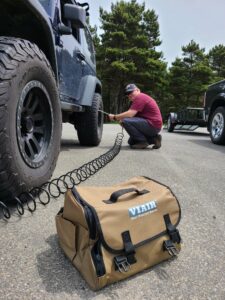 Airing down our Jeep tires when we go off-road is a ritual that happens often. The improvement that it makes to ride quality and performance is so significant, it's silly not to. But airing down your tires also means that you'll need to have some kind of way to air them up before hitting the freeway again.
The VIAIR 450P-RV does an outstanding job, quickly re-airing our 35″ Jeep tires from 15PSI up to 37PSI in about 5-6 minutes per tire.
The compressor gets its power by connecting directly to a vehicle's 12-volt battery using the attached power cord and alligator clips.
With the 2 30′ coiled hoses it easily reaches all tires on our Class A motorhome without having to move the compressor.
The 450P-RV generates an operating pressure of 150 psi for up to 40 minutes before it automatically shuts off for a period of time to cool. The automatic shutoff comes into play not only when moving from tire to tire, but also when checking a tire's pressure in the middle of a fill. How annoying is it when your compressor constantly runs trying to keep up with airing tires? The 450P-RV doesn't have that problem!
I totally get why the VIAIR is such a popular item among experienced RVers. It's also easy to see why the VIAIR is well worth the higher price. If you are doing extended traveling and checking a lot of tires like on the RV it is a MUST-have item!
Features
VIAIR has made it easy for you, by including all that you need to fill your RV tires. Included in each RV portable air compressor kit are:
150PSI max pressure
Pumps 1.8 cubic feet per minute at low pressure
Pumps 0.8 cubic feet per minute at 130psi
Can run continuously for up to 40 minutes
Auto-shut off when at pressure
Alligator clips to connect to the battery of the vehicle for 12-volt power (pulls up to 23 amps)
The kit comes with two 30 feet long-braided airlines
Replacement air filters
Comes with an air gun with a built-in gauge and inflation trigger
Kit includes multiple attachments to adapt to all your inflation needs
Canvas bag with multiple compartments to keep organized and easily carry
Dimensions: 11″ x 6″ x 7.5″ (L x W x H)
Weight: 18 pounds for the full kit (13 pounds for the compressor alone)
Other Things You Can Inflate
With the 3-piece inflation tip set, you can also use the VIAIR for inflating other objects like basketballs, kayaks, Standup Paddle Boards (SUPs), and other inflatable toys and devices.
We use the air compressor mostly for re-airing our tires after a day off-roading with the Jeep.
RV Accessories: Winterization Kit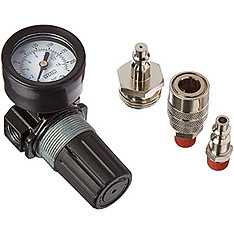 If you're not a "Full Timer" like we are, you will more than likely need to winterize your RV. Pair the VIAIR 450P-RVs Tire Inflator with the VIAIR RV Winterization Kit to protect your RV's water system from freezing during the winter months. This easy do-it-yourself kit regulates compressed air and removes any remaining water from your RV.
Protect your investment from split pipes, ruptured tanks, or failed pumps by draining your water system and you'll be ready to hit your favorite campsite come spring, without the worry of damage!
Conclusion
Our final thoughts on the VIAIR 450P-RV? Well, we really like it. This is a powerful, high-quality air compressor that does the job VERY well! We haven't seen a better air compressor that we'd rather use. Having it gives us peace of mind that when we need to air any of our tires we don't have to go far to get it done.
If you're in the market for a portable air compressor, we would give the VIAIR 450P-RV a serious look. It is a bit pricey but the peace of mind it gives is well worth it. The quality, portability, and features of the VIAIR 450P-RV make it a terrific investment and a must-have item.
Once your tires are aired up make sure their pressure stays where you have it with a Tire Pressure Monitoring System. We recommend the TST 507 system. See our review here.
Do you have an RV Air Compressor you're using? Thank you for reading about the VIAIR 450P-RV. We'd love to hear your thoughts, comments, or questions below.
If you're looking to build your own home-based business like we have with this webpage, check out Wealthy Affiliate.
Wealthy Affiliate is an all-in-one platform that you can build your whole affiliate marketing business on. It combines training, software, and website hosting into one. This makes the whole process of starting an online business from scratch much easier, especially if you're new to building a website.