Klamath Falls KOA has 70 campsites. 33 with full hookups.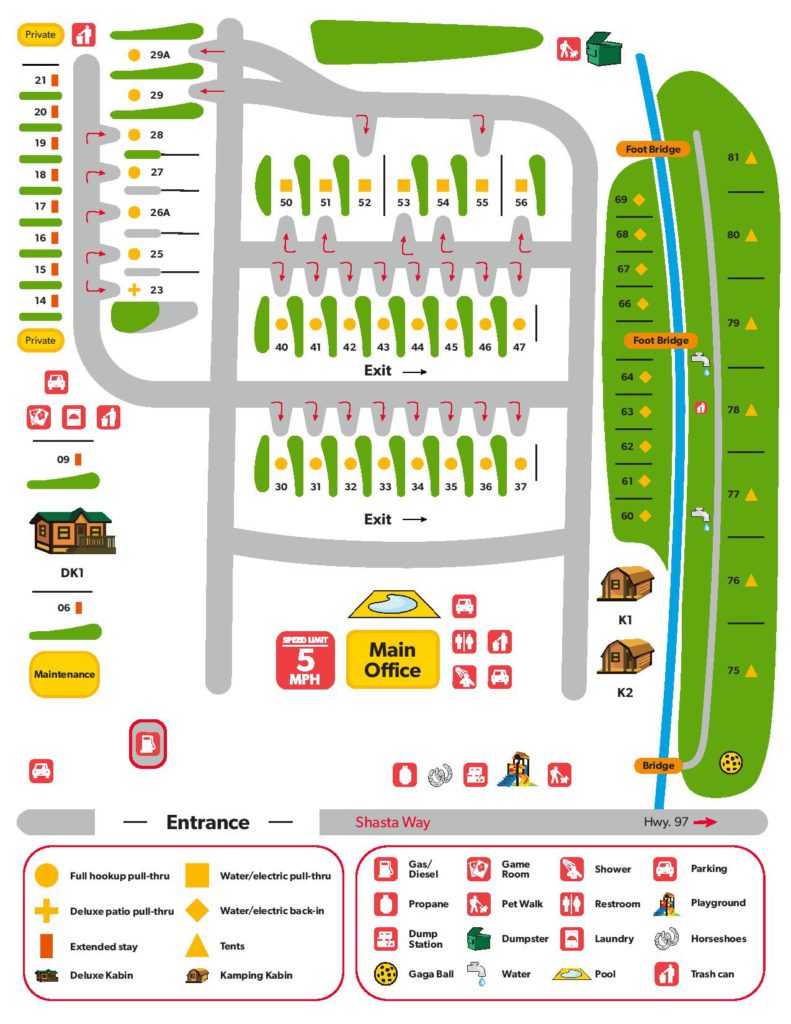 This post contains affiliate links. As a participant in Amazon Associates and various affiliate programs, we are compensated when qualifying purchases are made through our referral links at no additional cost to you. Full Disclosure
We do all our trip planning with RV Life Trip Wizard. RV Trip Planning Made Simple! RV Life Trip Wizard is by far the best RV route planner we've found. Get your 7 day Free Trial
Location
Conveniently located in Klamath Falls, Oregon. You're only a short drive from anything you'd want to see or do in the area.
3435 Shasta Way, Altamont, OR 97603
Prices
Our 50 amp pull-through full hookup site cost us about $35 per night during our stay with our KOA
Reservations
For Reservations visit https://koa.com/campgrounds/klamath/ or call 800-562-9036
Our Review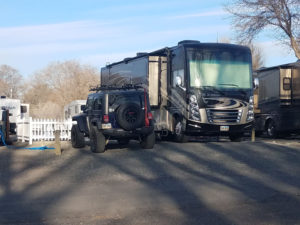 We stayed from March 9-18, 2020. The site we had at Klamath Falls KOA was a 70′ long pull thru site with 30 & 50 amp service and full hookups.
Our site had a nice little patio that was partially fenced. The sites are fairly close together but not too bad. A small creek runs through the park.
There are plenty of 50-amp sites with full hookups. The employees were very nice and helpful. The weather got snowy hindering our travels to our next location.
Staff members were very pleasant to work with in extending our stay a few days.
Propane and gasoline are available on-site and had some of the best prices in town. The propane filling station was very busy due to the beginning of the Coronavirus outbreak with constant lines.
The campground is close to many grocery stores and restaurants.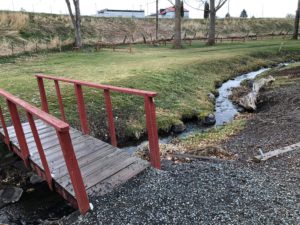 Our only con was dogs running loose. We saw four different dogs running loose during our stay. One charged our dog, of course, the owner took no responsibility. The owner was able to get her dog under control. She had no leash. We reported the dog situation to the office and never had another problem. We would stay here again when in the Klamath Falls area.
Amenities
Klamath Falls KOA has most of the amenities you'd want from a campground. The staff is very friendly and helpful with any questions you may have.
There was one set of Restrooms and Showers at the Main Office Building. We didn't use them as we had full hookups. There is also a restroom at the laundry facility.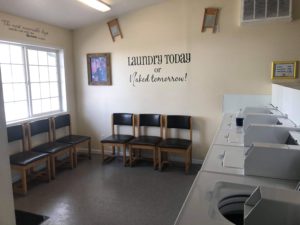 The laundry room was one of the nicest we've used at an RV park. 10 washers for $2 for 30ish minutes. 8 dryers are $2 for 45 minutes. You can add extra quarters for more time. Two more dryers are oversized. They are .25 for 5 minutes. Very clean and decorated really cutely. Quarters available in office/store.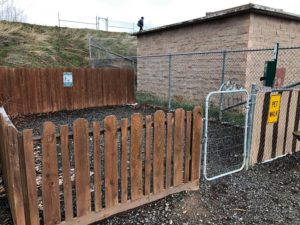 The campground has two small dog runs. The one closest to our campsite was very small but worked for bathroom breaks for our dogs. The other is a bit larger and better for the dogs to stretch their legs.
While it isn't really a lodge there is a store with all the essentials and some non-essentials. There is a game room near the laundry.
Klamath Falls KOA does have a pool but it was closed for the season during our stay.
Since we have family in the Klamath Falls area we used their address for our mail during our stay.
Sports, Recreation, and Playground Areas
Nice play area for the kids.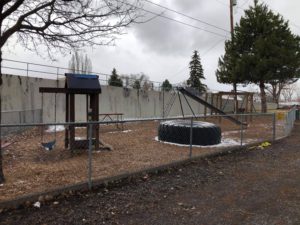 Things to see/do nearby
About an hour's drive to the North to see majestic Crater Lake National Park. And another hour's drive to the South to Lava Beds National Monument where we explored the lava tube caves.
The campground is also near Klamath Basin National Wildlife Reserve where we saw lots of birds there including many bald eagles. There is also plenty of places to hike and kayak to be found in the surrounding area.
Conclusion
When looking for a campground in the Klamath Falls area the KOA is a nice place to stay. The campground is very nice and well-maintained. The staff is friendly, helpful, and willing to go the extra mile to ensure you have an enjoyable stay.
What interesting places can you recommend? We're always looking for neat out-of-the-way experiences to add to our list of places to visit. Thank you for reading our article. If you have any comments or questions we'd love to hear from you below.