Russian River RV Campground has 125 sites with 30amp service and water only. No full hookups.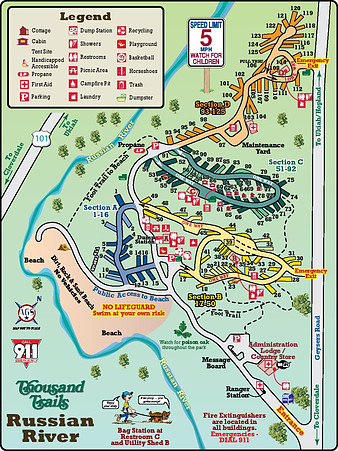 This post contains affiliate links. As a participant in Amazon Associates and various affiliate programs, we are compensated when qualifying purchases are made through our referral links at no additional cost to you. Full Disclosure
We do all our trip planning with RV Life Trip Wizard. RV Trip Planning Made Simple! RV Life Trip Wizard is by far the best RV route planner we've found. Get your 7 day Free Trial
Good Sam Travel Assist: Covers Emergency Expenses That Insurance Doesn't! Plans Starting at $59.99 – Learn more!
Location
Located at 33655 Geysers Rd, Cloverdale, CA 95425. Russian River RV Campground has something for everyone, both on the grounds and off. This Santa Rosa RV campground is just minutes from the wineries to explore. San Francisco and Oakland are all just a short drive away, where you can walk the Golden Gate Bridge or test your luck at two casinos. Or if the outdoors are more your thing check out the Redwoods.
Prices
Tent and RV Sites with 30amp service and water $63/night. Cabins from $129/night.
Thousand Trails Members RV Site rentals are free with your membership. If you're not a member and would like to purchase a Camping Pass to get started, click here to save $100.
Reservations
For Reservations:
Members: Goto https://thousandtrails.com or call 1-800-388-7788
Non Members: Goto https://rvonthego.com or call 1-888-481-6348
If you'd like to try out a Thousand Trails Membership, get out and camp with $100 off a Thousand Trails Camping Pass click here.
Our Review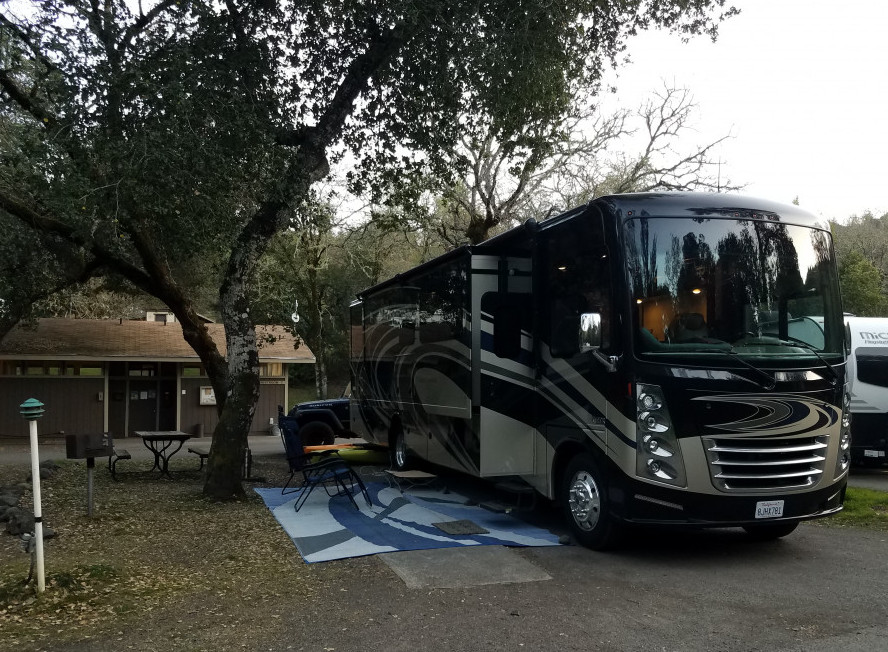 We stayed at Russian River RV Campground from March 2-9 2020. This is an older NACO park that is now a Thousand Trails. It is a really nice clean park for its age. The friendly staff keeps the park in good shape. Some sites are a bit too small for the large modern RVs of today. A few sites are at weird angles and some are built on a slope where you'd end up going down the hill when you walk out your door.
We had our choice of a few sites that were big enough for our 38′ motorhome. The site we got was level and plenty long for our coach and toad. The Russian River looks inviting and we would definitely have gone for a dip if the weather was warmer. There are no full-hookup sites in this park and sites only have 30 amp service. The park has propane for purchase.
One area of concern for us when we started walking the trails, there is a lot of poison oak around. We decided to not walk our dogs on the trails for this reason.
Amenities
Russian River RV Campground has most of the amenities you'd want from a campground. The staff is very friendly and helpful with any questions you may have.
The restrooms were dated but very clean. We saw people cleaning them daily.
Laundry
Each restroom building has a single washer and dryer on the backside. Wash and dry for $1.50 each. Machines take coins or you can pay with an app from your phone.
There is no dog park at Russian River Thousand Trails.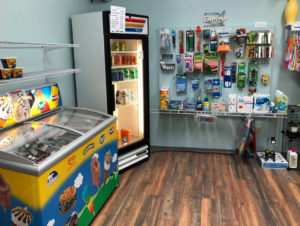 The park has a nice lodge with a small store with all the necessities.
There is no Pool or Spa at the campground but you do have the Russian River for kayaking, canoeing, rafting, trout fishing, and swimming.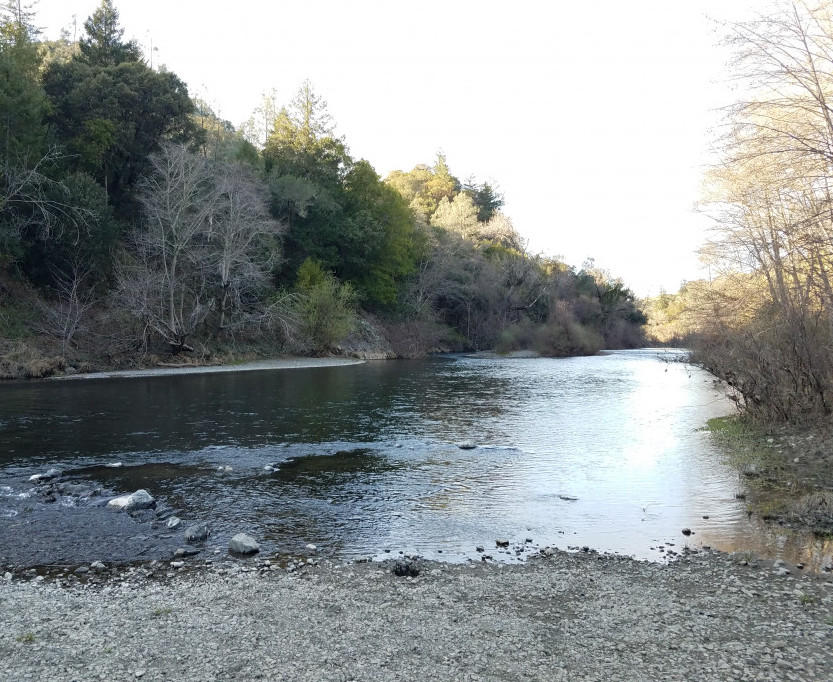 We didn't try to receive any packages while at the Russian River RV Campground.
Sports, Recreation, and Playground Areas
There is a kid's play area with an up-to-date slide and climbing wall. There is also a tether ball for those who are so inclined.
Things to see/do nearby
We really loved the location of the Russian River RV Campground. We spent a couple of days driving up through the Redwood Forests and checking out the glass beach in Fort Bragg. Also, while we were in the area we went to Santa Rosa and had a blast exploring Charlie Brown, Snoopy, and the rest of the Peanuts Gang at the Charles M Schulz Museum.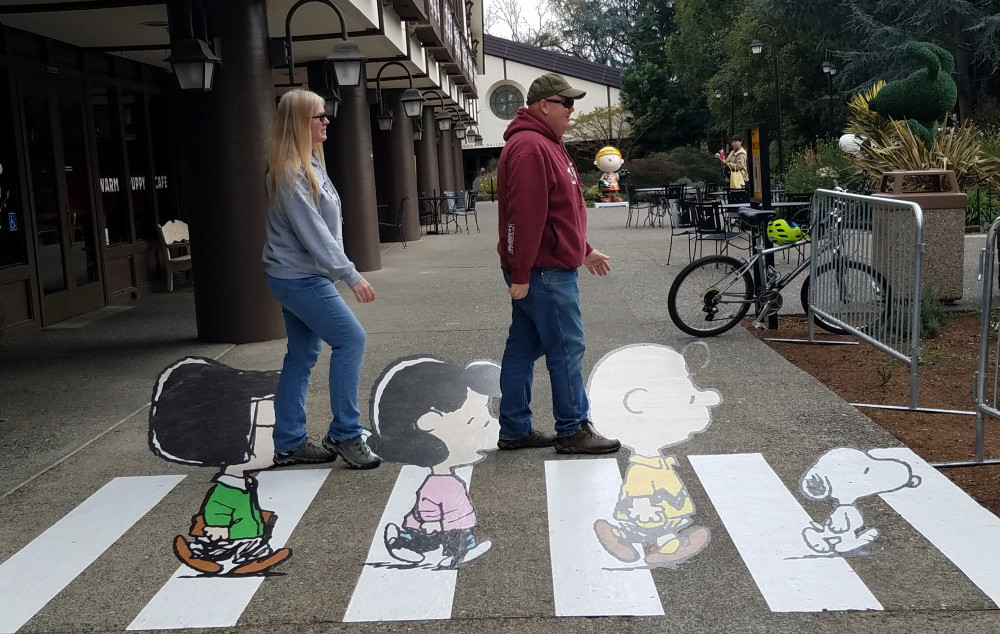 Conclusion
Russian River RV Campground is a great starting point for many adventures in the Northern California area. There is so much to see and do within a short drive of the campground. It's a very nice and well-maintained campground with a staff of friendly and helpful employees willing to go the extra mile to ensure you have an enjoyable stay.
What interesting places can you recommend? We're always looking for neat out-of-the-way experiences to add to our list of places to visit. Thank you for reading our article. If you have any comments or questions we'd love to hear from you below.