Morgan Hill RV Resort has 320 campsites, only 5 of them are full hook-up sites.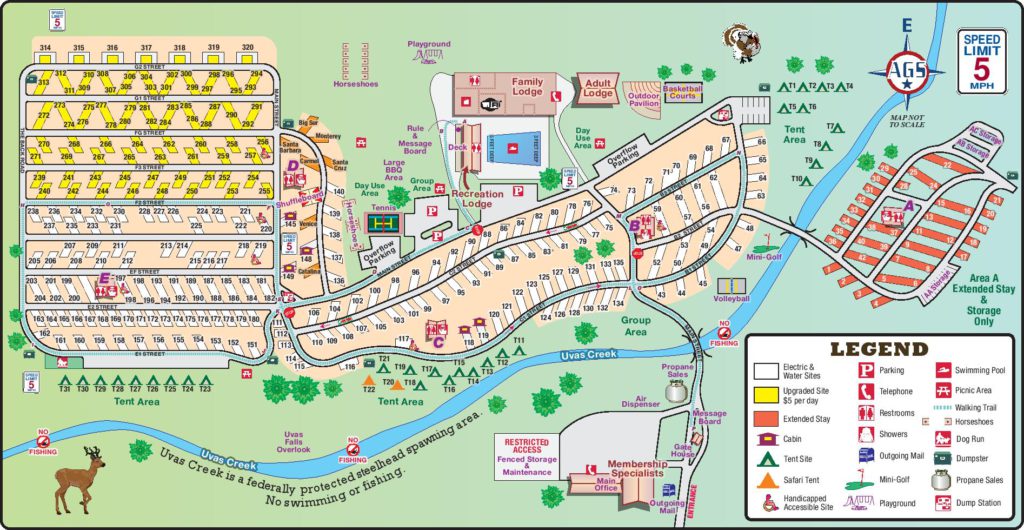 This post contains affiliate links. As a participant in Amazon Associates and various affiliate programs, we are compensated when qualifying purchases are made through our referral links at no additional cost to you. Full Disclosure
We do all our trip planning with RV Life Trip Wizard. RV Trip Planning Made Simple! RV Life Trip Wizard is by far the best RV route planner we've found. Get your 7 day Free Trial
Location
Located at 12895 Uvas Rd, Morgan Hill, CA 95037. Morgan Hill RV Resort is in Santa Clara County, California, at the southern tip of Silicon Valley, in the San Francisco Bay Area. San Jose, Oakland, and San Francisco as well as Monterey and Santa Cruz are just a short drive away from the campground.
Prices
Partial Hook-up sites were $64/night the week we stayed. These pull-through sites offer water and 30 amp electricity. You select your site upon arrival. 50 amp service is based upon availability at check-in. They also have cabins available for rent.
Thousand Trails Members RV Site rentals are free with your membership.
If you're not a member and would like to purchase a Camping Pass to get started, click here to save $100.
Reservations
For Reservations:
Members: Goto https://thousandtrails.com or call 1-800-388-7788
Non Members: Goto https://rvonthego.com or call 1-888-481-6348
If you're not a Thousand Trails member and would like to give it a try. Get out and camp with $100 off a Thousand Trails Camping Pass by clicking here.
Our Review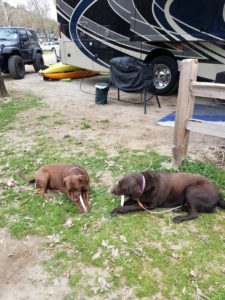 We stayed at Morgan Hill RV Resort from February 24 thru March 2, 2020. It's a very nice park. Fairly spacious RV sites. Big dog area with an obstacle course.
Restrooms throughout the park were extremely nice updated and clean. This park has no store. Safeway isn't too far though for needed items or groceries. Lots of outdoor recreational activities. Volleyball, basketball, and shuffleboard to name a few.
Lots of open areas for throwing a football or other activities. Plenty of tent areas as well. The lounge isn't the nicest we've seen at Thousand Trails but they are remodeling downstairs. We were told to expand the laundry room. The lounge has couches, a big-screen TV, and a piano. This park has a very friendly staff that we talked with a few times. They were happy to answer all of our questions.
My negatives are no sewer and the sites were dirt and could use a layer of gravel on them and the roads. When it rains here I'm guessing it's a giant mud puddle. There are only about 5 full hook-up sites in the whole park, so they are hard to come by. They do have a honey wagon service available for $25.00.
On a side note. There was an RV parked in the middle of the road guessing it broke down for three days of our stay. It was not holding up the park but was an eyesore.
We would come back again if we were in the area. Would like to see what remodel of the lodge looks like.
Amenities
Morgan Hill RV Resort has all the amenities you'd want from a campground. The staff is very friendly and helpful with any questions you may have.
Famous views and fabulous vineyards are just two of the attractions that draw visitors to Morgan Hill RV Resort year after year. Surrounded by the rolling hills of the Santa Cruz Mountains, this RV campground in California is a majestic retreat for couples, families, and friends. With an unbeatable California location, this 66-acre campground is the perfect home base for touring the many popular attractions of the Central Coast. More than 20 wineries are conveniently located nearby.
Back at the resort, enjoy the relaxing scenery of Uvas Creek as the water winds its way through the campground. An Olympic-sized pool, playground, tennis courts, and a miniature golf course ensure a visit to Morgan Hill RV Camping in California is fun for everyone.
The restrooms and showers were some of the nicest we've seen since being on the road. They had been recently remodeled and were very up-to-date.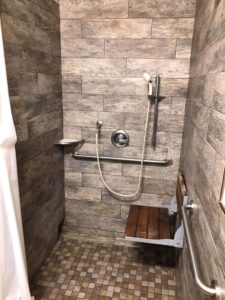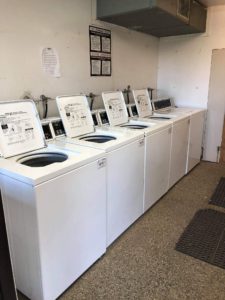 The laundry room is in huge need of updates. One wall is a piece of plywood. Washer major leak all over the floor. Luckily there is a drain in the middle of the room. Washers and dryers work on Laundry Cards that can be purchased at the Welcome Center. Prices were 1.99 per wash and per dry although we heard prices were going up. The laundry room is open 8:00am-8:00pm. One thing we don't like about having to buy cards for laundry is it seems like each campground uses a different system leaving you with a bunch of laundry cards with money on them but nowhere to use them until you go back to someplace you've already been.
Our dogs loved running and playing in the dog park. Plenty of room for them to sniff around and stretch their legs playing with other dogs. We love when the dog park has an obstacle course to work with the dogs on.
The lounge isn't the nicest we've seen at Thousand Trails but they are remodeling downstairs.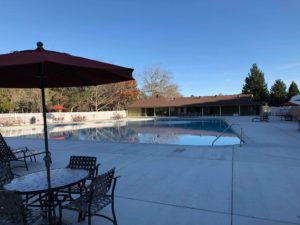 Morgan Hills RV Resort has a very large Olympic size pool with new lounge chairs and patio tables complete with umbrellas.
We didn't use mail or package service while at Morgan Hill RV Resort.
Sports, Recreation, and Playground Areas
Lots of outdoor recreational activities. Volleyball, basketball, and shuffleboard to name a few. Lots of open areas for throwing a football or other activities. Playground for the kids.
Things to see/do nearby
During our stay, our Jeep broke down and was in the shop for three days so that really limited us from what we got to see and do. We did manage to make a trip over to Monterey to enjoy a cup of clam chowder and have some fish and chips.
On another day we went to San Jose to marvel at the Winchester Mystery House.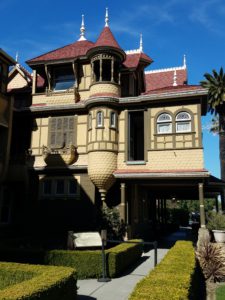 Conclusion
Morgan Hill RV Resort is a great starting point for many adventures in the Northern California area. There is so much to see and do within a short drive of the campground. It's a very nice and well-maintained campground with a staff of friendly and helpful employees willing to go the extra mile to ensure you have an enjoyable stay.
What interesting places can you recommend? We're always looking for neat out-of-the-way experiences to add to our list of places to visit. Thank you for reading our article. If you have any comments or questions we'd love to hear from you below.
Good Sam Travel Assist: Covers Emergency Expenses That Insurance Doesn't! Plans Starting at $59.99 – Learn more!