While it's only for a short time Living in a Hotel is a strange and challenging ordeal. I'm sure most people have spent at least a few nights in a hotel. But when it becomes your home it's totally different.
This post contains affiliate links. As a participant in Amazon Associates and various affiliate programs, we are compensated when qualifying purchases are made through our referral links at no additional cost to you. Full Disclosure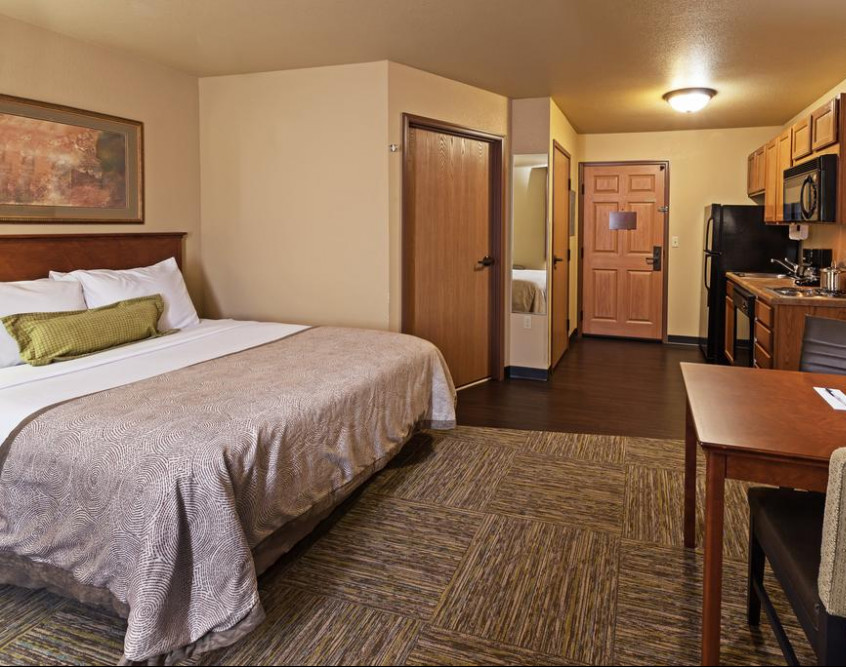 IHG|Save up to 15% at IHG Hotels and Resorts
Why Are We Living In A Hotel?
For about four years now my girlfriend Lisa and I have been dreaming of selling everything and buying an RV to travel the country. With the passing of my Dad this past October we decided now is the time to do it. At that time we started seriously planning what we were going to do.
We started getting rid of items we knew we wouldn't need. The house sold and we have a few weeks until it closes and we get the proceeds, get the bills paid off and pick up our new RV. A few nights in a hotel on vacation can be a fun time. Three weeks living in a hotel room with two adults and two 70 lb dogs is a tight fit that I don't recommend.
Challenges Of Living In A Hotel.
The main challenge of living in a hotel in my opinion is the cost compared to living in a home. We went from about $40/day living in our home to $88/day living in a hotel. Then there is the having to deal with people in close proximity. There are always people making noise whether it is the click click click of people dragging the luggage down the tile floor outside the room or the heavy-footed walkers going back and forth in the room upstairs from ours. Having to take the dogs out for their bathroom breaks is also a challenge when you're used to them coming and going through their doggie door. And of course, the size of a room compared to a home is tight. The hotel room seemed small and cramped even compared to the RV.
Where Is Everything We Own?
Gone! Gone! Gone! Seriously, we sold, donated, and gave away to friends the majority of our belongings. We posted items on Facebook Marketplace, Craigslist, and eBay. It got to be a pain sometimes and a few items we lost money on. Like the $80 cookie jar, I sold on eBay. After packing and shipping costs at the UPS Store it cost me $5 to get rid of it. Lessons learned.
Spending about four months downsizing sorting through our stuff and getting rid of things. We started with the items we didn't use or hadn't used for some time. Ridding ourselves of clothing, furniture, tools, and a car. It really was a bit stressful getting rid of so much stuff that we accumulated over the years. It is amazing how much crap we actually had. Some sentimental things we just couldn't part with at this time ended up in a small 5×10 storage unit that I actually think could have fit into a 5×5.
What Did We Bring With Us?
Once we got to the motorhome and started bringing in the boxes labeled for the RV we started unpacking. We brought a week to 10 days of clothing each. I kept a suit and a few dress shirts since we're going to my niece's wedding in August. Kitchen supplies and canned food.
Although we seem to be missing some kitchen utensils… I guess we'll be replacing what is missing. We sold our Circulon cookware from our home and bought new cookware for the induction cooktop in our RV. I brought my fly-tying and fishing gear, hiking gear, and tools. While there seems to be room for more if we wanted, it's nice to have room left over in the basement storage of the RV.
How Long Will We Be Doing This?
This is the question we get often. The other question we get a lot is, where do you plan on going? For as how long we'll do this. I say till we see everything. And to the question of where do, we plan to go, Everywhere! So I think we will be doing this for the foreseeable future. There is no set time frame. When we tire of traveling I guess we'll find someplace new to settle into.
So away we go…
Living in a hotel is not something we would want to do full-time. The three weeks spent camped out in a 200 sq. ft. room with two big dogs was definitely a challenge mentally. But we made it through and now moving up to our 300 sq ft motorhome will seem like living large. The idea of being able to see new places every few weeks is very appealing to us. So away we go…
If you're looking to build your own home-based business like we have with this webpage, check out Wealthy Affiliate.
Wealthy Affiliate is an all-in-one platform that you can build your whole affiliate marketing business on. It combines training, software, and website hosting into one. This makes the whole process of starting an online business from scratch much easier, especially if you're new to building a website.