Desert Eagle RV Park (Military FamCamp) has 226 campsites, 222 of which are full hook-up sites.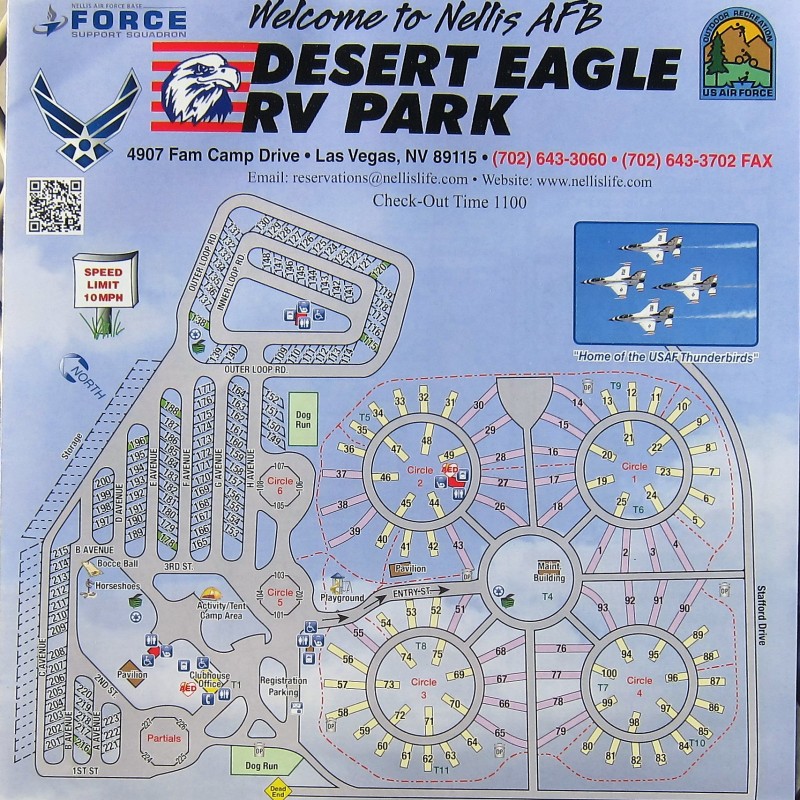 This post contains affiliate links. As a participant in Amazon Associates and various affiliate programs, we are compensated when qualifying purchases are made through our referral links at no additional cost to you. Full Disclosure
We do all our trip planning with RV Life Trip Wizard. RV Trip Planning Made Simple! RV Life Trip Wizard is by far the best RV route planner we've found. Get your 7 day Free Trial
Location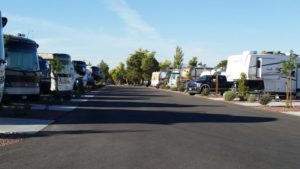 Located a short drive from the glitz, glamour, and excitement of the Las Vegas Strip, Desert Eagle RV Park is on Nellis Air Force Base. 4907 Fam Camp Dr, Las Vegas, NV 89115.
This campground is on an Air Force base, you must be a DOD cardholder to access the base and Desert Eagle RV Park.
The campground is located on the Hospital side of Nellis AFB which is separated by Las Vegas Blvd. On the Flightline side of the base, you can find the Commissary, AAFES Exchange, Base Gym, various fast food restaurants, and AAFES Gas Station.
Prices
Tent sites start at $8/night. Partial Hook-up sites are $20/night and Full Hook-up sites are $22-$26/night. Short Term Storage (Up to 90 Days) $2/night.
Reservations
Reservations can be made 6 months in advance by Mail, E-mail: reservations@nellislife.com, or by phone at 702-643-3060.
Our Stay
Desert Eagle RV Park was the first campground we stayed at when we hit the road on our full-time adventure. We stayed from March 30th thru May 5th, 2019.
Being from Las Vegas we used this park as our shakedown stop to get familiar with our new motorhome and work out any bugs. We spent 35 nights camped at one of the New Full Hookup Sites. These sites are level pull-through concrete pads with 20/30/50 amp service, a sewer connection, a patio, and a picnic table.
There are no fire pits or fires allowed but you're able to use gas barbecues if you like. Looking for a little more room or privacy? You might try to get one of the Wagon Wheel, Full Hookup Back-in or Full Hookup Pull Thru Sites.
The whole park is very nice and well-maintained. We didn't feel cramped at all in the site we had. And where else can you get a free air show daily? If you're lucky enough you may even get a few flyovers by the Thunderbirds. It is the Sound of Freedom! Enjoy!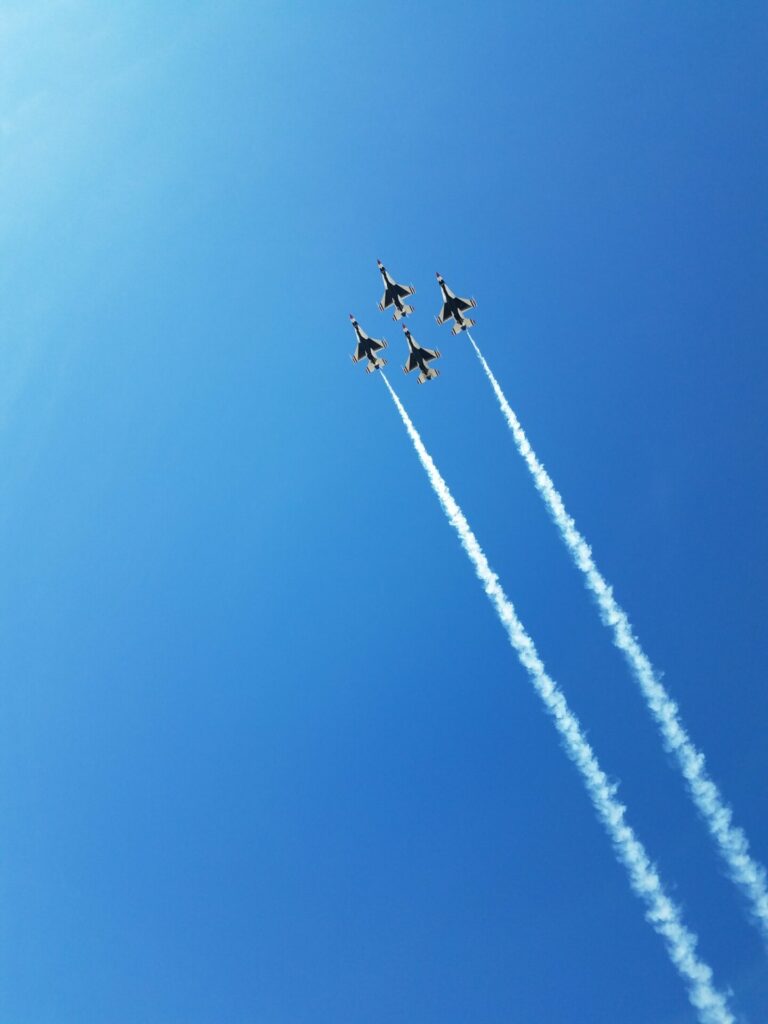 Amenities
Desert Eagle RV Park has most of the amenities you'd want from a campground. The staff is very friendly and helpful with any questions you may have.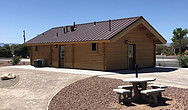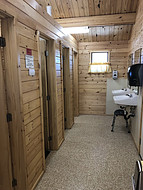 The restrooms and showers looked new and were spotlessly clean when we were there.
We had a full hookup site so we didn't use the showers.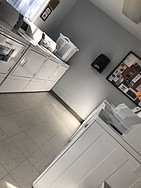 Laundry rooms are located in the restroom/shower buildings and in the office. The cost to wash was $0.75 and the cost to dry was $0.75. The washers and dryers worked well during our visit. We mostly used the washers and dryers in the Office. They even have a dedicated washer that can be used for dog items.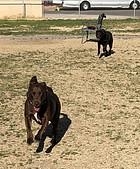 The park had a good-sized fenced dog park. Our dogs loved running and playing there. With plenty of room for them to sniff around and stretch their legs, it's a wonderful place to spend some time with your dogs. During our visit, there were lots of dogs for ours to socialize with. We did have one issue with an unfriendly dog that attacked our Ruby.
There is a small lounge area with TV and Internet Computers available for use at the Office/Lodge. They have coffee and a few snacks at the office. You can also get one free bag of ice per day from them.
Desert Eagle RV Park does not have a pool or spa but if you're looking for a dip in a pool or soak in a spa the base gym is a really nice facility with both.
When we were there in March/April 2019 they did accept mail and packages for guests at the office. We returned in December 2019 and they had since shut down accepting packages at the office. You can have UPS or FedEx packages delivered directly to your campsite if you address it properly to your site number. Amazon and US Mail were not accepted and would be turned away.
Sports, Recreation, and Playground Areas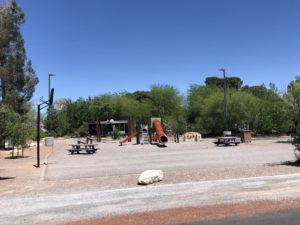 Nice play area for the kids and the park does have a basketball hoop that was being used a lot when we were there. If you need a place to work out the base gym has everything you may be looking for.
Things to see and do nearby
This is Las Vegas so there is literally anything that you want to see or do nearby.
For gambling, dining, and shows there are countless casinos, restaurants, and venues to choose from.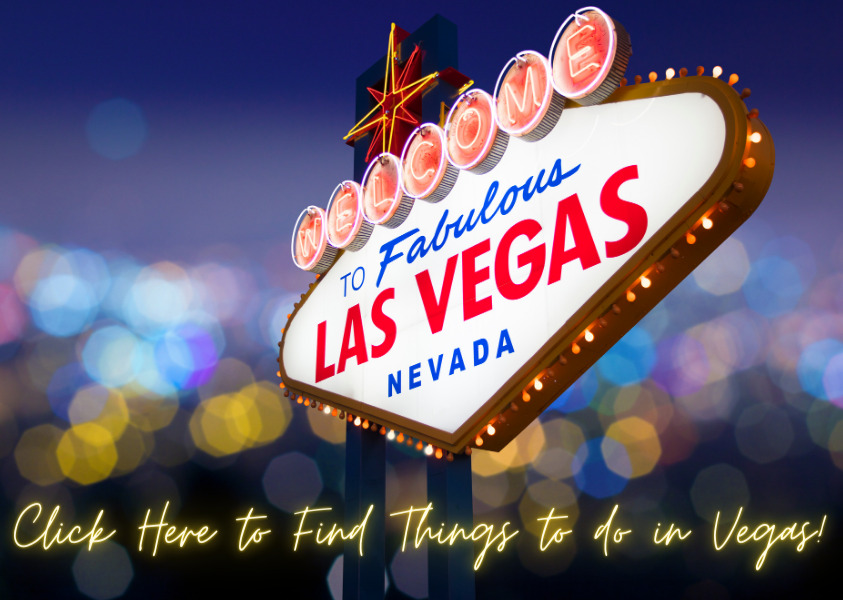 Our favorite restaurant that we recommend to visitors is, Battista's Hole in the Wall, which is an Italian restaurant with an old Vegas feel. The food is really good! Don't skip the cappuccino at the end of the meal.
Gordy the accordion player cute as can be. It is truly amazing! Last time we were in Batista's we found out that Gordy has retired.
A couple of our favorite shows are Le Reve at The Wynn and Absinthe at Caesars Palace. These are in our opinion two of the best shows in town. Either one of these or any of the other Cirque du Soleil type shows is a great choice.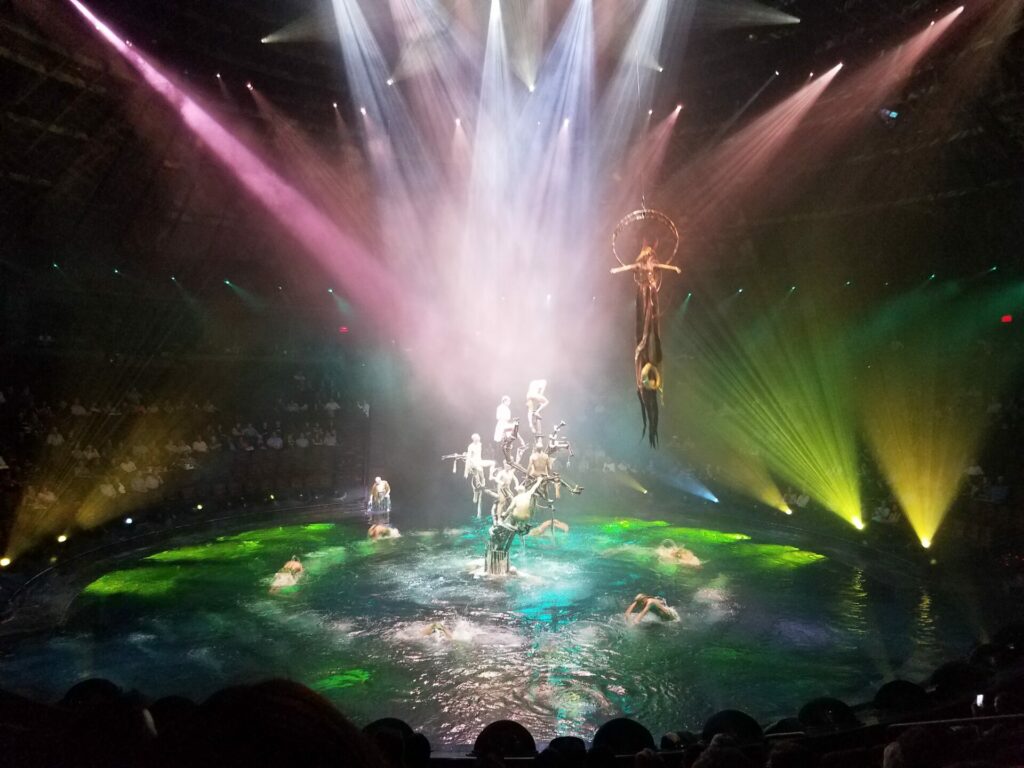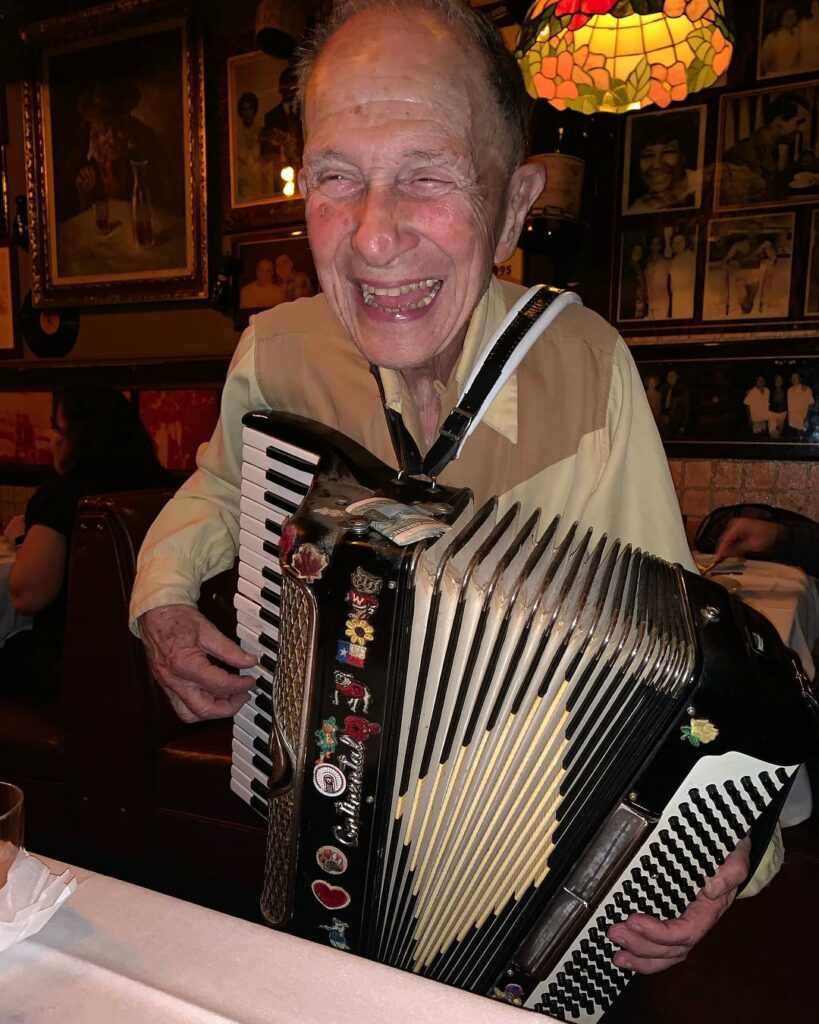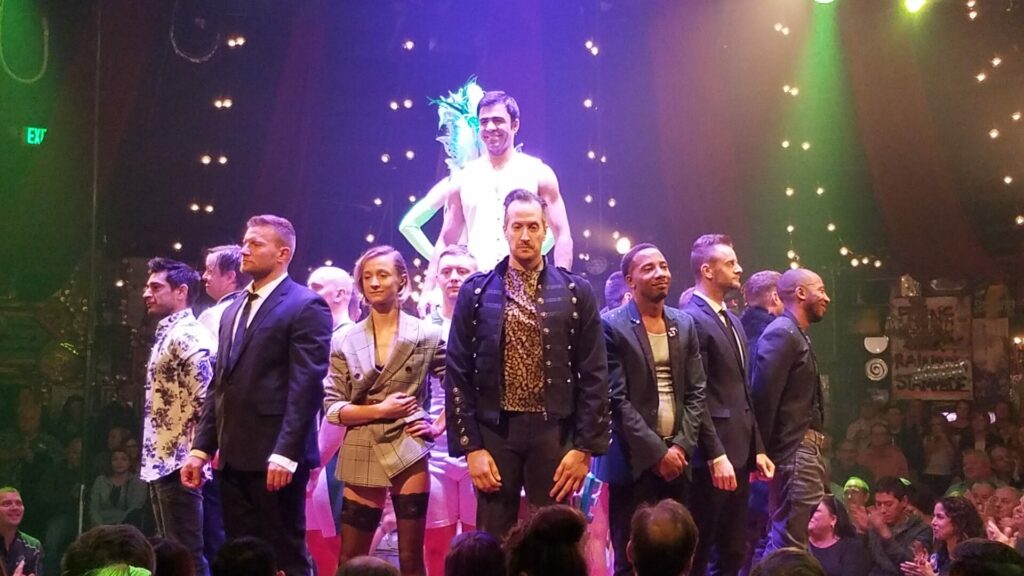 The Vegas Strip has huge mega-resort casinos and all the glitz and glamour that you expect from Las Vegas.
But if you want to get away from the huge resorts you might try Fremont Street. While the casinos are smaller and some say a little more giving, be warned that Fremont Street is where "The Crazies" hang out. Not the best place for kids. But the Viva Vision light show is something to be seen.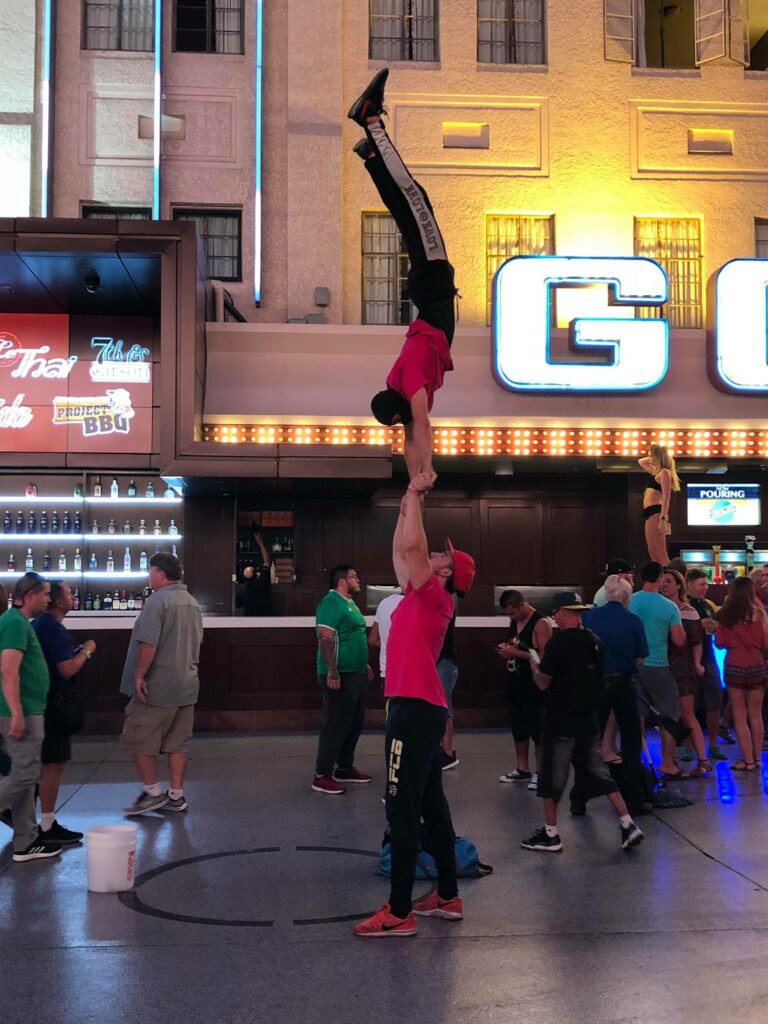 As is the Neon Museum just down the road. If you go to the Neon Museum make sure to go at night and see their show Brilliant. They make the old non-working neon signs truly come to life. It's one of the coolest things I had ever seen.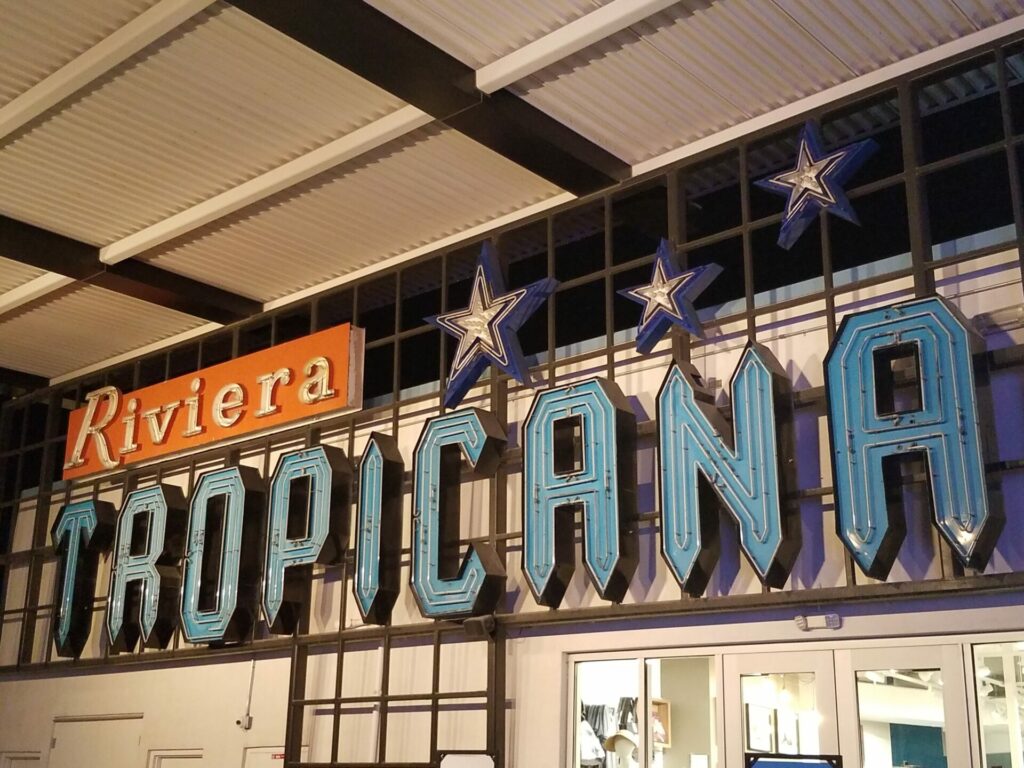 Back on the strip T-Mobile Arena, the busiest arena in the country, has Vegas Golden Knights Hockey which is an absolute blast to see the spectacle they put on. If the Knights aren't playing there is usually a concert or event going on there.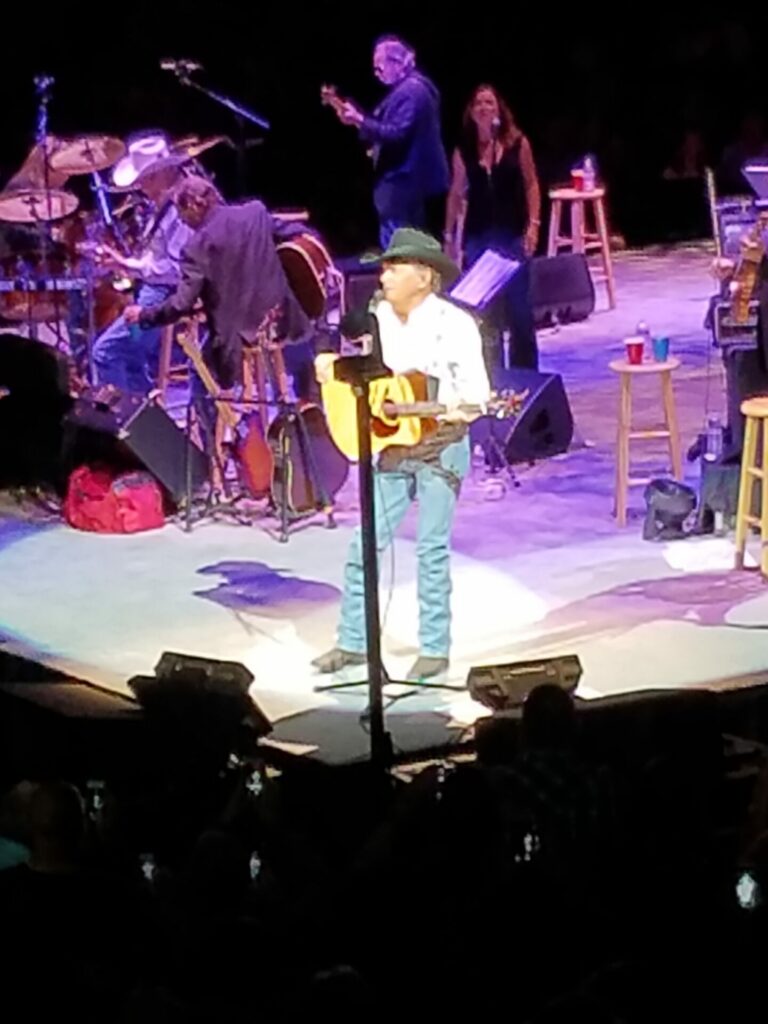 If you're looking for something outdoors you're only a short drive to Lake Mead, Valley of Fire State Park, Red Rock Canyon National Recreation Area, and Mt Charleston. All these places are great for hiking and sightseeing, or just getting away from the hustle and bustle of the Vegas Strip. Willing to venture out a little further? Zion National Park is about an hour or so drive from the base.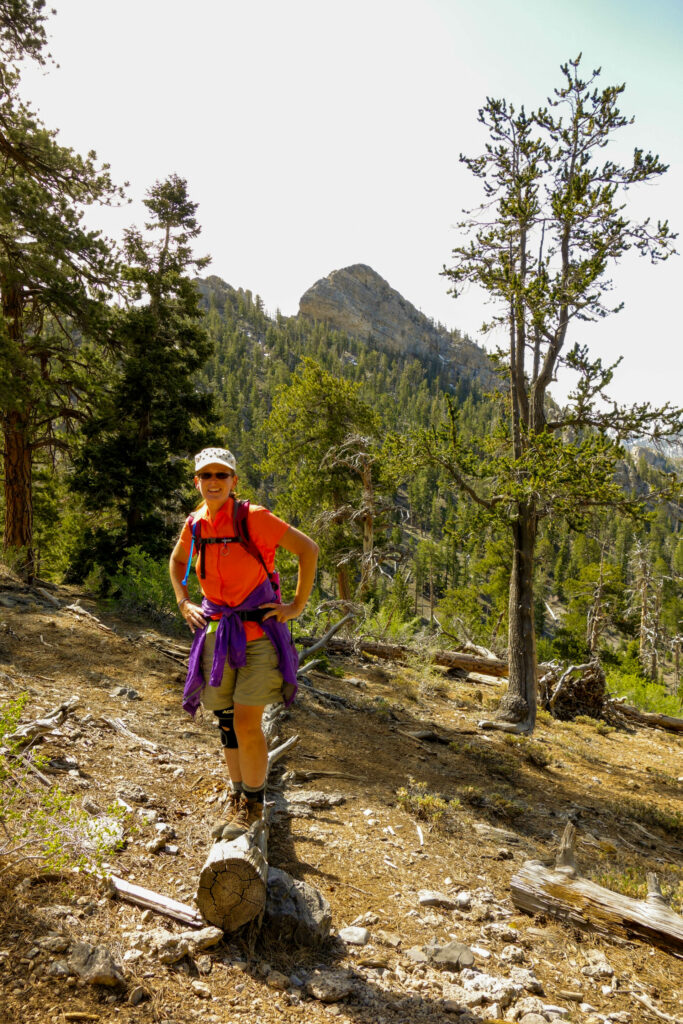 Conclusion
If you have access to DOD facilities, you can't go wrong with Desert Eagle RV Park. The campground is very economical, nice, clean, and well-maintained. The staff is friendly, helpful, and willing to go the extra mile to ensure you have an enjoyable stay. And where else can you get free daily air shows?
Where is your favorite place to stay in Las Vegas? Let us know if you have any questions or comments below. Being from Vegas we can help you with any of your questions about the area.
If you're looking to build your own home-based business like we have with this webpage, check out Wealthy Affiliate.
Wealthy Affiliate is an all-in-one platform that you can build your whole affiliate marketing business on. It combines training, software, and website hosting into one. This makes the whole process of starting an online business from scratch much easier, especially if you're new to building a website.