I've always wanted to go on an airboat swamp tour. When I was a kid in the 1970s I would watch reruns of the TV show Gentle Ben after school. The show primarily revolved around the adventures of a young boy named Mark Wedloe (played by Clint Howard) and his pet bear named Ben.
In the show, an airboat played a significant role in the adventures of the Wedloe family. An airboat is a type of watercraft propelled by a giant fan or propeller mounted at the back of the vessel. It is designed to navigate shallow and marshy waters, making it ideal for exploring the swamps and marshlands of the Florida Everglades, where the show is set.
I remember thinking it would be so cool to ride on an airboat and it ended up on my bucket list for probably the past 45 years or so.
What is an Airboat Swamp Tour?
An airboat tour is an exciting and unique experience where passengers ride on a flat-bottomed boat powered by a large propeller at the back, gliding across marshes, swamps, and shallow waters.
This post contains affiliate links. As a participant in Amazon Associates and various affiliate programs, we are compensated when qualifying purchases are made through our referral links at no additional cost to you. Full Disclosure
I figured I would do an airboat tour when we go to Florida sometime in the future. But following our winter gate guarding in Texas we passed through Louisiana and kept seeing flyers and signs for airboat tours. We spent some time with friends and I asked if they could recommend an airboat tour for us and they mentioned Airboat Tours by Arthur just down the road from their house.
Lisa and I went back and forth if we would go on the airboat tour. We had already done the Honey Island Swamp Tour earlier in our visit. Plus, she was nervous about how fast they could go and wasn't sure if she was up for it. She told me I could go by myself if I wanted. I just wasn't sure if I wanted to do it alone. The day before our final day in Louisiana our friends invited us over for a cajun crawfish boil and we met some other friends that did the tour the day before. They finally convinced Lisa that we should go on the tour.
On our last day in New Orleans, we woke up early to call Arthur's as soon as they opened to see if they had any availability that day. Luckily they did and we were scheduled for a 90-minute tour at 10:30 that morning.
Difference Between an Airboat Swamp Tour and a Regular Swamp Tour
There are a few differences between a swamp tour and an airboat swamp tour. The first is the excitement. An airboat swamp tour is just simply more exciting! The roar of the engine and the speed going through the bayou makes it exciting. Next, you can get deeper into the swamp than you can on a regular swamp tour in a normal boat. An airboat only needs a few inches of water to run whereas a normal boat will need a foot or more.
Our Trip
We arrived shortly before our scheduled time, signed the waiver form, and waited for Arthur to get the boat ready for our ride. There were six of us going on the tour.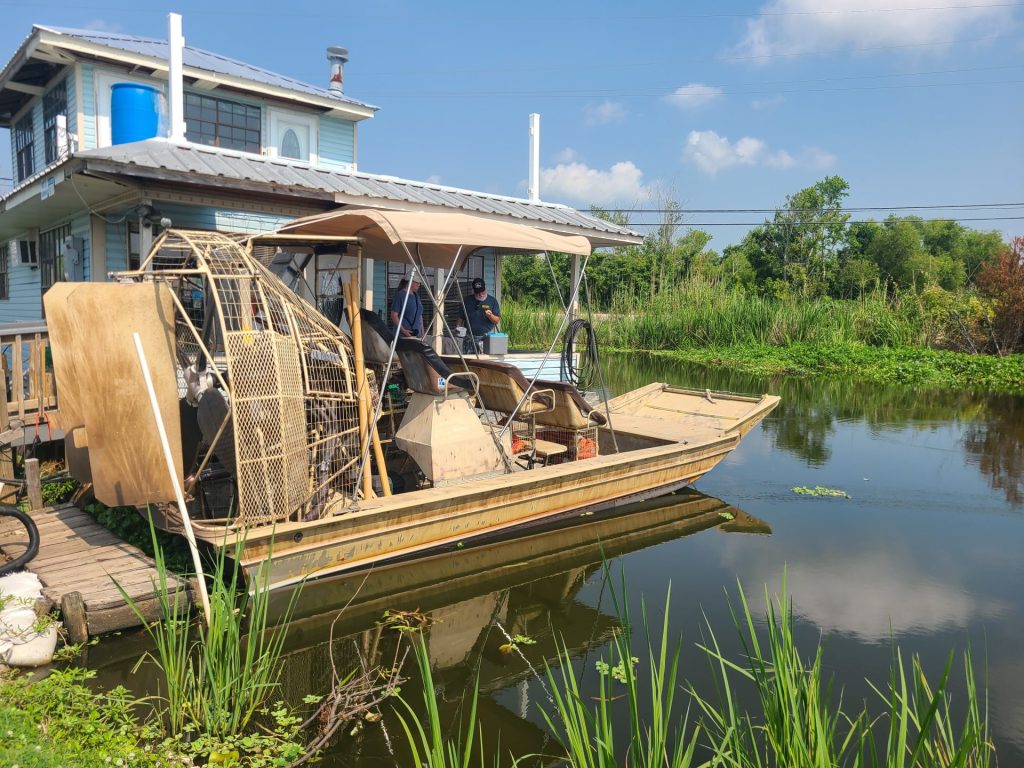 As we got ready for the ride we chatted with the others going on the tour. Arthur got the boat ready and had us load. Lisa and I were seated in the middle row with another gentleman whose pregnant wife was sitting in the single seat behind us next to Arthur. The roar of the big V-8 engine and prop make it necessary to wear hearing protection. Ear muffs are provided for the ride and you really need to use them.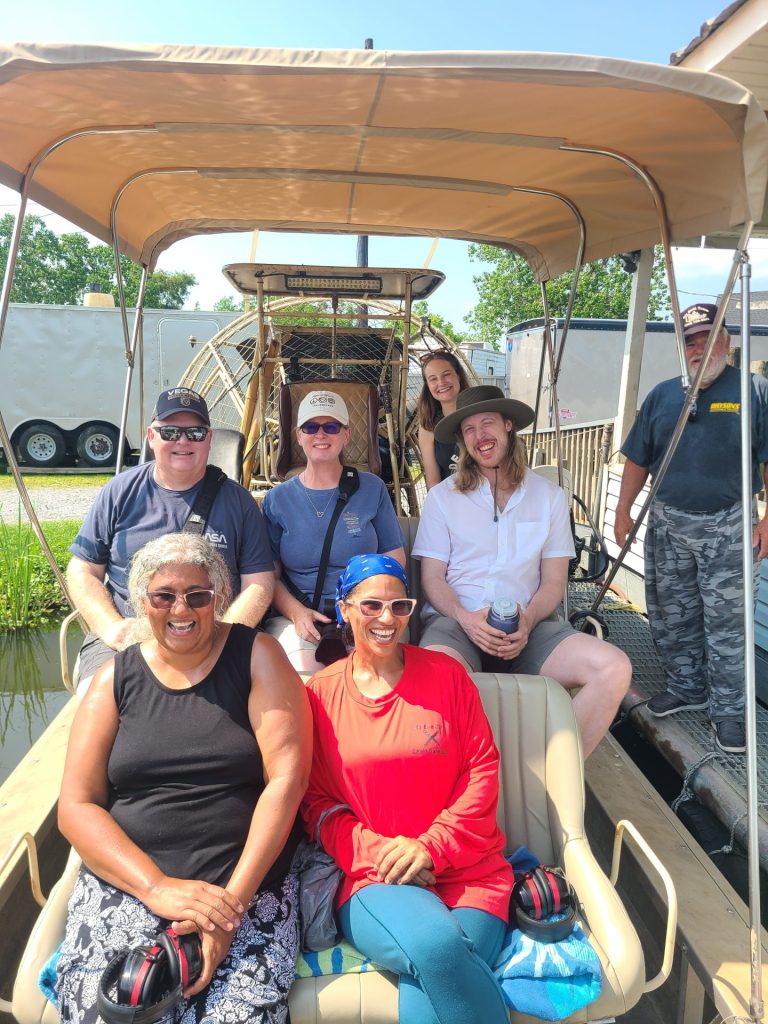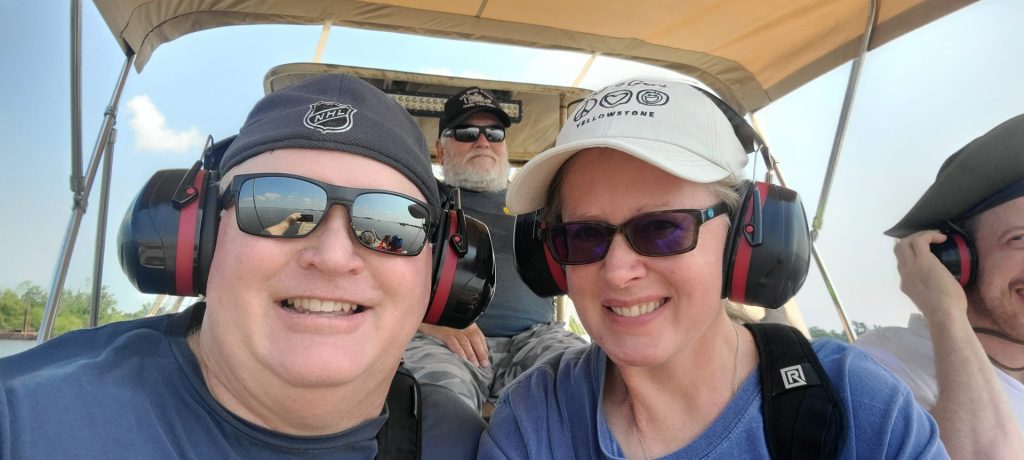 Idling through the no-wake zone on the way to the bayou Arthur would tell us tidbits of what to expect on our ride and information about the birds and other wildlife we were already seeing. Once at the bayou Arthur opened up the throttle and away we went across the glass-smooth water. I was amazed at how smooth the ride was. The tours go through the swamp, over the marsh, and through moss-draped trees.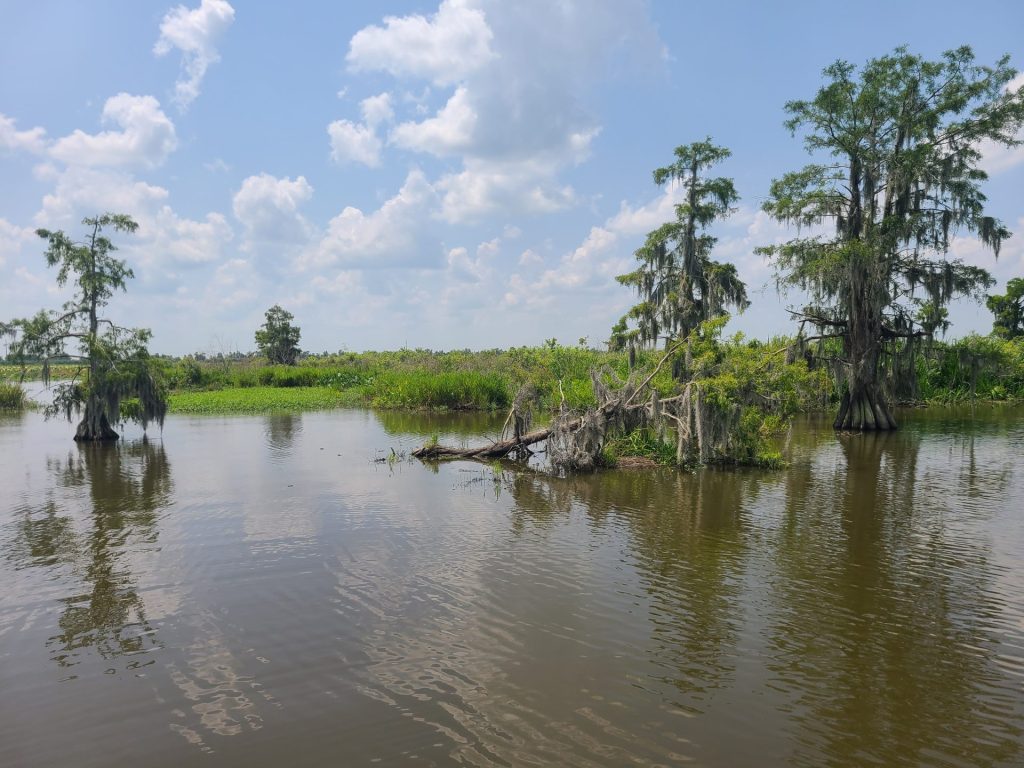 The airboat just glides across the water and weeds cruising along at 45+ mph. It seems like you're going way faster than you are. It almost seems effortless, except for the roaring engine and propeller.
At one point we crossed over a dyke that was covered with a sheet of Teflon so the boat could cross over without tearing up the dyke or the boat. Once in the swamp, we skated along a field of lilypads in full bloom. Arthur stopped and picked a seed pod off one of the plants and we tasted the seeds. It was interesting for sure.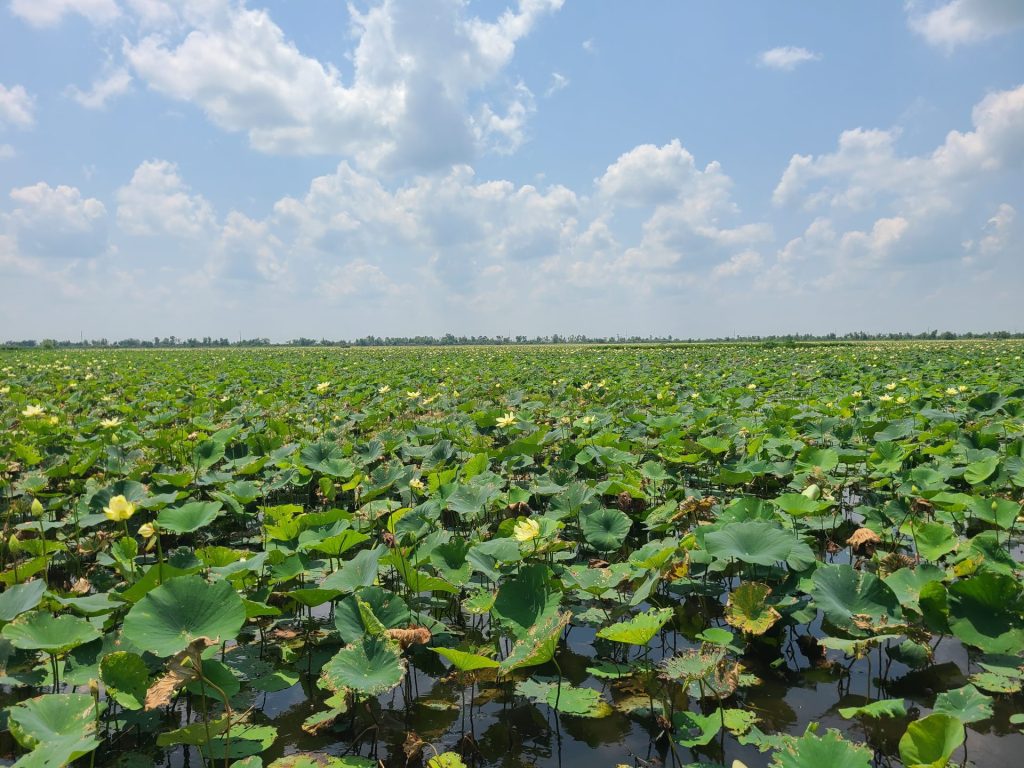 Further into the swamp, we came upon a few alligators and Arthur fed them for us to see. He also showed us a momma gator with her nest. He explained what a good mom she is and how she takes care of her babies.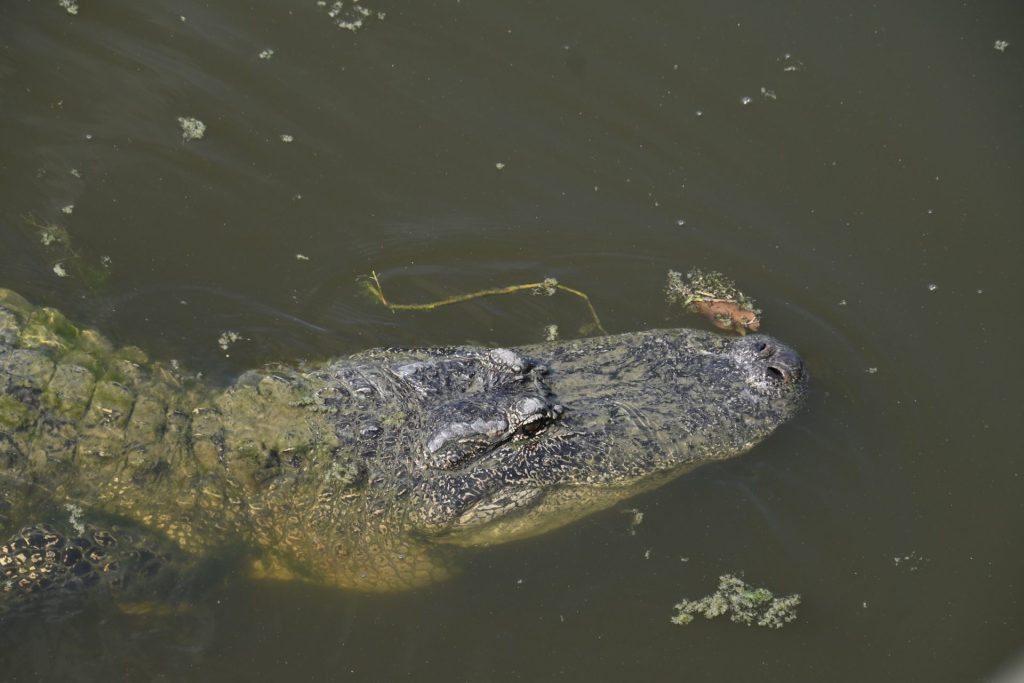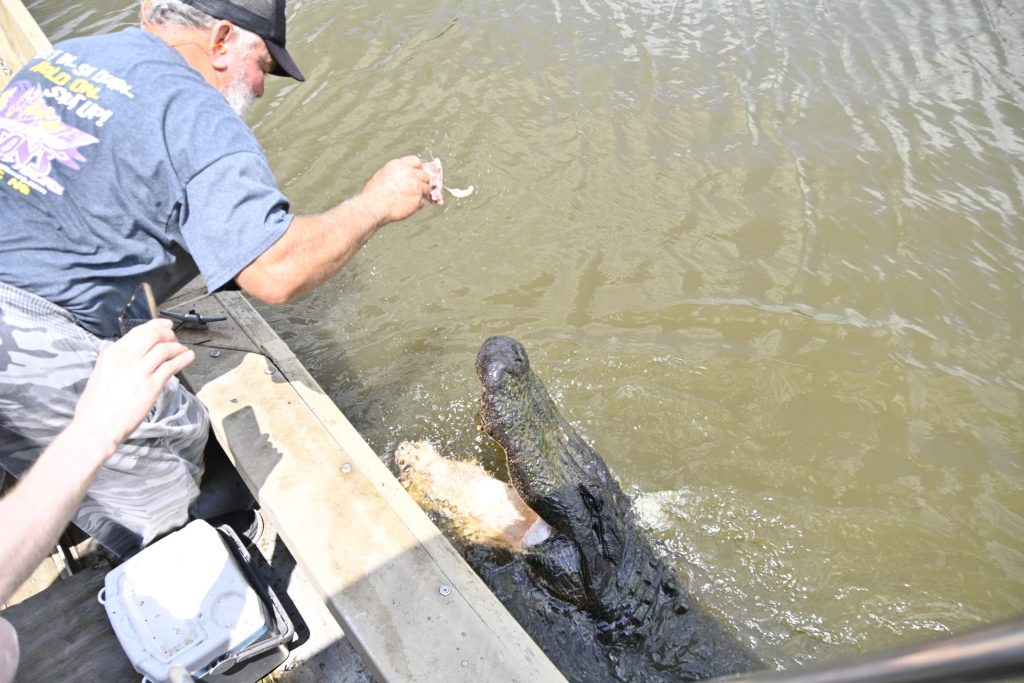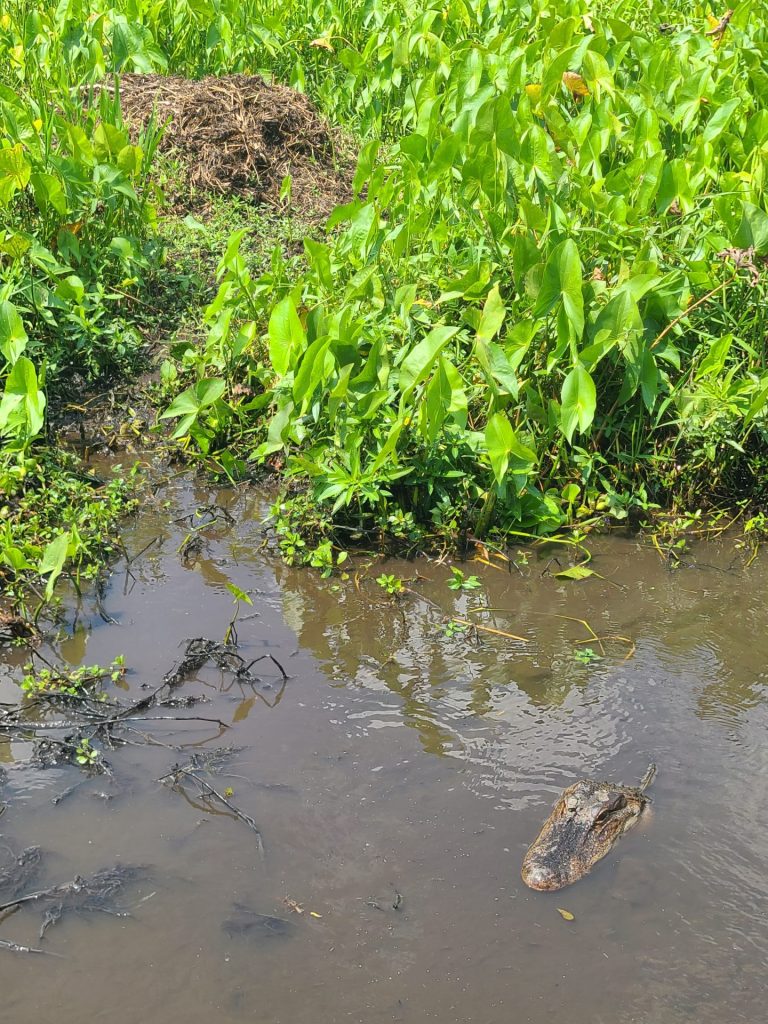 We got to an area with a lot of weeds and saw a small alligator. Arthur wanted to catch it so we could have a hands-on experience. He had the guy sitting next to us try to grab the little guy with a claw-like grabber on a pole. The guy missed the first attempt, Arthur kept maneuvering the airboat around trying to catch the little alligator. Attempt after attempt the guy kept missing. Then we became stuck in the mud. We weren't going fast enough to glide over the mud and it sucked us to a stop.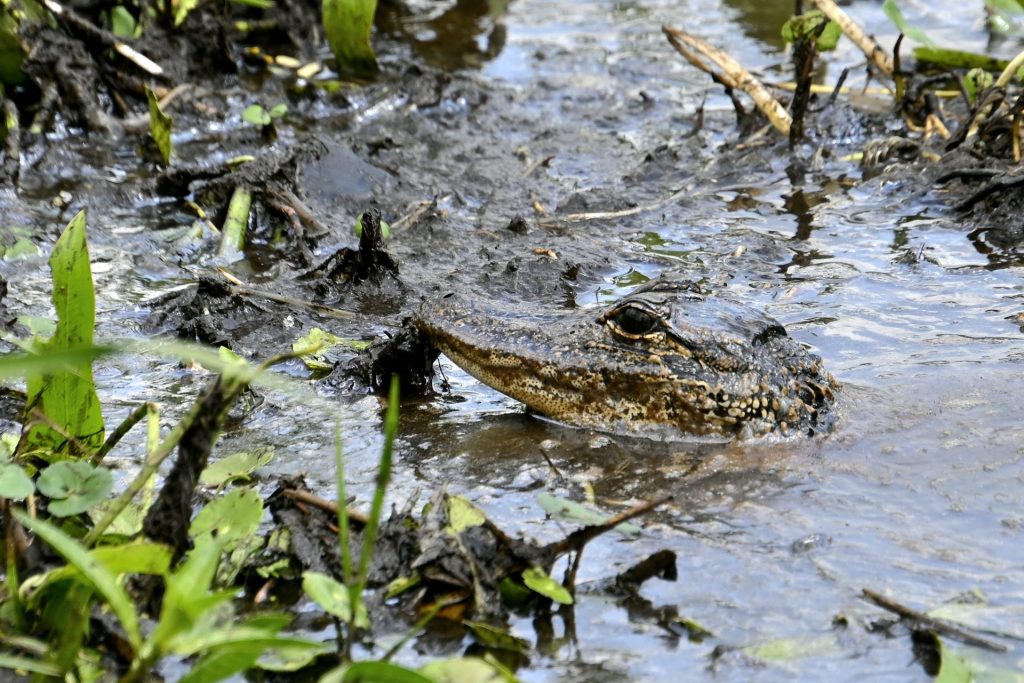 It was actually a fun part of our trip and as Arthur said "If you don't get stuck once in a while you're not going deep enough into the swamp!" We rocked the boat as Arthur revved the engine. Inch by inch we worked our way forward toward some water. At one point Arthur ran a couple of bamboo poles under the boat to help us glide forward a little easier. It took about 10 minutes of rocking and revving to get the boat freed up and back underway. Although we never caught the little alligator we had a bit of excitement and were on our way to see more alligators.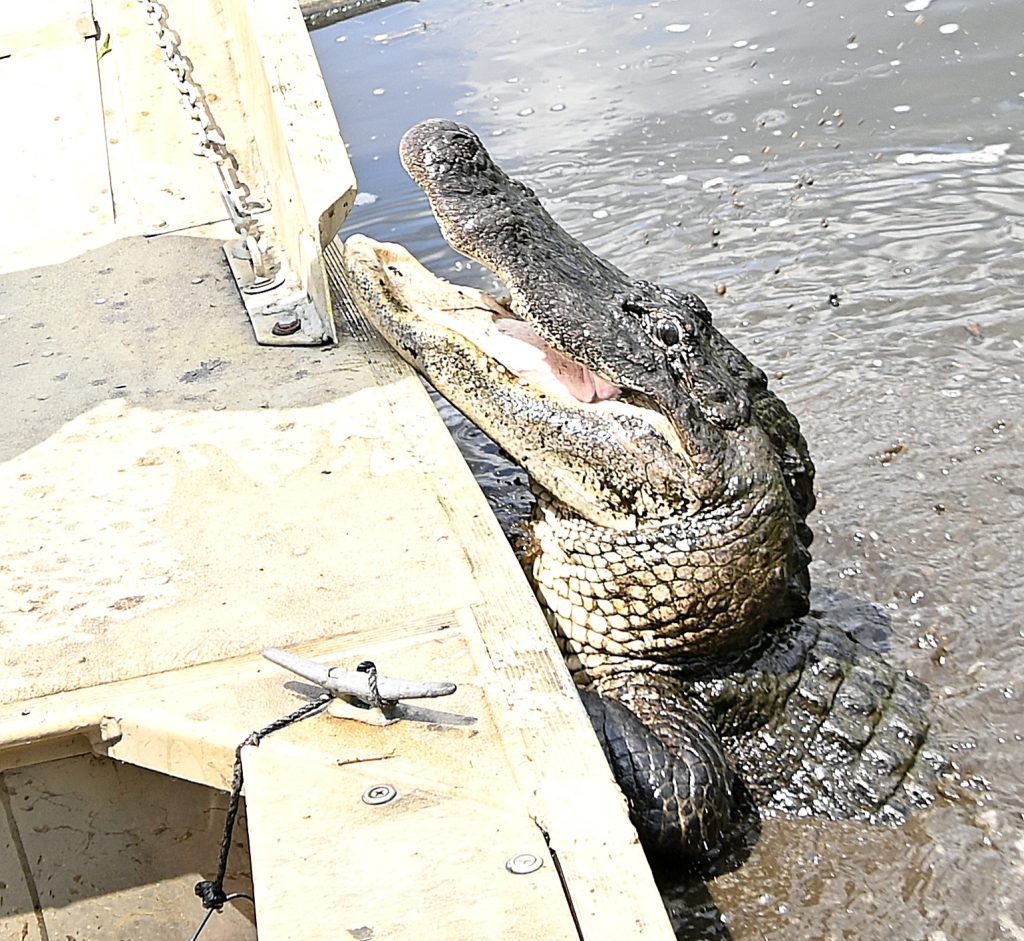 Arthur showed us a gator that didn't have any teeth. An interesting find on our journey. All in all the tour was filled with a vast education of the swamp, vegetation, birds, insects, and most of all, the gators.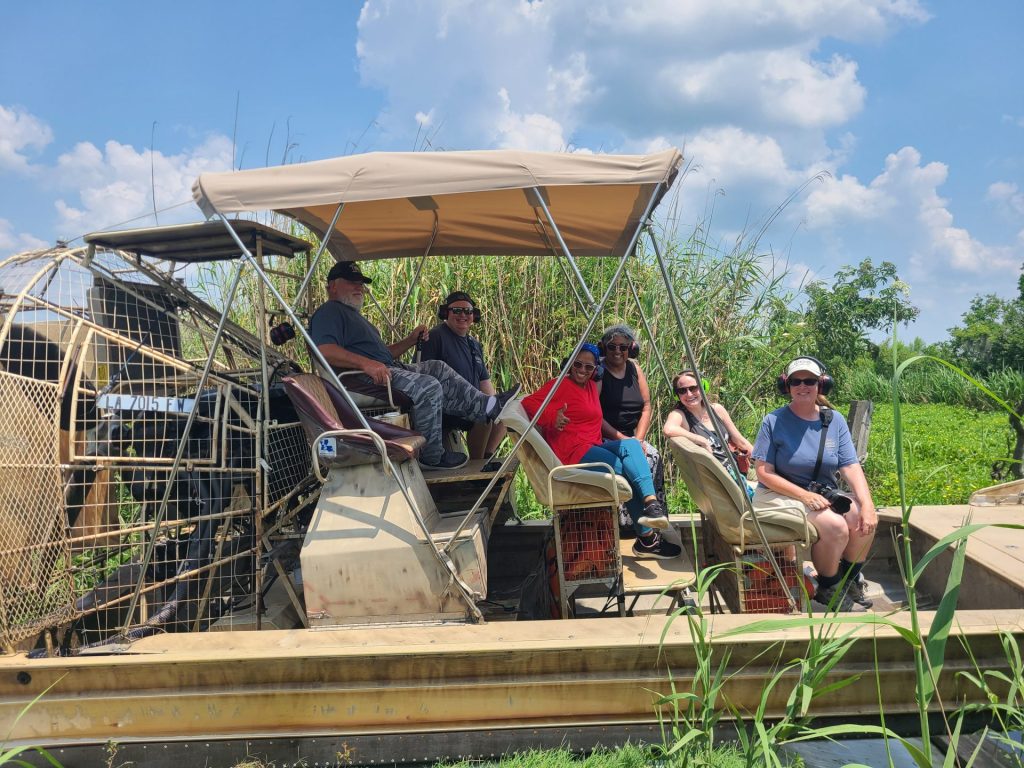 FAQs (Frequently Asked Questions)
Are airboat tours safe? Yes, airboat tours are generally safe when operated by licensed and experienced guides who adhere to safety regulations. Passengers are typically provided with life jackets for added safety.
What should I wear on an airboat tour? Wear comfortable and weather-appropriate clothing, such as shorts or lightweight pants, a hat, sunglasses, and sunscreen. It's also recommended to bring a light jacket or windbreaker, as airboat rides can be breezy.
Can I bring a camera or binoculars on the airboat tour? Yes, you can bring cameras and binoculars to capture the unique sights and wildlife during the tour. However, be cautious not to drop them into the water during the ride.
Will I see wildlife during the airboat tour? Wildlife sightings are common during airboat tours, especially in natural habitats like swamps and marshes. You might see alligators, birds, turtles, and other local fauna.
What is the best time of day for an airboat tour? Early morning and late afternoon are often recommended for airboat tours as wildlife tends to be more active during these times.
Other Louisiana Tours
Conclusion
We had a blast and checked off a bucket list item. It truly was one of the highlights of the trip through Louisiana.
This family business really cares about providing guests with an authentic and thrilling experience. Arthur was a fun and entertaining guide.
We highly recommend Airboat Tours by Arthur if you're in the area. If you're in another area of Louisiana definitely do an airboat tour there we're sure you'll find it fun and exciting.
What interesting places can you recommend? We're always looking for neat out-of-the-way experiences to add to our list of places to visit. Thank you for reading our article. If you have any comments or questions we'd love to hear from you below.