It's just a matter of time before a rock flies up and hits your windshield. We made it over 23,000 miles in our class A motorhome before we got hit with a rock off of a semi that had passed us.
We were heading to our summer Workamping gig in Island Park, Idaho we just left I-15 onto Highway 20 as a truck passed us and pulled back into our lane a little too soon. The rock flew from the truck's tires and hit at about my 2:00 position leaving a chip. After a few choice words we had a decision to make. Do we leave the chip and risk it cracking out, or do we stop someplace to have it repaired?
With it being late April we knew we could have a few more weeks of winter in the Yellowstone area, and with low nightly temperatures the chip would likely crack out. We decided to stop and have the chip filled.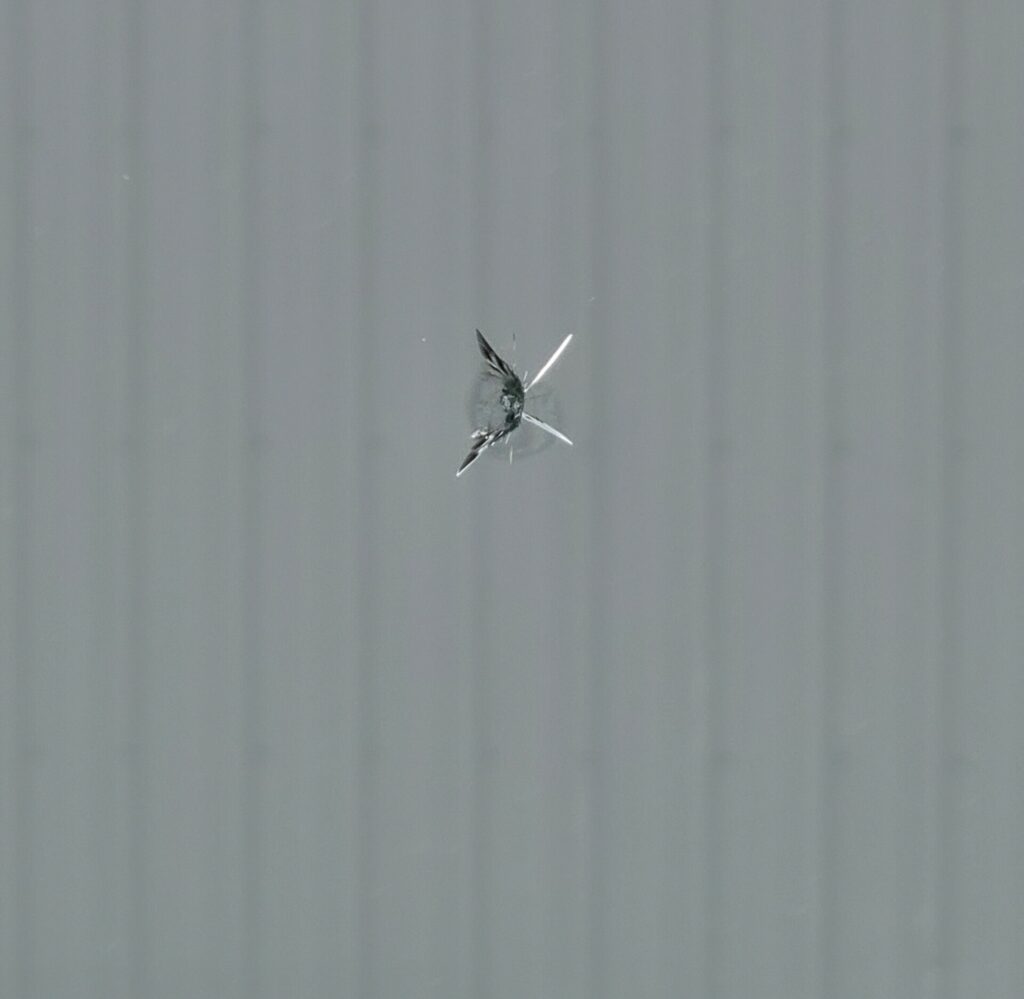 Note: Some of the links in this article are affiliate links.
GoFullTimeRVing.com is a participant in the Amazon Services LLC Associates Program. As an Amazon Associate, we earn from qualifying purchases linking to Amazon.com and affiliated links. When you use the links on this page to make a purchase, we may get a small commission and you may get a great bargain. You don't pay anything extra by purchasing through these links. It's a win-win all around. See our Full disclosure for more info. Thank you!
I had Lisa start looking for a windshield place in Rexburg, Idaho. She came up with A-1 Windshield. They were recommended to us last year when we were thinking of having our Jeep windshield replaced. So we figured we'd stop in and see if they could fill our chip.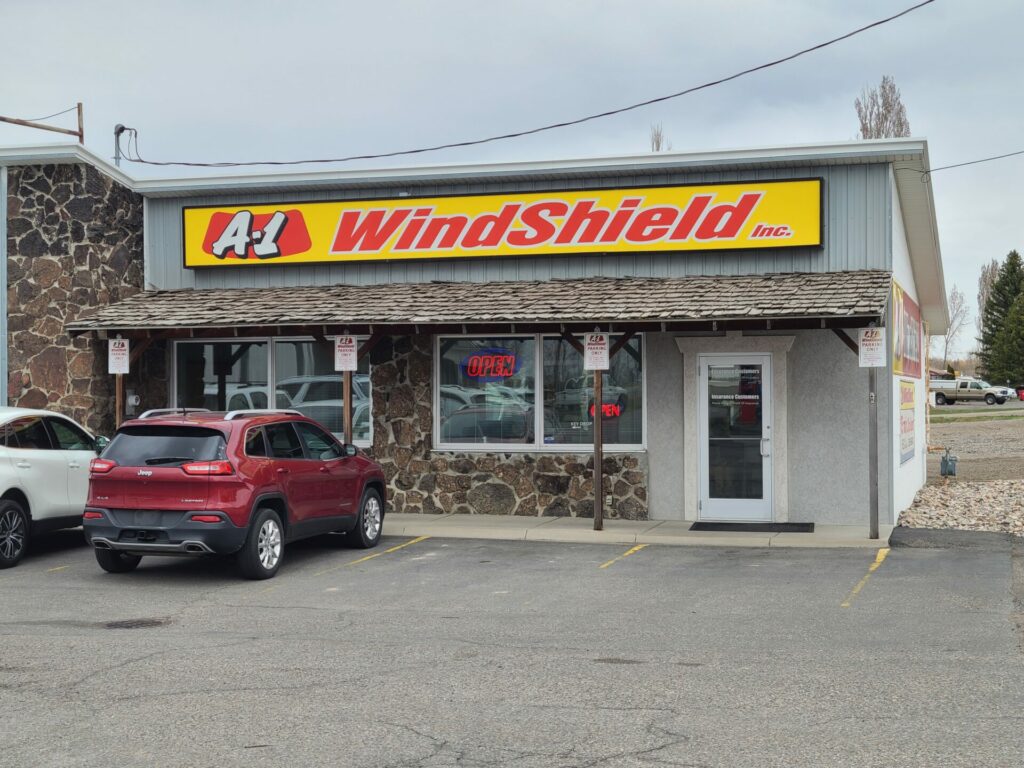 A1 Windshield's shop is just off of Highway 20 in Rexburg with easy access around the backside of their property for us to pull around with our 38-foot motorhome and Jeep toad. We got parked and went in to see if they had time to fill our chip. Alan came right out and looked at our chip. Within 15 minutes he had it filled and looking good again. We could hardly see where the chip was when he finished. Probably the best $25 we have spend. It saved our full windshield from needing replaced.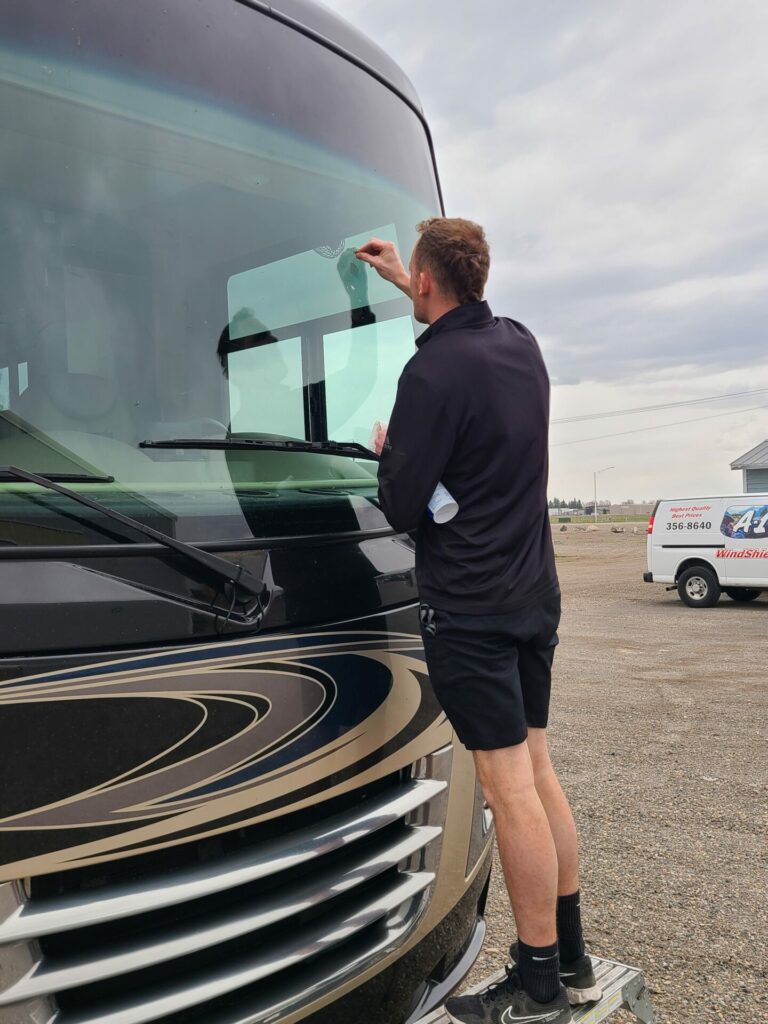 Two weeks after the chip repair on our motorhome one of the chips on our Jeep windshield cracked when we turned on the defroster. The crack went the length of the windshield. So we made another trip to A1 Windshield in Rexburg to replace it. Ryan the owner had the windshield fully replaced in about 30 minutes. We were amazed at the speed it was completed and the price was about $100 less than we saw on Safelite.
If you get a chip in your windshield don't delay, it can be a costly replacement for a whole windshield especially if it's a windshield like on a Class A Motorhome. And if you are near Rexburg, Idaho we highly recommend A1 Windshield.
Thank you for reading our article. If you have any comments or questions we'd love to hear from you below.