Angostura Recreation Area has 168 partial hookup sites in four campgrounds. Cascade Campground, Cheyenne Campground, Hat Creek Campground, and Horsehead Campground.
This post contains affiliate links. As a participant in Amazon Associates and various affiliate programs, we are compensated when qualifying purchases are made through our referral links at no additional cost to you. Full Disclosure
We do all our trip planning with RV Life Trip Wizard. RV Trip Planning Made Simple! RV Life Trip Wizard is by far the best RV route planner we've found. Get your 7 day Free Trial
Location
Located a short drive from Hot Springs, South Dakota and the Black Hills area makes Angostura Recreation Area an ideal location to base your adventures. The address for the park office is 13157 N Angostura Rd, Hot Springs, SD 57747.
Prices
Day usage at the park is $8/day. Campground sites with electrical are $26/night. Campground Non-electrical sites are $22/night. Cabins are $55/night.
Reservations
For Reservations Click here for Angostura Recreation Area Reservations or call 1-800-710-2267.
Our Review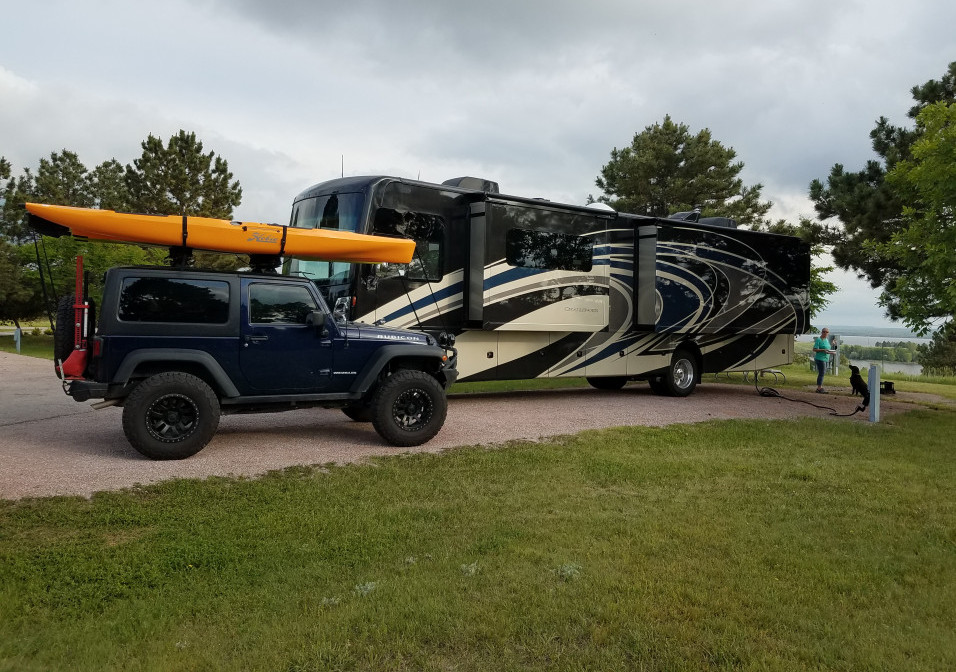 We stayed at Angostura Recreation Area from June 17-21 2019. Angostura Reservoir is a water-lover's haven with breathtaking, scenic views. We were late in booking our stay in the Black Hills area so we ended up at the Angostura Recreation Area as other campgrounds in Custer State Park were fully booked.
The whole area is amazing and our site 2E in Cheyenne Campground was really nice. The campground is well-kept and the staff very friendly and helpful. The grass around the park was mowed regularly. We had 50 amp electrical but no sewer or water hookups.
Showers and restrooms were close to our site. They were kept clean daily. The campground was very quiet during our stay and did I mention that lake? It's huge! We own kayaks but we're too busy taking in all the touristy spots in the Black Hills to use them. There was also a playground across the street from us.
Definitely a great place for families. Kayak and bike rentals are available. Be careful driving at night cows and horses on the road that leads to the campground.
Next time in the area we would stay here again to enjoy the 36 miles of shoreline, and some of the finest sandy beaches in the state. We'd love to take in some of the many water sports and summer fun activities.
Emergencies happen, and Good Sam Travel Assist has you covered when they do. Learn More Today!
Amenities
Angostura Recreation Area is an amazing area with lots of amenities. The staff is very friendly and helpful with any questions you may have.
The restrooms and showers were in great shape, spotlessly clean, and well taken care of while we were there.
We didn't do laundry while we were there and don't know if they have a laundry room.
There is no dog park but dogs are allowed on leashes.
We didn't see a lodge but there is a nice Visitor Center where you check into the campgrounds.
You don't need a pool or spa when you have a lake like Angostura Reservoir.
We didn't have a need to use any mail or package services while we were in the area.
Sports, Recreation, and Playground Areas
The Cheyenne Campground has a nice play area for the kids. We didn't see anyone using it while we were there.

Things to see/do nearby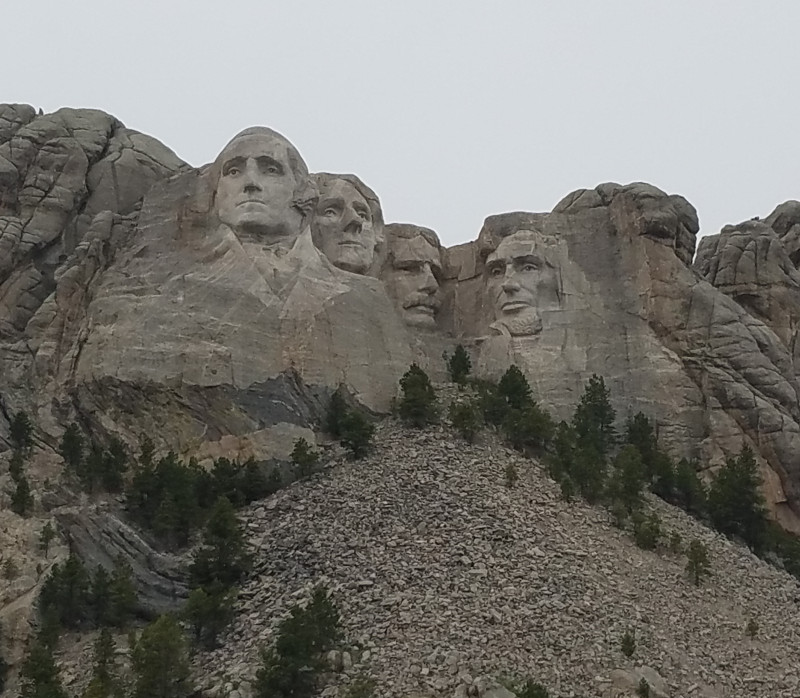 While it's a bit of a drive to a lot of the areas the tourists flock to in the Black Hills don't be afraid to stay at Angostura Recreation Area. We took full advantage of our four nights in the area. Taking time to stop and see The Mammoth Site. Always one of our favorite things to see is the fossils.
During our stay, we made trips to Custer State Park, Badlands National Park, Mount Rushmore National Memorial, and Jewel Cave National Monument. And don't miss Wall Drug it truly is a gem.
For more things to do in South Dakota click here.
Conclusion
When looking for a campground in the Black Hills area don't overlook Angostura Recreation Area. It may be a bit of a drive to some things you want to see but it's definitely worth the drive for the beauty of the lake. The campground is very nice and well-maintained. The staff is friendly, helpful, and willing to go the extra mile to ensure you have an enjoyable stay.
What interesting places can you recommend? We're always looking for neat out-of-the-way experiences to add to our list of places to visit. Thank you for reading our article. If you have any comments or questions we'd love to hear from you below.
If you're looking to build your own home-based business like we have with this webpage, check out Wealthy Affiliate.
Wealthy Affiliate is an all-in-one platform that you can build your whole affiliate marketing business on. It combines training, software, and website hosting into one. This makes the whole process of starting an online business from scratch much easier, especially if you're new to building a website.