Williams FamCamp on Buckley Air Force Base has 38 total Pull-Through and Back-In Full Hookup Sites.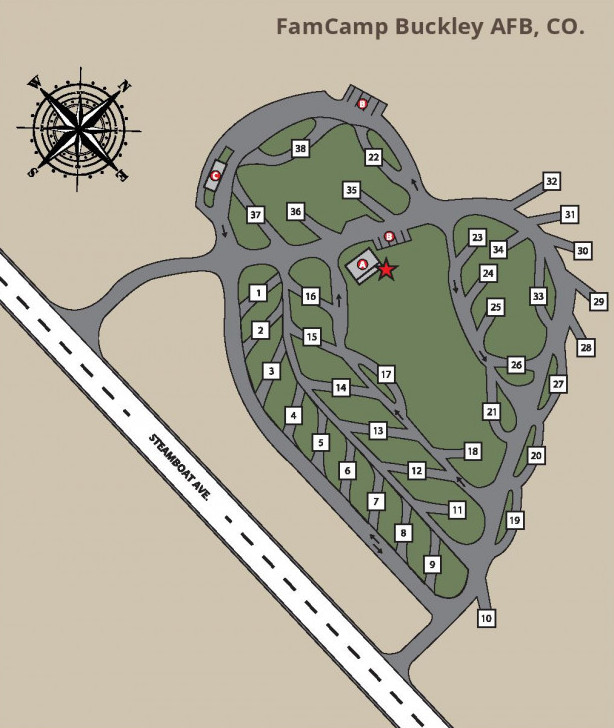 This post contains affiliate links. As a participant in Amazon Associates and various affiliate programs, we are compensated when qualifying purchases are made through our referral links at no additional cost to you. Full Disclosure
We do all our trip planning with RV Life Trip Wizard. RV Trip Planning Made Simple! RV Life Trip Wizard is by far the best RV route planner we've found. Get your 7 day Free Trial
Location
Located in Aurora Colorado on Buckley AFB. Just a short drive to Denver and the surrounding areas. The Outdoor Recreation Center that runs the FamCamp is located at 538 S Aspen St, Buckley AFB, CO 80011. This campground is on an Air Force base, you must be a DOD cardholder to access the base and Williams FamCamp. The campground itself is located on East Steamboat Ave. Buckley is a fairly small Air Force Base so the Commissary, AAFES Exchange, Base Gym, and AAFES Gas Station are all nearby.
RV's must use the commercial (Mississippi Gate) to access the base. This gate is open 24/7 and has a larger access point than the Main Gate.
Prices
Site rental is $22 per night, April 1st thru October 31st, and $20 per night, November 1st thru March 31st.
Reservations
Reservations can be made in advance by calling Outdoor Recreation at 720-847-6100.
Reservations are taken 60 days in advance for active duty, reserve, and guard members. 30 days in advance for all other eligible users.
April 1st thru October 31st stays are limited to 45 nights.
November 1st thru March 31st stays are limited to 30 nights with a possible 30-night extension the day before the first 30 are up.
Our Review
We stayed here from May 6-June 17th 2019. It is a nice quiet park. The location is great with lots of space at each campsite. A few nice trails to walk dogs on. Not as many planes flying over as at other bases we've stayed at. The weather while we were there was terrible, to put it mildly. Everything from severe thunderstorms with pouring rain, hailstorms, tornado warnings, and snowstorms. We don't know if it's that way every year or if we ran into a strange weather year.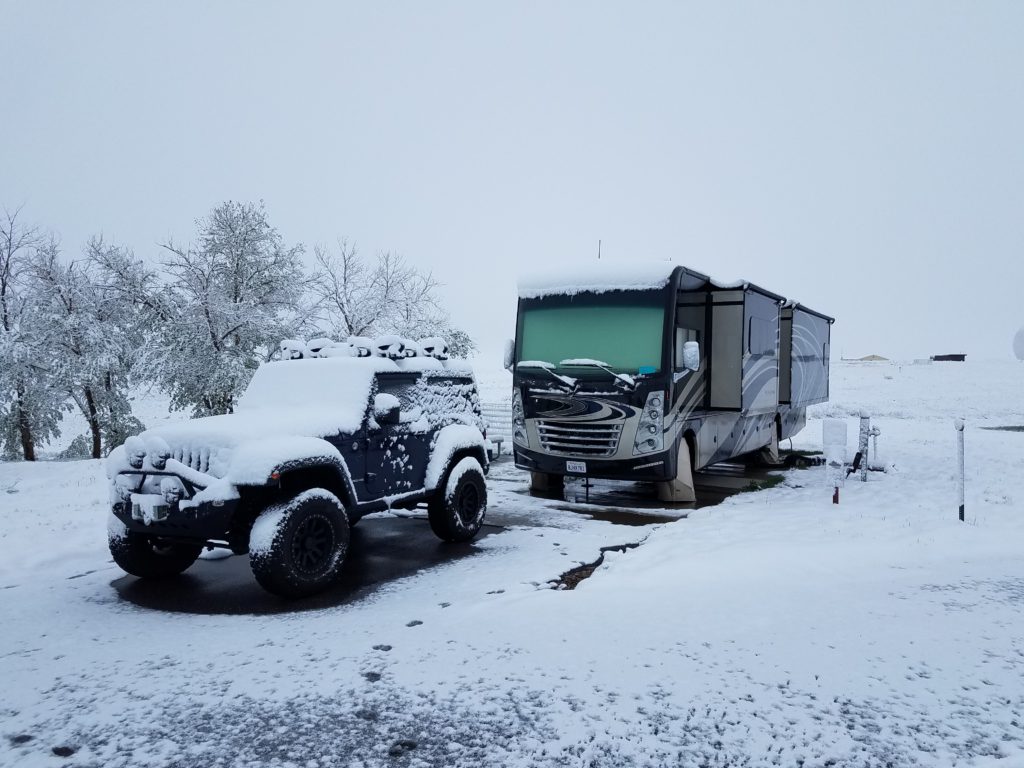 We had a minor misunderstanding after arrival. Since we were arriving after 5pm on May 6th the Outdoor Recreation Office was going to be closed. Calling ahead they told us to find a spot and come see them the next morning. We found a vacant spot and got settled in. The camp host came by to greet us. The next morning we checked in with the Outdoor Rec Center to register and pay for our site. Three days later we get a call from Outdoor Rec asking if we are still coming in. Somewhere the ball got dropped that we actually had arrived.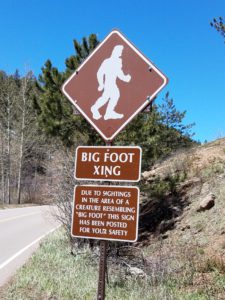 No fault of the park but we have to mention the moths. Oh my! They were constantly getting into our RV! We would catch a dozen or more a day. Could never figure out how they all got in or where they came from. Guess it's the biggest complaint in the park.
It's a nice campground. However, we would probably stay somewhere else if in the area again. We really liked the Colorado Springs area so we'd be tempted to stay at the Air Force Academy Campground instead. The Outdoor Rec center needs to take charge of Williams FamCamp and not rely on the camp host to do everything unsupervised.
Amenities
Williams FamCamp doesn't have too many amenities you'd like to see at a campground. The Outdoor Rec staff is very friendly and helpful with any questions you may have. But they don't have a hands-on approach to the campground.
The restrooms and showers looked so-so. We never really used them since we had a full hookup site. We were ordered there once for a tornado warning as this is the shelter. But everyone just stood outside close to the doors.
The laundry room is free. But only 2 washers and 2 dryers. That's okay except the washers don't work half the time. We mostly ended up going out in town to Creekside Laundry to wash our clothes.
Last week we were at the campground all the washers and dryers happened to be working at the same time. We were finishing our laundry when a pregnant lady with 5 kids came in to do her laundry. Her oldest daughter was very chatty and told me they didn't live there but just come here to do laundry. "Camp host is mommy's friend and lets us come here," she said.
Rules state only RVers. There clearly aren't enough washers and dryers for outsiders to come in and do their laundry too.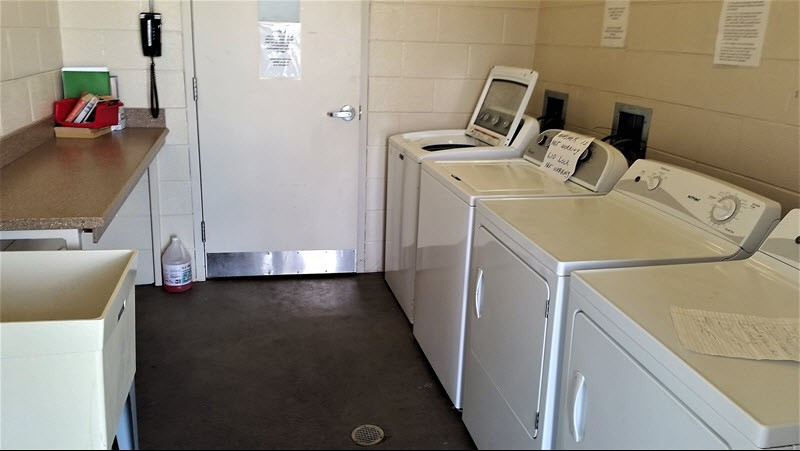 There is no dog park at Williams FamCamp but a few trails to walk the dogs on. One thing we discovered in Colorado is there are some amazing dog parks around. While staying in Aurora we frequented Grand View Dog Park.
No Lodge
Williams FamCamp doesn't have a Pool or Spa. There may be a pool and spa at the base gym but we didn't go there.
There is no mail or package service at Williams FamCamp. We used the UPS Store in Aurora for our packages.
Sports, Recreation, and Playground Areas
There are no playground or sports areas at the campground but there is a walking/running trail along Steamboat Ave and recreation areas on base.
Things to see/do nearby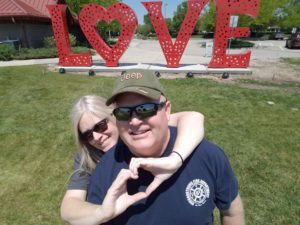 Aurora is close to Denver so there are a lot of activities to keep you busy in the area. Take in a baseball, football, basketball, or hockey game depending on the season. During our stay, we tried going to a few baseball games, but twice we were rained out. Finally, we managed to see one game but it was so cold we only stayed till the 7th inning.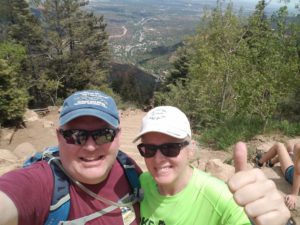 While we were in the area we kept busy and traveled between Rocky Mountain National Park to the North and as far South as Colorado Springs.
A few of our favorite places were seeing and photographing the Heart Sculptures in Loveland, Spending time in Estes Park and Rocky Mountain National Park. Kayaking the lakes around Colorado Springs with our new kayaks and climbing the Manitou Incline. We spent a day exploring Pike's Peak and the surrounding area. A day fly fishing some of the streams near Estes Park was one of my favorite days.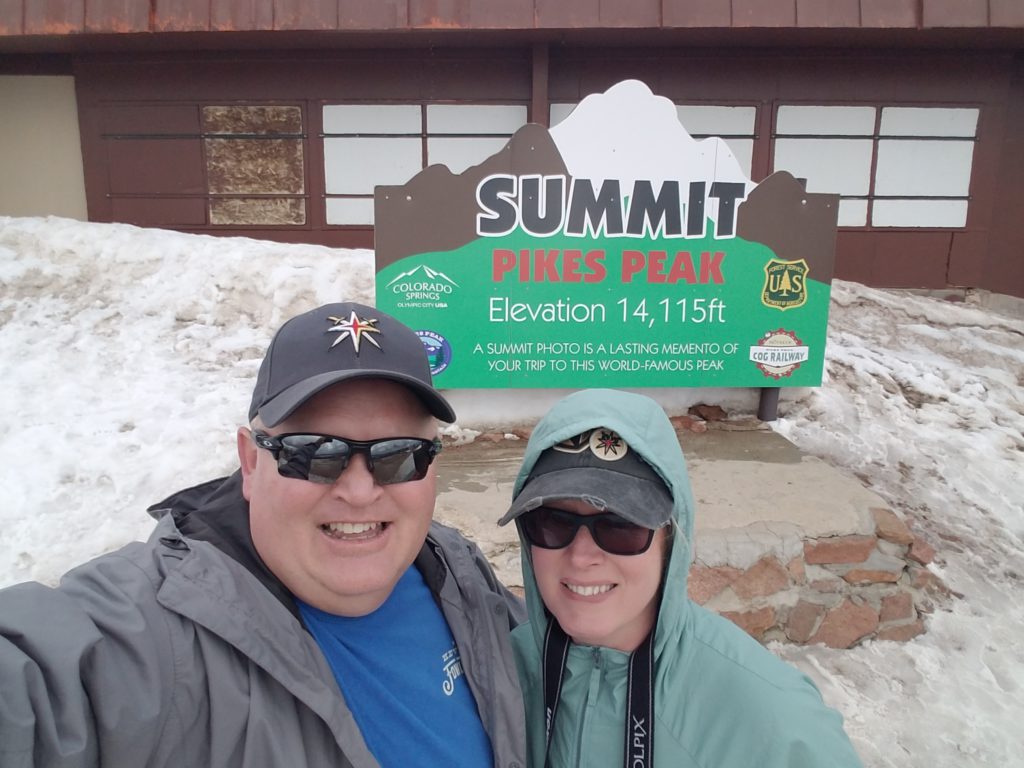 For more things to see and do near Denver click here.
Conclusion
When looking for an economical campground in the Denver area Williams FamCamp is a good choice if you have access to DOD facilities. The campground is decent and the price is good.
What interesting places can you recommend? We're always looking for neat out-of-the-way experiences to add to our list of places to visit. Thank you for reading our article. If you have any comments or questions we'd love to hear from you below.
If you're looking to build your own home-based business like we have with this webpage, check out Wealthy Affiliate.
Wealthy Affiliate is an all-in-one platform that you can build your whole affiliate marketing business on. It combines training, software, and website hosting into one. This makes the whole process of starting an online business from scratch much easier, especially if you're new to building a website.