Eagle Cliff Campground and Lodging in Lanesboro, Minnesota is one of the nicest campgrounds we've stayed at. We stayed here early on in our Full Time RVing life but it is still one of the nicest places we've been. The grounds are very well-kept and the owners, staff, and seasonal campers are all very friendly. This is definitely a place we'll stop at again if passing through the area.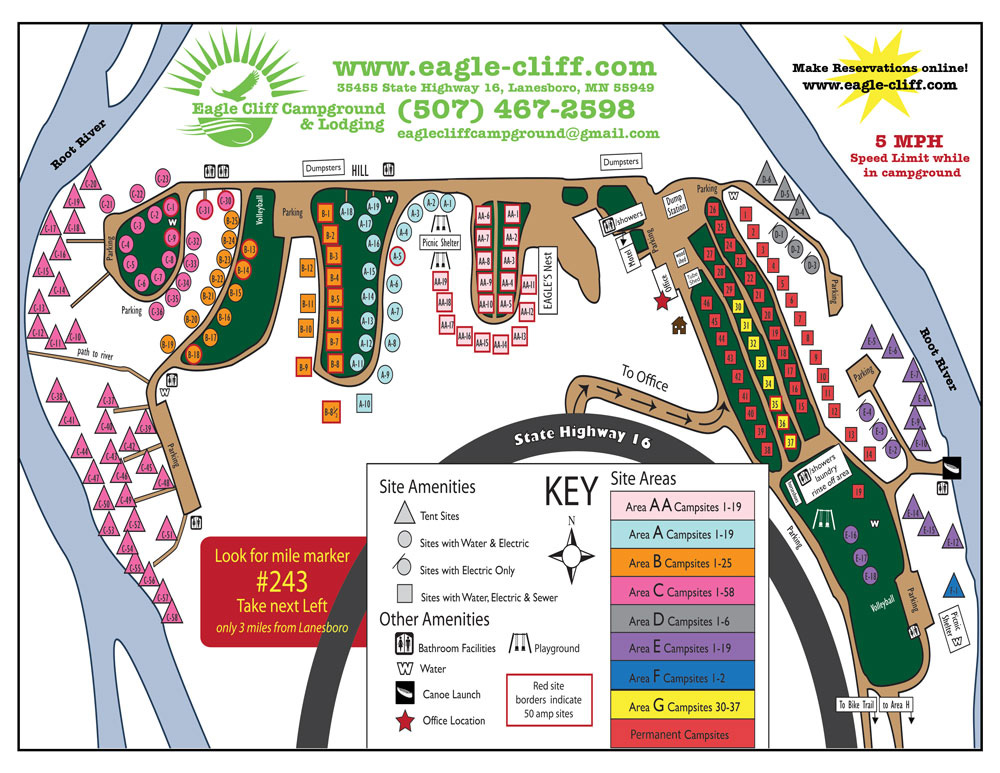 This post contains affiliate links. As a participant in Amazon Associates and various affiliate programs, we are compensated when qualifying purchases are made through our referral links at no additional cost to you. Full Disclosure
We do all our trip planning with RV Life Trip Wizard. RV Trip Planning Made Simple! RV Life Trip Wizard is by far the best RV route planner we've found. Get your 7 day Free Trial
Location
Located just three miles east of Lanesboro, Minnesota, and right on the Root River makes Eagle Cliff Campground a great place to stay.
35455 State Hwy 16
Lanesboro, MN 55949
Prices
Eagle Cliff offers many options for camping: primitive tent sites along the river, electric only, electric/water, and full hook-up. Each site is large and includes a fire ring and picnic table. Camping rates listed below are per night, for 2 adults. Additional adults/children will be charged as indicated, with a maximum of 6 people per site.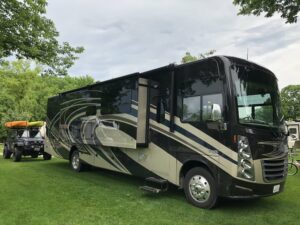 2021 Camping Rates:
Tent Sites $30/night
Electric Only Sites $34/night
Electric & Water Sites $37/night
Full Hook-up (Electric, Water & Sewer Sites) $41/night
50-amp Electric Add $2/night
Extra Adult $9 each/night
Holiday Weekends Add $5/site/night
Children 6-17 $3 each, Maximum $6/night
The five-room lodge at Eagle Cliff is popular, and books up quickly. These rooms offer the comforts of home and are great for group gatherings, where some of the group prefers to camp while others enjoy not. These rooms are large (14′ x 28′), non-smoking, and sleep 1-4 people in comfort. Each room features a private entrance, full bath, two queen beds, TV, air conditioning, deck, mini-fridge/microwave, and hairdryer.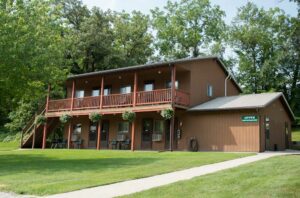 2020 Hotel Rates:
1-2 people $85/night
3-4 people $95/night
Holiday weekend rates are $90/$100
All linens are included in your rental.
Reservations
For Reservations click here. Call (507) 467-2598 or email: eaglecliffcampground@gmail.com
Our Review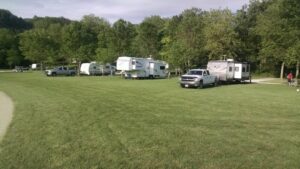 Eagle Cliff Campground is a beautiful park-like setting located on the Root River. Lots of grass. It's cut nice and short. Can almost see the river from our campsite. We walked to the river and it was flowing well. They offer tubing here we're debating trying it out. Lisa has never gone tubing before. They also have bike rentals and canoe rentals. Reasonably priced.
Sites are all grass, well maintained, and spacing generous. There is a small gravel pad for RVs. With over 250 Sites including 100 seasonal, the campground was very quiet. The campground store had the necessities as well as Schwann's ice cream cookies that we loved.
The owners and staff were very helpful and friendly during our stay.
Lanesboro is an easy drive away, so the location is perfect for taking a short drive to explore the area while having a quiet place to come home to.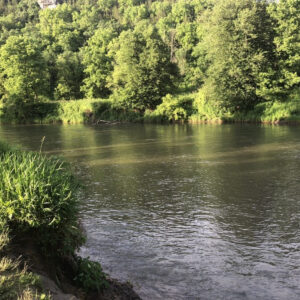 Bring bug repellent!!! You'd think with all the water and grass around that mosquitoes would be rampant. They claim to be naturally mosquito free and we didn't see any while we were there but there were some gnats that didn't bite but were equally annoying.
This area is known for its eagles. We didn't see any. We heard April-May is the best time to view them.
The seasonal people are very friendly. Everyone knows everyone. Fun community. Would be great for families.
Located on the Root River, they offer canoe and kayak trips as well as tubing.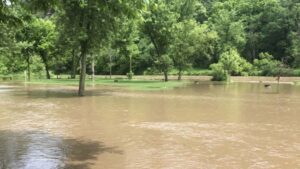 Unfortunately during our stay from June 27-July 1, 2019, we were not able to go kayaking due to flooding in the area. It started raining Friday night 6/29 and into the early morning. The river rose 4 feet in three hours. By 2pm it had covered all the lower tent area.
The staff was awesome. They made sure tent folks were moved before the flooding reached them. Not quite what we had in mind when we came here but Mother Nature had other plans. Turned into a one of a kind adventure. It was wild watching so much stuff gets carried down the river.
End of the day we'll come back here. We loved the park, and RV area and the people were so nice. I still recommend this park! It's definitely someplace that we want to go back to and play in the river.

Amenities
Eagle Cliff Campground has most of the amenities you'd want from a campground. The staff is very friendly and helpful with any questions you may have.
The camp restrooms and showers were clean, but do cost money, 25 cents for 4 minutes.
Laundry
We were only here for a few days and only used the laundry facilities once. $1.75 to wash and $1.50 to dry. The rooms were very clean and well-maintained like the rest of the property.
Although they don't have a dog park our leashed dogs loved running and playing in the grass. Plenty of room for them to sniff around and stretch their legs going on walks around the campground.
Eagle Cliff Campground does not have a pool or spa but if you're looking for a dip the Root River is running right through the area.
Mail/Package Service
We didn't use any mail or package service while staying at Eagle Cliff Campground.
Sports, Recreation, and Playground Areas
Nice play area for the kids that was well utilized while we were there. They have a basketball court and volleyball (both on grass)
Things to see/do nearby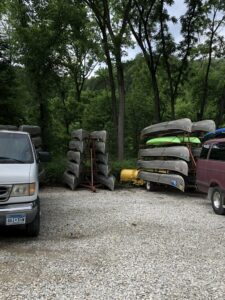 Things to do on site:
Tubing
Kayaking
Canoeing
Bicycling
Fishing
Volleyball
Horseshoe
Basketball
Games available in the office
Eagle Cliff offers a variety of rentals, including bikes, canoes, kayaks, and tubes. You do not need to be staying with them to do outfitting rentals. All outfitting is open to the public.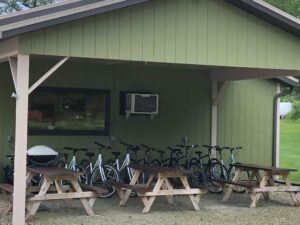 Things to do off-site:
Conclusion
When in Southeastern Minnesota check out Eagle Cliff Campground and Lodging for a peaceful place to camp or stay in their hotel. If relaxing next to a scenic river or going for a paddle is your thing you can't go wrong with Eagle Cliff! It's on our list of places we'd return to.
Have you stayed at Eagle Cliff Campground? What were your thoughts on the place? Let us know if you have any questions or comments below. Thanks for reading.
If you're looking to build your own home-based business like we have with this webpage, check out Wealthy Affiliate.
Wealthy Affiliate is an all-in-one platform that you can build your whole affiliate marketing business on. It combines training, software, and website hosting into one. This makes the whole process of starting an online business from scratch much easier, especially if you're new to building a website.