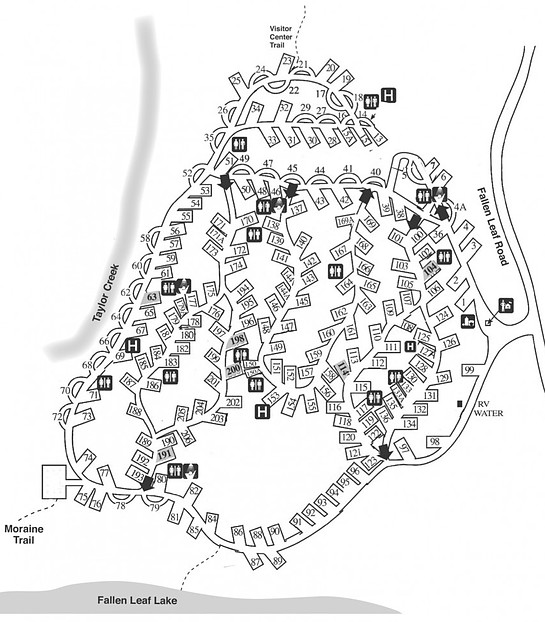 Fallen Leaf Campground features 206 sites that include six yurts and standard tent and RV sites. The campsites are no hook-up sites except for sites occupied by camp hosts and employees of CLM, the management company of the campground. The campground is typically open from mid-May through mid-October.
The campsites do not offer views of either the lake or Taylor Creek, but they are nestled among beautiful towering native pine, cedar, fir, and aspen. It's a short walk on one of the many trails to Fallen Leaf Lake, where the forested shoreline and surrounding mountains are reflected in its crystal-clear waters.
Prominent peaks include Cathedral Peak and Mount Tallac. The surrounding woods provide habitat for squirrels, coyotes, raccoons, chipmunks, and a variety of birds. The campground has some resident black bears that we saw a few times during our stay; please be safe around bears.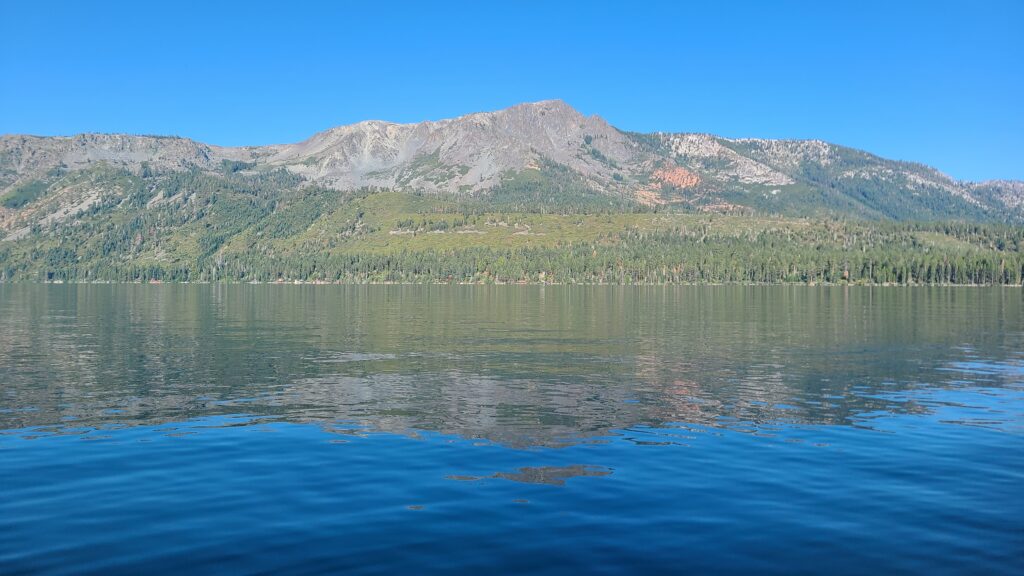 This post contains affiliate links. As a participant in Amazon Associates and various affiliate programs, we are compensated when qualifying purchases are made through our referral links at no additional cost to you. Full Disclosure
We do all our trip planning with RV Life Trip Wizard. RV Trip Planning Made Simple! RV Life Trip Wizard is by far the best RV route planner we've found. Get your 7 day Free Trial
Shop Camping World Products on Sale Now!
Location
Fallen Leaf Campground is located near the town of South Lake Tahoe, California. From South Lake Tahoe, take Highway 89 North from "The Y" junction of State Highway 50 and 89. In 3 miles, turn left on Fallen Leaf Road. The campground is about half a mile on the right.
It is a U.S. Forest Service Campground situated on the north shore of Fallen Leaf Lake near Taylor Creek. The south shore of Lake Tahoe is less than a mile from the campground. Fallen Leaf Lake is less crowded and not as well-known as Lake Tahoe, making this a great base camp for exploring the many sights and recreational activities in the area. It's a popular campground and tends to fill quickly.
Prices
Prices during the 2020 season were $36 per night for a campsite and $87 for a yurt site.
Reservations
For Reservations go to Recreation.gov. You can book up to 14 days per year.
Our Review
After our trip to Alaska was stopped before we could cross the Canadian Border due to Covid-19 we decided to take a job for the summer to save some money.
This was our first Workamping experience. We took jobs with California Land Management (CLM) a U.S. Forest Service permit holder and operator of Fallen Leaf and Nevada Campgrounds, Pope, Baldwin, Meeks Bay, and Nevada Beaches.
The job we took was working the beach kiosks at Pope and Baldwin Beaches. It consisted of selling beach day and seasonal passes. For our work, we received a free campsite at Fallen Leaf Campground and hourly pay.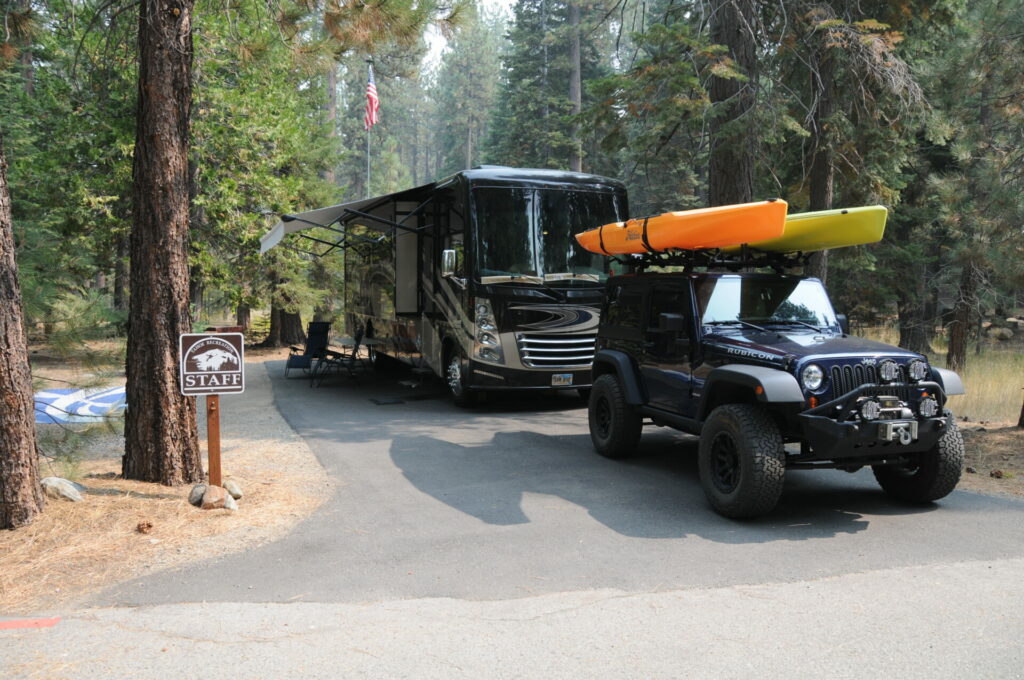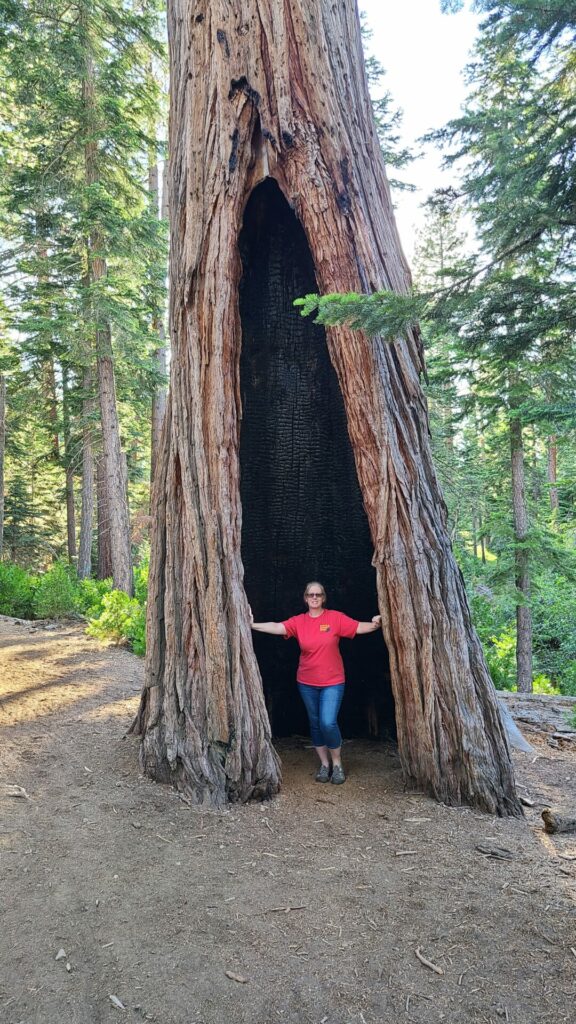 In a nice change of pace, the builders of this campground didn't crowd the sites on top of each other, but left plenty of space between sites, especially around the perimeter of the campground.
The setting is mostly ponderosa pine and cedar forest sprinkled with open meadows and many sites look out upon the meadows and forest with barely any sign of other campers. For our job we were assigned site 69 the largest site, we've had during our first 18 months of Full-Time RVing. It is a large full hook-up site near a restroom.
Fallen Leaf Lake and its campground are really beautiful and felt remote despite being pretty close to the development of South Lake Tahoe.
It is nestled among towering native pine and cedar trees. The campground itself is spread across numerous one-way loop roads that circle mixed forests and meadows. Many sites have meadow views, and some are located along Taylor Creek.
The campground is quiet and has plenty of room at most sites. There were many chipmunks and squirrels running around our campsite trying to find food or water from our dog's dishes. We had a few bears come through our campsite and saw coyotes nearby often.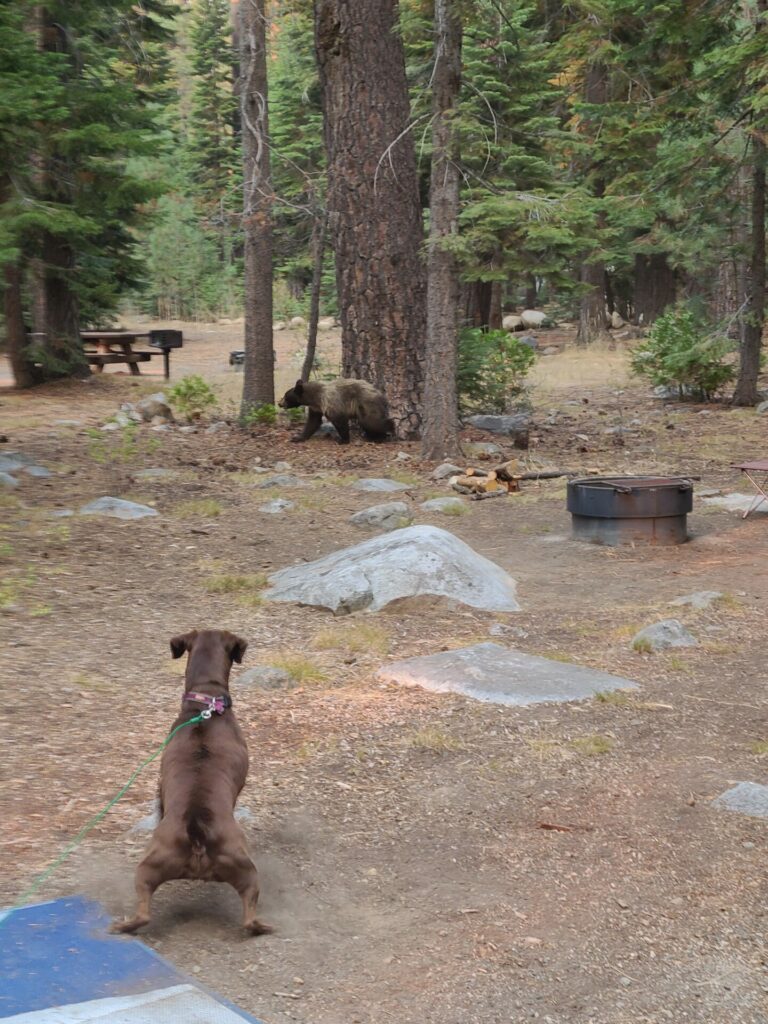 Fallen Leaf Campground is absolutely a place that families go to year after year. If you can get a site on the outer loop you will still have some separation.
In Tahoe, you'll never escape the crowds or tourists, but Fallen Leaf Lake Campground does a good job of insulating you somewhat from that while maintaining a nice campground on the edge of a lovely lake.
Plenty of trees and with the lake so close feels like you're in the heart of nature.
Save up to 25% on your family travel costs in 2021 by booking an RV through RVshare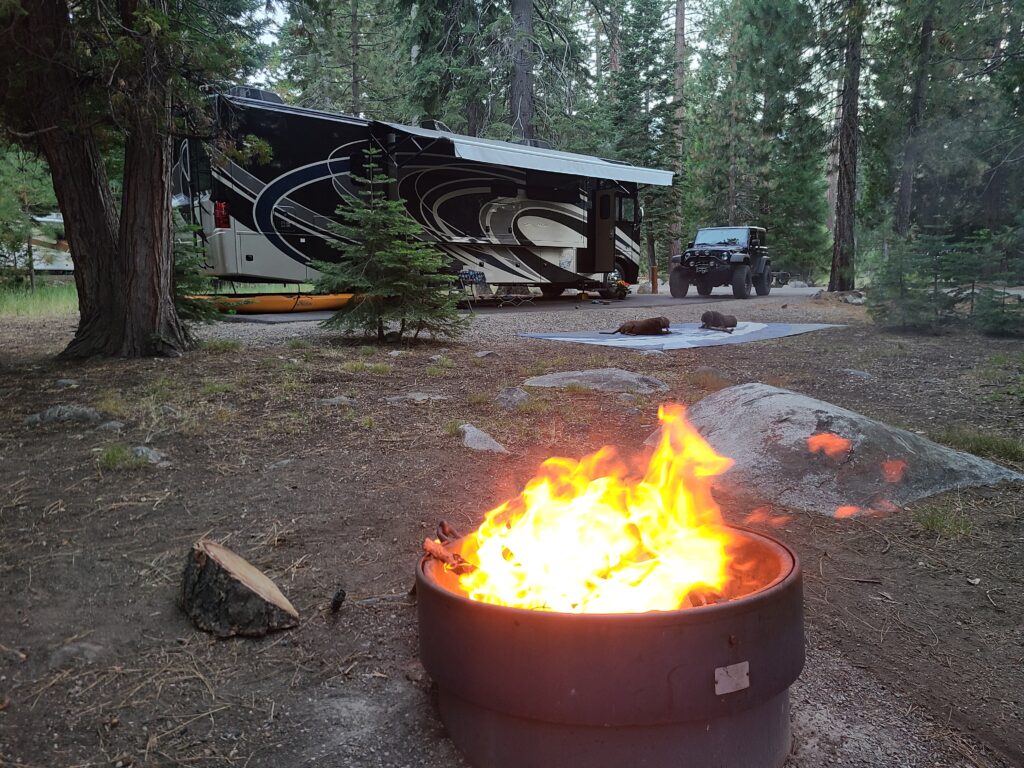 Amenities
The tent and RV sites have paved parking aprons. Each yurt and the standard site has a bear-proof food storage locker, campfire ring, pedestal grill, and picnic table.
Coin-operated shower facilities (that were closed due to Covid-19 during our stay), water spigots, and accessible restrooms with flush toilets are scattered throughout the campground. A camp host is on-site, and firewood and supplies can be purchased from the camp hosts. A public phone is also available.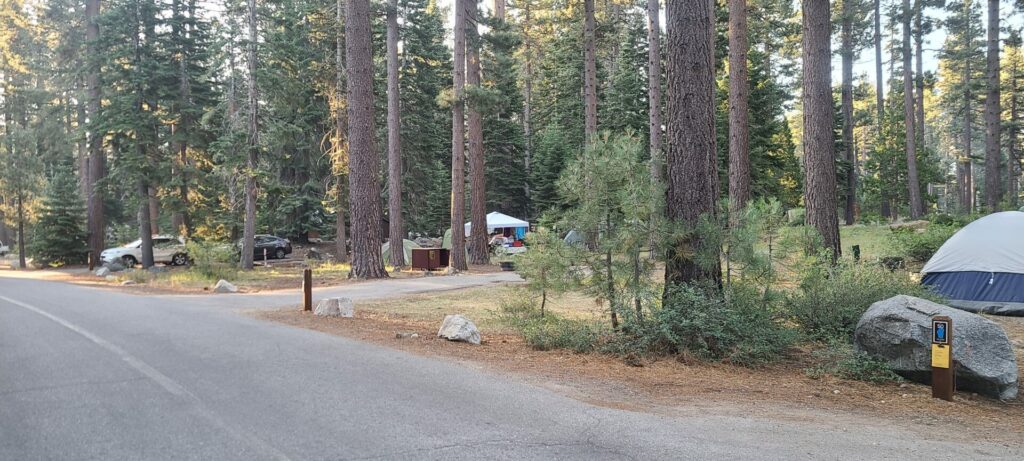 The Camp Store was closed during the 2020 season due to Covid-19.
The restrooms and showers were in good shape. The showers were closed due to Covid-19 during the 2020 season. Two new restrooms were constructed in 2020.
While there is no dog park, dogs are allowed on leashes in the campground and allowed in the water and on the beaches of Fallen Leaf Lake.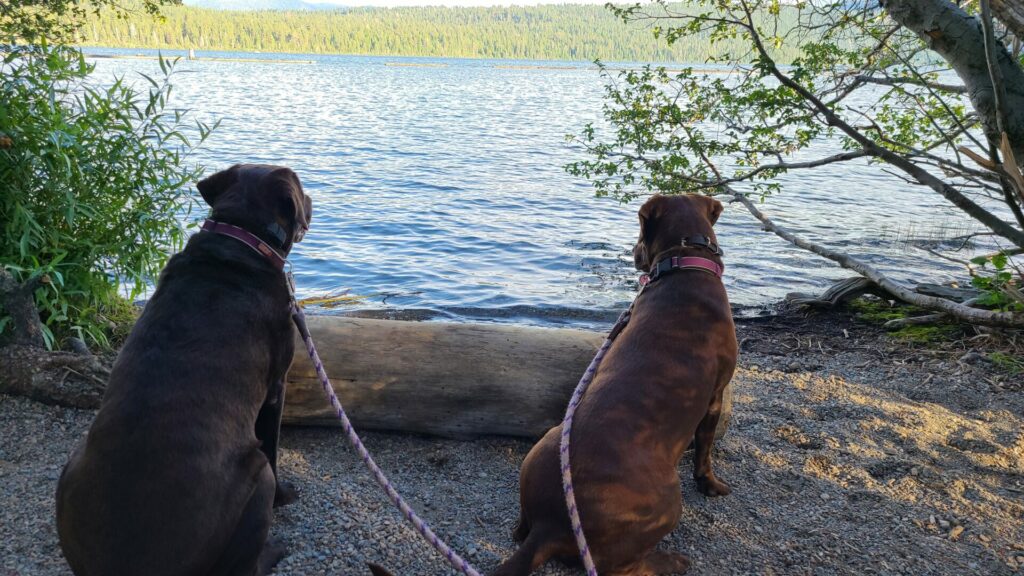 Phone and Internet Service
We use T-Mobile for our phone service. Service at Fallen Leaf Campground was poor with an occasional 1 bar of service.
Our Verizon MiFi received 1-2 bars of service and we were only able to get some basic internet late at night and early morning. We were not able to stream anything.
During our 99-night stay, we used general delivery mail service at the U.S. Post Office in South Lake Tahoe and received amazon and other packages at The Mail Bag and More. Kevin Jamieson was very friendly and helpful with our package delivery needs.
Both Fallen Leaf Lake and Lake Tahoe offer opportunities for non-motorized and motorized boating, tubing, water skiing, and windsurfing. Fishing is available at both lakes. I tried fly fishing Fallen Leaf Lake a couple of times but didn't catch anything.
Guests can swim in Fallen Leaf Lake, even though there are no designated swimming areas. The south shore of Lake Tahoe has the Pope and Baldwin swim beaches.
Hikers can access the 1-mile Moraine Trail from the campground. The Glen Alpine and Mt. Tallac trailheads are nearby for excellent day hiking and backpacking in the Desolation Wilderness.
The Taylor Creek Visitor Center is directly across Highway 89 and has interpretive programs, and guided walks on the Rainbow Trail and to the Stream Profile Chamber although they were all closed during the 2020 season due to Covid-19. The Pope-Baldwin bike path parallels Highway 89.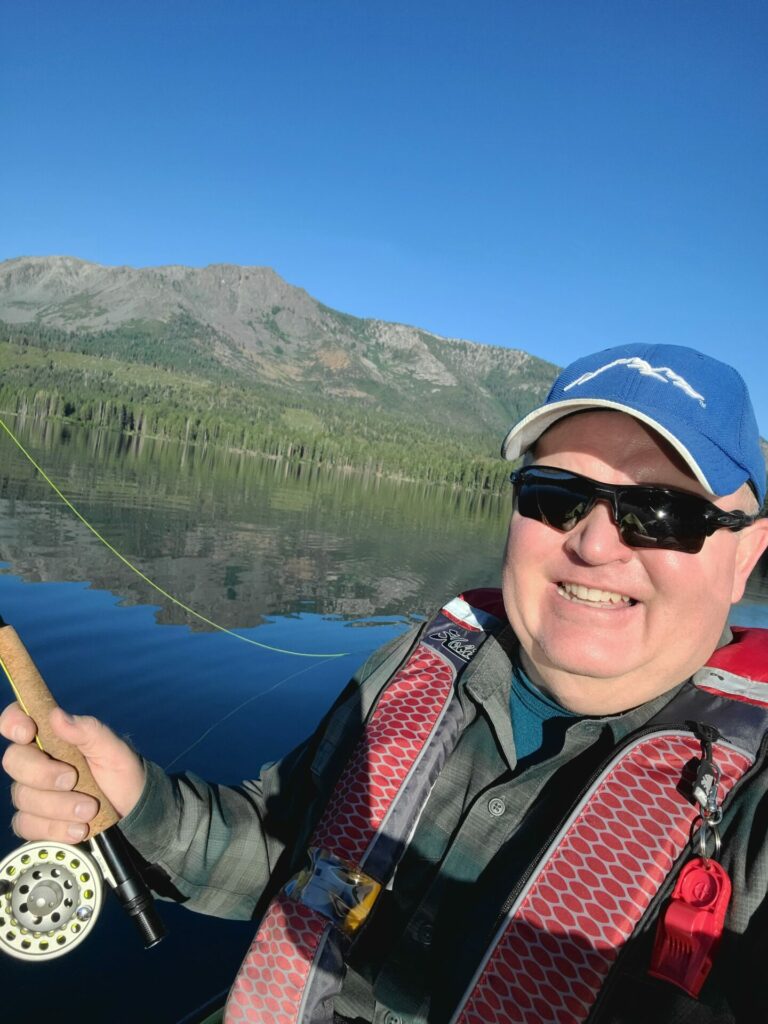 Things to See and Do
Conclusion
If you're looking for some seclusion near Lake Tahoe, Fallen Leaf Campground is the place to find it. This beautiful Forest Service Campground has the room you're looking for to get away from city life for a few days.
Have you been to the Lake Tahoe area and stayed at Fallen Leaf Campground? We'd love to hear your thoughts about the area.
What interesting places can you recommend? We're always looking for neat out-of-the-way experiences to add to our list of places to visit. Thank you for reading our article. If you have any comments or questions we'd love to hear from you below.