One thing you'll notice with all my recipes is that I get right down to business. I'm not going to bore you with 1000 words and a long story to get to the recipe.
Oregano, Parsley, Thyme, Cayenne Pepper, and Cajun Spices add fantastic flavor to the Chicken, Andouille Sausage, and Tender Shrimp making this Jambalaya dinner our favorite. It always has everyone asking for seconds.
This post contains affiliate links. As a participant in Amazon Associates and various affiliate programs, we are compensated when qualifying purchases are made through our referral links at no additional cost to you. Full Disclosure
What is Jambalaya?
Jambalaya is a classic Cajun dish that consists of Chicken, Andouille Sausage, and Shrimp, all cooked together in one pot, usually with rice. It's a little like a stew, thick and completely satisfying with every bite. We usually make Jambalaya in the Crock Pot and let it cook all day to have the spices blend and make it delicious.
For one-pot meals, we love cooking in our Crock Pot Slow Cooker/Pressure Cooker. If you're cooking in a small space like we are in our RV or sharing a kitchen with other cooks, recipes that don't require you to spread out all over are essential. And this recipe is perfect for making in a small space.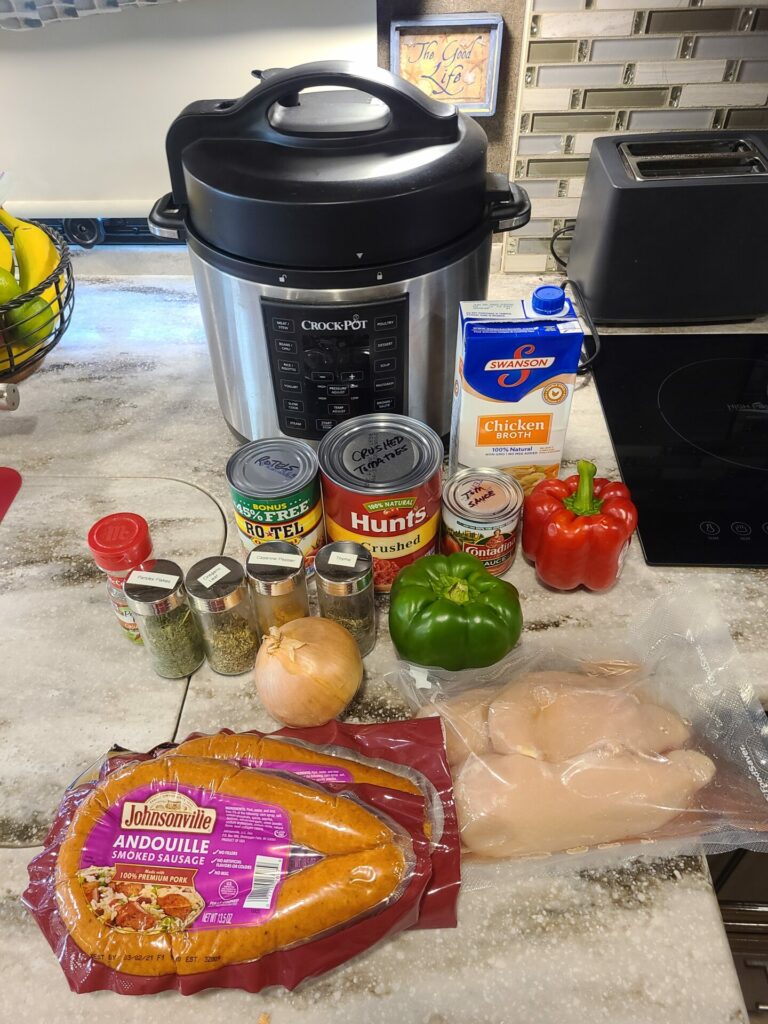 For this version, we cook the rice separately in our rice cooker when we add the shrimp to the slow cooker. You can use whatever type of rice you prefer or have on hand. We usually use Jasmine Rice. The version I'm sharing today has been a hit with everyone who's tried it.
I am a meat eater and with this recipe, I like to throw in a bit of extra meat. The recipe calls for 1 pound each of Chicken, Andouille Sausage, and Shrimp, but I usually put in a bit more chicken and an extra package of Andouille Sausage. For the shrimp since Lisa only likes her shrimp fried, I use Jumbo Shrimp which comes to about 16-20 per package. This makes it easy for her to pick them out of her bowl and hand them over to me.
Chop Chicken into 1″ pieces.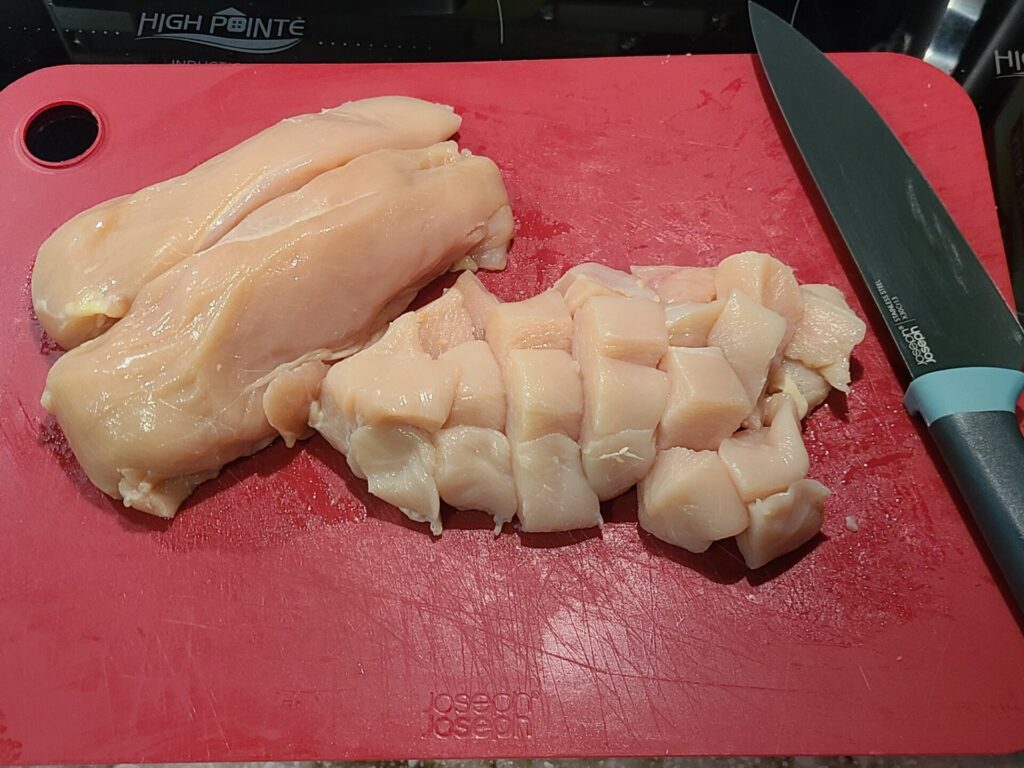 Another reason I like to add more sausage than the recipe calls for is since the Andouille Sausage I find comes in a 13 oz package so instead of being short in my Jambalaya I throw in an extra package.
Everything comes together in one pot with bell peppers, onion, and celery. I forgot to buy celery so it got left out this time. I'm not a huge celery fan so I didn't miss it. The Jambalaya was still awesome!
We love our Jambalaya saucy and occasionally use spaghetti sauce in it but found that we like it made with Crushed Tomatoes, Rotel Tomatoes, and Tomato Sauce just as well if not more so. This way gives a great Tomato flavor.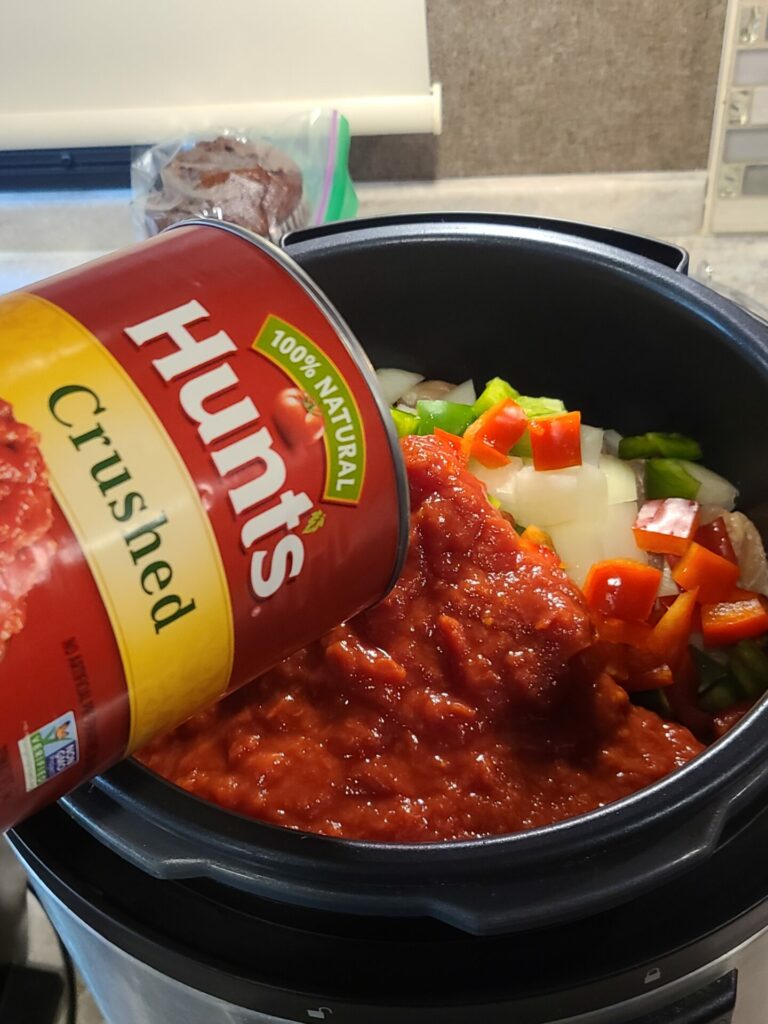 Add a cup of Chicken Broth for a touch of chicken flavor. Give everything a stir and you're ready to let the Jambalaya Cook for 7-8 or so hours on low or 3-4 on high.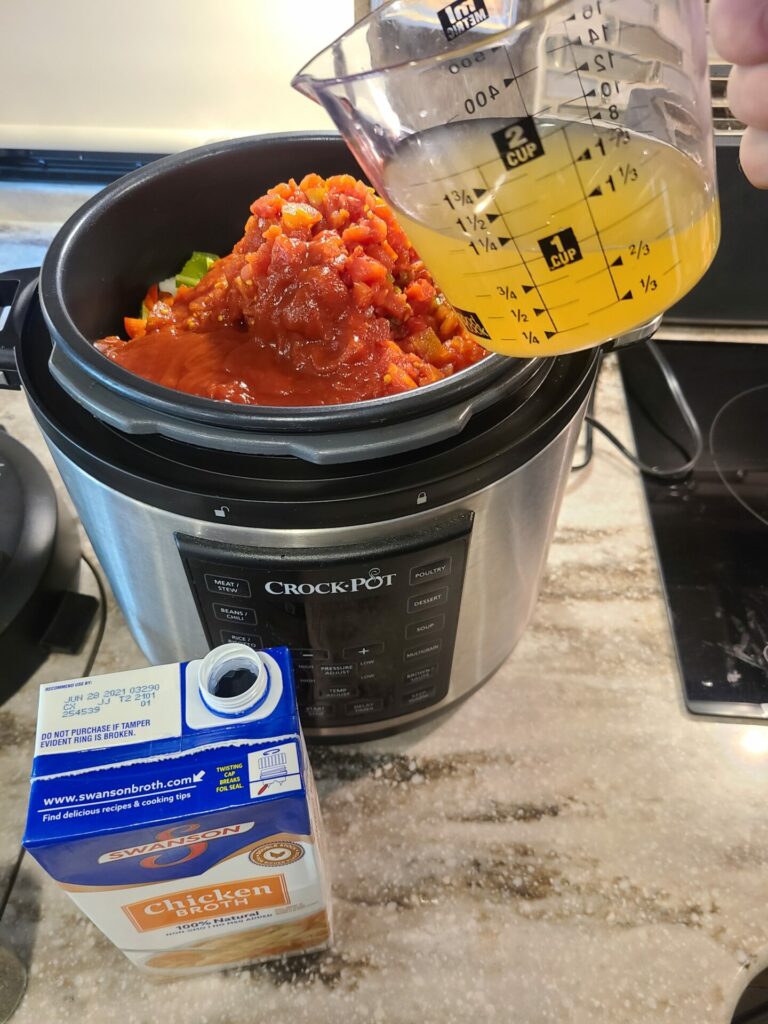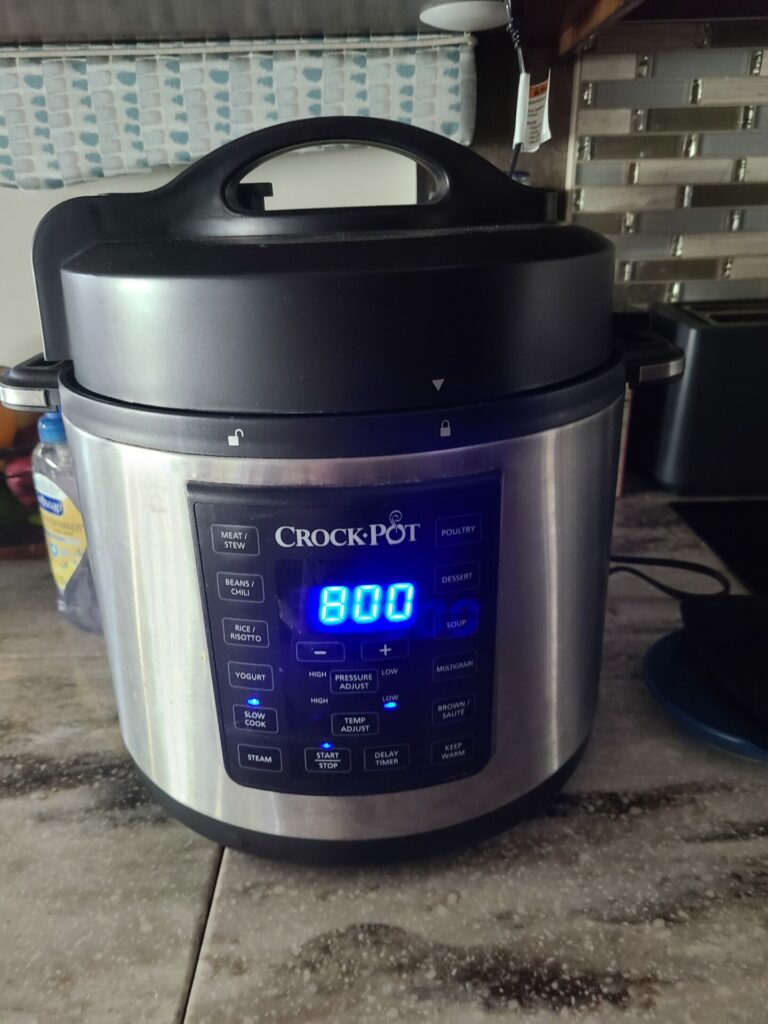 With about 30-45 minutes left until the Jambalaya is ready throw in your raw cleaned and tails off shrimp. At this point also start your rice cooking.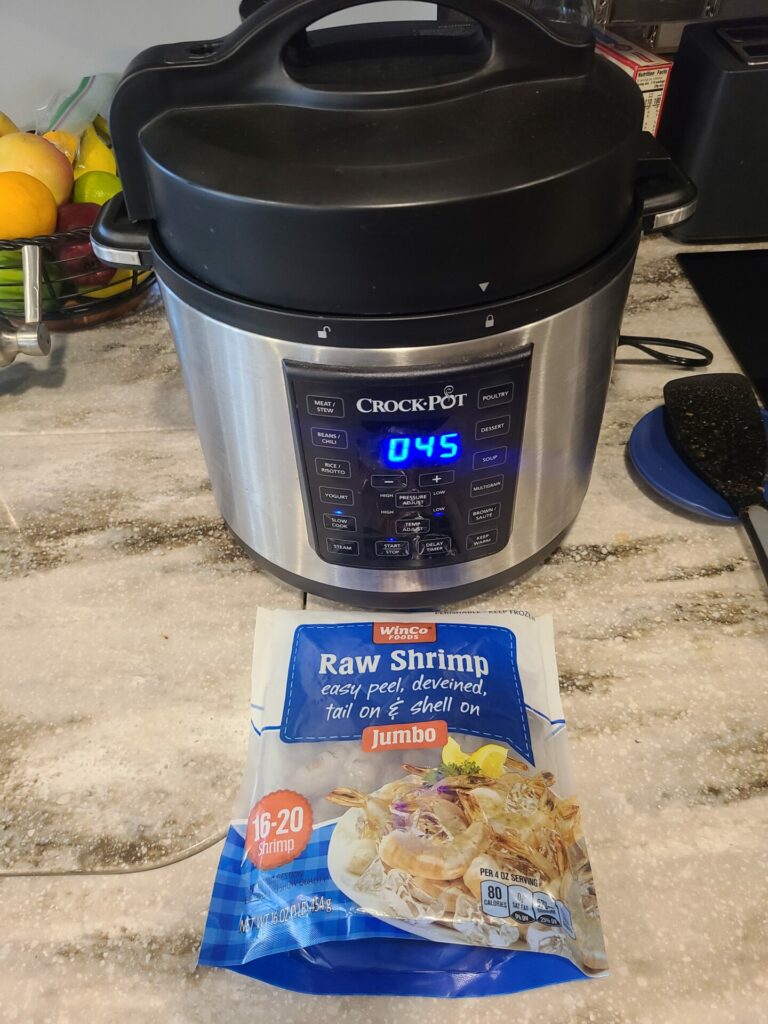 When finished serve Jambalaya over cooked rice. It's such a hearty meal. Enjoy!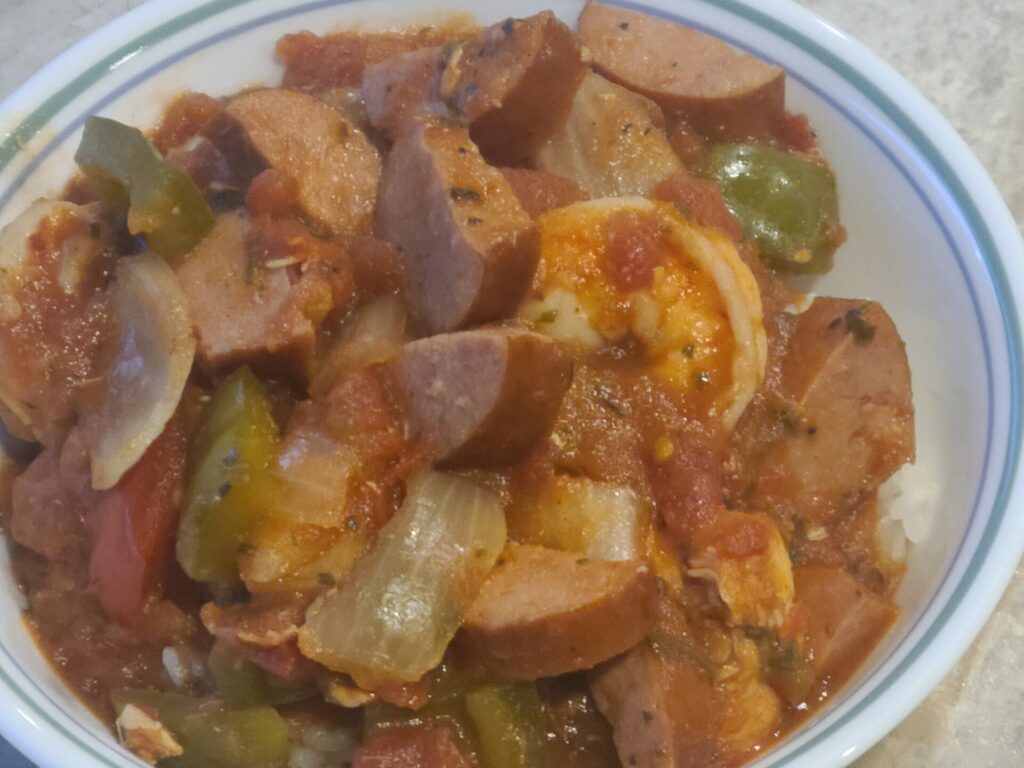 Let us know below if you've made Jambalaya and how it turned out or what changes you've made to your recipe.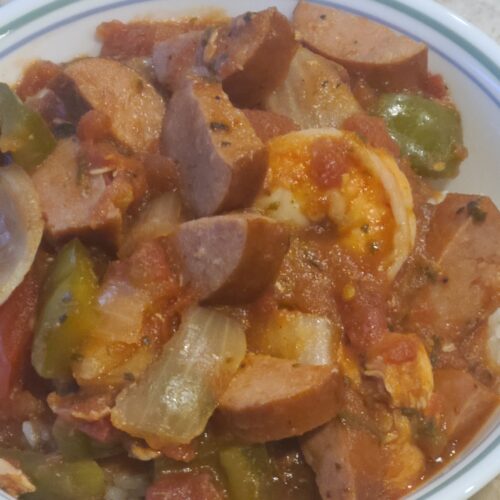 Slow Cooker Jambalaya
This is our favorite version of Jambalaya
Ingredients
1

pound

Boneless Chicken Breast

Cut into 1 inch cubes

1

package

Andouille Sausage

Sliced

1

pound

Shrimp without tails

1

can

Diced Tomatoes (We use Rotels)

1

28 oz can

Crushed Tomatoes

1

8 oz can

Tomato Sauce

1

large

Onion

Chopped

1

large

Green Bell Pepper

Chopped

1

large

Red Bell Pepper

Chopped

1

cup

Celery

Chopped

1

cup

Chicken Broth

3

teaspoons

Dried Oregano

3

teaspoons

Dried Parsley

2-3

teaspoons

Cajun Seasoning

1-1.5

teaspoons

Cayenne Pepper

1

teaspoon

Dried Thyme
Instructions
In a Slow Cooker add chopped Chicken and Andouille Sausage.

Add Crushed Tomatoes, Diced Tomatoes (We prefer Rotels), and Tomato Sauce

Add Chopped Onion, Bell Peppers and Celery

Season with Oregano, Parsley, Cajun Seasoning, Cayenne Pepper and Thyme. Play with it as you like I always like to add a little extra spice to really bring out the flavors.

Give everything a good stir to mix.

Cover and cook for 7-8 hours on Low or 3-4 hours on High.

With about 30-45 minutes left in cooking time Add thawed Shrimp.
If you're looking to build your own home-based business like we have with this webpage, check out Wealthy Affiliate.
Wealthy Affiliate is an all-in-one platform that you can build your whole affiliate marketing business on. It combines training, software, and website hosting into one. This makes the whole process of starting an online business from scratch much easier, especially if you're new to building a website.