The SoClean 2 CPAP Cleaner and Sanitizing Machine is an automated CPAP equipment cleaner and sanitizer. The SoClean 2 sanitizes and disinfects your CPAP accessories such as your mask, hose, and water reservoir without needing to take any pieces apart.
Complete sanitizing is accomplished without any messy chemicals or even the use of water. Your equipment remains completely dry. The SoClean 2 CPAP Cleaner and Sanitizing Machine uses safe, natural, activated oxygen to thoroughly sanitize your entire CPAP system by eliminating any mold, bacteria, and viruses it comes in contact with.
The inside chamber was designed specifically so that multiple mask types can be used within the SoClean unit, from nasal pillow masks to full CPAP masks.
This post contains affiliate links. As a participant in Amazon Associates and various affiliate programs, we are compensated when qualifying purchases are made through our referral links at no additional cost to you. Full Disclosure
If you use a machine for sleep apnea, you're already taking a step toward improving your health. But you may be harming your health, rather than improving it if you are not doing proper cleaning. Part of having a CPAP machine involves routine cleaning.
Sleep apnea equipment generally requires daily cleaning of the water chamber and mask, and at least weekly cleaning of the tubing, depending on the manufacturer. Cleaning usually consists of warm water with mild soap, and always letting the parts hang to air-dry thoroughly to prevent bacteria or fungi from forming. The amount of time it takes to clean and completely dry can be time-consuming and because of this, many people with machines are not compliant with daily care.
Fortunately, there are now cleaners on the market that can clean and sanitize your machine for you, and in a lot less time.
SoClean 2 Cleaner and Sanitizer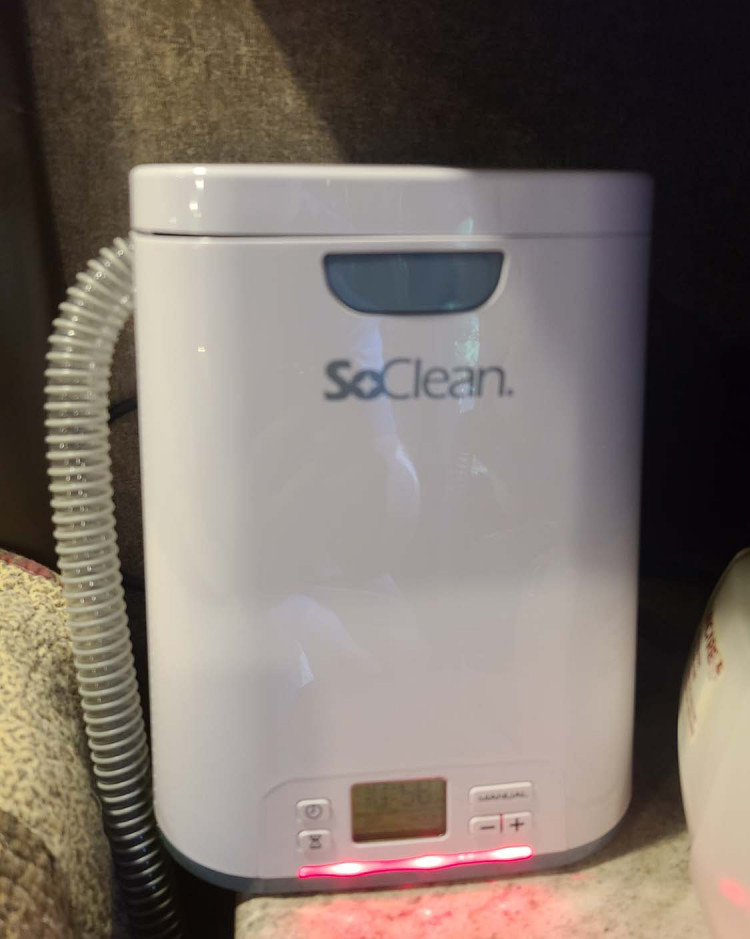 The SoClean 2 is a cleaner and sanitizer that uses activated oxygen to sanitize, just like in a hospital setting. When this device generates activated oxygen, it pumps it through your equipment. Activated oxygen is known to kill germs and bacteria it comes into contact with.
What sets SoClean 2 apart from other cleaners is the ease of use. To use, you simply place your equipment inside the SoClean device, close the lid, and walk away. At the set time it will start the cleaning and sanitizing cycle automatically. I have mine to start daily at 10am. When you're ready for bed you come into a perfectly cleaned mask, hose, and water tank.
The SoClean 2 Cleaner and Sanitizer easily connect to most devices, and if it is not compatible, they offer an adapter you can add to your purchase, with no extra charge. Their website offers a list of common machines and whether they will need an adapter or not.
Features
Quick and easy cleaning
Compact design
Cycle lights indicator
Cleans your mask, headgear, tubing, and water chamber
2-year warranty
Benefits
Protect your health
Destroys 99.9% of bacteria, viruses, and mold
Supports a wide range of mask types
Completely automated
Time-saving operation
No water or chemicals
Other benefits of using the SoClean 2 cleaner are fewer respiratory infections, improved cough, and a fresher smelling machine and mask over other techniques that people can use to clean their machines.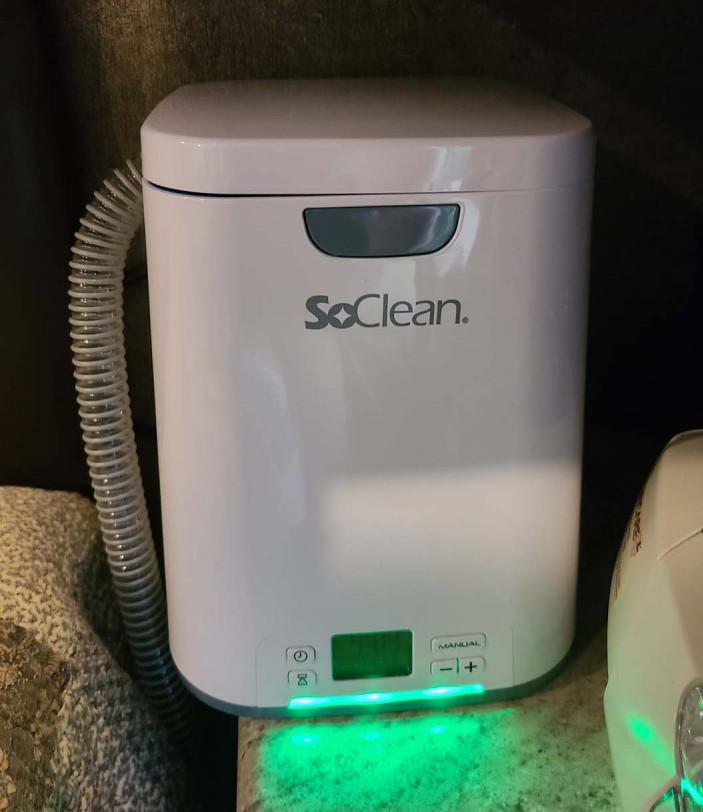 Before I purchased the SoClean 2 I always struggled with cleaning and drying the hose, and sometimes I would wake with a sore throat and cough, or feeling like I was drowning.
My guess from not adequately cleaning my CPAP unit since I don't wake up with that problem since I've owned the SoClean 2. The SoClean 2 has solved all the problems of keeping my CPAP unit, mask, and hose clean. Now I sleep like a baby.
I wasn't in the habit of cleaning my machine as much as I should have. The SoClean was "worth the money" and is now helping me be compliant with daily cleanings.
SoClean FAQs
What's Included with the SoClean 2:
1 Small Bottle Pre-Wash
Cartridge Filter
Check Valve Assembly
1 Slot Plug
AC Power Adapter
Does SoClean use water?
No, SoClean does not use water. It uses activated oxygen to clean and sanitize
Is SoClean 2 cleaner covered by insurance?
Every insurance policy is different. Many insurances do not cover SoClean and require it to be paid out-of-pocket, however, it is eligible for FSA or HSA reimbursement. You might also be able to deduct it as a healthcare expense.
Is SoClean covered by Medicare?
No, generally sleep apnea equipment cleaners are not covered by Medicare
Does SoClean work with ResMed Mirage, Airfit, Philips DreamWare, Wisk, AirSense, and Others
There are adapters available that work with the most popular sleep apnea equipment.
SoClean Filter: Where can I get it? When should it be replaced?
You can get a replacement SoClean Filter Kit directly from the SoClean website. The SoClean filter should be replaced every six months if you use your SoClean once daily.
Other Items from SoClean
The Neutralizing Pre-Wash is a concentrated, fragrance-free, hypoallergenic soap that neutralizes any pre-existing odors from detergents and removes any residue from the manufacturing process. It should be used to clean your equipment prior to the first use of your SoClean 2. It may also be used for periodic cleaning of equipment as recommended by the manufacturer. One capful from the 8 oz. bottle should be added to one gallon of water for cleaning.
Unscented Wipes. These 100% cotton wipes gently and naturally remove oil and dirt from equipment. They are unscented, hypoallergenic, biodegradable, and alcohol- and latex-free. The all-natural ingredients are gentle on the hands and face. Each canister comes with 75 wipes.
With the SoClean Care and Maintenance Kit, Save 25% vs. buying separately! Everything you need to maintain your SoClean 2 and equipment. Comes with one replacement SoClean 2 Cartridge Filter Kit, one container of Unscented Wipes, and one 8-oz. Neutralizing Pre-Wash.
Conclusion
If you're tired of cleaning your CPAP equipment by hand, getting constant respiratory infections, coughs, and such the SoClean 2 CPAP Cleaner and Sanitizing Machine is a machine that will solve all those problems and do it automatically.
I hope you enjoyed this SoClean 2 CPAP Cleaner and Sanitizer Review. If you have any questions about the SoClean 2 CPAP Cleaner and Sanitizing Machine, or you want to leave your own personal review, please leave a comment below.