As an Amazon Associate I earn from qualifying purchases.
Living in an RV space is at a premium. In the Shower is no exception. You don't really have room for a bunch of soap, shampoo and conditioner bottles lying around. The way we solved this issue is to purchase The Dispenser IV. The Dispenser IV, by Better Living Products, like the name implies is a classic 4 chamber dispenser for liquid soaps, shampoos, conditioners, lotions or whatever your needs are. It is perfect to declutter your shower area. This wall mounted soap dispenser will keep your shower essentials neatly stored, close at hand and ready to dispense!

We've been using The Dispenser IV for nearly a year and a half. It has worked well and keeps our shower neat and organized at all times. The only issue we've had with the dispenser, is it fell off the wall one time after about six months of use. I don't know if it was from the bouncing of the RV going down the road or if the 2-way tape was poor quality. When I hung it back up I used 3M 2-way tape and it has been on the wall for almost a year now.
Note: Some of the links in this article are affiliate links. When you use the links on this page to make a purchase, we may get a small commission and you may get a great bargain. You don't pay anything extra by purchasing through these links. It's a win-win all around. See our Full disclosure for more info. Thank you!
Features & Benefits
Liquid soap dispenser with push button convenience
Wall mounted soap dispenser that eliminates shower bottle clutter
Lift front lid and remove chambers for easy refilling
Each liquid chamber holds 14.5 fl. oz. (430 ml)
Smooth, reliable pumps are backed by a Lifetime Warranty
Housing constructed from durable, water-resistant ABS plastic
Install in minutes without tools. Adhere to any wall surface with waterproof silicone glue and 2-way tape (included).
The Classic Dispenser offers one of the most attractive, practical and convenient solutions to declutter your shower area. Keep your shampoo, conditioner and body wash neatly stored, close at hand and ready to dispense.
Dimensions: (w x d x h) 10″ x 3″ x 10 3/4″
Weight: 1.44 lbs
Capacity: 14.5 oz per chamber
Other Models
The Dispenser III is a three chamber model similar to the Dispenser IV.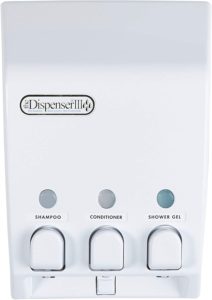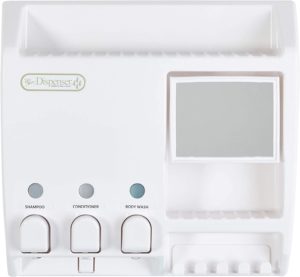 The ULTI-MATE Shower Dispenser 3 Chamber is the perfect organizer to store all of your bath and shower bottles and accessories. This wall mounted soap dispenser includes a fog-free mirror, top shelf and handy hooks for extra storage. Quick and simple installation for complete shower organization!
Conclusion
If you have a small shower and need a space-saving soap/shampoo dispenser or just need something to declutter your shower The Dispenser IV is a quality unit ready to handle the job. We've been really happy with the one we have and would buy it again if we had to.
I hope you enjoyed the review on this product. If you have any questions about our Dispenser IV, or you want to leave your own personal review, please leave a comment below.