Gulpha Gorge Campground is a beautiful wooded campground located alongside the serene Gulpha Creek, just a stone's throw away from the bustling downtown area of Hot Springs National Park and the iconic Bathhouse Row. The campground is open all year round and boasts a total of 44 campsites that can easily accommodate both RVs and tents.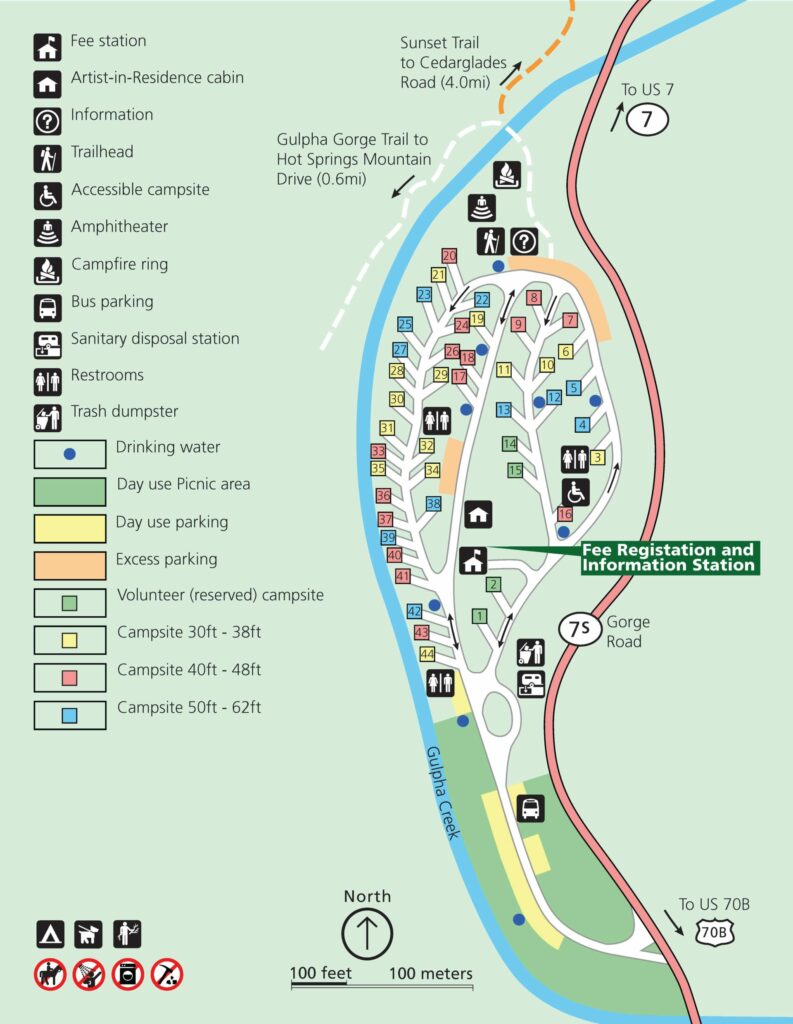 Gulpha Gorge Campground Location
305 Gorge Rd
Hot Springs National Park, AR 71901
This post contains affiliate links. As a participant in Amazon Associates and various affiliate programs, we are compensated when qualifying purchases are made through our referral links at no additional cost to you. Full Disclosure
We do all our trip planning with RV Life Trip Wizard. RV Trip Planning Made Simple! RV Life Trip Wizard is by far the best RV route planner we've found. Get your 7 day Free Trial
Prices
Camping is $34 per night.
Owners of the America the Beautiful: The National Parks and Federal Recreational Lands Senior or Access Pass may receive a 50% discount. This discount only applies to the fee for the campsite physically occupied by the pass owner.
Reservations
You can reserve a campsite up to six months in advance by booking on Recreation.gov.
Our Review
This camp is absolutely stunning. Our site (#44) backed against the stream and sheer cliffs. Sites are blacktop pavement with full hookups. If you're looking for a peaceful retreat in the heart of Hot Springs National Park, Gulpha Gorge Campground is definitely worth considering. With its stunning natural surroundings and convenient location, it's the perfect spot to unwind and recharge while exploring all that this beautiful area has to offer.
We only spent two nights at the campground (November 21-23, 2019) but would definitely like to spend more time hiking and exploring the area.
The campground is a popular destination among outdoor enthusiasts and nature lovers alike, and it's no surprise why. Its unbeatable location, surrounded by lush trees and bubbling streams, makes it the perfect base camp for all of your Hot Springs adventures. Whether you're into hiking, fishing, or simply soaking up the beauty of the great outdoors, you're sure to find something to suit your tastes at Gulpha Gorge Campground.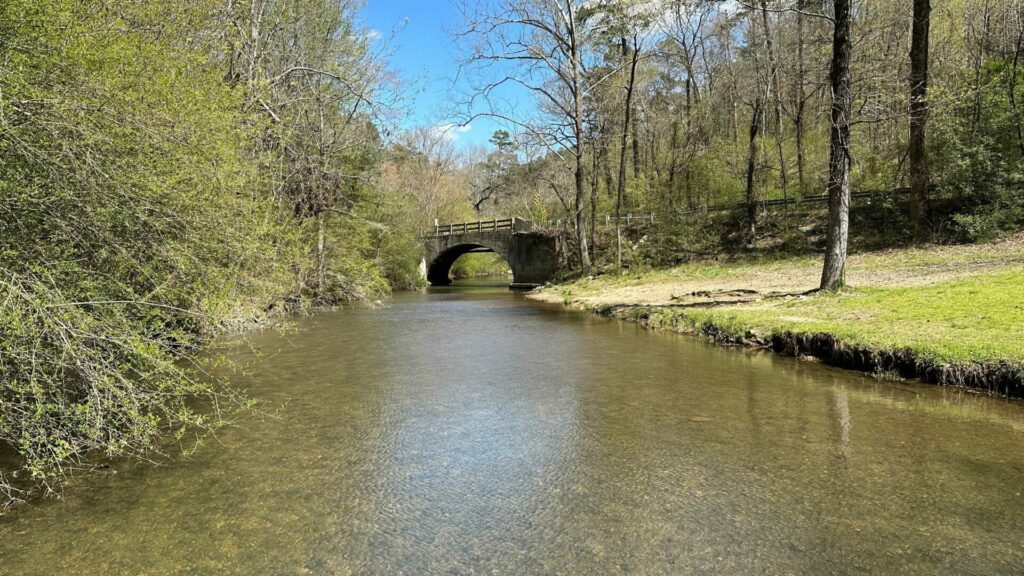 One thing to keep in mind is that due to its popularity and size, the campground tends to fill up quickly, even during the cooler months of fall and winter. If you're planning a visit, it's best to book your spot well in advance to avoid disappointment.
Amenities
All sites have full hookups: 30 and 50-amp electric, water, and sewer connections. All sites are back-in. Each campsite has a picnic table, pedestal grill, and water. There are modern restrooms but no showers.
Camping in Gulpha Gorge Campground is limited to a total of 14 consecutive days and a cumulative total of 30 days in any calendar year. Each 14-day consecutive stay must be followed by a minimum of a 7-day break.
Phone and Internet Service
We use T-Mobile for our phone service. Service at Gulpha Gorge Campground was good with 3 to 4 bars of service.
Our Verizon MiFi received 4 bars of service and we were able to use our Fire Stick and stream Netflix with no problems.
Being a National Park Campground there is no mail service. We received mail using General Delivery at the Hot Springs Post Office.
Things to see/do nearby
Hot Springs National Park boasts 26 miles of stunning trails. Gulpha Gorge Campground has a trail access to Hot Springs Mountain and Bathhouse Row.
Bathhouse Row
Our main reason for coming to Hot Springs, Arkansas was to mark Hot Springs National Park off our list.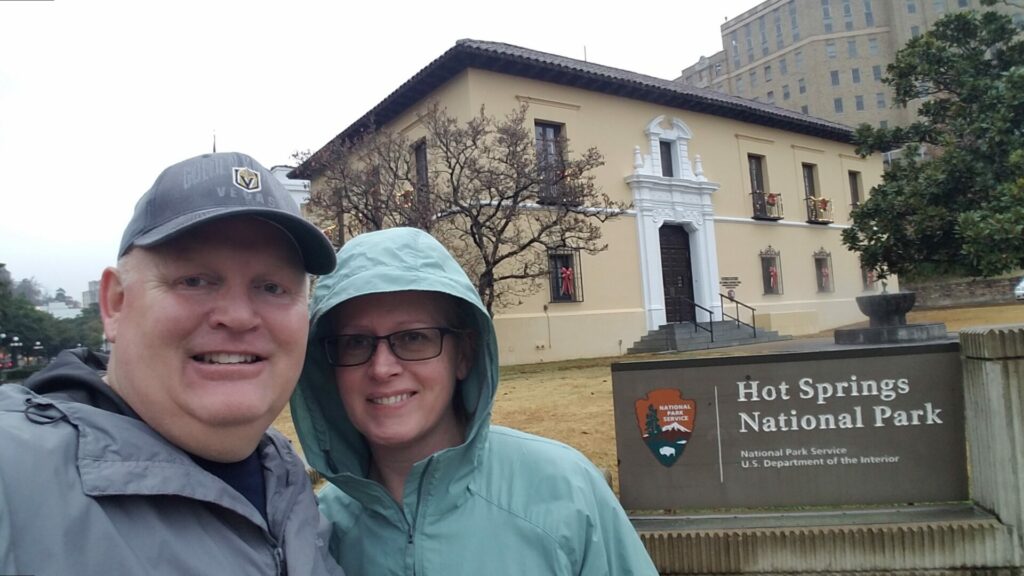 The thermal springs in Hot Springs, Arkansas have been a source of fascination and healing for centuries. Native Americans believed in the healing properties of the springs, and early European explorers noted the hot water and steam rising from the ground. The first bathhouses were built in the late 19th century, and by the early 20th century, Hot Springs had become a popular health resort destination.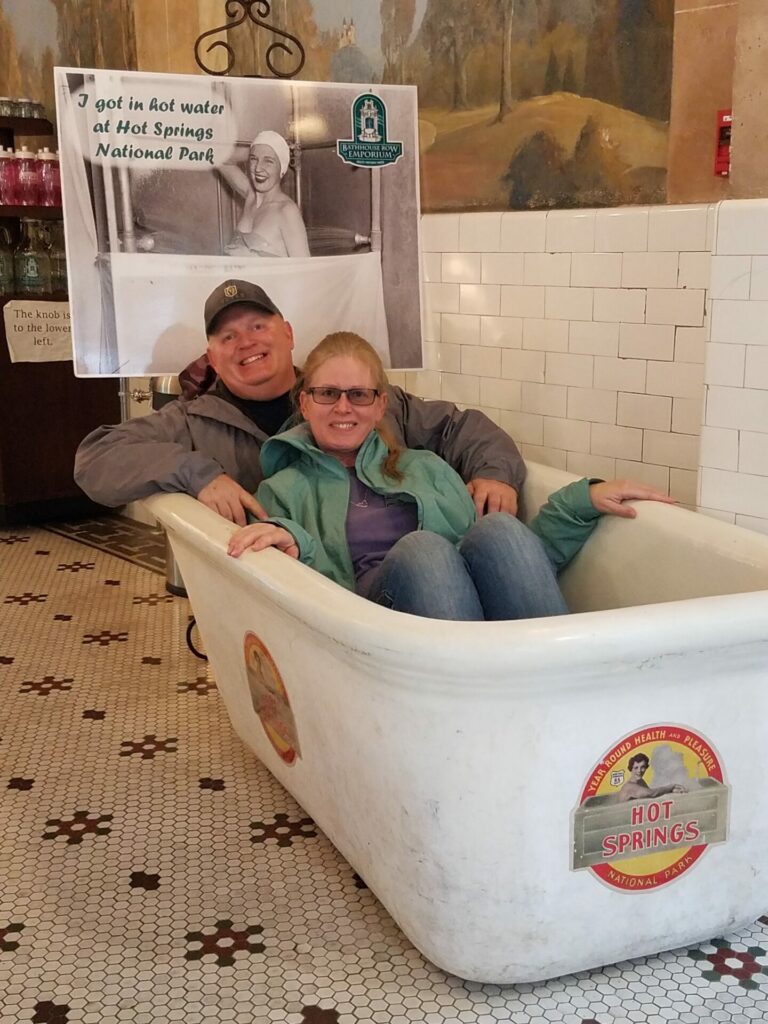 The federal government played a role in promoting Hot Springs as a health resort, and in 1921, Congress established Hot Springs National Park, which included Bath House Row. The park was created to protect the thermal springs and to ensure that they remained accessible to the public.
Today, Bath House Row is a collection of eight historic bathhouses that offer a variety of spa treatments, including hydrotherapy, massage, mud baths, and more. Visitors can choose from a range of packages and services, and many of the bathhouses offer special deals and discounts.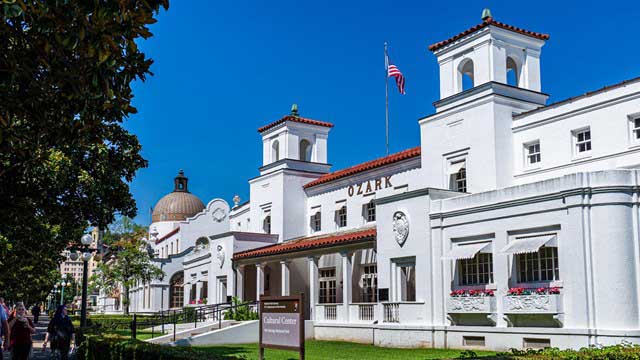 Hydrotherapy is a key feature of the spa culture at Bath House Row. This therapeutic treatment uses thermal water to improve circulation, reduce inflammation, and relieve pain. Other spa treatments include massage, aromatherapy, sauna, and steam rooms.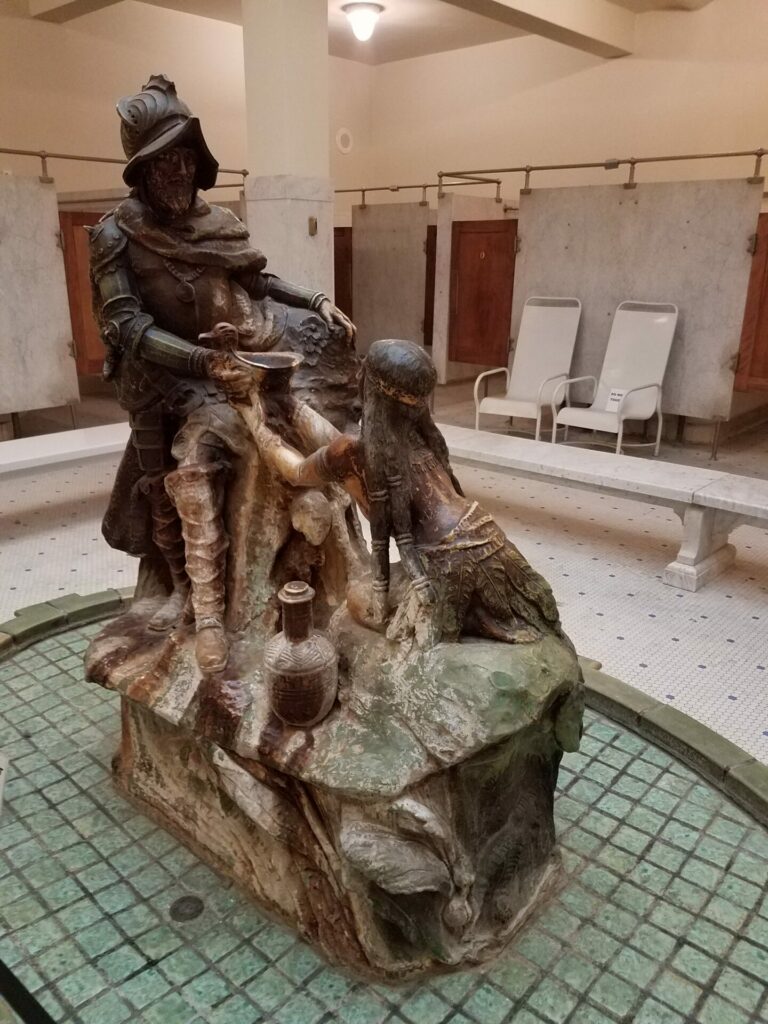 One of the unique features of Bath House Row is the distinctive Victorian architecture of the bathhouses. The buildings were constructed in the late 19th and early 20th centuries, and feature ornate details, such as turrets, arches, and decorative tiles. The bathhouses have been carefully restored and preserved, and are now part of the Hot Springs National Park Historic District.
Ohio Club
While in town we ate at the Ohio Club. A fascinating restaurant and bar, it has been in operation since 1905 and has a rich history as a gathering place for both locals and tourists.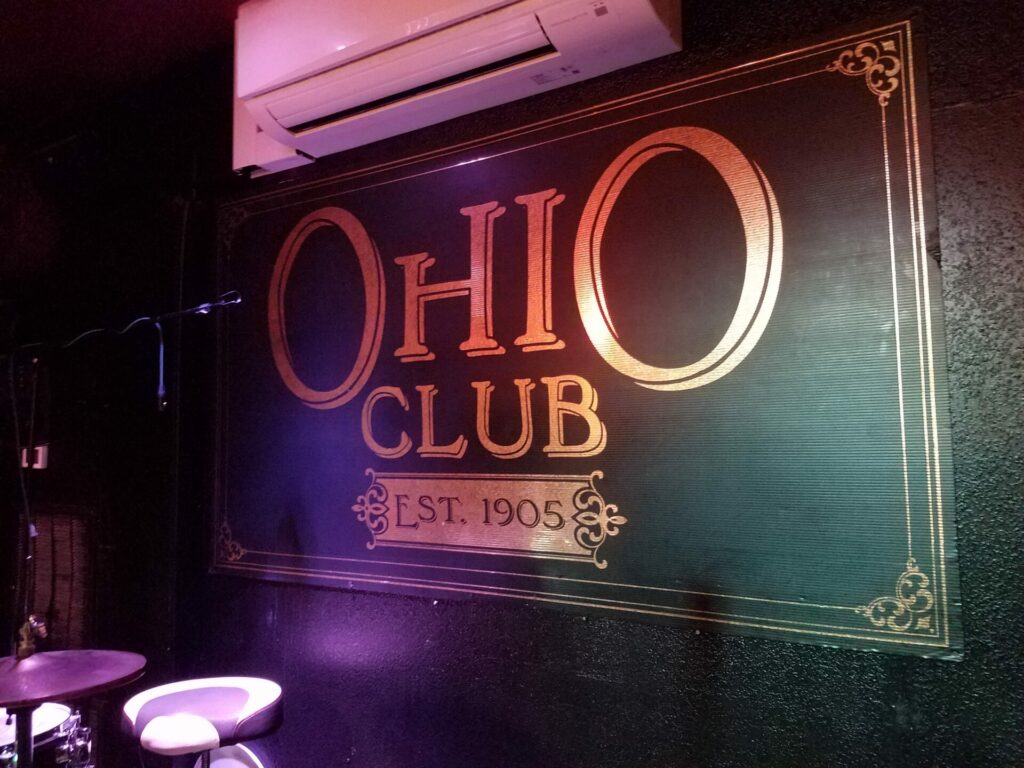 The Ohio Club was originally a casino, speakeasy, and brothel during the Prohibition era, and it was frequented by notorious gangsters such as Al Capone and Bugsy Siegel. It was also visited by many Major League Ball players since they had spring training in Hot Springs in the early 1900s. Babe Ruth was the most famous to visit.
Today, the Ohio Club is known for its live music, upscale dining, and an extensive collection of whiskey and bourbon.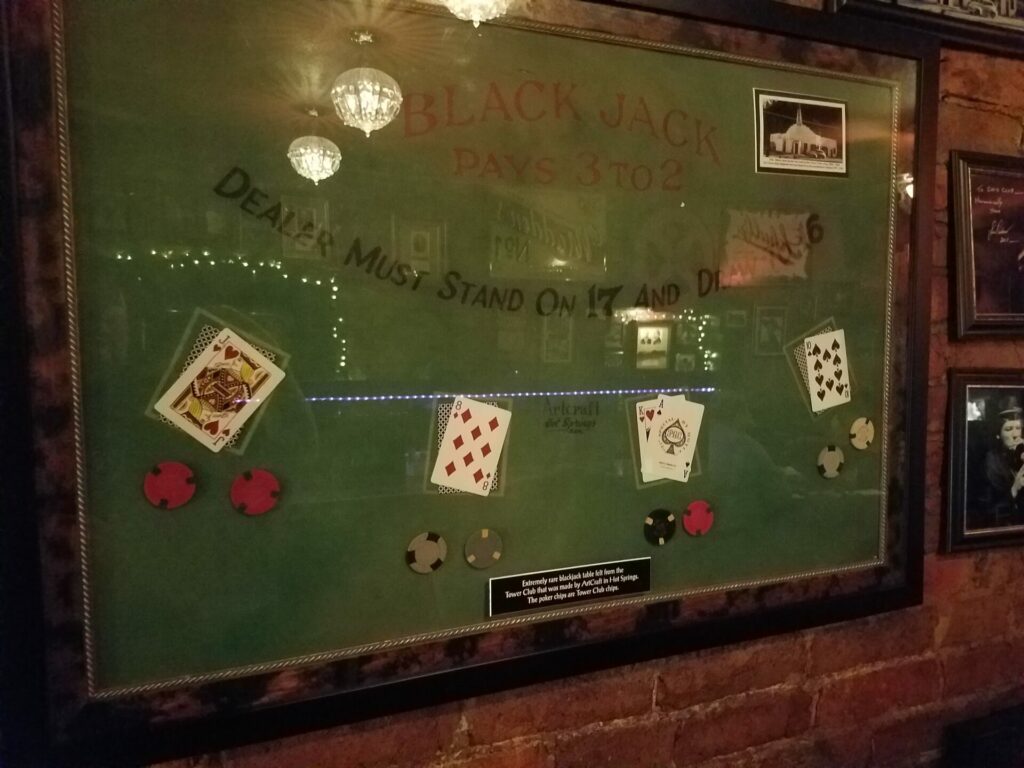 We both had burgers with fries and they were very good.
Conclusion
Gulpha Gorge Campground is a natural oasis in the heart of the Ouachita Mountains, offering plenty of opportunities for outdoor recreation, relaxation, and exploration. Whether you're camping with family, friends, or solo, there's something for everyone to enjoy at this beautiful campground. So why not plan your visit today and discover the natural beauty of Gulpha Gorge for yourself?
What interesting places can you recommend? We're always looking for neat out-of-the-way experiences to add to our list of places to visit. Thank you for reading our article. If you have any comments or questions we'd love to hear from you below.