The majesty of Yellowstone National Park is on full display when Hiking to Lone Star Geyser. Amidst Yellowstone's wild expanse lies a hidden gem, a geothermal wonder that beckons to the adventurous at heart. One of the park's most impressive features, Lone Star Geyser is a geothermal wonder that's located in the backcountry and requires a bit of hiking to reach. But don't let that deter you – the journey to Lone Star Geyser is fairly easy and well worth the effort. If you're planning a trip to Yellowstone National Park, Hiking to Lone Star Geyser is an unforgettable experience you won't want to miss.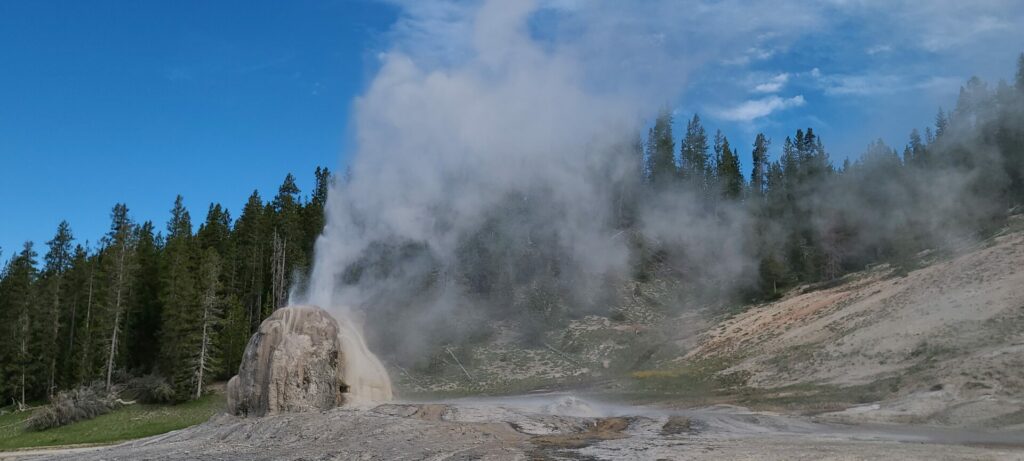 Lone Star Geyser is a 12-foot-tall cone geyser known for its predictable eruptions, which occur approximately every three hours. There are actually two eruptions during that three-hour period. The first is a minor eruption that will be shorter in height and duration followed about 15 minutes or so later by the major eruption that could blast superheated water and steam up to 45 feet into the air and last up to 30 minutes.
This 5.3-mile round-trip hike along the Firehole River offers stunning views of the park's unique geothermal activity and opportunities to spot wildlife along the way. In this blog, we'll cover everything you need to know to plan and enjoy your Hike to Lone Star Geyser.
This post contains affiliate links. As a participant in Amazon Associates and various affiliate programs, we are compensated when qualifying purchases are made through our referral links at no additional cost to you. Full Disclosure
Trail Overview
Distance: 5.3 miles round trip
Difficulty: Listed as Moderate but is actually fairly easy
Trailhead: Lone Star Geyser Trailhead, located south of Old Faithful just past Kepler Cascades along the Grand Loop Road. There is a small parking lot available, but it can fill up quickly, especially during peak season. A picnic area and a pit toilet are also at the trailhead.
Elevation gain: 220 feet
Estimated time: 2-3 hours
The trail to Lone Star Geyser is on an old service road and not too challenging. The relatively flat and well-maintained trail is wheelchair-accessible, and stroller-friendly, making it suitable for hikers of all ages, and making for a great family outing.
What to Bring
It's important to come prepared for your hike to Lone Star Geyser. Here's a list of essential items to bring:
Water: It's recommended to bring at least 2 liters of water per person.
Snacks: Pack snacks and a light lunch to enjoy along the trail.
Sun protection: Yellowstone's high elevation and strong sun require protection, so bring sunscreen, a hat, and sunglasses.
Layers: Even in the summer months, temperatures can vary and weather can change quickly, so bring layers to adjust to changing weather conditions.
Bear spray: It's highly recommended to carry bear spray in case of a bear encounter.
Safety Tips
The geyser is surrounded by a large open meadow, which provides visitors with a clear view of the eruption from a safe distance. The area around the geyser is also home to a variety of wildlife, including elk, bison, and bears, so visitors are advised to remain vigilant and keep a safe distance from any animals they encounter. It's important to follow these safety tips to ensure a safe and enjoyable hike:
Stay on designated trails and boardwalks.
Keep a safe distance from wildlife, at least 100 yards from bears and wolves and 25 yards from all other animals.
Hike in a group and make noise to avoid surprising wildlife.
Carry bear spray and know how to use it.
Check the park's website or visitor center for any trail closures or safety alerts before you go.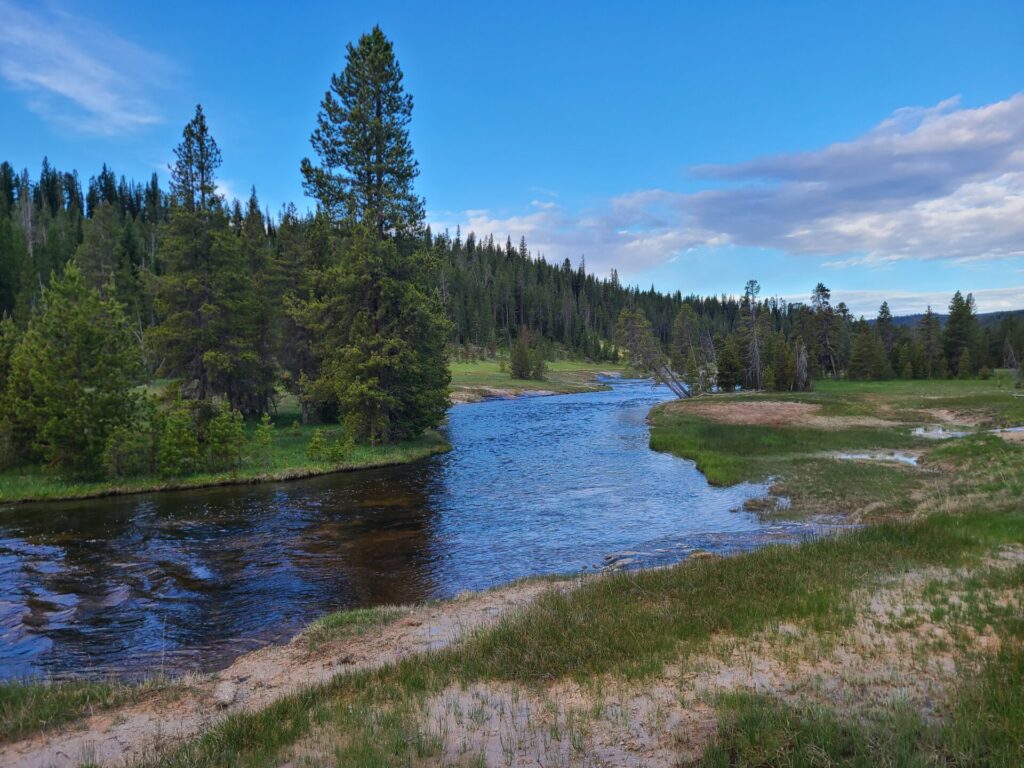 As with all hikes in Yellowstone National Park Dogs are not allowed on the trails. Everywhere in Yellowstone is bear country. While you shouldn't let fear keep you from hiking, it is important to know what the best practices are for hiking in bear country. Always be bear aware and carry bear spray with you on all hikes in the park.
Hiking to Lone Star Geyser
To start the hike, head to the Lone Star Trailhead and follow the paved path along the Firehole River. About 0.9 miles in, you will see a thermal area and two small geysers on the right side of the trail. At 1.7 miles from the trailhead, the path will split, and you should stay to the right to hike the last 0.8 miles to Lone Star Geyser.
Our First Trip to Lone Star Geyser
The Trail to Lone Star Geyser is great for both day hikers and cyclists. It is important to be aware of your surroundings and allow bikers to pass by when hiking. The trail can be buggy during the summer, especially in late June or early July, so it is advisable to bring bug repellent or wear long layers to avoid mosquito bites. You'll pass through a mix of forest and open meadows, and there are plenty of opportunities to spot wildlife like bison, elk, and even grizzly bears (from a safe distance, of course!).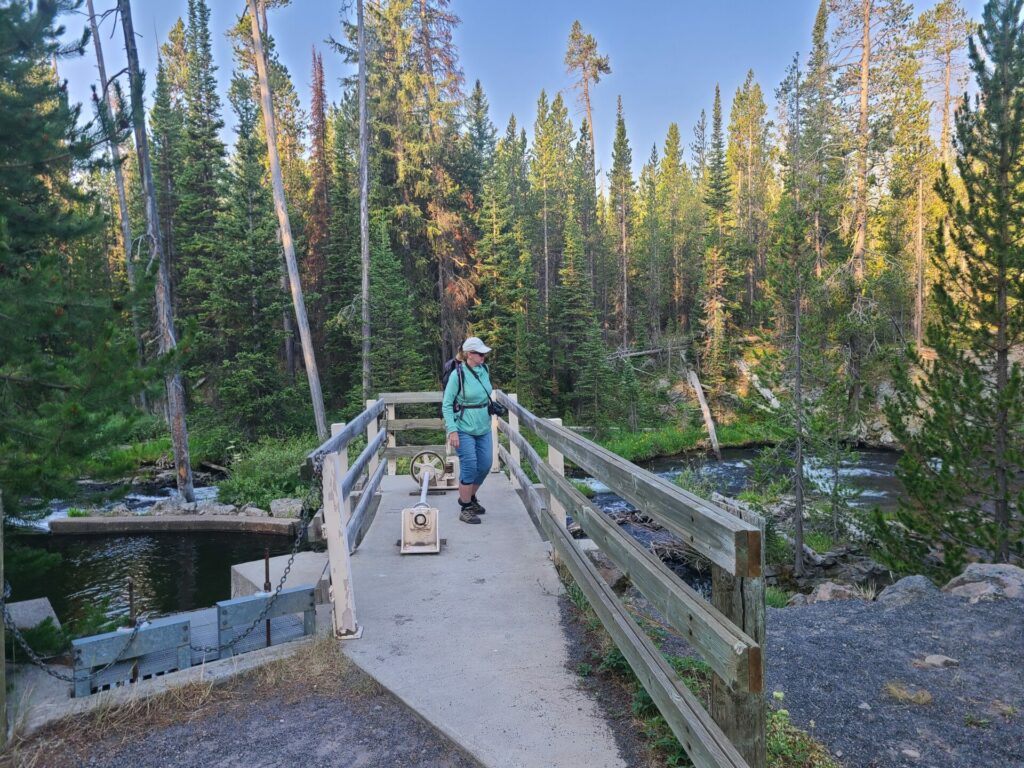 This is an awesome easy hike and probably our absolute favorite hike in Yellowstone! There were 4 other cars in the parking lot but we didn't see anyone on the trail. They must have been further in the backcountry. The hike is fairly flat on an old service road.
As you approach the destination, you are greeted by signs of thermal activity – steam rising from the ground and a pungent sulfuric smell hanging in the air. The anticipation builds until you finally arrive at the foot of Lone Star Geyser – a cone-shaped mound surrounded by a tranquil pool of water. It is here that you bear witness to one of nature's most awe-inspiring spectacles, a towering eruption that spews water up to 45 feet into the air.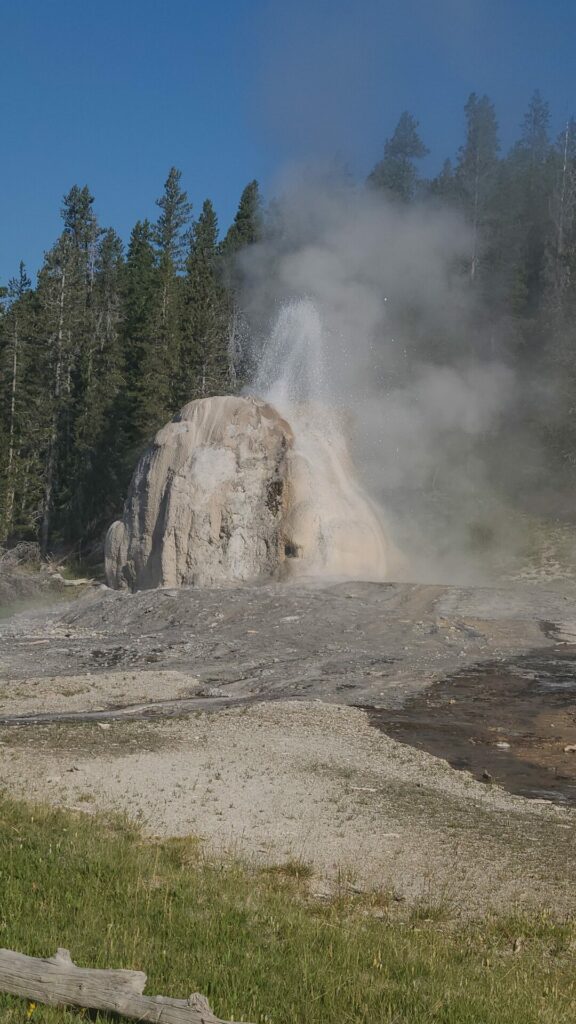 The first people we saw were on our way back from the geyser. We arrived at Lone Star Geyser at 8:20 am and it started erupting at 8:22. So happy we caught it just right. It was a nice 5-minute eruption blasting water 15-20 feet in the air. We were the only ones there to witness it at that time. Unbeknownst to us it was a minor eruption and a major eruption would occur 15-20 minutes later. Unfortunately, we didn't know another eruption was imminent and headed back to the trailhead.
Pro Tip: Look for the log book maintained by the Park Service to see if previous visitors have noted the time of the last eruption. The geyser itself will also give you a clue about its pending eruption. It generally begins percolating about 20-60 minutes prior to eruption and builds for the big event.
Our Second Trip to Lone Star Geyser
During our second year in Yellowstone, we definitely wanted to make another trip to Lone Star Geyser. Again we did the easy 5+ mile round trip hike, this time with Oscar from work. Getting an early start since we had to work in the afternoon, we got to Lone Star Geyser shortly after 7 am. Being the first ones at the geyser that morning no one had written in the logbook since the day before.
Not knowing what time an eruption may occur we wandered around the area checking out the other sites and taking pictures. At about 7:30 Lone Star began percolating and had a minor eruption at 8:14 for about 3 minutes. At 8:36 a major eruption started and lasted around 20 minutes. Water and steam blasted high into the air and we made our way around checking out the show from all angles. What an amazing experience! We were the only ones out there until the major eruption was nearly done. It was a great day!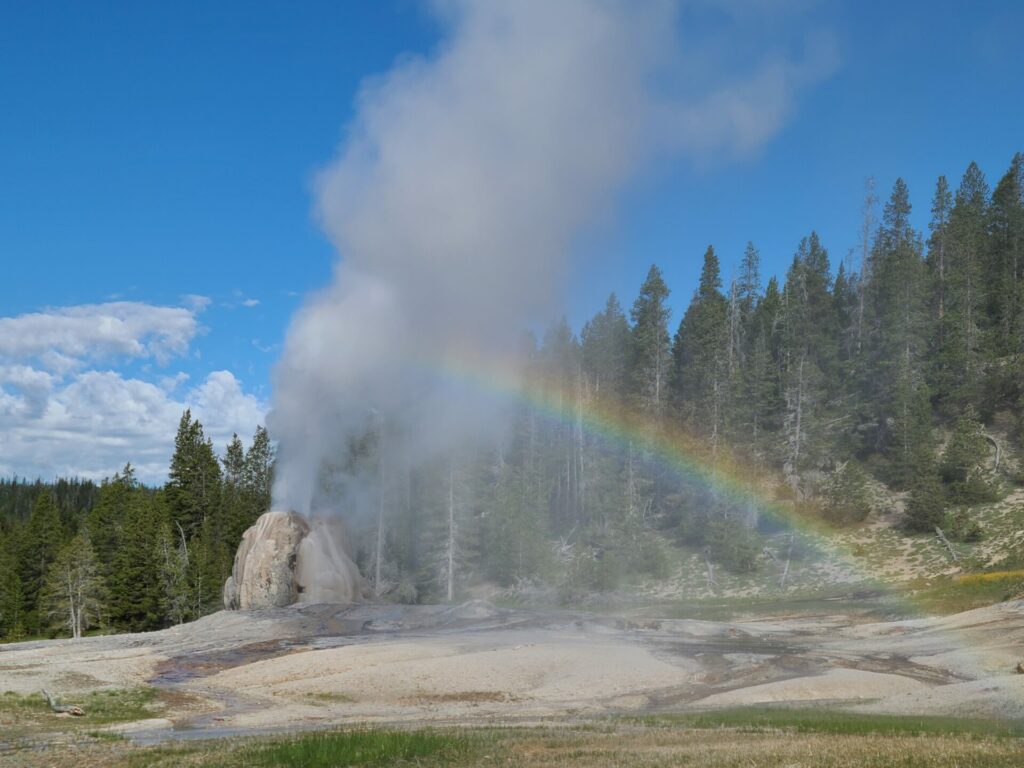 Once you reach the Lone Star Geyser, take some time to enjoy the spectacle and take a few photos before heading back to the trailhead following the same path.
Tips to help you make the most of your hike to Lone Star Geyser:
As with everything in Yellowstone, we highly recommend an early start to the day to avoid crowds and increase your chances of seeing wildlife.
Bring plenty of water and snacks, as there are no facilities along the trail.
Be prepared for changing weather conditions – even in the summer, temperatures can drop quickly in the backcountry.
Stay on the trail and follow all park regulations to help preserve the natural beauty of the area.
Make sure to move around the area so you can see the rainbow in the falling water. It makes for a great picture!
Finally, be patient and enjoy the journey – hiking to Lone Star Geyser is as much about the experience as it is about the destination.
Other Hiking Options in Yellowstone National Park
Yellowstone National Park offers a wide range of hiking trails, each with its own unique features and challenges. If you're looking to explore more of the park, there are several other hiking options available. Some of the most popular trails include the Uncle Tom's Trail, which offers stunning views of the Lower Falls of the Yellowstone River, and the Fairy Falls Trail, which leads to a beautiful waterfall and natural hot spring. Make sure to research the trails in advance and choose one that suits your skill level and interests.
Rabbit Creek Hot Springs is an off-trail hike across meadows and through woodland, to a backcountry thermal area around the upper end of a short, east-side tributary of the Firehole River. About 40 major hot springs, of varying colors and activity levels, are in the area.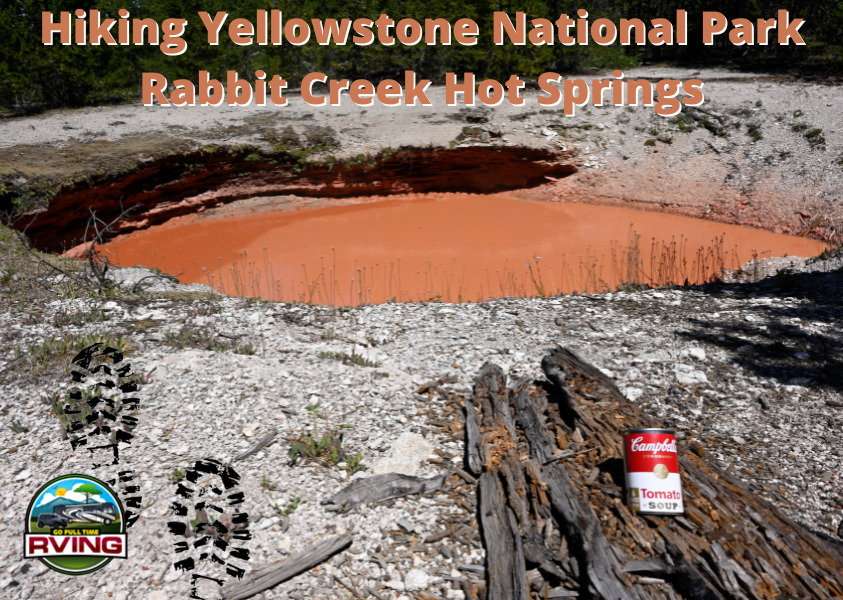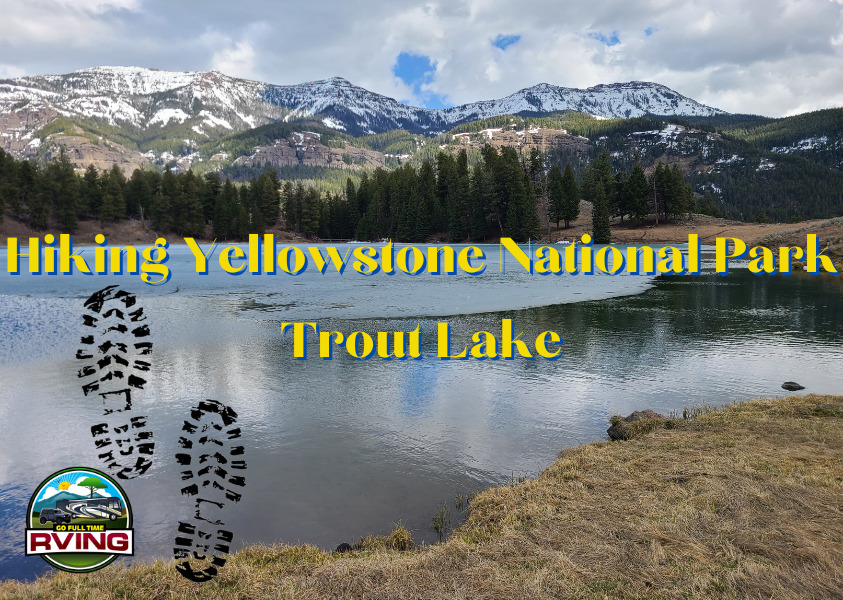 The Trout Lake Trail is a short 1.2-mile round trip hike around Trout Lake in Yellowstone National Park. Generally considered an easy route, it takes an average of 34 min to complete. This is a very popular area for birding, fishing, and hiking, so you'll likely encounter other people while exploring. The best times to visit this trail are May through September.
Biking to Lone Star Geyser
Biking to Lone Star Geyser is another great option for those looking to explore the park. The trail to the geyser is open to bikes from the end of the snowmobile season in early March until November 1st, before the park road closes to cars. Biking allows you to cover more ground and see more of the park in a shorter amount of time. However, it's important to remember that the trail is still shared with hikers, so be respectful and follow safety protocols. Also, be aware that the trail is partially paved and can be bumpy or muddy in spots. Bicyclists will have to park their bikes at the bike rack at the end of the road before continuing to the geyser.
Camping and Lodging
If you're interested in camping, there are several campgrounds available in Yellowstone National Park, ranging from primitive sites to campgrounds with modern amenities such as showers and laundry facilities. There are also several backcountry campsites available for those looking to explore the wilderness further. If camping is not your style, there are also several lodging options available in Yellowstone National Park, ranging from rustic cabins to luxurious hotels. It's recommended to book your accommodations in advance, especially during peak season. If you can't find a place to stay in the park check out the areas surrounding the area, like West Yellowstone, Gardiner, or Island Park
Find your Campspot. Choose from 100,000+ campsites and use personalized search tools to discover new places.
Conservation and Environment
The delicate ecosystem of Yellowstone National Park requires protection and conservation efforts. When hiking in the park, it's important to minimize your impact on the environment and leave no trace. This means packing out all of your trash, staying on designated trails, and avoiding damaging or disturbing natural features. By following these guidelines, we can all help preserve the beauty and uniqueness of Yellowstone National Park for generations to come.
Frequently Asked Questions
Can I hike or bike to Lone Star Geyser year-round?
No, the trail to Lone Star Geyser is only open for hiking and biking from the end of the snowmobile season in early March until November 1st, before the park road closes to cars. You can cross-country ski and snowshoe on the trail in the winter.
How do you get to Lone Star Geyser Yellowstone?
Just three and a half miles southwest of Old Faithful, on the south side of the road, you'll find a parking area near Kepler Cascades. From here follow the 5.3-mile round trip Lone Star Trail along an old paved road to the geyser. You can either hike or bike this trail.
Is Lone Star Geyser a Texas Thing?
Lone Star Geyser may make you think of Texas, but it was not named after Texas, but rather because it is a significant geyser that stands alone, away from the large concentration of geysers downriver.
Conclusion
In conclusion, hiking to Lone Star Geyser is an unforgettable experience that's not to be missed if you're visiting Yellowstone National Park. With a little preparation and a sense of adventure, you'll be rewarded with stunning scenery, fascinating wildlife, and a glimpse into the geothermal wonders of America's most beautiful park. Do you have a favorite Yellowstone Hike?
What interesting places can you recommend? We're always looking for neat out-of-the-way experiences to add to our list of places to visit. Thank you for reading our article. If you have any comments or questions we'd love to hear from you below.