Lake Texoma Thousand Trails Campground has 285 campsites, 237 of which are full hook-up sites. They also have cabins and tent sites available.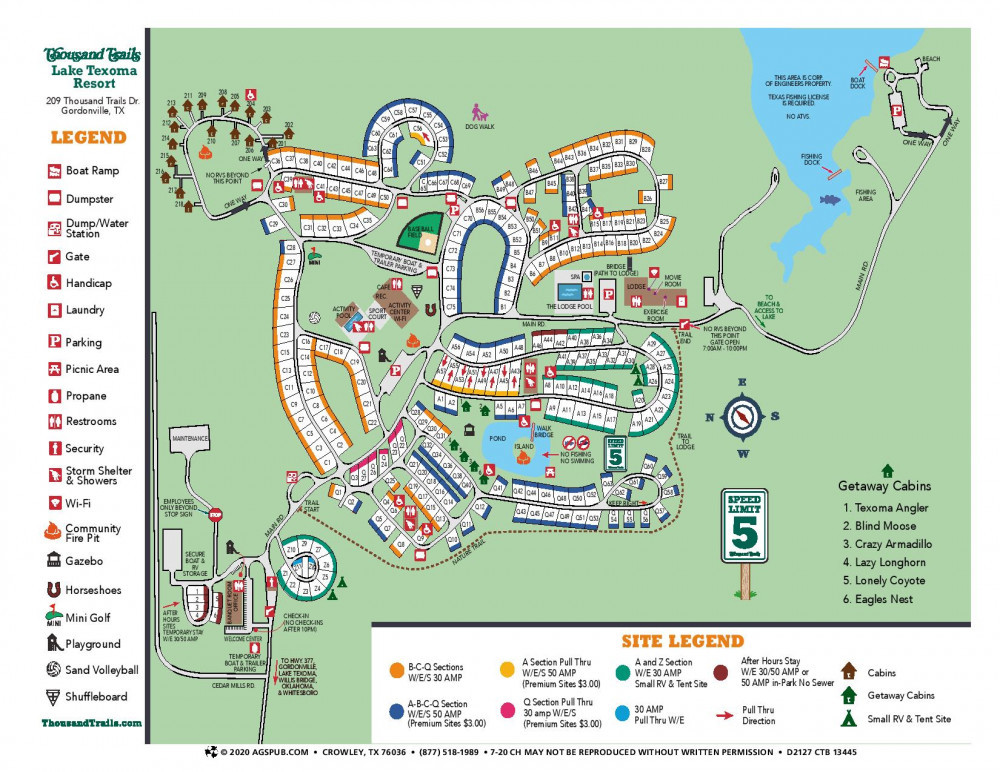 This post contains affiliate links. As a participant in Amazon Associates and various affiliate programs, we are compensated when qualifying purchases are made through our referral links at no additional cost to you. Full Disclosure
We do all our trip planning with RV Life Trip Wizard. RV Trip Planning Made Simple! RV Life Trip Wizard is by far the best RV route planner we've found. Get your 7 day Free Trial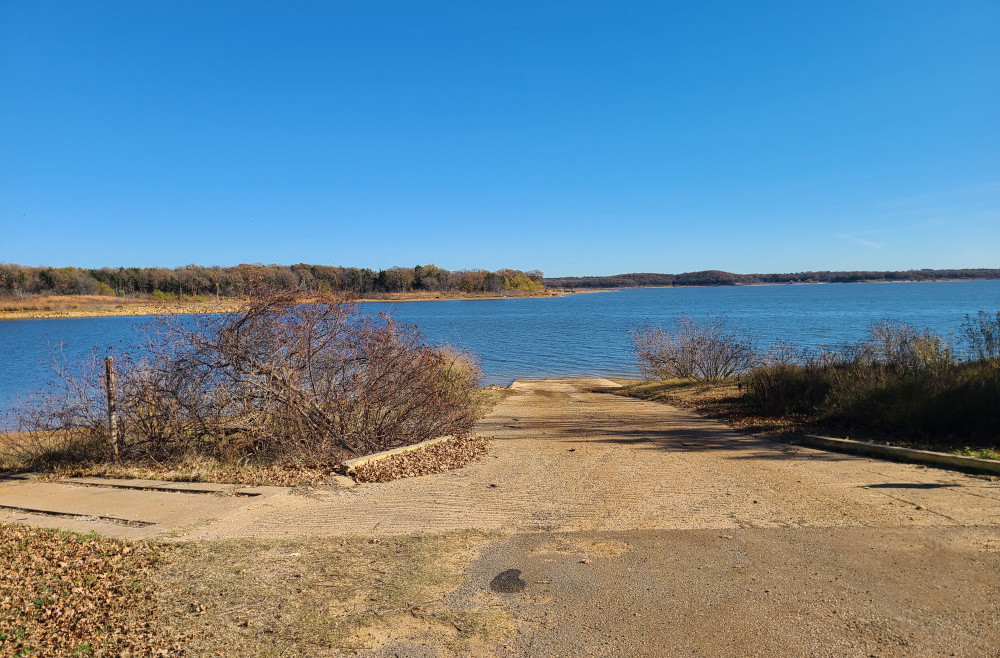 300 acres of pure Texan campground await you at Lake Texoma RV campground. Whether lounging by the lake, swimming, boating, or hiking, this RV camp in Texas offers a quiet escape away from it all. As the "Striped Bass Capital of the World", it's no secret that fishing is a popular pastime in Lake Texoma. We spent November 8 thru December 27, 2021, at Lake Texoma Thousand Trails.
Lake Texoma opened in 1944 as the largest man-made lake in the nation. With over 89,000 acres of water surface, Lake Texoma offers ample space for all boating activities, from sailing to fishing to cruising to gunkholing or just enjoying great anchorages and so much more!
Location
Located in North Texas only a few miles from the Texas-Oklahoma Border. The campground is located on Lake Texoma but none of the sites have water views. It's about a mile drive from the campground to the lake.
209 Thousand Trails Drive
Gordonville, Texas 76245
Prices
As part of a Thousand Trails Membership stays at Lake Texoma are Free. Without a Thousand Trails Membership, it'll cost you about $52/night to stay.
Reservations
For Reservations Non-Thousand Trails Members go to: rvonthego.com or call 877-570-2267.
For Thousand Trails Members with Trails Collection add on go to: ThousandTrails.com or call 800-388-7788.
Our Review
We are Thousand Trails members, so stayed here "Free" with our membership. Upon arrival, the lady at the office gave us a few sites that we might be interested in. We were looking for a 50 amp site which they charge a $3/day premium for. The site we chose was A-48, a nice 50 amp back-in site. It was partly shaded and plenty of room between sites.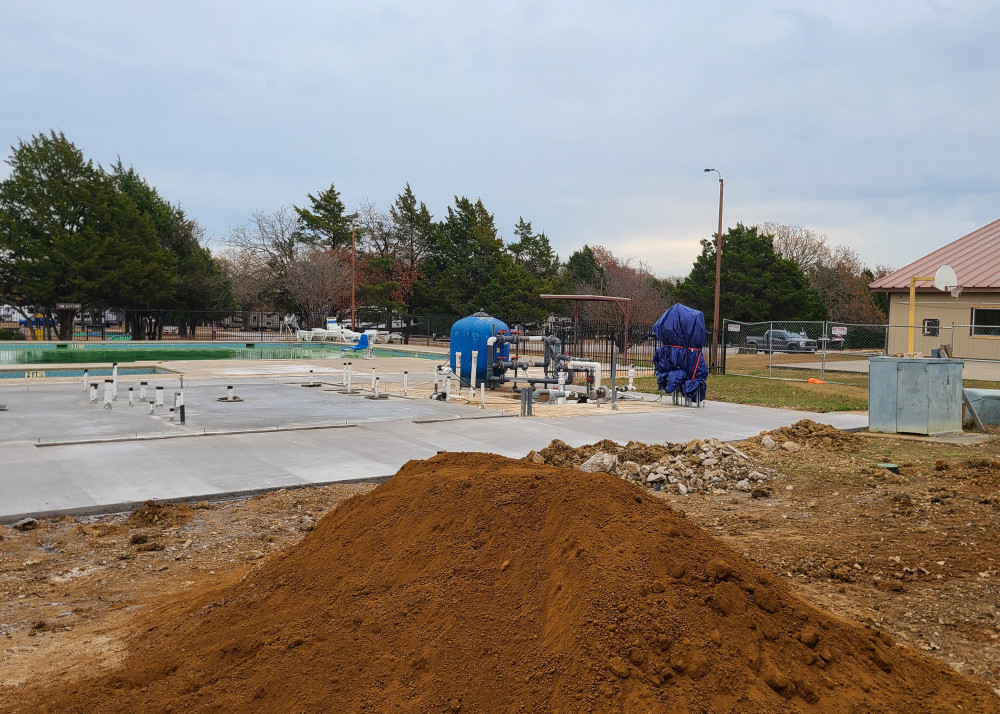 Normally we're allowed to stay at Thousand Trails Campgrounds for 21 days. With our slide problems, the parts we ordered took a little more than 3 weeks to arrive from Lippert. The ladies in the office were really nice and worked with us modifying our stay as we needed since we couldn't move our motorhome. We ended up staying 48 nights.
The campground had a lot of construction going on. The Activities Center was being remodeled, along with one of the pools. A new bathhouse near that pool was being built. The bathhouse in A-Loop where we were camped was recently remodeled and in like new condition.
The campground is better than the average Thousand Trails we've stayed at. The sites are fairly spacious. For the most part, the park was really quiet and relaxing. We would definitely stay here again.

Amenities
Lake Texoma has most of the amenities you'd want from a campground. The staff is very friendly and helpful with any questions you may have.
Restrooms/Showers
The restrooms and showers looked new and were clean when we were there.
The laundry room is located in the Lodge building. The cost to wash was $1.75 and the cost to dry was $1.25.
There is no dog park at Lake Texoma Thousand Trails but plenty of room to walk dogs on a leash. We would take the dogs down toward the lake and let them run in the woods.
The Lodge has a movie room, workout gym, and laundry facility.
Pool/Spa
Lake Texoma Thousand Trails has two pools one with a nice hot tub. During our stay, one of the pools was being remodeled so it was shut down. Hours for the pool were 10am-8pm.
Phone and Internet Service
We use T-Mobile for our phone service. Service at Lake Texoma Thousand Trails was OK with 2 to 3 bars of service.
Our Verizon MiFi received 3 bars of service and we were able to use our Fire Stick and stream Netflix with no problems.
For our mail, we used General Delivery at the Gordonville Post Office. The campground does accept packages for a $5 fee. We didn't use this service during our stay.
Sports, Recreation, and Playground Area
Like most Thousand Trails campgrounds this one has a mini golf course, playground equipment, basketball court, and horseshoe pits.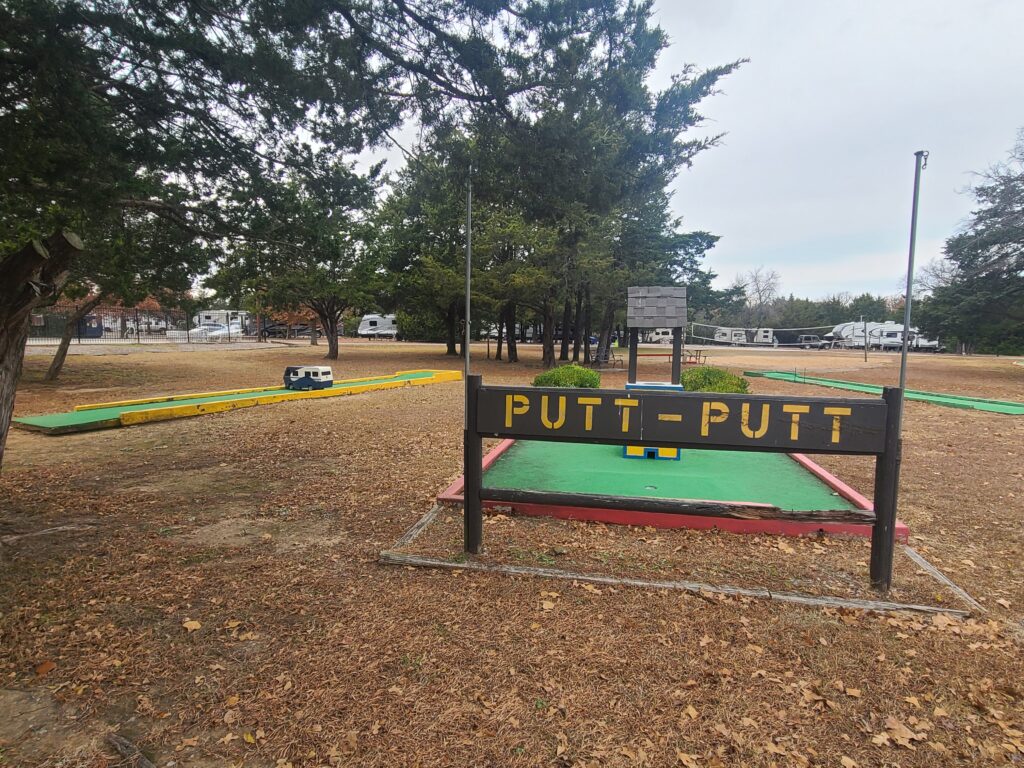 Things to see/do nearby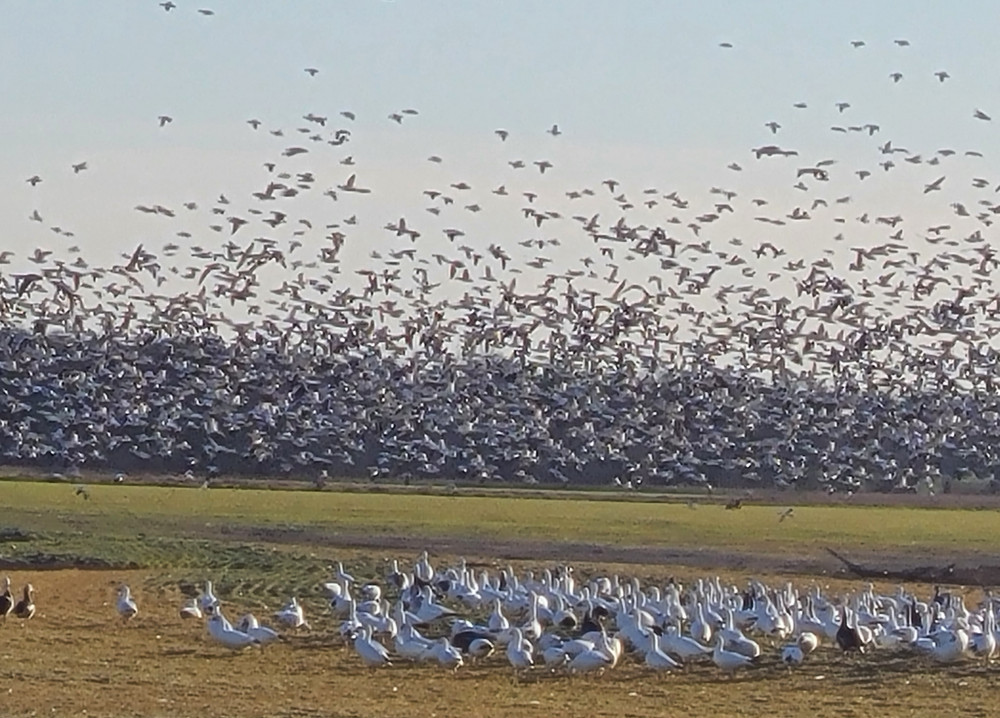 Lake Texoma Thousand Trails is a bit of a drive to just about anywhere. The closest towns with a Walmart are Sherman, and Gainesville, Texas both about 27 miles from the campground.
Hagerman National Wildlife Refuge – One of our favorite activities was visiting Hagerman National Wildlife Refuge fairly close by. So glad we checked it out. We had a great time hiking the trails, watching the birds, and seeing snow geese by the thousands!
Fort Worth Stockyard – It's about an hour and a half drive to Fort Worth Stockyards but it was one of our favorite weekly activities while we were at Lake Texoma. The Old West comes to life before your eyes during the world's only twice-daily cattle drive. Every Day at 11:30 am & 4:00 pm. Watch as the cowboys bring the Texas Longhorns along East Exchange Avenue. It's fun to watch these gentle giants seemingly wander down the road. Catch a rodeo on Friday or Saturday Nights. There are plenty of restaurants, bars, and shops to explore as well. We caught a concert at Billy Bob's Texas, the world's largest honky tonk.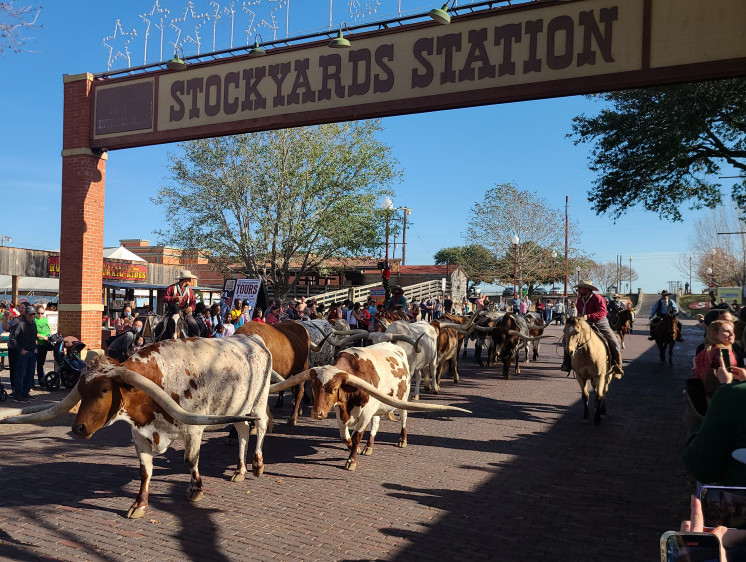 Cedar Mills Marina and Resort – Just down the road from Lake Texoma Thousand Trails is Cedar Mills Marina and Resort. We ate at Pelicans Landing Restaurant which has some great food and a nice bar. They also have a small petting zoo where we got to feed the potbelly pigs and goats. It was a fun little place to see close by.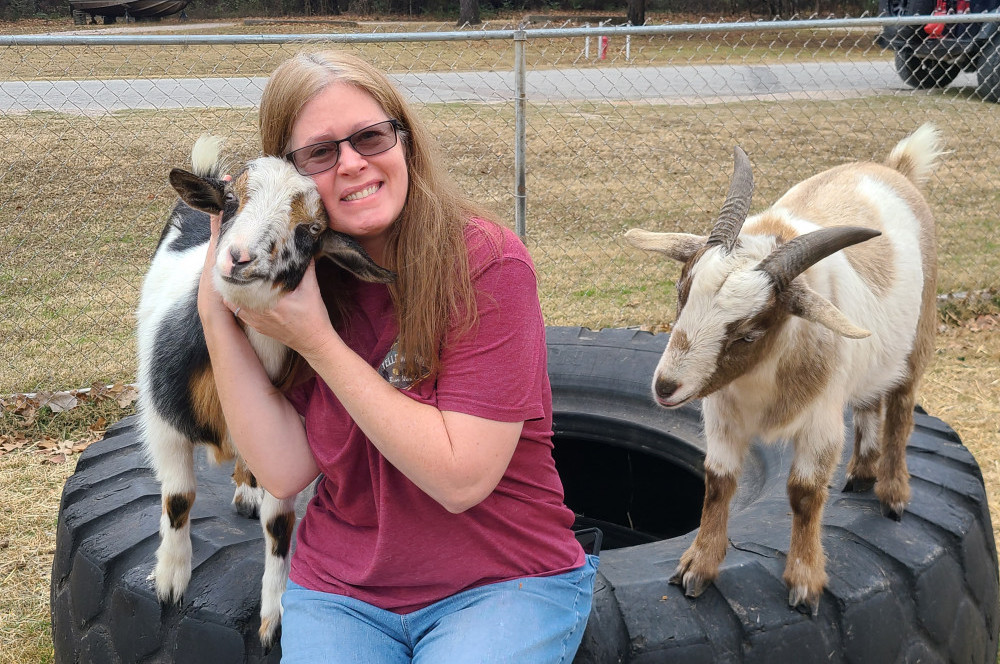 Conclusion
Lake Texoma Thousand Trails Campground is really nice although a bit of a drive to pretty much anywhere. It's still a nice campground to stay at. We're sure if you are here during the summer the fishing in the lake sounds like it is spectacular.
What interesting places have you been to and can recommend? We're always looking for neat out-of-the-way places to put on our list of must-sees. Thank you for reading our article. If you have any comments or questions we'd love to hear from you below.
If you're looking to build your own home-based business like we have with this webpage, check out Wealthy Affiliate.
Wealthy Affiliate is an all-in-one platform that you can build your whole affiliate marketing business on. It combines training, software, and website hosting into one. This makes the whole process of starting an online business from scratch much easier, especially if you're new to building a website.