The Traeger Ranger pellet grill and smoker impressed us from the word go. We've been on the road RVing for going on three years now. When we first started traveling we were looking for a good portable grill. We ended up getting the Blackstone Tailgater Combo. It's a really good grill/griddle….If it's not windy! Throw in some wind and it's impossible to get enough heat out of the grill to cook. With that I started looking for something different to grill with.
Note: Some of the links in this article are affiliate links.
GoFullTimeRVing.com is a participant in the Amazon Services LLC Associates Program. As an Amazon Associate, we earn from qualifying purchases linking to Amazon.com and affiliated links. When you use the links on this page to make a purchase, we may get a small commission and you may get a great bargain. You don't pay anything extra by purchasing through these links. It's a win-win all around. See our Full disclosure for more info. Thank you!
The grill we were looking for needed to be portable since it would be going in the motorhome "basement" on travel days. It also needed to work well in windy situations. After searching many different grills the thought of having a grill that we could use as a smoker too was appealing. We chose the Traeger Ranger.
Design
Although it looks easily portable, in reality, the Ranger weighs a ton! …60lbs to be exact. At 13″ high by 21″ wide by 20″ deep, the Ranger is small enough to fit on a picnic table or on a tailgate.
It sports a matte black finish and has a stainless steel handle and a pair of hinges that secure the lid to the bottom half of the grill.

On the left side of the grill is a digital control panel with a small LCD and a meat probe jack. Below the screen is a round controller with up and down buttons for setting the temperature and timer, a Keep Warm button that sets the grill to 165 degrees Fahrenheit to keep food warm without overcooking, an Ignite button, and a multipurpose Center button that turns the grill on and off and lets you cycle through the various programming modes (Temperature, Timer, Probe Alarm).
The LCD shows your set and current cooking temperatures, it also has indicators that tell you when the timer is set, when the meat probe is connected, as well as when the Keep Warm mode is enabled.
The interior of the grill has a pellet hopper with an 8-pound capacity and offers 184 square inches of cooking space. According to Traeger, it will accommodate one rack of ribs, six burgers, or 10 hot dogs.
It really is a very well-built little grill.
Key Features
Digital Arc Controller with Advanced Grilling Logic for precise temperature settings in 5-degree increments.
Included meat probe for easy monitoring of food temps without lifting the grill lid.
Keep Warm Mode ensures meals are hot and ready when you are.
Includes a cast iron griddle for searing steaks and breakfast dishes.
Large capacity hopper allows you to hold up to 8 lbs of pellets at once.
Grill Set Up
Setting up the Traeger Ranger is very easy. 6 screws with washers, 4 feet, and the handle are all that need to be installed.
Assembly:
Using the included screwdriver and hardware, I attached the feet to the base of the grill and then attached the handle to the lid. Then install the grease drip tray and bucket. Install the grill grate and assembly is complete.
Initial Firing:
You need to prime the auger upon first use and any time you run out of pellets in the auger. I filled the hopper with Traeger Signature Wood pellets, plugged in the power cord, and pressed both the up arrow and Ignite buttons at the same time to prime the auger. Once a small number of pellets had made their way into the firepot, I pressed both buttons again to stop the priming action. The grill is now primed and ready to fire up.
Prior to your first cook, you need to season the grill. To season the grill I pressed the up arrow until the temperature reading was 450 degrees, then pressed the Ignite button, closed the lid, and let the grill run for 30 minutes at 450 degrees. The grill is now ready to cook.
First Cook
Our first cook was to smoke a tri-tip steak. Big enough for both of us this seemed like the perfect cut to try on our first cook. I started off by seasoning the tri-tip with just paprika, fresh ground pepper, and sea salt. I inserted the temperature probe into the thickest part of the tri-tip.
Setting the temperature on the Ranger to 225 degrees. Once the grill came up to temp (around 15 minutes), I placed the tri-tip directly on the grill grate and cooked for about an hour and a half, until the tri-tip temp read 130°F. During this time, I continuously checked the chamber temperature and it stayed within five degrees of my set temperature.

When the temperature of the tri-tip reached 130°F I removed it from the grill and wrapped it in foil. We wanted a reverse sear on the steak so I turned the grill up to 450 degrees and waited 15 minutes for it to come to temperature. Once the grill was hot I unwrapped the tri-tip and placed it back on the grill cooking it for about 5 minutes per side until the internal temperature was 145°F.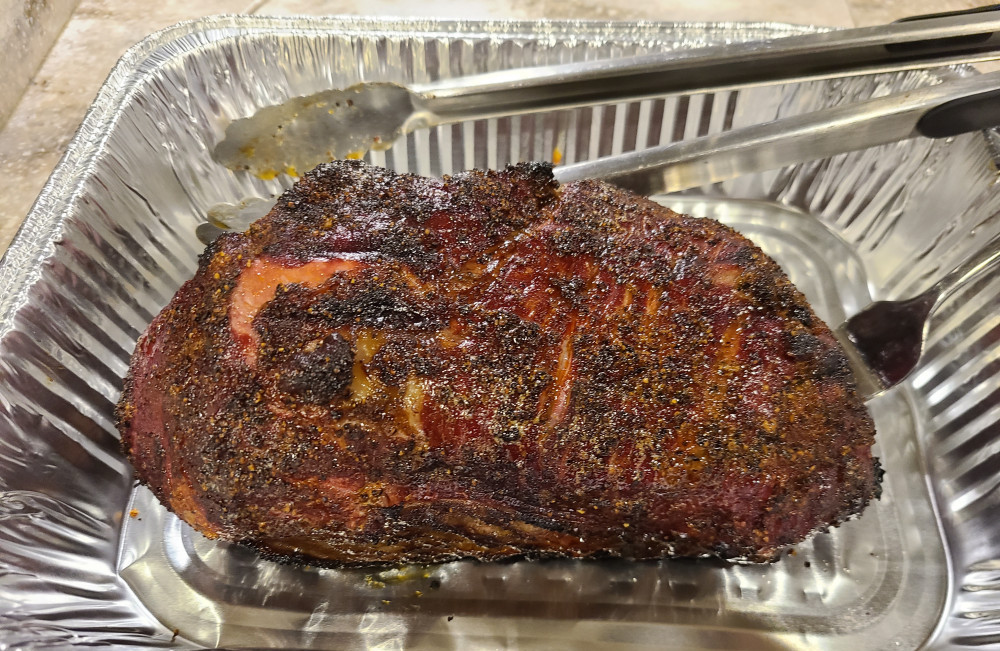 Once the temperature reached 145°F I pulled the tri-tip off the grill and placed it on a cookie sheet to rest for 10 minutes. Upon slicing, it was so tender and juicy. It was cooked to a perfect (for me) medium to medium well.
Cooking was so easy and the tri-tip came out perfect in my opinion. I can't wait to try cooking more food on this little grill!
Pellets
Traeger premium wood pellets are made from 100% natural, food-grade hardwood. Traeger pure wood pellets grant the perfect burn for optimal wood-fired flavor. Made in the USA.
Traeger has eight different types of wood and wood blend pellets.
Signature Blend Wood Pellets
Best wood pellets for BBQ meats, fish, and vegetables.
The flavors of hickory, maple, and cherry hardwood combine for a blend that can take on just about anything you cook. From classic BBQ meats to fish and veggies, this versatile blend gives you the full-bodied flavor you'll go back to time and time again.
Hickory BBQ Wood Pellets
Best wood pellets for brisket, tri-tip, other beef cuts, chicken, turkey, pork, and vegetables.
Traeger Hickory pellets are great for naturally enhancing Beef, Chicken, Pork, and Veggies with full-bodied, bold flavor.
Apple BBQ Wood Pellets
Best wood pellets for vegetables, pork, chicken, and baked goods.
With Traeger Apple pellets, you'll get a light, slightly fruity smoke flavor that will naturally enhance Veggies, Pork, and Chicken.
Cherry BBQ Wood Pellets
Best wood pellets for ribs, beef, pork, chicken, lamb, and baked goods.
Traeger's Cherry pellets, naturally enhance Beef, Chicken, and Pork with a subtly sweet, fruity flavor.
Pecan BBQ Wood Pellets
Best wood pellets for pulled pork, chicken, vegetables, beef, and lamb.
Traeger's all-natural Pecan pellets burn slowly and steady every time. This is the right choice for naturally enhancing your pork, chicken, vegetables, beef, and pork with sweet, spicy, assertive flavor.
Mesquite BBQ Wood Pellets
Best wood pellets for chicken, fish, and beef cuts like brisket.
Traeger's Mesquite pellets are perfect for naturally enhancing Chicken, Beef, and Fish with a hearty BBQ flavor.
Turkey Blend Wood Pellets & Brine Kit (Limited Edition)
Best wood pellets for turkey.
This artisanal mix of all-natural hardwoods featuring Maple & Hickory accented with a hint of Rosemary will elevate your turkey's flavor whether it's roasted or slow-smoked
Meat Church Wood Pellet Blend (Limited Edition)

It combines the Hickory used for cooking hog in the Deep South with the Oak preferred by Texas pit masters. The result is a bold, assertive smoke flavor that makes every dish praise-worthy.
Spices, Rubs, and Sauces
Here's the rub down: for anything you're fixin' to grill, Traeger's got a spice for that. Whether you rub it on or shake it out, make your meal superbly spiced. Find all your Traeger Spices, Rubs, and Sauces here.
Beef Rub
Bring out the best in your burgers, steaks, and brisket with Traeger Beef Rub. Sweet molasses is balanced with paprika, chili powder, and other spices to match the bold flavor of beef.
Chicken Rub
From whole roasted chicken to turkey burgers, give all your poultry a flavor boost with Traeger Chicken Rub. Black pepper and chili powder team up with citrus and cane sugar for a deliciously balanced addition to chicken and other poultry.
Pork and Poultry Rub
From pork chops to spatchcock chicken, give all your white meats an added dose of flavor with Traeger Pork & Poultry Rub. Paprika, onion, & chili pepper bring savory notes, while apple and honey add a touch of sweetness that's perfect for pork, chicken, and other milder meats.
Mesquite Poultry Paste
Elevate the flavor of everything from chicken and turkey to wildfowl with our Mesquite Poultry Paste. Created with our friends at Williams Sonoma, this sweet & smoky glaze adds rich notes of maple, smoke, & rosemary to poultry and caramelizes to give it a beautiful golden finish.
Traeger Rub
Traeger's ultra-versatile Traeger Rub features the perfect blend of sweet, salty, & savory to crank up the flavor of any meat. Zesty garlic teams up with herby basil & oregano notes and the subtle smokiness of paprika & chili pepper to complement everything from lean chicken breasts to bold beef brisket.
Orange Brine and Turkey Rub Kit
The perfect wood-fired Thanksgiving turkey starts with Traeger Brine Rub. The Orange Brine infuses your bird with flavor and ensures a juicy, tender final product, while the Turkey Rub adds an extra layer of tastiness. Use it on whole roast chicken, wild fowl, or any other poultry you please.
Prime Rib Rub
Give your finest cuts of beef the flavor treatment they deserve with Traeger Prime Rib Rub. This sweet & savory rub features rosemary and garlic flavors that pair perfectly with prime rib, thick steaks, and other premium cuts of beef.
Fin & Feather Rub
Amp up the flavor of everything from turkey to trout with Traeger Fin & Feather Rub. This savory rub features garlic, onion, and just a hint of spiciness to complement the flavor of fish and fowl without overpowering it.
Coffee Rub
Give your meats a serious wake-up call with Traeger Coffee Rub. More traditional spices like garlic, paprika, and black pepper get a boost from coffee and cocoa to add a bold dose of flavor to anything you shake this rub on. Give it a try and see what all the buzz is about.

Traeger 'Que BBQ Sauce
Traeger's signature Traeger 'Que BBQ Sauce features notes of brown sugar, smoky hickory, and tangy vinegar for a classic flavor that's a natural partner of ribs and pulled pork, but is also good on just about anything.

Sweet & Heat BBQ Sauce
Get the best of both worlds with Traeger Sweet & Heat BBQ Sauce. It combines the tangy sweetness of our Apricot BBQ sauce with the peppery kick of our Texas Spicy BBQ sauce to give you the perfect balance of sweetness and heat.

Texas Spicy BBQ Sauce
Add a little kick to your cookout with Traeger Texas Spicy BBQ Sauce. It features peppery heat that's awesome with wings or pulled pork, and its thinner consistency makes it a great choice for marinating, too.

Apricot BBQ Sauce
Take your chicken and pork to the next level with Traeger Apricot BBQ Sauce. This tangy sauce features apricot sweetness along with a hint of heat that's perfect for everything from glazed chicken and turkey burgers to classic BBQ ribs.

Sugar Lips Glaze
Finish everything from baby back ribs to roast chicken with this delectably delicious BBQ sauce. Offering rich sweetness with a bit of tanginess and a hint of herb-y flavors, it's ideal for glazing meats right near the end of your cooks.

Smoked Simple Syrup
Tie the whole meal together by infusing your beverages with wood-fired flavor. Our simple syrup features sweet notes of vanilla and clove, balanced with a light, smoky flavor, and is the perfect addition to your next cocktail.

Smoked Bloody Mary Mix
Do your next Bloody Mary Traeger-style. Traeger's mix features hints of horseradish, and a kick of cayenne, all mixed together with their signature wood-fired smoke taste. It's not just for beverages—their Smoked Bloody Mary mix moonlights as a kickass marinade.
Accessories
Scout and Ranger Grill Cover
The Traeger Scout and Ranger grill cover gives you all-weather protection on the road and at home. The durable, water-resistant material helps protect your portable grill from the elements and ensures your grill stays clean and dry. Custom fit for Traeger Scout and Ranger models and built to last.
Drip Tray Liners
Quick and easy cleanup wherever you go. These drip tray liners are made of heat-proof aluminum for durability to take on the job but are light and disposable so you can get the gunk out fast and spend more time doing everything else. Fits the Ranger, Scout, and PTG.

Mini Grease Bucket Liners
If you're hitting the road for a while, make sure to grab a five-pack of these Mini Grease Bucket Liners so you can easily keep your portable wood-fired grill clean and free of grease.

Stay Dry Pellet Bin & Lid
Keep your hardwood pellets fresh, dry, and organized with the StayDRY Pellet Bin. It features an airtight lid with locking closures that seals out moisture to ensure optimal burn and flavor from your pellets. It also has a stacking design that lets you stash multiple flavors.
BBQ Grilling Tongs
Say goodbye to dropping dogs. Featuring serrated edges for reliable grip, Traeger BBQ Tongs let you flip, rotate, and move food with confidence.

XXL BBQ Spatula
From pork butt to brisket, no large cut of meat is too big for Traeger's XXL BBQ Spatula. It's made of sturdy stainless steel and wide enough to get the job done without bending or breaking.

All-Natural Grill Cleaner
Keep your grill as clean and shiny as the day it was born with Traeger's All Natural Cleaner. It was specifically developed for Traeger Grills and accessories and is made of a grease-cutting formula that can take on a big mess without any harmful chemicals.
BBQ Cleaning Brush
Introducing a safer way to scrub cooled grill grates. Traeger's BBQ Cleaning Brush features nylon bristles that won't damage your grates or wind up in your burger.

Conclusion
The Traeger Ranger is an excellent choice for RVers, tailgaters, or anyone looking to add wood-fired smokiness to their outdoor grilled dishes. At 60 pounds it isn't exactly light, but it's small enough to throw in the trunk of your car and is outfitted with an assortment of useful features including a cooking timer, a probe alarm, a keep warm mode, and precise digital temperature controls. It's easy to set up and has delivered perfectly cooked food for us.
What is your favorite food to cook on the grill/smoker? Thank you for reading our article. If you have any comments or questions we'd love to hear from you below.