We headed back North from Brownsville when we got word that we could get the seats in our motorhome reupholstered by a guy in Austin. I checked a number of RV parks for a site that would be fairly close. Most were booked up for our timeframe. I finally found Longhorn RV Resort in Niederwald, Texas. It's located only about 25 minutes drive from our upholstery guy.
This post contains affiliate links. As a participant in Amazon Associates and various affiliate programs, we are compensated when qualifying purchases are made through our referral links at no additional cost to you. Full Disclosure
We do all our trip planning with RV Life Trip Wizard. RV Trip Planning Made Simple! RV Life Trip Wizard is by far the best RV route planner we've found. Get your 7 day Free Trial
Longhorn RV Resort has 118 sites (55 pull-thru sites and 63 back-in sites) on the edge of a 60-acre lake. All sites are nice and level with 20, 30, and 50 amp service. They also have three cabins to rent if you don't have an RV.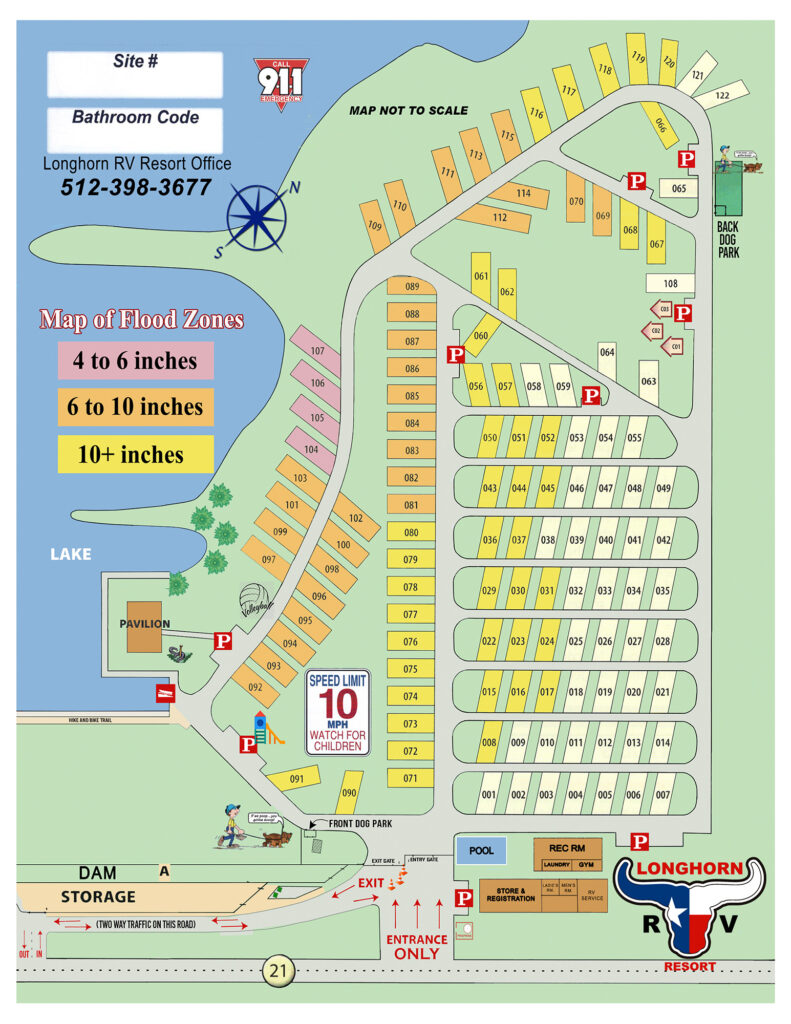 Location
Located about 30 minutes from Austin and an hour to San Antonio, Longhorn RV Resort makes a great location for exploring either or both cities.
12921 Camino Real
Niederwald, TX 78640
Price
We spent two weeks at Longhorn RV Resort from February 17 thru March 3, 2022, while waiting on our motorhome furniture to get reupholstered. We received the weekly rate for our stay.
The daily Rate is $60/night, Weekly Rate is $265/week, and the Monthly Rate is $875/month.
For our return trip to Longhorn RV Resort, I tried to book a full month but was told they didn't have any monthly sites available and I would have to book for 28 days. I got the weekly rate which came to $1060 for our stay. I don't like when resorts force you to book 28 days even though they definitely had room for us to stay the whole month but they only do the monthly rate for certain sites. It's kind of a shady business plan in my opinion.
Reservations
Reservations can be made online by clicking here. Or call 512-398-3677.
Our Review
We were instantly impressed when we realized that they gave us a site that backed right up to the lake.
It's one of the nicest sites we've ever had. The sites are very long with plenty of room for both our motorhome and Jeep.
Note: The sites that back to the lake are in a flood zone. We talked to a couple that had been in the spot next to the one we were in that got flooded in the middle of the night. Heavy rain came through and water got up to 5 feet deep. They lost their car in the flood and had water damage to their motorhome.
They have a key card system for the gates which was a great feature for security.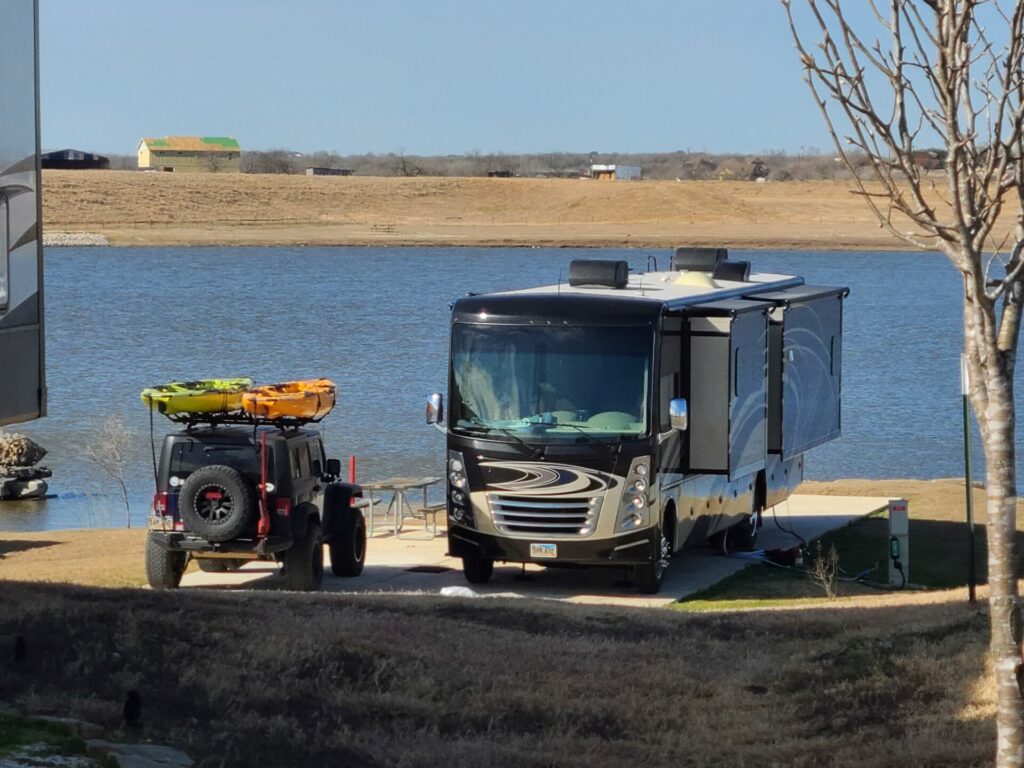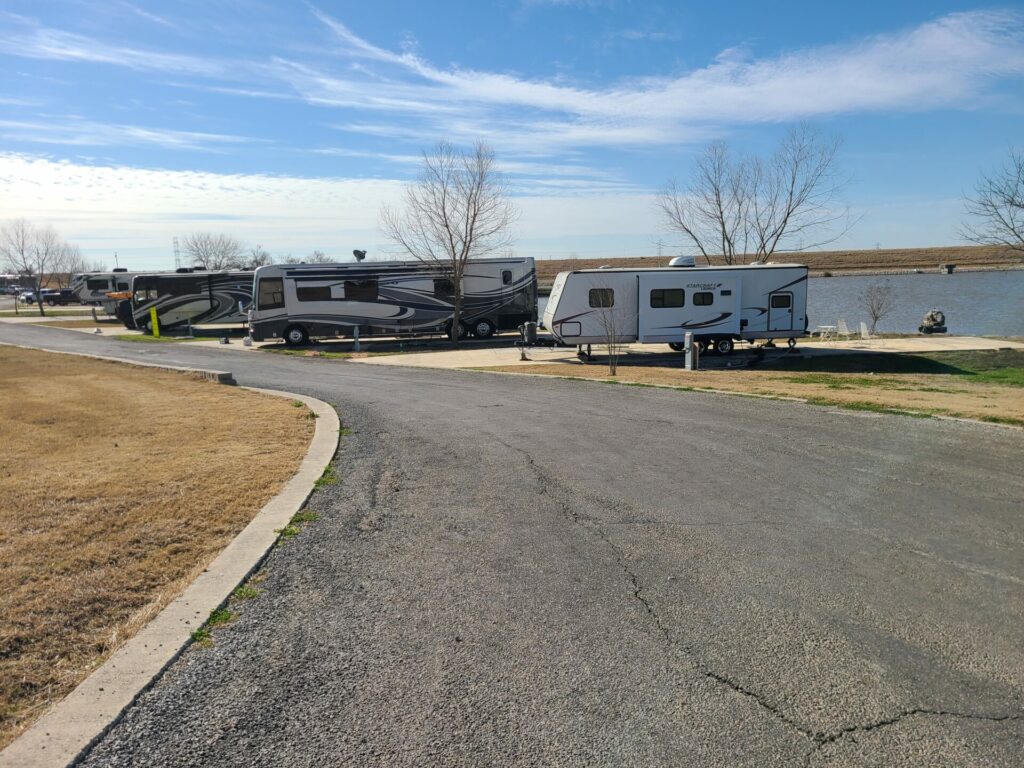 The park offers pizza they make at the office/store that is also very well stocked with all things RV (parts etc.). The staff is super friendly and lives on-site. They work hard and love what they do. Trash pickup every morning after 10 am.
The heated pool with hot tub was nice as is the workout room and laundry facilities. Let us not forget the farm that surrounds the campground with 4 beautiful longhorns and three very friendly donkeys.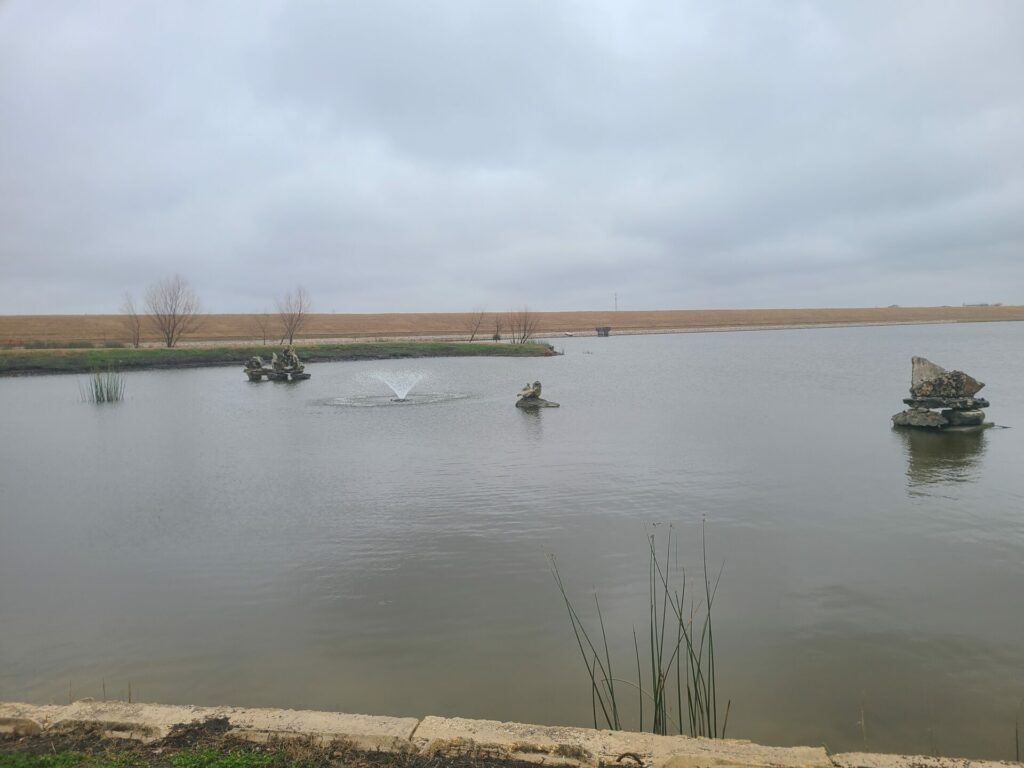 The only downside that could come into play for some RVs is the pedestal is located toward the front of the site as is the sewage dump. Where we parked, our 25-foot power cable and 15-foot sewer hose reached with no problem. We weren't able to get a good cable connection and had snowy reception using it. We actually got more channels and better reception using our antenna.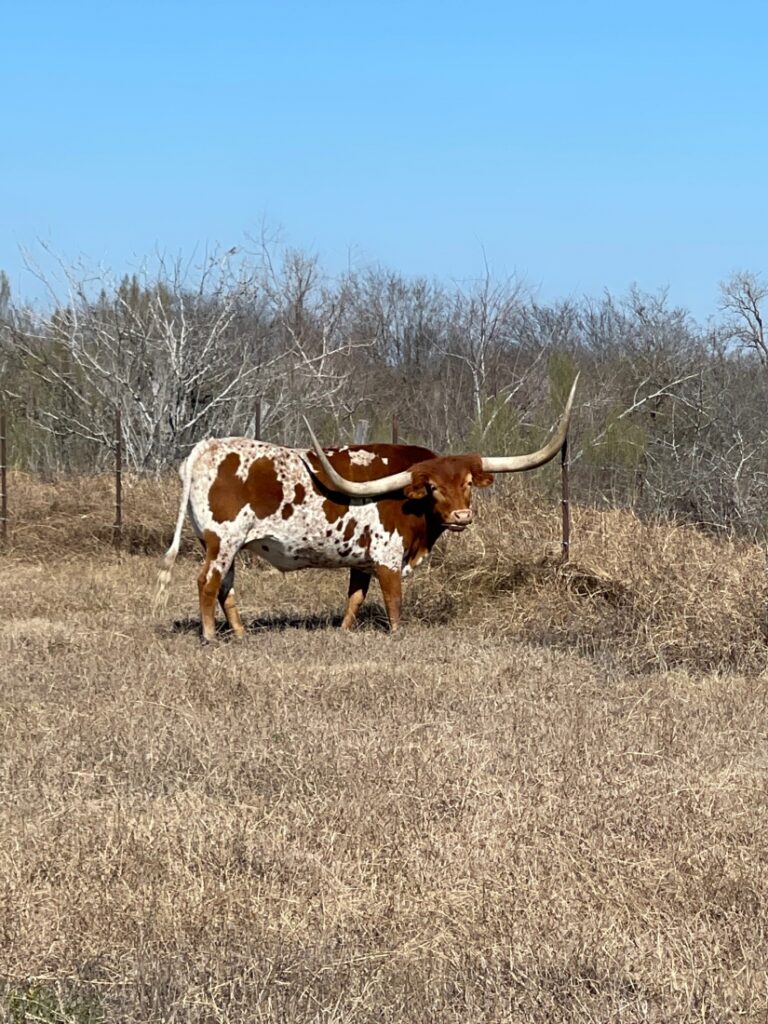 Amenities
The restrooms and showers looked nice and were clean when we were there.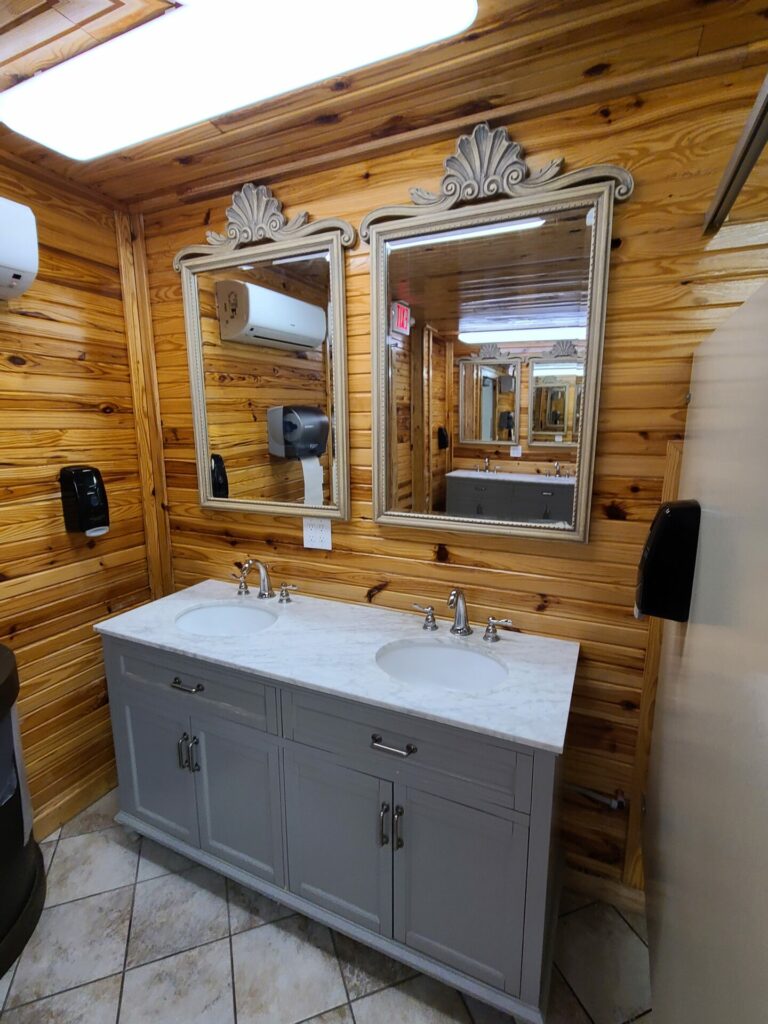 The laundry room is located in the Rec Room building. The cost to wash was $1.50 and the cost to dry was $2.00.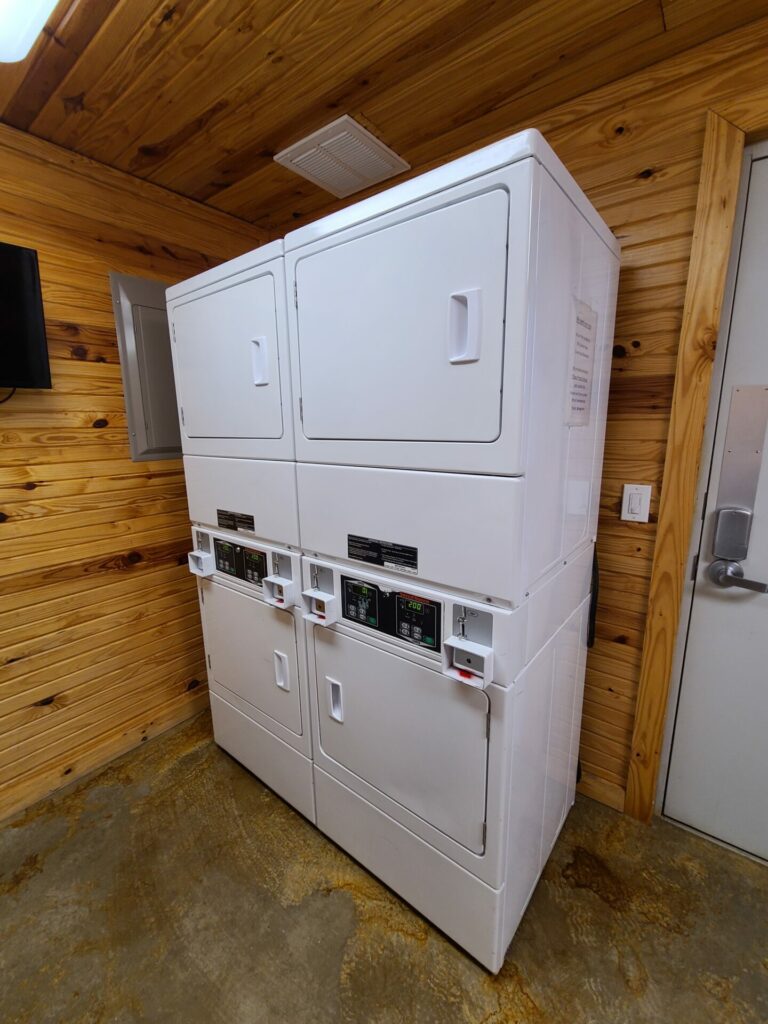 Longhorn RV Resort has two very nice dog parks that Sierra and Ruby loved running around and taking in all the smells.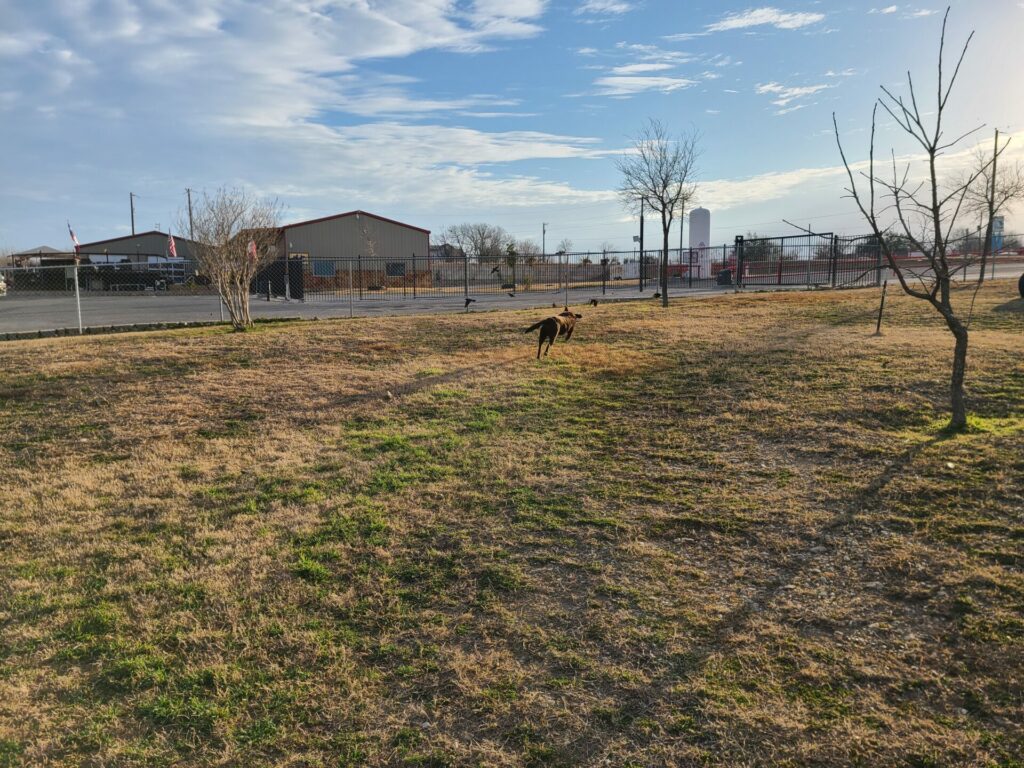 The Office and Rec Room area of the park is very nice and well-kept. The Office has a store with supplies and also a small Hunt Brother's Pizza Shop that you can order from. The pizza was cheap and slightly better than a frozen pizza you cook yourself. It wasn't too big, but enough for 2 people to share. The Rec Room building includes the Laundry Room, and Work Out Room. Also in the area are the Pool and Spa.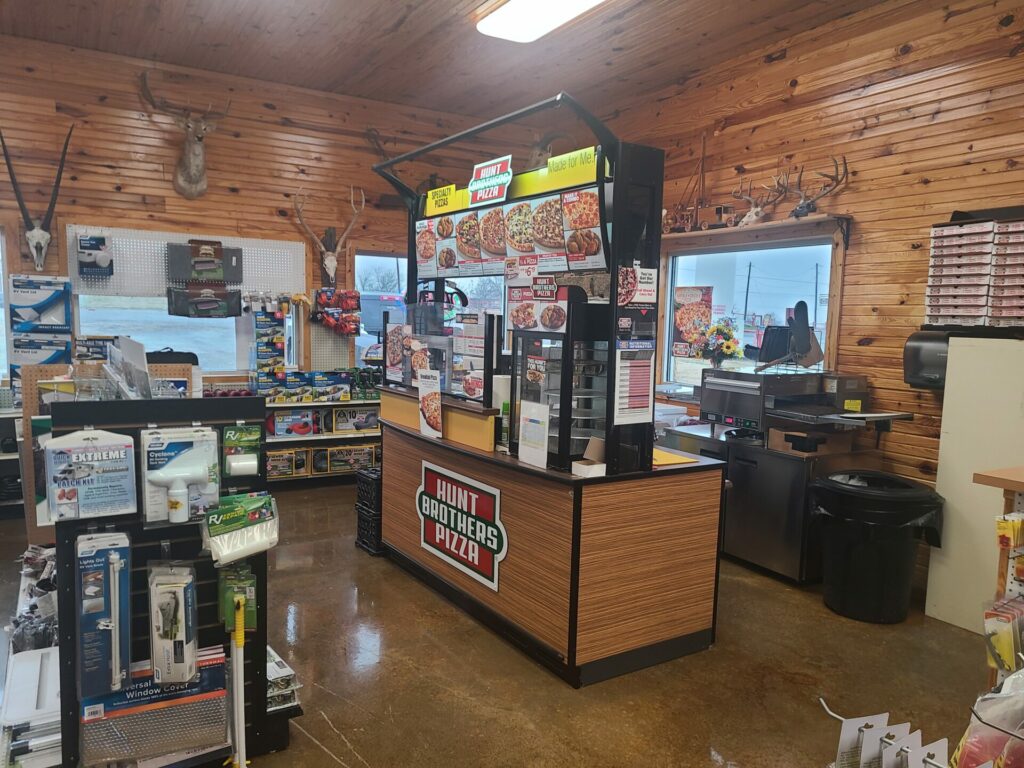 Lovely heated pool and spa with a waterfall.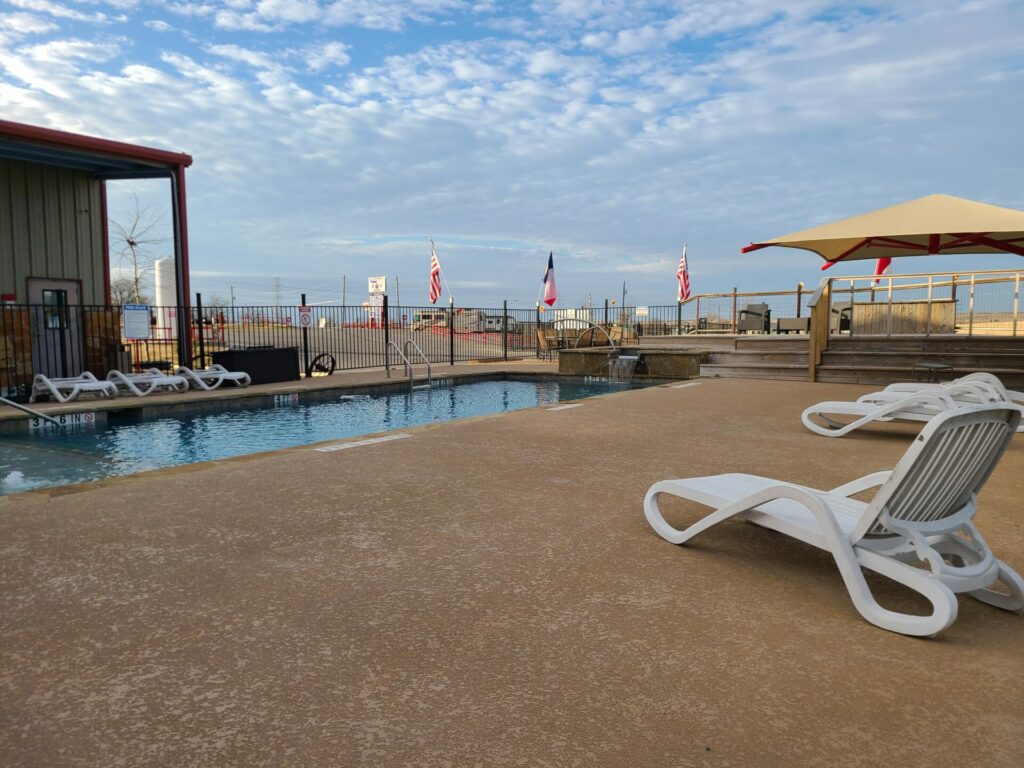 Phone and Internet Service
We use T-Mobile for our phone service. Service at Longhorn RV Resort was very good with 4 bars of 5G service.
Our Verizon MiFi received 4 bars of service and we were able to use our Fire Stick and stream Netflix with no problems.
The campground does accept packages that can be picked up in the Recreation Room. For our mail, we had a package sent directly to the campground and got it with no problem.
Sports, Recreation, and Playground Area
The Longhorn Campground has a nice playground area for the kids, and also a volleyball court and basketball hoop. There is an awesome pavilion with a barbeque pit and a great view of the lake.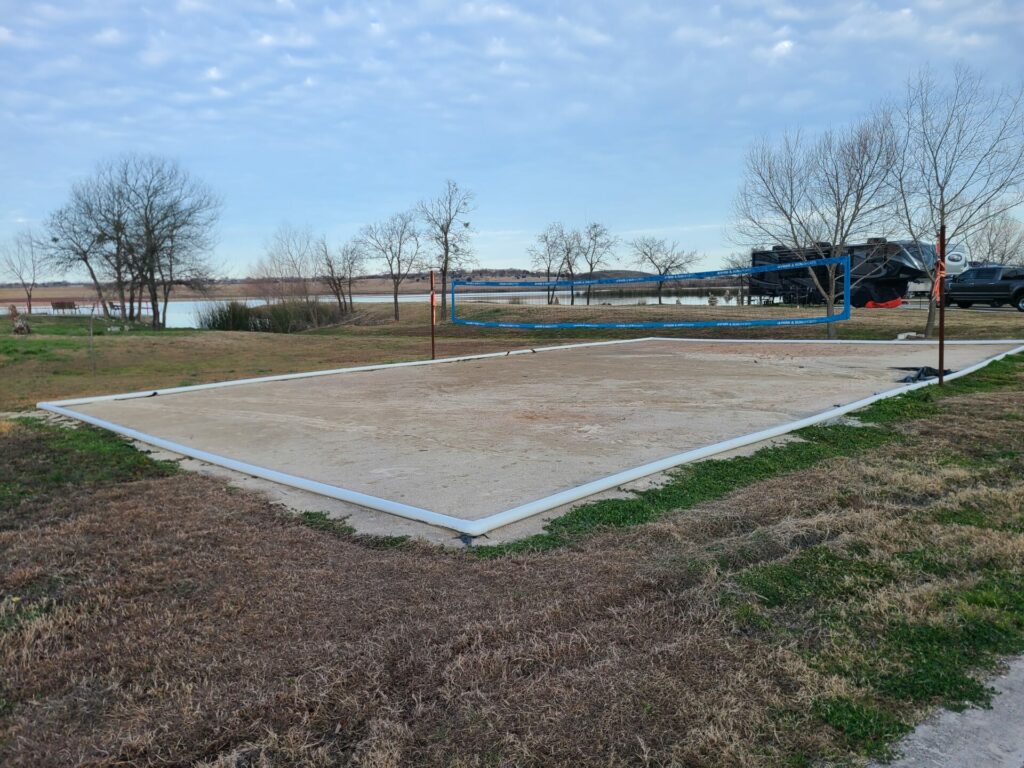 Things to see/do nearby
Chicken $hit Bingo at the Little Longhorn Saloon
For more than four decades, The Little Longhorn Saloon has served as the center of Austin's honky-tonk country music scene for its great live music and world-famous Chicken $hit Bingo!!
Every Sunday from 4pm-8pm head out to the Little Longhorn Saloon to listen to some live music and play Chicken $hit Bingo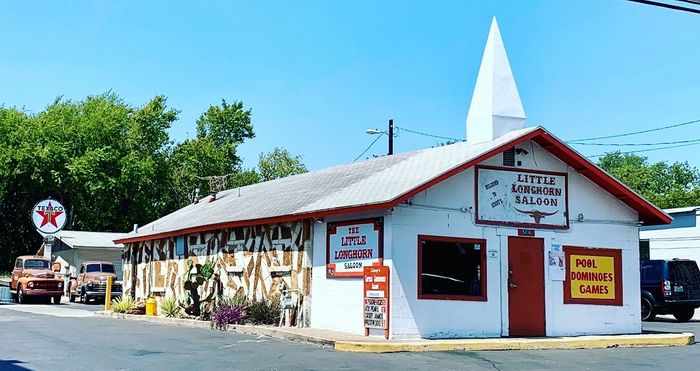 $2 for a regular ticket or $5 for a golden ticket gets you a chance for the chicken to $hit on your number to win $114 on the regular ticket or $288 on the golden ticket per round. They play 4-8 rounds of Chicken $hit Bingo every Sunday. It was a fun way to spend a few hours hanging out. Located at 5434 Burnet Road, Austin, TX 78756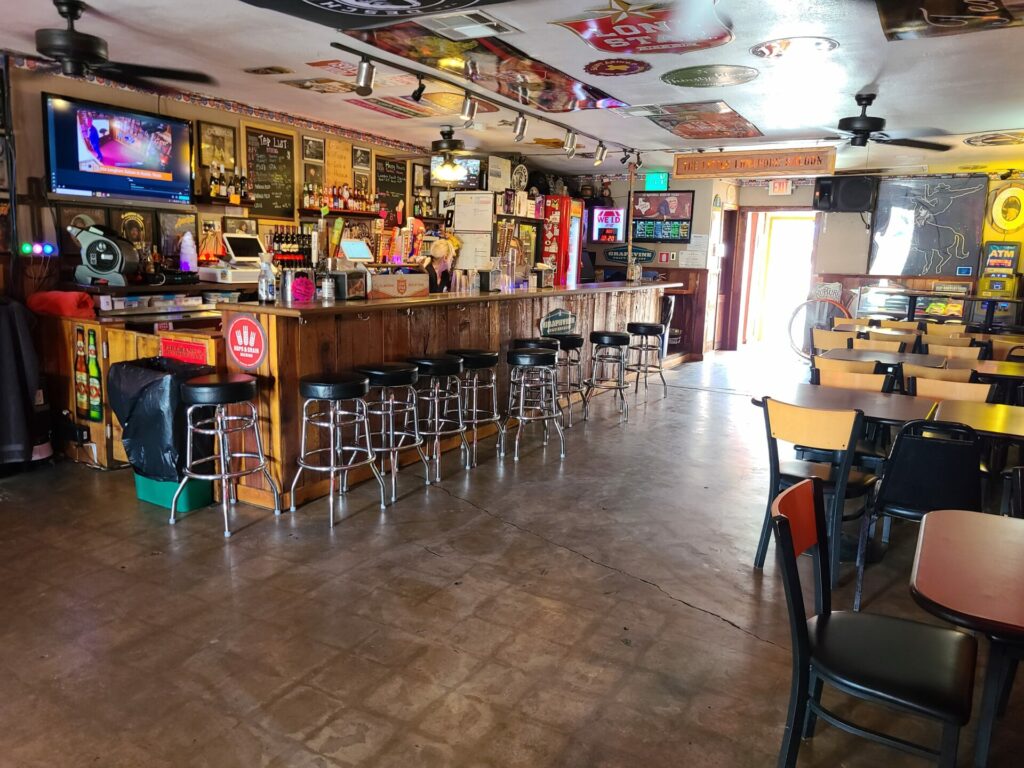 Lyndon B Johnson National Historical Park
Lyndon B. Johnson National Historical Park tells the story of our 36th President beginning with his ancestors until his final resting place on his beloved LBJ Ranch.
This entire "circle of life" gives the visitor a unique perspective into one of America's most noteworthy citizens by providing the most complete picture of any American president.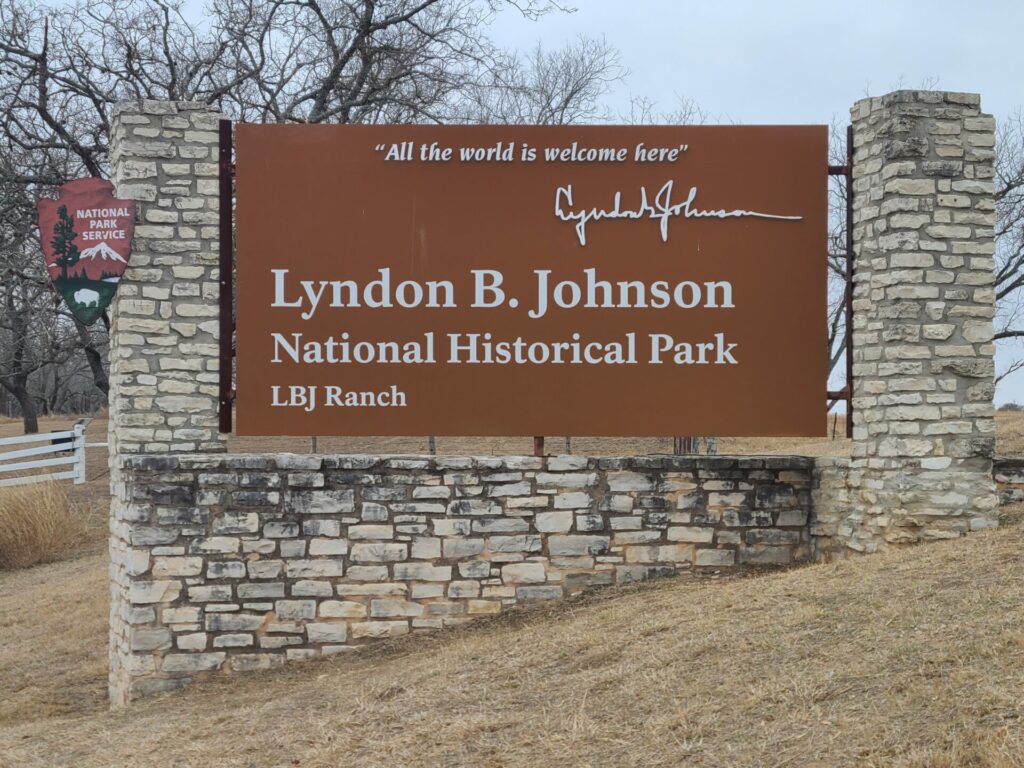 San Antonio Stock Show and Rodeo
During our stay, the San Antonio Stock Show and Rodeo were going on. We were lucky enough to get tickets to the Rodeo and Night Ranger after the concert from VetTix.
We made the hour-plus drive to the event and spent most of the day checking out the stock show. It was really impressive seeing the 4H kids working with their cattle and getting them ready to be shown.
Since 1949, the San Antonio Stock Show & Rodeo has grown to become one of the largest, most prestigious single events in the city of San Antonio, with approximately 1.5 million visitors entering the grounds each year.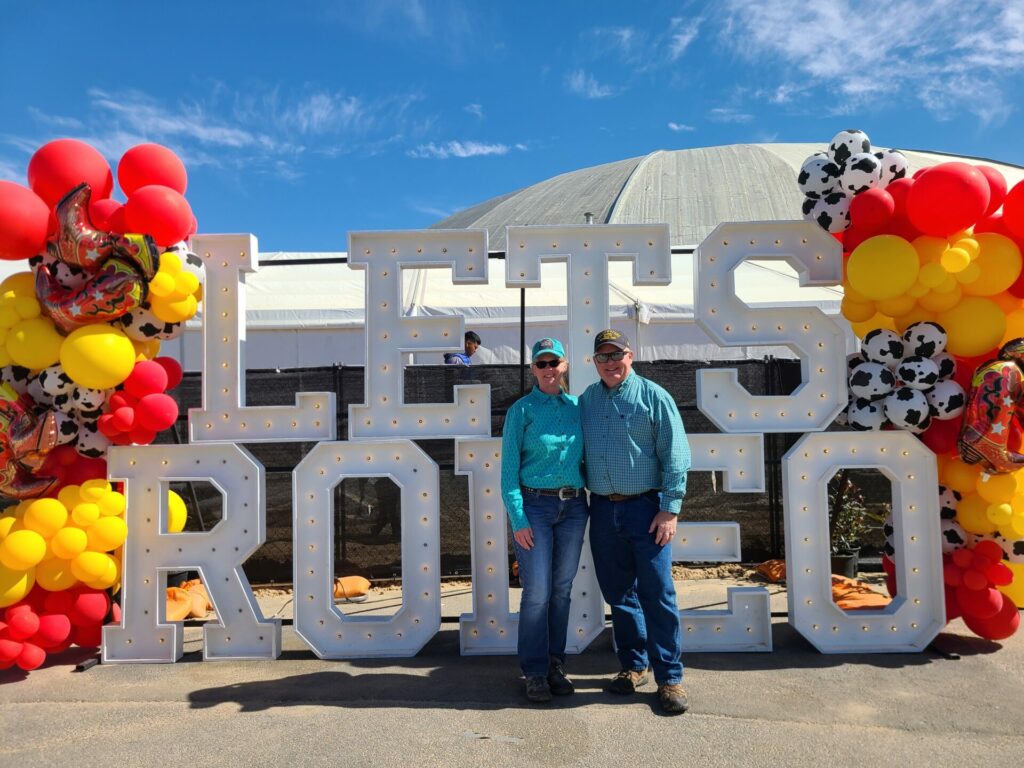 The rodeo was one of the best I have ever been to. The quality of the cowboys and cowgirls in the event made this show outstanding! This 17-day Stock Show and Rodeo is a great one to attend if you are ever in the area when it's going on.
Conclusion
Longhorn RV Resort makes a great base camp for any activities in the Austin area or even as far as San Antonio.
What interesting places have you been to and can recommend? We're always looking for neat out-of-the-way places to put on our list of must-sees. Thank you for reading our article. If you have any comments or questions we'd love to hear from you below.
If you're looking to build your own home-based business like we have with this webpage, check out Wealthy Affiliate.
Wealthy Affiliate is an all-in-one platform that you can build your whole affiliate marketing business on. It combines training, software, and website hosting into one. This makes the whole process of starting an online business from scratch much easier, especially if you're new to building a website.