We camped here for a week July 22-29, 2019. Maumee Bay State Park in Oregon, Ohio is one of the nicest parks we've been to. It's a very well-kept and beautifully manicured campground.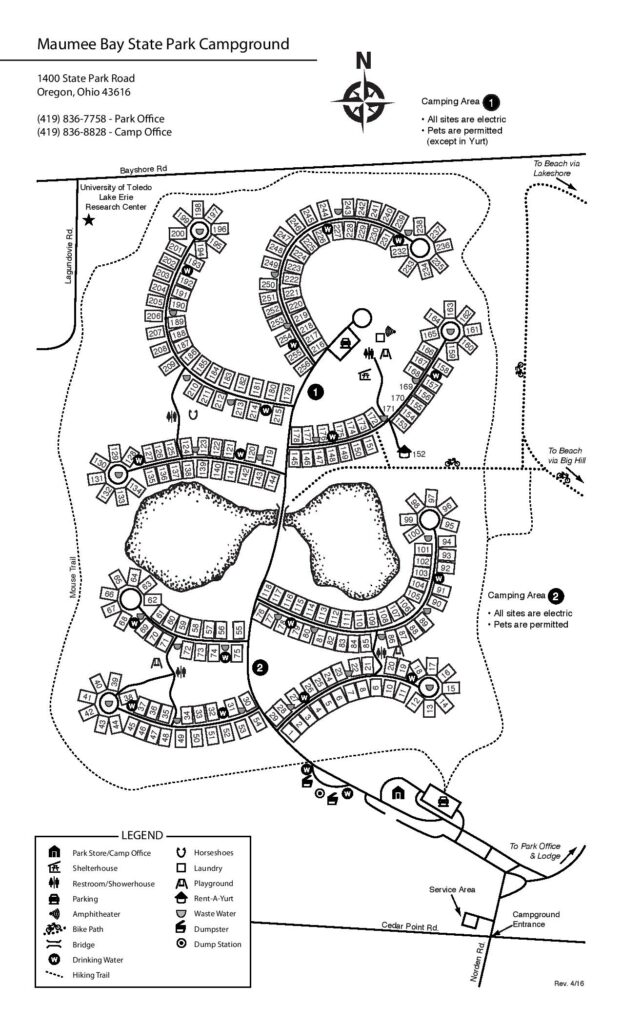 This post contains affiliate links. As a participant in Amazon Associates and various affiliate programs, we are compensated when qualifying purchases are made through our referral links at no additional cost to you. Full Disclosure
We do all our trip planning with RV Life Trip Wizard. RV Trip Planning Made Simple! RV Life Trip Wizard is by far the best RV route planner we've found. Get your 7 day Free Trial
Maumee Bay State Park does a weekly theme. The week we were at the park was Christmas in July. There were Christmas decorations everywhere as you entered the park. We were told that Santa was making an appearance at each campsite over the weekend. The kid in me was really excited about that! I have a long Christmas list this year!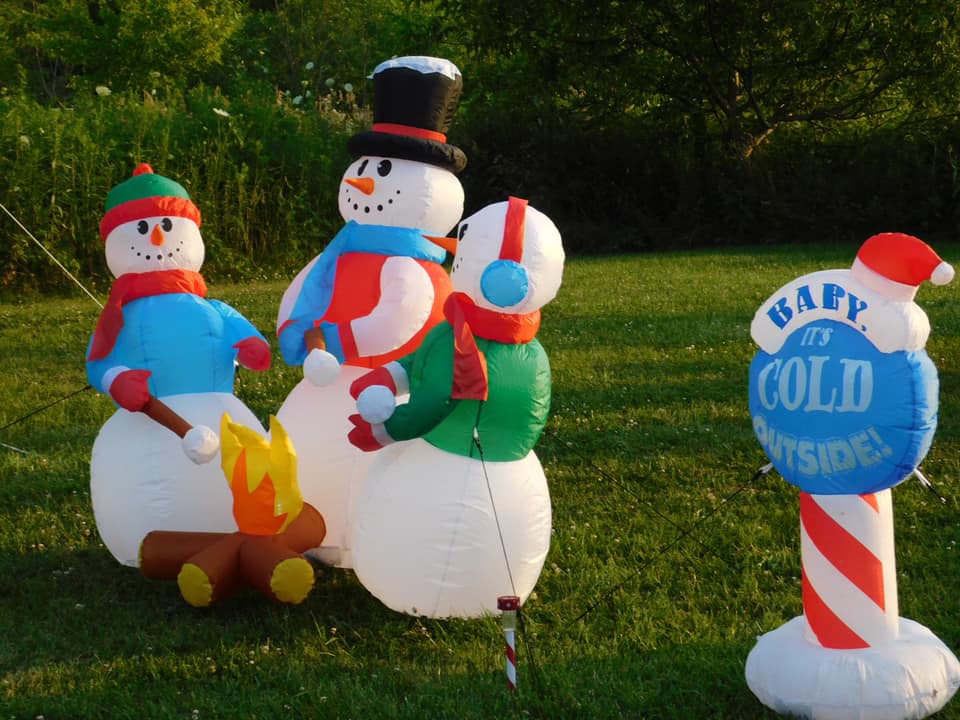 Location
1400 State Park Rd. Oregon, OH 43616
Price
During our stay from July 22-29, 2019 the price for a campsite was $30/night.
Reservations
Reservations may be made up to six months in advance online or by calling (866) 644-6727

Our Review
There is a lot of space at each campsite. Our campsite (#29) was a back-in site that is fairly large with a nice level concrete pad. It had partial hook-ups with 50 amp electrical service. There are no on-site water or sewer hookups. The site was spacious with vegetation providing privacy from neighboring sites and included a fire pit and picnic table.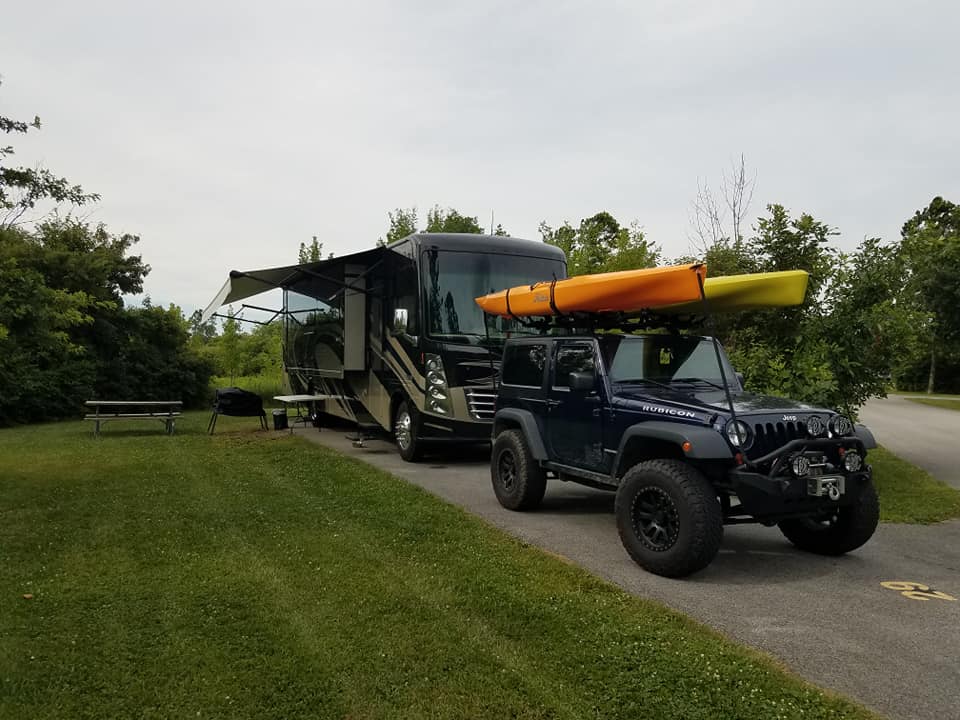 The restrooms/showers were nice, clean, and FREE! The laundry room is clean and in good shape. Bring quarters! There are no change machines. The park boasts a Lake (Lake Erie), golf, a lodge, and a museum all within the park.
Lake Erie is only 5 minutes away from the campground. We were excited to get the kayaks out on the water. It looked like a great place to put them out until we saw how nasty the water actually was along Maumee Beach.
The bay was full of blue-green algae, so it smelled and wasn't safe for swimming, letting the dogs play in the water, or kayaking in our opinion. The water looked like green paint rolling in. With that, we decided putting the kayaks in the water wasn't a good idea. We did see people windsurfing though, I just wouldn't want to get in that water, ICK! The beach was a great place for people to fly kites and several folks were flying them.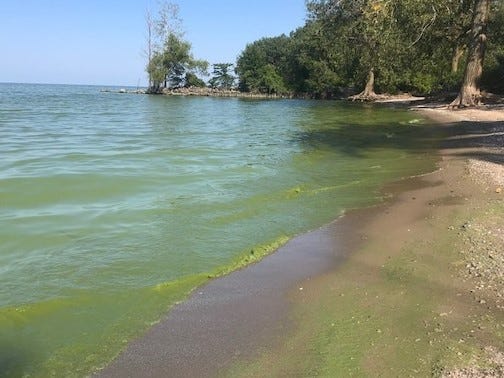 Lots of bird watching if that's your thing. They rent bikes, kayaks, and paddleboards at fair prices. They have a well-stocked little store and sell firewood when you first enter the park. Excellent place for families, groups, or solos. We would definitely stay at Maumee Bay State Park again.
Things to see and do
Put-In-Bay – Often called the "Key West of the North", Put-In-Bay features a lively entertainment scene, historic sites, and breathtaking water views. We took the ferry over for a day trip to visit Perry's Victory and International Peace Memorial. The Memorial was established to honor those who fought in the Battle of Lake Erie, during the War of 1812, and to celebrate the long-lasting peace between Great Britain, Canada, and the U.S.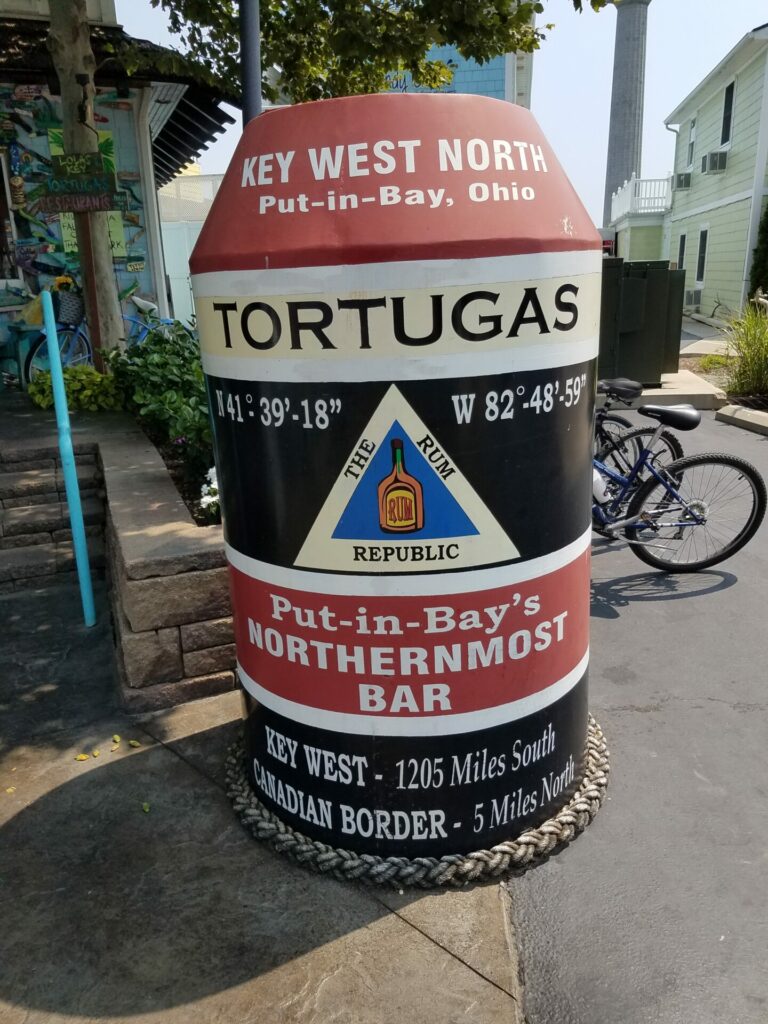 Tony Packo's – You can't come to Maumee Bay State Park and not have dinner at Tony Packo's! Made famous when Jamie Farr's character Corporal Klinger, (both Toledo natives), on the TV series M*A*S*H made mention of the Packo restaurant in six episodes of the show. Photos of the M*A*S*H cast, their signed buns, and other M*A*S*H paraphernalia can be seen hanging in the Original Tony Packo's restaurant. You'll have to go for yourself, because this place is historical, and since 1932 they've been serving the Toledo area.
Make sure to check out all the signed hot dog buns on the walls! Started by Burt Reynolds in 1972, since then buns signed by presidents, actors, musicians, astronauts, and more can be seen in all Packo restaurant locations.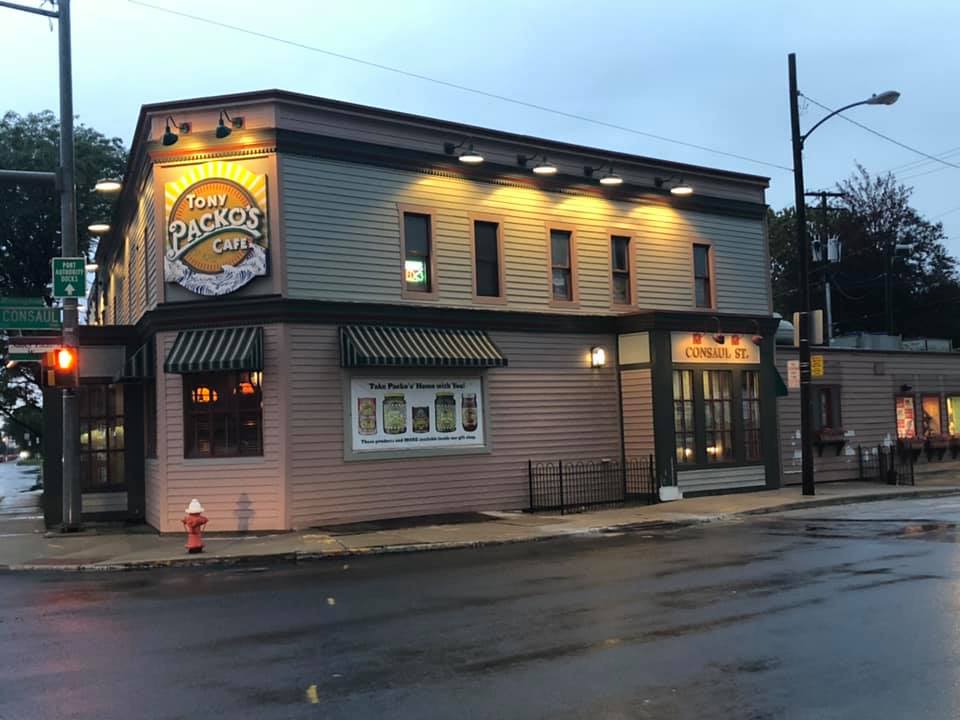 Hiking/Biking/Cross-country Skiing – Maumee Bay State Park is home to several miles of trails winding through swamp and marsh wetlands, open meadows, ponds, and beaches. Enjoy great views of Lake Erie while you hike or bike.
Bike Path (biking, walking, jogging) — 5 miles; paved, connects to City of Oregon Bike Trail
Interpretive Boardwalk (hiking) — 2 miles; ADA accessible
Mouse Trail (hiking, cross-country skiing) — 2.5 miles; easy
Multi-use Trail — 2.5 miles
Storybook Trail (hiking) — 0.3 miles; easy; mowed path
Conclusion
Maumee Bay State Park is a beautiful park near Toledo, Ohio on the shores of Lake Erie. There is so much to do in the area. It is on our list of places to go back to when in the area.
What interesting places can you recommend? We're always looking for neat out-of-the-way experiences to add to our list of places to visit. Thank you for reading our article. If you have any comments or questions we'd love to hear from you below.