One of the best things about traveling in a motorhome is the ability to bring your pet along with you for the ride. But when the weather turns nasty and the rain starts to fall, your dream trip can quickly turn into the Worst Thing About RVing With Dogs!
We love our dogs more than anything and wouldn't travel without them. Rainy days are the biggest pain when traveling with them though.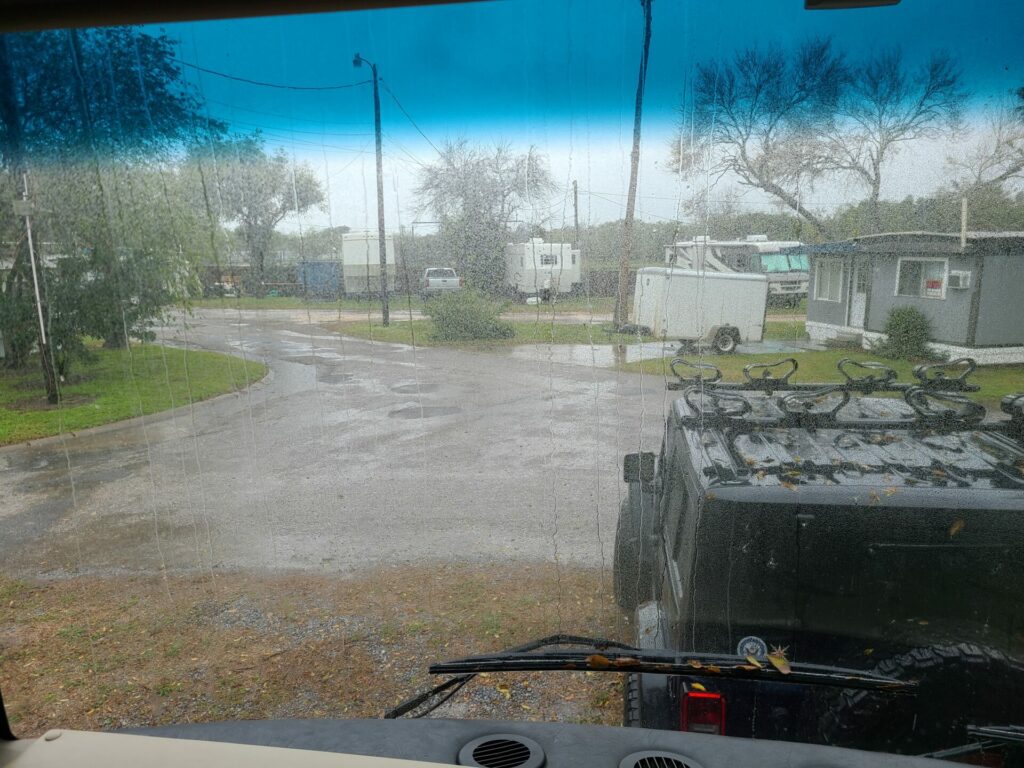 This post contains affiliate links. As a participant in Amazon Associates and various affiliate programs, we are compensated when qualifying purchases are made through our referral links at no additional cost to you. Full Disclosure
Dogs need to do their business even on rainy days. So with that, you need to plan ahead a bit to ensure a wet dog doesn't make a disaster out of your RV trip.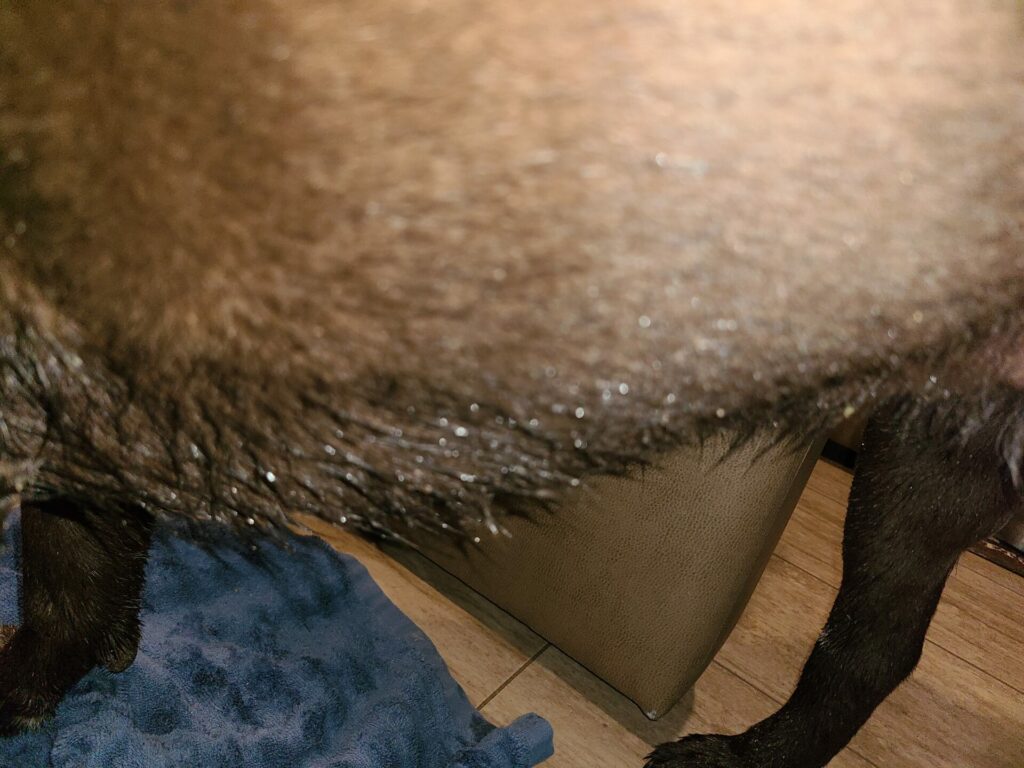 A wet dog in a motorhome can not only be smelly and messy, but they can also be cold, miserable, and even run the risk of developing hypothermia.
Pick your moments to go outside
When you're RVing, sometimes things don't always go to plan. That's especially the case with wet weather, which can wreak havoc with your best-laid adventure plans.
So if you're preparing for some outdoor exploration but there's a sudden downpour or a day filled with rain, don't stress. Some outdoor activities can be unpleasant and even dangerous in the rain, so why not just go with the flow?
Instead of sticking to your original plan rain, hail, or shine, don't be afraid to stay in for the day. Make some hot cocoa, read a book, and snuggle up next to your fur baby.
Wait for a lull in the rain shower. Even though you may still get a bit wet you really don't want to be outside if it's raining cats and dogs!
Then, once the clouds part and the sun reappears, you can get outside and go exploring once again.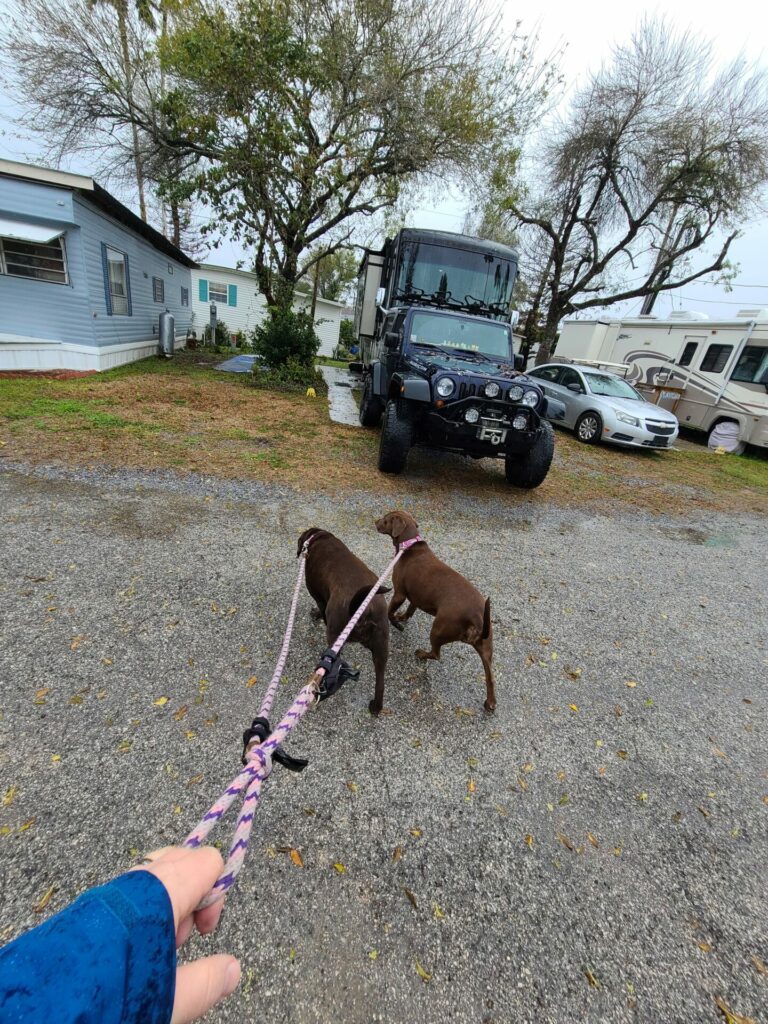 Pack for All Weather
When you're camping and rain sets in for the day, it can sometimes be impossible to stay completely dry. That's why it's important to pack some old towels for your trip so you can dry your dog when they get wet, or even consider using a super-absorbent chamois to remove moisture from their coat. This will prevent a chill from setting in and protect your dog against the risk of hypothermia while also keeping your RV cleaner.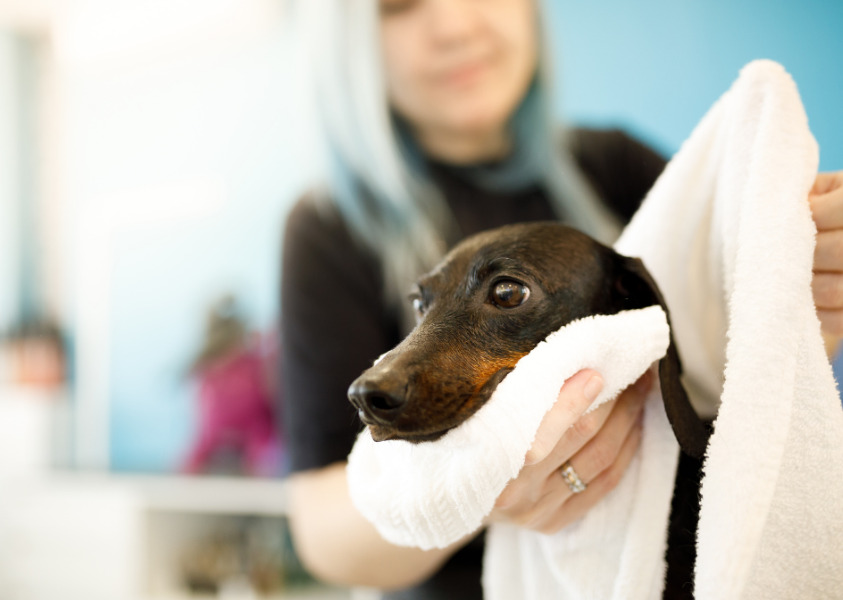 Keep Your Dog Smelling Fresh Between Baths
On rainy days your pup still needs to go outside. Getting wet can create that terrible "Wet Dog Smell"! This smell is not from the dog itself, but the yeasts and bacteria that live on your dog's skin and fur. These yeasts and bacteria create odors when they get wet.
On rainy days it may come in handy to keep some waterless dog shampoo or deodorizing spray on hand so the dogs don't spread that wet dog smell throughout your RV.
Our Experience
We can tell you, our dogs Sierra and Ruby absolutely love traveling in the RV! Being labs they love an opportunity to play in the water, rain is no exception. A rainy day for them is something to get excited about. But not for me!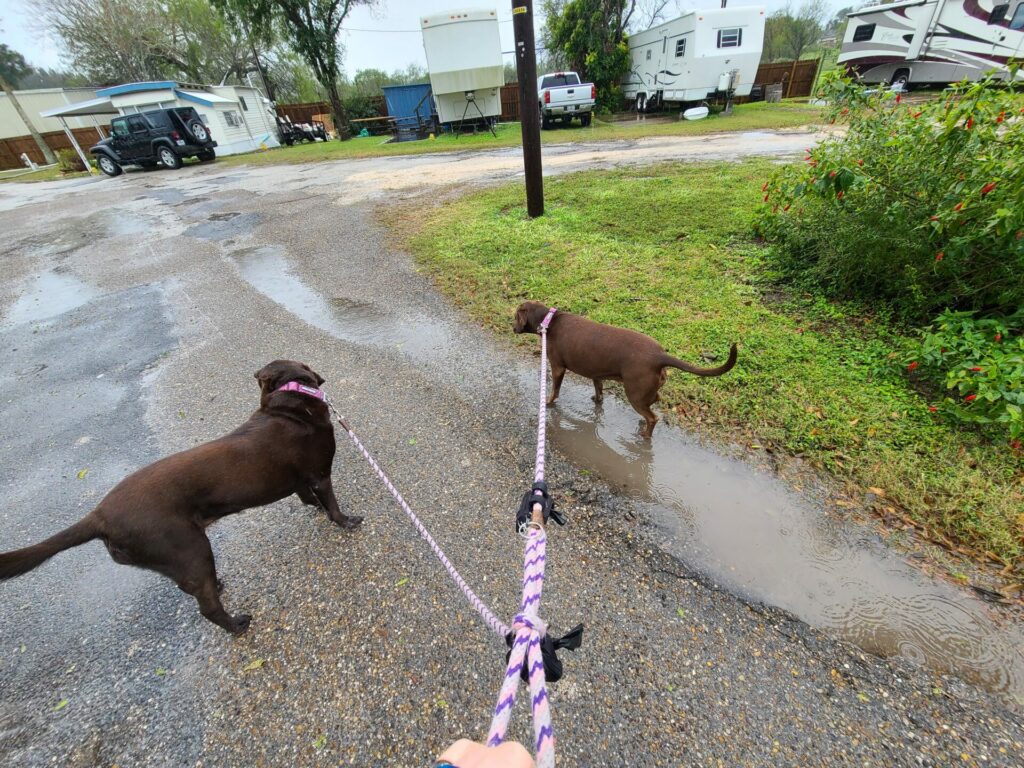 The first walk of the morning is usually the longest and a rainy day can make it a miserable one. This is the time of day both girls usually need to do everything so that takes some time.
After getting back from a walk in the rain does your dog rub against the couch or roll on the floor? If your dog comes home wet, it is best to dry them before they get a chance to move around the house.
Coming back into the motorhome, trying to get both dogs dried off before they wreak havoc on the place is quite an undertaking. Sierra is one to start rubbing along the furniture. So she's the first one to get dried. She doesn't mind getting dried off but with Ruby, it is a fight. She hates to have her feet dried off.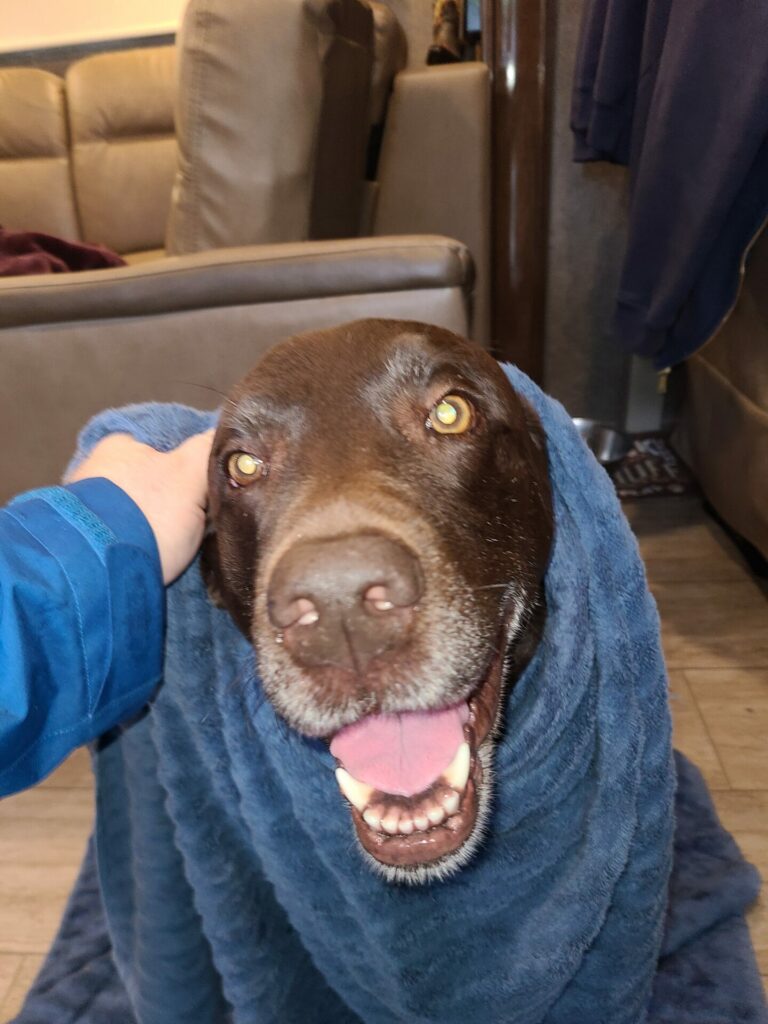 On rainy days our RV looks fairly ghetto at the front door with towels for floor mats and towels strewn about waiting for the next round of walks.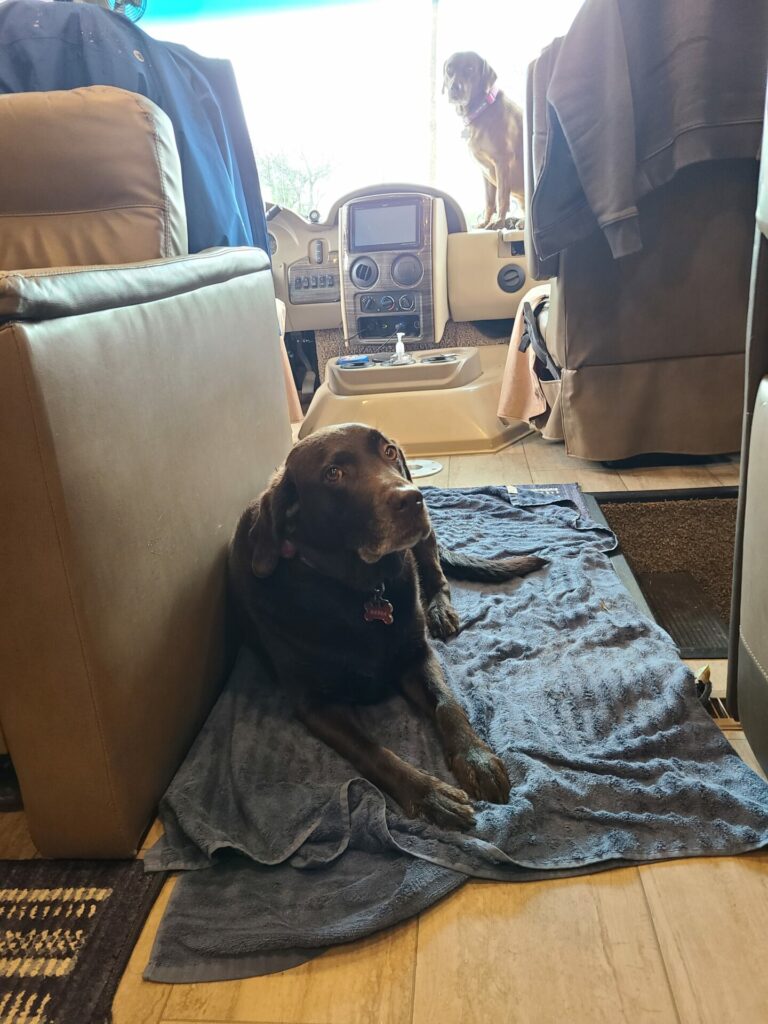 Conclusion
Rainy days are the Worst Thing About RVing With Dogs, but we wouldn't travel without them. They bring so much joy to our lives. A few rainy days won't get in our way of enjoying our RVing lifestyle.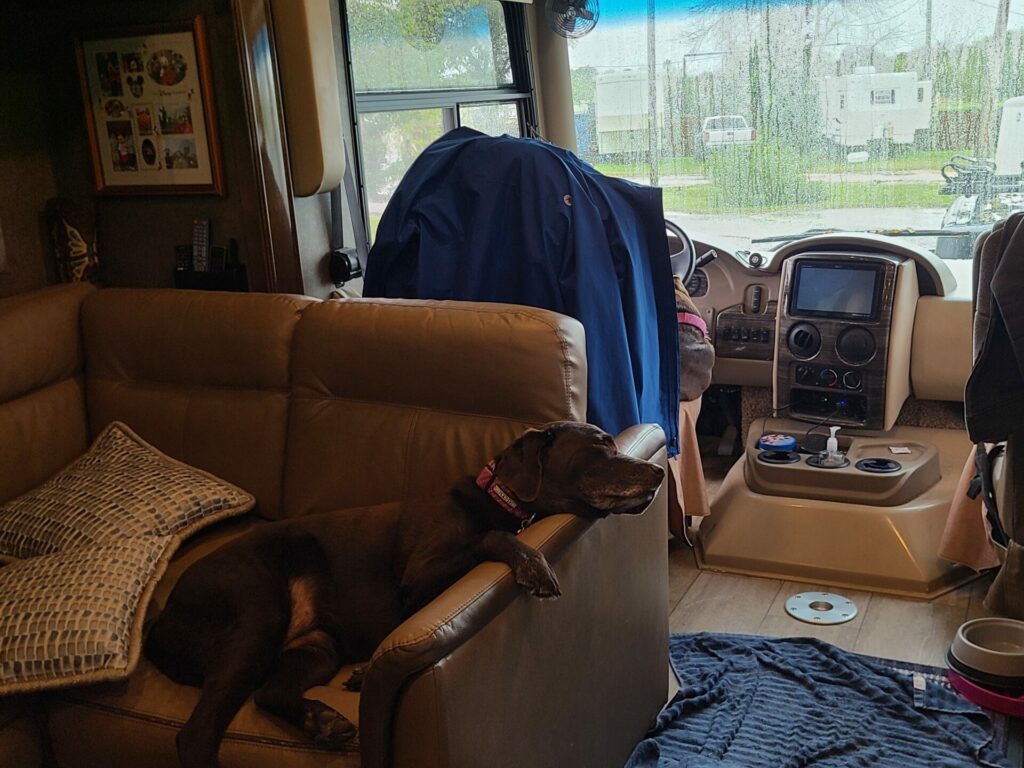 What's the Worst Thing About RVing with Dogs in your opinion? How do you handle it?
What interesting places can you recommend? We're always looking for neat out-of-the-way experiences to add to our list of places to visit. Thank you for reading our article. If you have any comments or questions we'd love to hear from you below.
If you're looking to build your own home-based business like we have with this webpage, check out Wealthy Affiliate.
Wealthy Affiliate is an all-in-one platform that you can build your whole affiliate marketing business on. It combines training, software, and website hosting into one. This makes the whole process of starting an online business from scratch much easier, especially if you're new to building a website.