If you're searching for things to do in South Padre Island, be sure to pay a visit to the Sand Castle Trail.
South Padre sand is some of the finest, naturally-occurring sand-castling material on the planet.
This post contains affiliate links. As a participant in Amazon Associates and various affiliate programs, we are compensated when qualifying purchases are made through our referral links at no additional cost to you. Full Disclosure
What is it?
South Padre Island is home to a collection of castles and sand sculptures called the Sandcastle Trail. It is the only one of its kind – a series of around 30 semi-permanent outdoor sand sculptures throughout the island that are available for viewing by the public. Sculpted by professional sand artists — some local, some from as far away as Singapore!
The sculptures carry different themes, with some being more traditional castle structures and others representing various companies and organizations, and the City of South Padre Island has invested considerable efforts in maintaining and rebuilding the iconic Sandcastle Trail.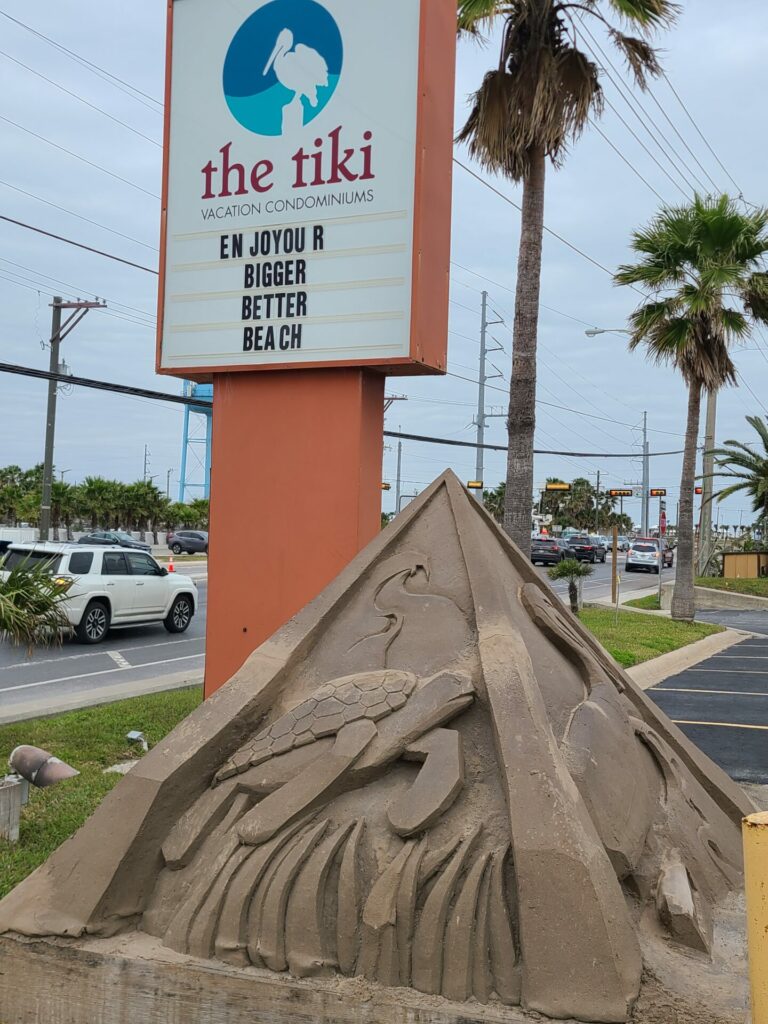 What are they made of?
Primarily sand and water. White glue. "Secret Sauce". "Magic Potion". With time and care, the sculptures become stronger and better able to withstand weather and finger pokes. But – like humans – they are not invulnerable to the ravages of time.
During our visit in February 2022, we noticed quite a few of the sculptures in need of repair. Some were gone or we just couldn't find them.
We believe that they may touch up and re-build the castles in the spring before the island gets busy.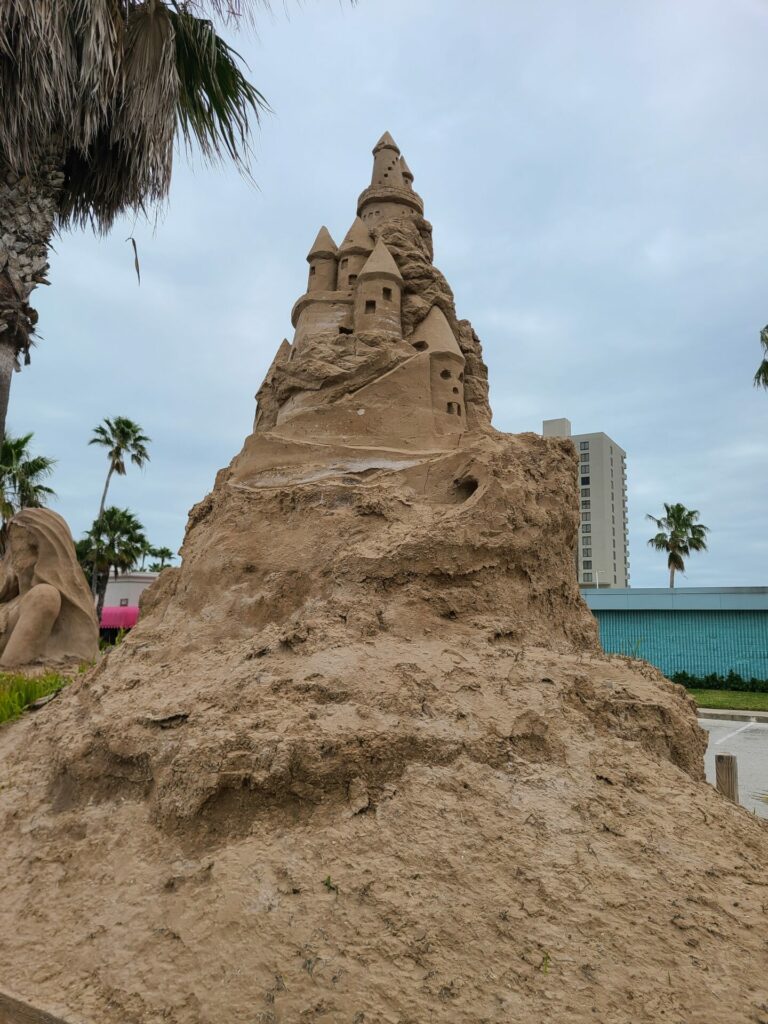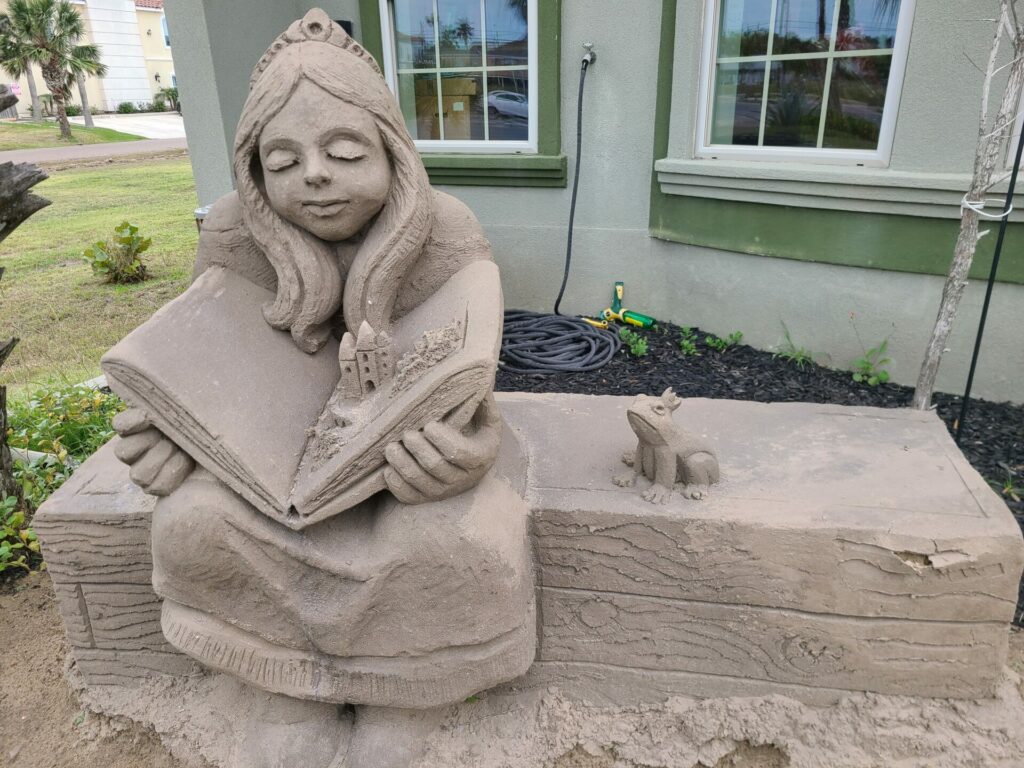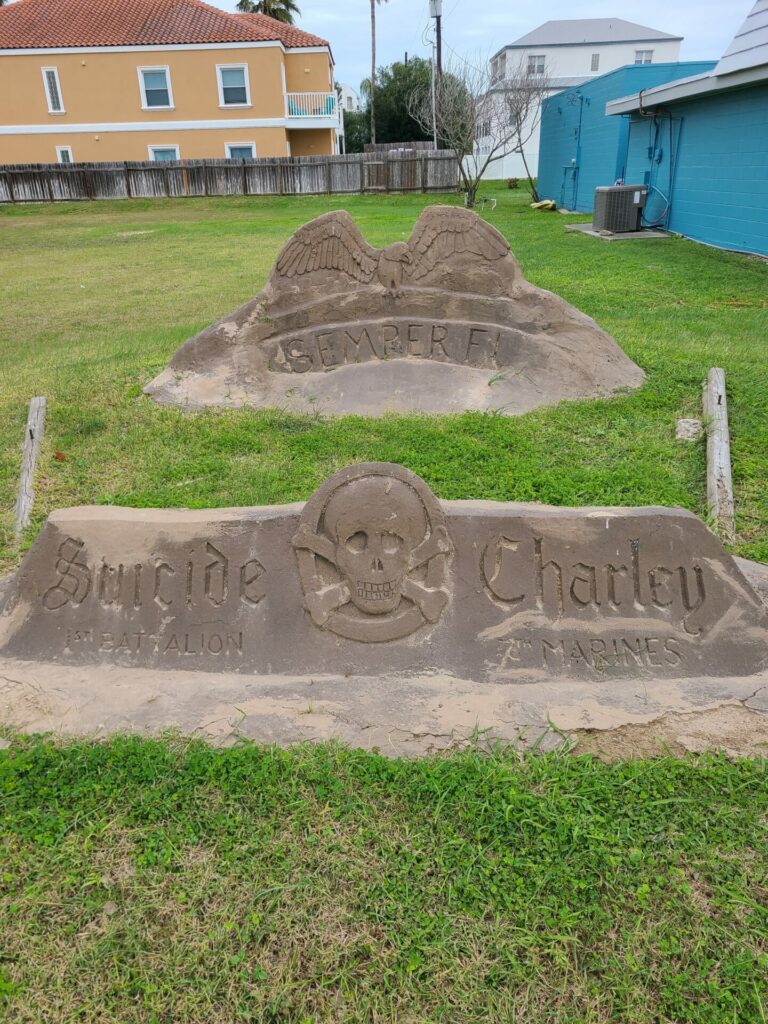 Where are they located?
Located throughout the island just keep looking in front of businesses and you'll surely see some while driving or walking around.
901 Padre Blvd.
100 Marine Lab Dr.
2301 Laguna Blvd.
2305 Laguna Blvd.
5301 Padre Blvd.
4908 Padre Blvd.
1700 Padre Blvd.
2200 Padre Blvd.
101 Morningside Dr.
5009 Padre Blvd.
6809 Padre Blvd.
4001 Padre Blvd.
5505 Padre Blvd.
1 Padre Blvd.
4701 Padre Blvd.
6200 Padre Blvd.
103 S. Garcia St.
117 E. Saturn St.
6617 Padre Blvd.
5400 Gulf Blvd.
6801 Padre Blvd.
200 Pike St.
6608 Padre Blvd.
5701 Padre Blvd.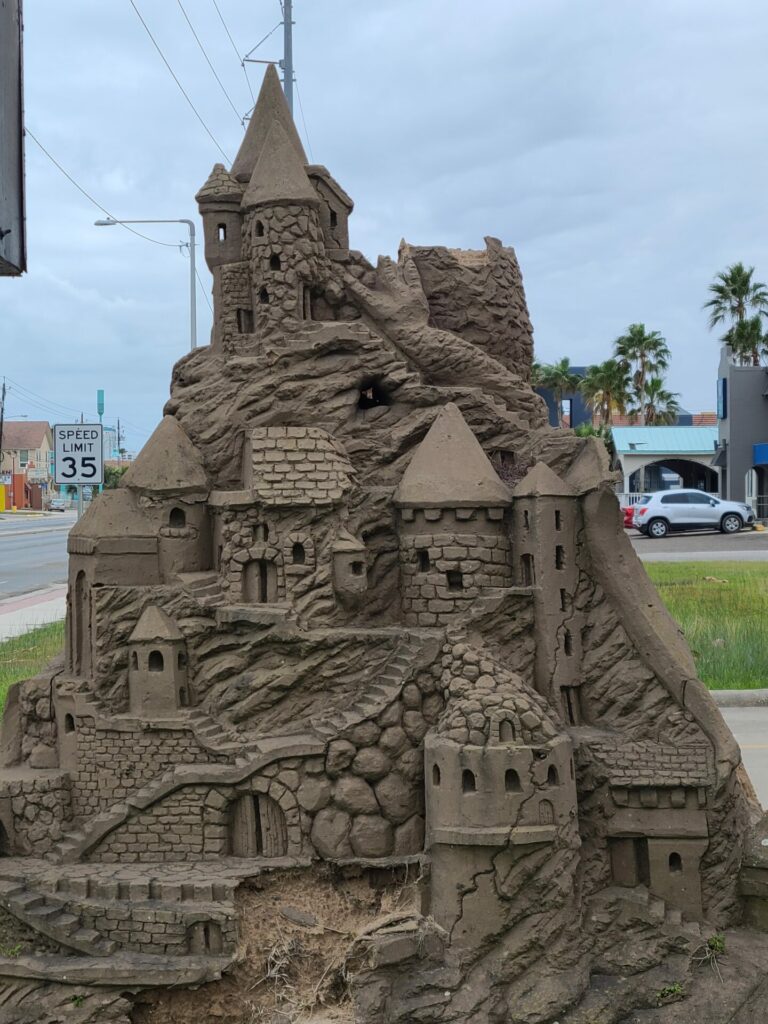 Don't Miss Sandcastle Village
We were checking out the sculptures on the Sandcastle Trail when we basically stumbled on the Sandcastle Village. The Holiday Sandcastle Village of South Padre Island showcases the incredible talent of some of the best sand sculptors in the world.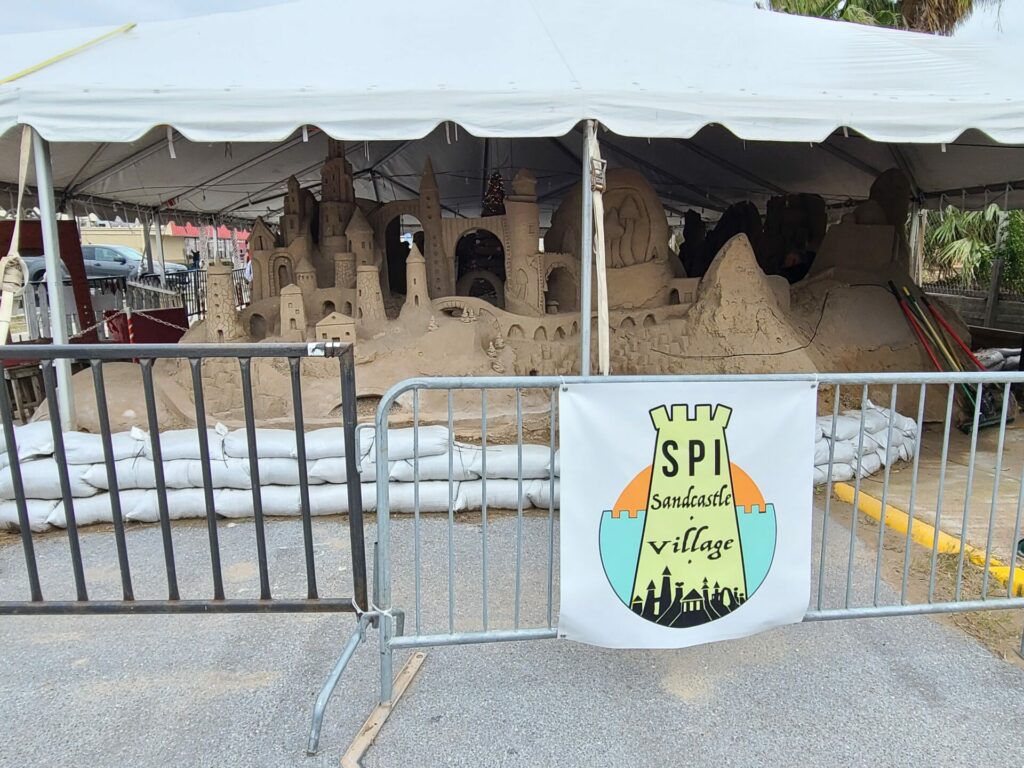 This unique oasis of incredible sand sculptures is situated in the heart of the SPI Entertainment District – right under the Ferris Wheel. It's always open and viewable for FREE –though your donations are appreciated.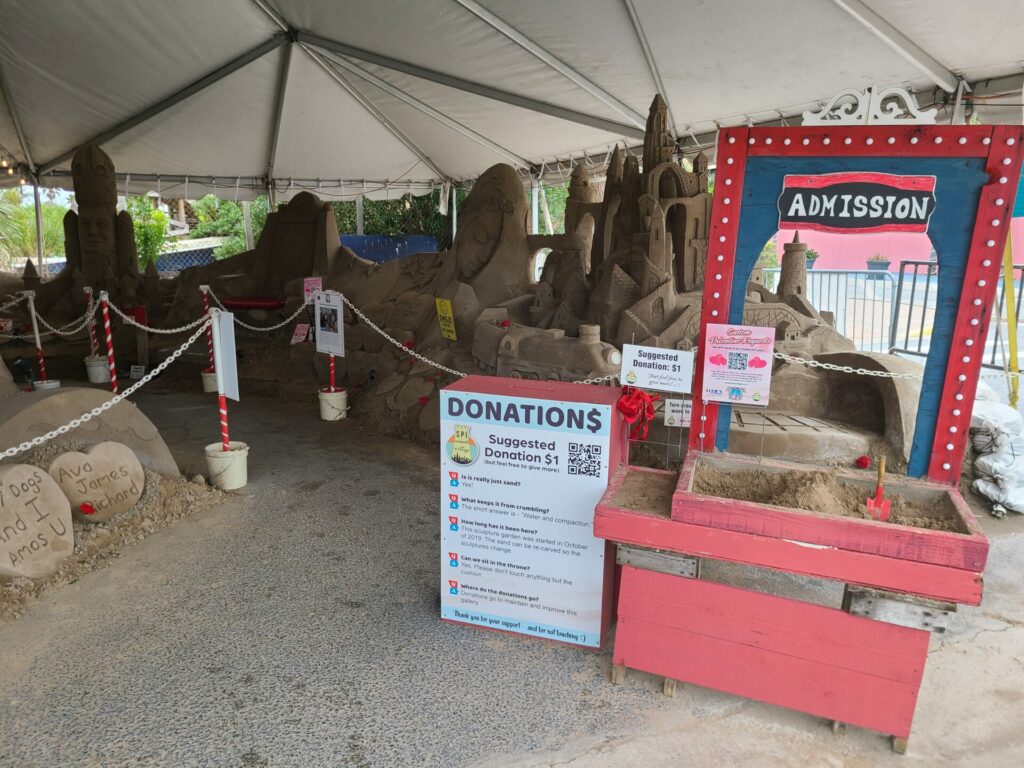 These sandcastles and sculptures are in much better shape than the ones we saw on the Sandcastle Trail. They look like they update them for the seasons. A lot of the sculptures we saw had been updated for Valentine's Day with lots of hearts and such.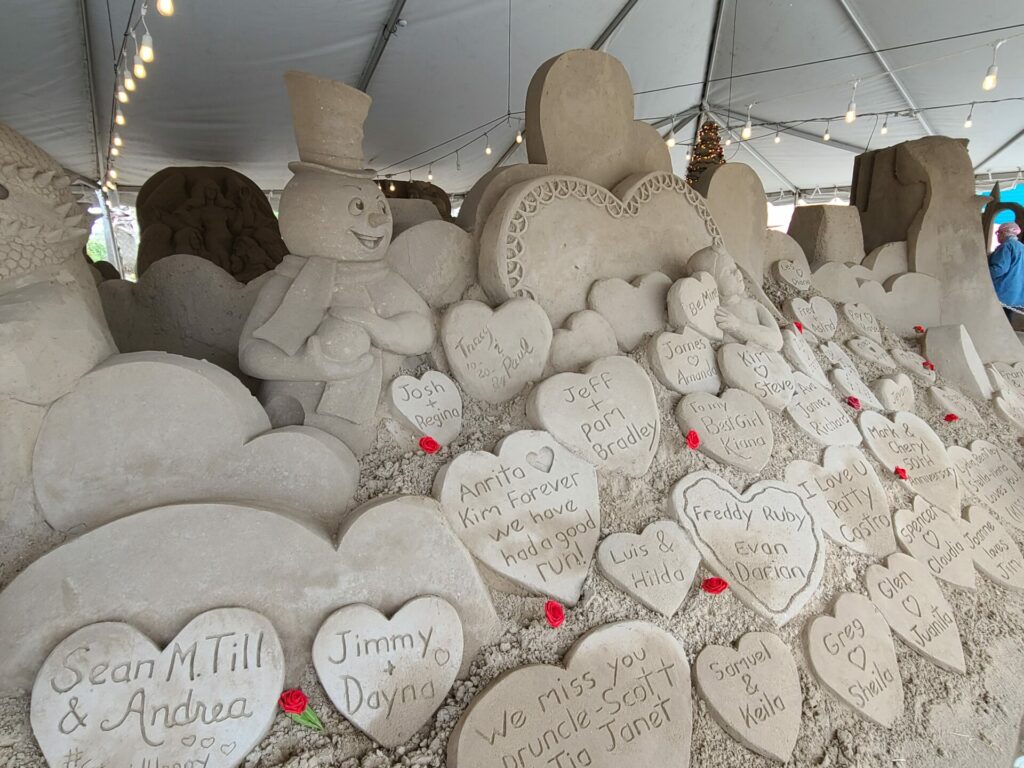 There were still some lingering Christmas-themed sculptures including a manger, some cookies for Santa, and a Christmas Tree that had been transitioned to Valentine's Day with some hearts ornaments.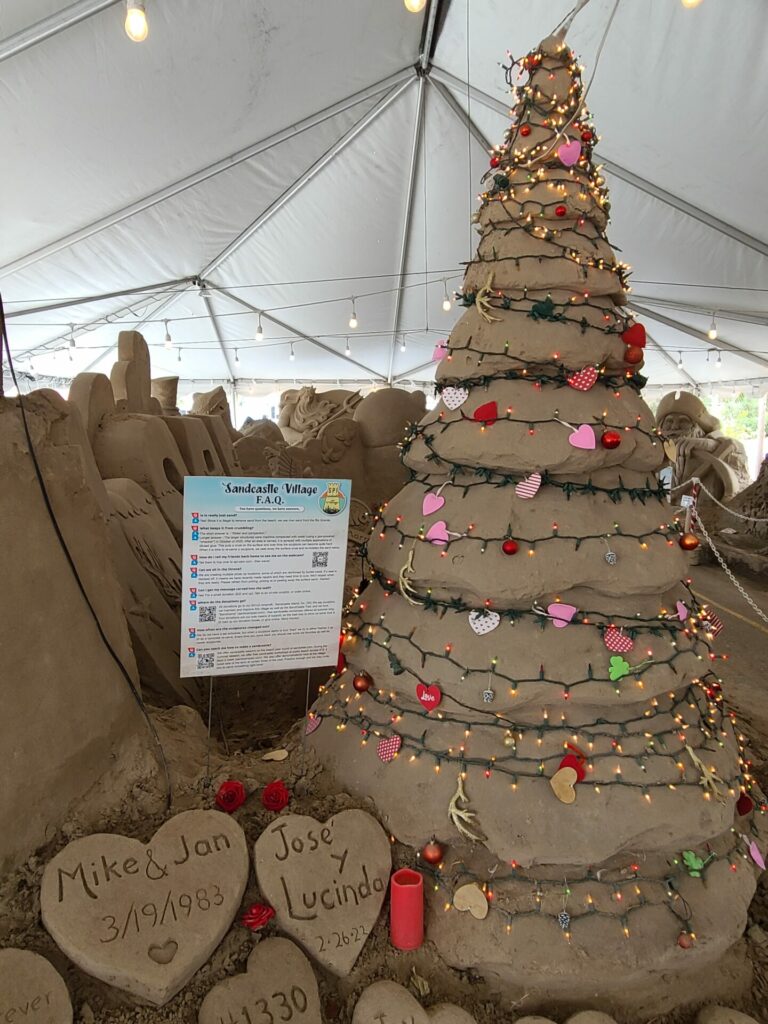 There are some incredibly talented artists creating these sand sculptures.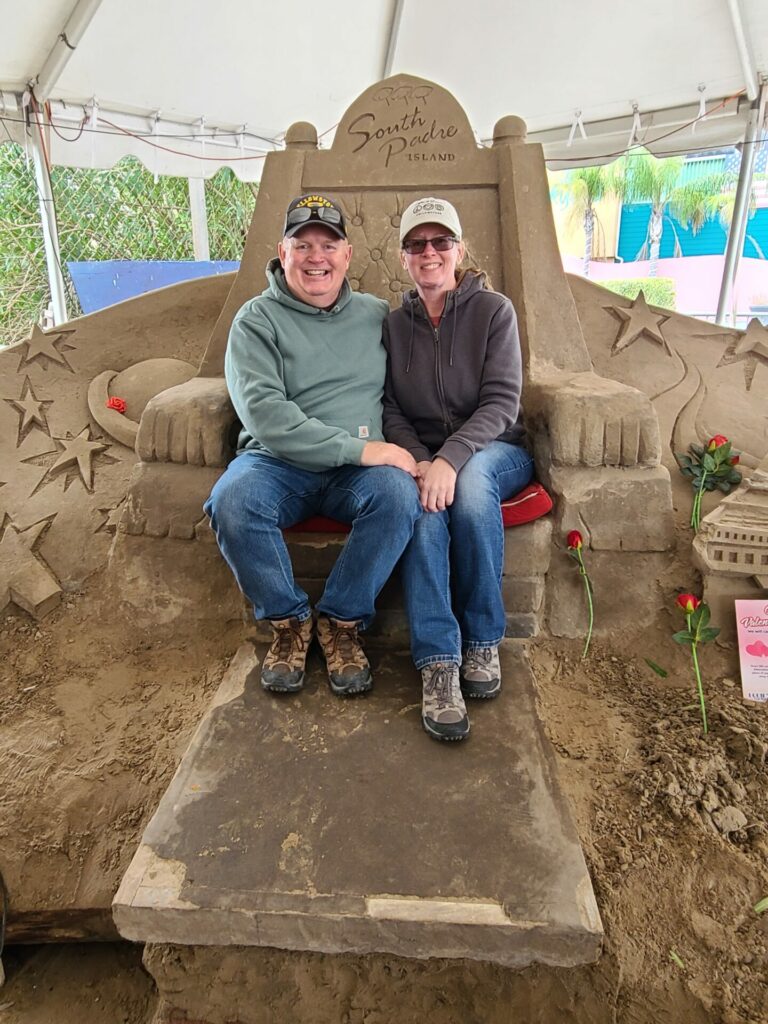 The sculpture garden was originally created within a 60′ x 30′ tent in October of 2019 by an international crew of sculptors in town for the 32nd Annual SPI Sandcastle Days Competition. Keep up to date on the next Sandcastle Days Competition here.
Learn To Build Your Own Sand Castles
Sandcamp is a FREE, Activity where you can go to learn about all the ways to have more fun on the beach forever. 5:00 PM every Monday, Tuesday, Wednesday, and Thursday, starting May 31 (skipping the week of July 4) at South Padre Island Public Beach Access #16 ("Neptune Circle")
Or if you're interested in learning the basics of getting sand to stand, try taking a class! You will build towers & walls — concentrating on building but with an introduction to carving using common items everyone has or can easily find. Learn all the tricks and skills you need to build a great castle.
Conclusion
Visiting South Padre Island in February is probably not the best time of year to see the sandcastles but they are interesting nonetheless. It's cool to see the different sculptures these amazing artists have made.
Have you been to a sandcastle competition or someplace that has something similar?
What interesting places can you recommend? We're always looking for neat out-of-the-way experiences to add to our list of places to visit. Thank you for reading our article. If you have any comments or questions we'd love to hear from you below.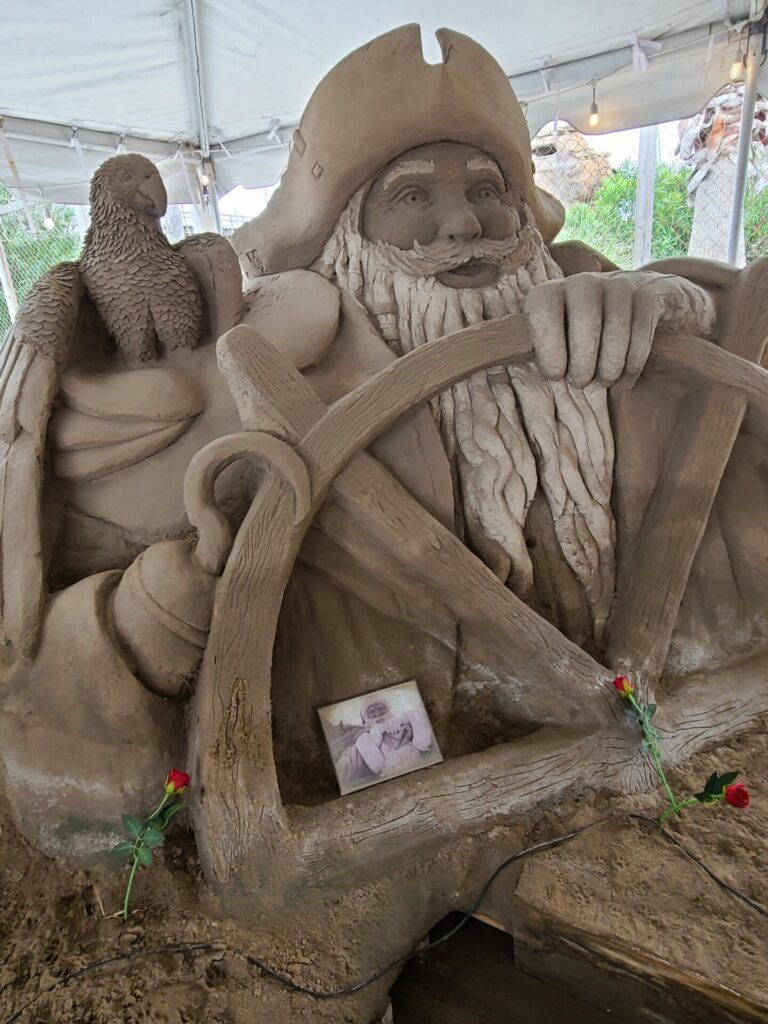 If you're looking to build your own home-based business like we have with this webpage, check out Wealthy Affiliate.
Wealthy Affiliate is an all-in-one platform that you can build your whole affiliate marketing business on. It combines training, software, and website hosting into one. This makes the whole process of starting an online business from scratch much easier, especially if you're new to building a website.