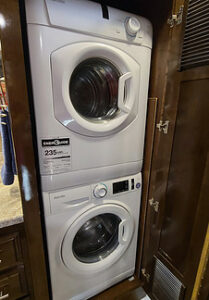 One of the things that sold us on our Thor Challenger 37YT motorhome was the large bathroom with double sinks and a large closet for storage. After 2+ years of traveling the country, we have learned a lot about things we like and don't like with Full-Time RVing.
The top thing on our list of dislikes is laundromats! They are so hit or miss, and usually miss. While we like being able to do all our laundry at one time. Most laundromats are not kept as clean as we'd like. The costs of laundromats are going up like everything else is currently. We've found it can cost as much as $6 to wash and dry a load of laundry. At those prices, it won't take too long to pay for a washer and dryer for an RV.
We've found out not to use them after rain because the homeless like to dry their sleeping bags without washing them first, leaving the dryers a mess. People like to use too much bleach so unsuspecting people behind them end up with bleached clothes. The list goes on and on.
This post contains affiliate links. As a participant in Amazon Associates and various affiliate programs, we are compensated when qualifying purchases are made through our referral links at no additional cost to you. Full Disclosure
Finally, after our Workamping gig in Yellowstone, we decided this winter we would have a washer and dryer put into our motorhome. This meant we would lose our storage closet in the bathroom but we're so happy we did this.
We purchased and had our washer and dryer installed at Camping World in Denton, Texas. It took about 5 hours for them to install and test them.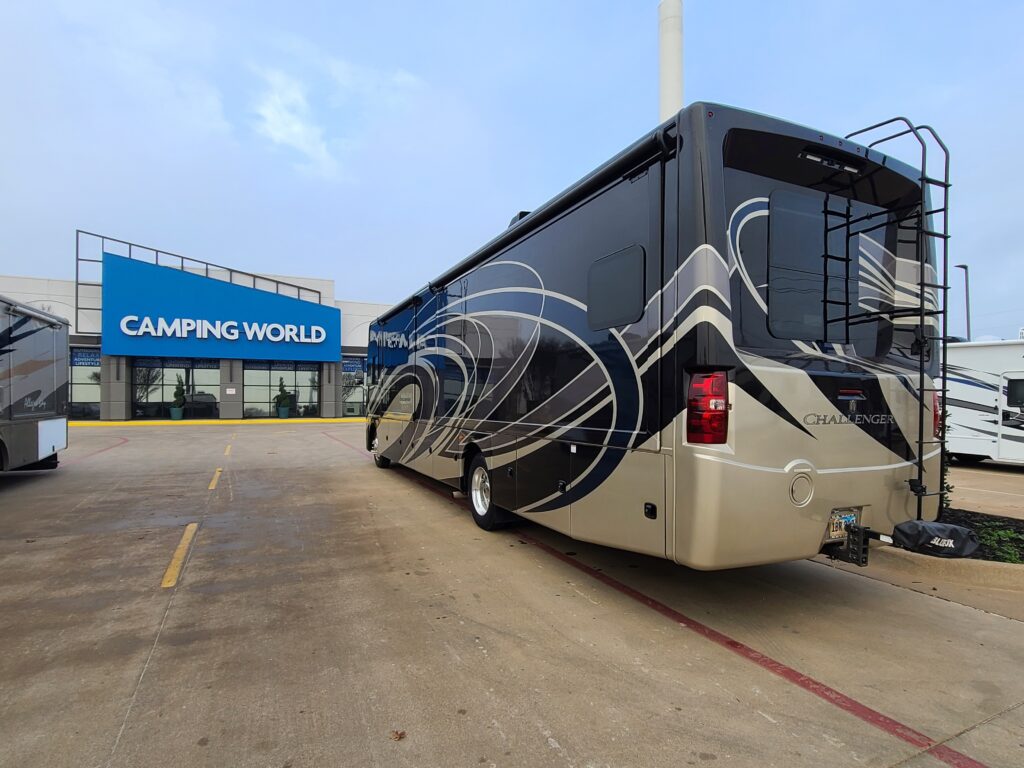 You can also purchase this washer from Amazon here.
Separate Washer/Dryer or Combo Unit?
Whether you're buying a washer-dryer combination unit or a washing machine and dryer separately depends on how much space you have at home. A set of separate machines takes up a little more space, but has more drying capacity, is more energy-efficient, and is faster. Searching for which washer, dryer, or combo unit would be best for our situation we found out that if we did choose to go with a combo unit it needs to be vented. In the end, we decided with our closet, a separate washer, and a vented dryer were the way to go. We went with the Splendide Stackable Washer WFL1300XD and Dryer DV6400X.
See our review of the Splendide Stackable Dryer DV6400X Review here.
No Room for Laundry Basket
Something we learned from a friend when we were talking about washers and dryers in an RV is there is no longer room for a laundry basket. No worries though, as you remove your clothes throw them in the washer until it's time to wash a load. This is a great space-saving idea!
Splendide WFL1300XD
A 24-inch wide washer that fits in a hallway closet or under a kitchen counter, the WFL1300XD is easy to use and fits where full-sized washers won't. Meant to be paired with the Splendide DV6400X dryer, the WFL1300XD can be installed side-by-side or placed underneath the dryer. It features a classic cycle knob and modern, digital display, as well as an extra-wide door opening. Detergent, bleach, and softener are added automatically during the wash cycle. Variable spin speeds and a dual-rotating drum work quietly to minimize fabric creasing and remove the most moisture from fabrics.
Splendide washers and dryers not only offer the space, weight, and energy savings that are so important in RVs, yachts, and tiny houses but they're built tough to withstand the rigors of the road and sea.
Splendide washers are Class A rated, and spin up to 1200 rpm. This makes them some of the most efficient washing machines available. So, you'll not only be getting outstanding wash and dry results, but you'll also be conserving energy and water.
Regardless of the type of fabric or degree of soil, Splendide's WF1300XD washer with its 12 wash cycles makes choosing the right cycle easy.
Specifications
Cabinet Dimensions: 32 7/8″H, 23 1/2″W, 22 3/4″D
Drum Capacity: 15lb wash
Wash Water Usage: 7.5-16 gal/load
Weight: 146lbs
Electrical: 120V, 60hz, 6amp
Max Spin: 1200 rpm max
RV/Marine-Ready: Heavy-duty springs and shock absorbers, cULus approved for min. install clearances and simple winterization
Our Review
As Full-Time RVers this is the best upgrade that we have made to our motorhome so far. We love having our own washer and dryer finally! They work just like the expensive ones that we had in our house.
For a load of clothes on the colors cycle (the cycle we normally wash our clothes on) the washer says it takes 1hr 21 minutes but we found it to take about 1hr 13 minutes.
One of our favorite things about the Splendide WFL1300XD is how quiet it is. Super quiet! It can be a little sensitive during the spin cycle and does shake the RV a bit, but once it's up to speed it smooths out nicely. Clothes come out barely damp saving on long dry times.
The cost for both the washer and dryer installed in our motorhome at Camping World was just over $2800. You could save quite a bit of money installing them yourselves. On the road, we didn't feel we had the time or place to do the installation ourselves otherwise we would have.
We average between $100-$120 per month on laundromats (and that price continues to rise) so these units will be paid for in approximately 2 years. Sooner with not having to spend time going to laundromats and waiting on our clothes. In our opinion, this was the best investment ever!
It's been over a year now that we've had the washer and dryer. They continue to work great.
Conclusion
If you're looking for a washer for your RV, Boat, or Tiny House look no further than the Splendide WFL1300XD. It's a workhorse of a small washer. With the costs of laundromats these days it'll pay for itself in no time. Pared with the matching Splendide DV6400X dryer they'll handle most of your laundry needs easily.
Thank you for reading our article. Do you have a washer and dryer in your RV? What are your thoughts on them? If you have any comments or questions we'd love to hear from you below.
If you're looking to build your own home-based business like we have with this webpage, check out Wealthy Affiliate.
Wealthy Affiliate is an all-in-one platform that you can build your whole affiliate marketing business on. It combines training, software, and website hosting into one. This makes the whole process of starting an online business from scratch much easier, especially if you're new to building a website.