This review of Harvest Hosts is a little different from a traditional review. We'll cover the places we stayed using Harvest Hosts. We absolutely love Harvest Hosts and can't imagine our travels without it. If you don't have any RV memberships this is one you should have!
This post contains affiliate links. As a participant in Amazon Associates and various affiliate programs, we are compensated when qualifying purchases are made through our referral links at no additional cost to you. Full Disclosure
We do all our trip planning with RV Life Trip Wizard. RV Trip Planning Made Simple! RV Life Trip Wizard is by far the best RV route planner we've found. Get your 7 day Free Trial
When we got ready to leave Yellowstone in the fall of 2021 we were making our way to Texas to spend the winter. We try to use our existing memberships to save money on our travels. Currently, we have memberships at Thousand Trails, Passport America, and Escapees. So why would we need to add another membership to our arsenal?
The simple answer is because Harvest Hosts has some amazing places for a single-night stay when transiting the country.
A Harvest Hosts experience is so much more enjoyable than staying in a Walmart parking lot, overnight parking at a truck stop, or boondocking at Cracker Barrel in between full-service campsites! Plus, we get to experience whatever our host has to offer and we haven't been disappointed yet.
Subscribe to Harvest Hosts and get 15% off.
Get your discounted rate. No matter how much Harvest Hosts raises their price in the future, this deal gives you access to the discounted rate forever.
Harvest Hosts has become one of our favorite memberships to use while transiting the country. On our way from Yellowstone to Texas, we stayed at five different Harvest Hosts locations. A pinball-themed brewpub, an air museum, a dairy farm, an apple orchard, and an alpaca farm. All of them have been wonderful places to stay one night while making our way to our final winter destination. If you're an RVer this is one of the memberships to definitely have.
The Harvest Host program allows you single overnight stays at local businesses like farms, vineyards, breweries, distilleries, museums, golf clubs, and country clubs. Harvest Hosts suggests a minimum spend of $20 to support the business you stay at to show your appreciation to your host for the hospitality.

What is Harvest Hosts
Harvest Hosts is a membership program that provides access to a network of wineries, farms, breweries, museums, and other unique attractions that invite self-contained RVers to visit and stay overnight. For a yearly membership fee, Harvest Hosts' members are invited to stay at hundreds of interesting locations around North America and experience new opportunities to explore and enjoy the RVing lifestyle. The company's goal is to provide meaningful experiences for RVers and Hosts alike.
Our Harvest Hosts Stays
Tilt Würks Brewhouse and Casino – Miles City, MT (October 11, 2021)
This was our first Harvest Hosts stay. A small farming town in Eastern Montana, Miles City was a good stopping point after our drive from Billings.
Tilt Würks Brewhouse and Casino. It's a Pinball themed brewery and casino. Dinner, drinks, and a free night stay in the parking lot.
Our purchase here was dinner and drinks in the bar. The staff was really friendly the food and drinks were great! The only downside to this stay is train tracks back to the parking lot and trains go by quite often.
Fargo Air Museum – Fargo, ND (October 15, 2021)
Our second Harvest Host location was at Fargo Air Museum. One of the slides on our motorhome got stuck when we tried to extend it here so we didn't enjoy the location as much as we would have if we weren't stressing out.
I did take a quick tour of their museum where they have a nice little collection of vintage aircraft.
Our purchase here was a tour through the museum. The staff was friendly.
Stensland Family Farm – Larchwood, IA (October 16, 2021)
Our third Harvest Host location was Stensland Family Farm in Larchwood, Iowa. This is a four-generation farm. We met 92 yr old Art and one of his sons Doug who gave us a mini-tour of the calf nursery and the milking robots.
They have a small store (with awesome ice cream) at the farm and also some retail locations in Sioux Falls, SD. It was interesting to learn about how the robots milk the cows with no one having to be around. This has been Lisa's favorite Harvest Hosts stop since she got to feed the calves.
Our purchases here were yummy ice cream and a half-gallon of milk. Everyone we met from the family was really nice and welcoming. The staff in their shop in Sioux Falls were friendly as well.
Kimmel Orchard and Vineyard – Nebraska City, NE (October 23, 2021)
Our fourth Harvest Hosts location was Kimmel Orchard and Vineyard outside Nebraska City, Nebraska. This is a true harvest place, an orchard, and a vineyard.
Lesson learned here, gnats can fly through your screens on your RV. Since it was after apple harvest time there were some rotting apples on the ground. While it was a bit warm outside it wasn't warm enough for the A/C so we opened the windows. Around the rotting apples were gnats. We ended up with 100's of them in our motorhome. For days, we were killing them until we finally figured out to suck them up in the vacuum.
Our purchases here were wine tasting, some hard cider, tequila jelly, and strawberry margarita mix. The staff was very friendly and helpful. Even though we aren't wine drinkers much we had a good time sampling their selections and even liked a couple.
TX-Ture Farm – Aubrey, TX (December 27, 2021)
Our fifth Harvest Host location was TX-Ture Farm "Texture" in Aubrey, Texas. We chose this location kind of last minute.
We had been staying about an hour and a half North of there at Lake Texoma Thousand Trails where we had our slide issues fixed. Once the slide issues were fixed we scheduled to have a washer and dryer installed in our motorhome. We got the washer and dryer installed at Camping World in Denton, TX.
Not knowing how long the installation would take we didn't want to travel too far and put us getting in after dark. So we chose TX-Ture Farm only about 25 minutes from Denton. Farms are Lisa's favorites so this one was right up her alley. TX-Ture Farm is a small family farm that is Growing for the Senses. They produce memorable experiences and natural handcrafted products from the farm's alpacas, lavender, honey, gourds, and Christmas trees.
Our purchases here were an alpaca toy and a hat.
The owners Russell and Annamiek along with their sons, Sean and Chris were very welcoming and friendly. Chris gave us a tour and introduced us to the alpacas. We got to feed them and ask questions Chris is a true expert about the animals.
D.H. Lescombes Winery & Tasting Room – Deming, New Mexico (March 28, 2022)
Our sixth Harvest Host location and first winery was D.H. Lescombes Winery & Tasting Room in Deming, New Mexico. This is New Mexico's largest winery, with locations throughout the state. This location has a winery and a bistro.
The staff was really friendly when we arrived and told us where we could park. We arrived and parked in the large level lot. An hour or so after we arrived more RVers started showing up.
Our purchases at this location were lunch in the Bistro and a few bottles of wine.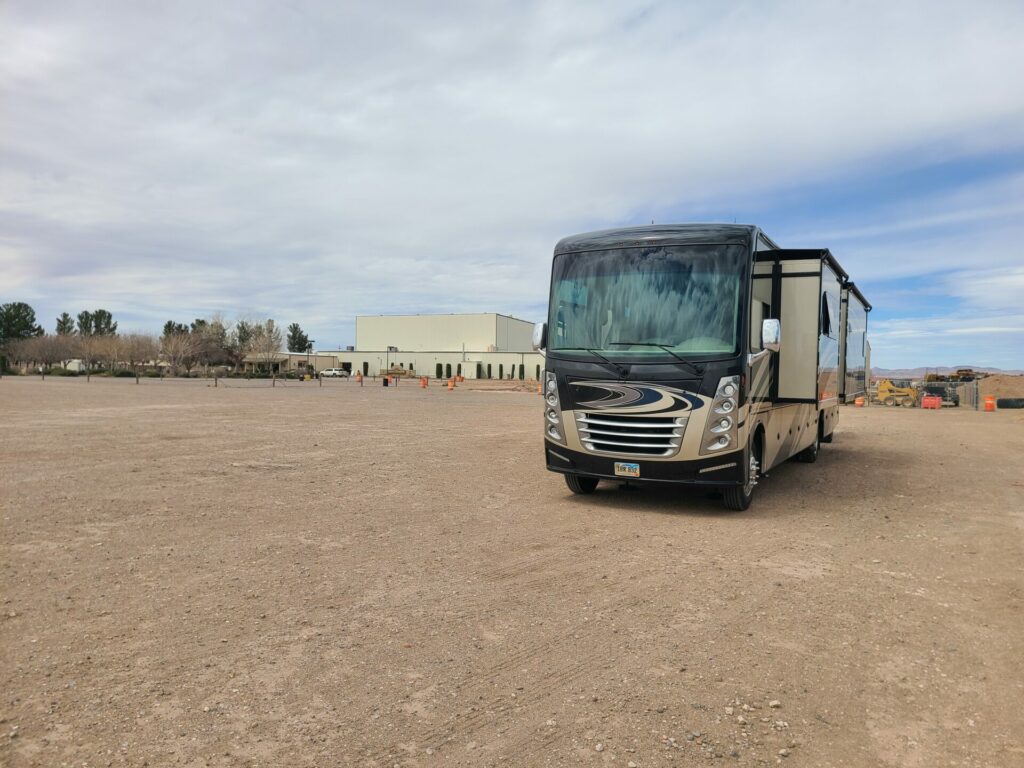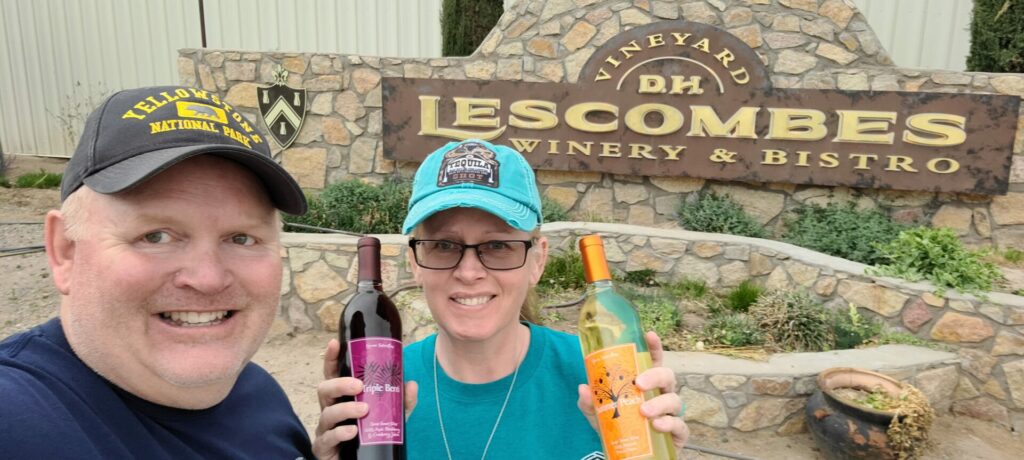 The bistro has a small selection of items on the menu. We both had the Chicken Parm Sandwich which was very good.
If you have dogs be aware there are lots of goat heads that get stuck in their feet.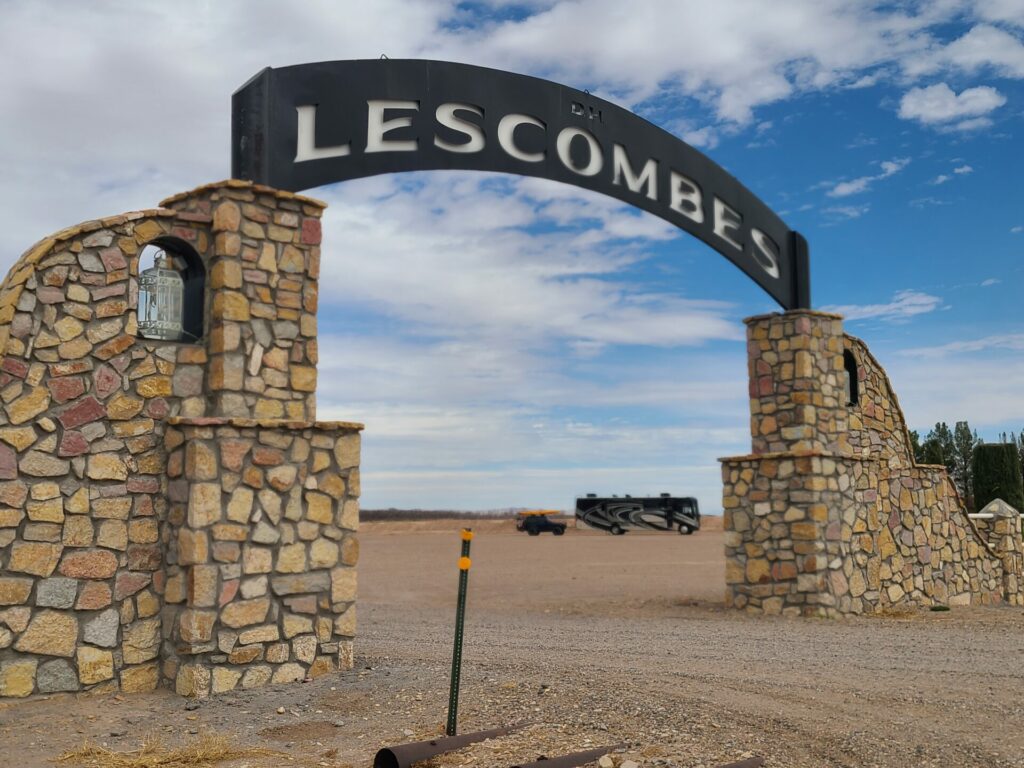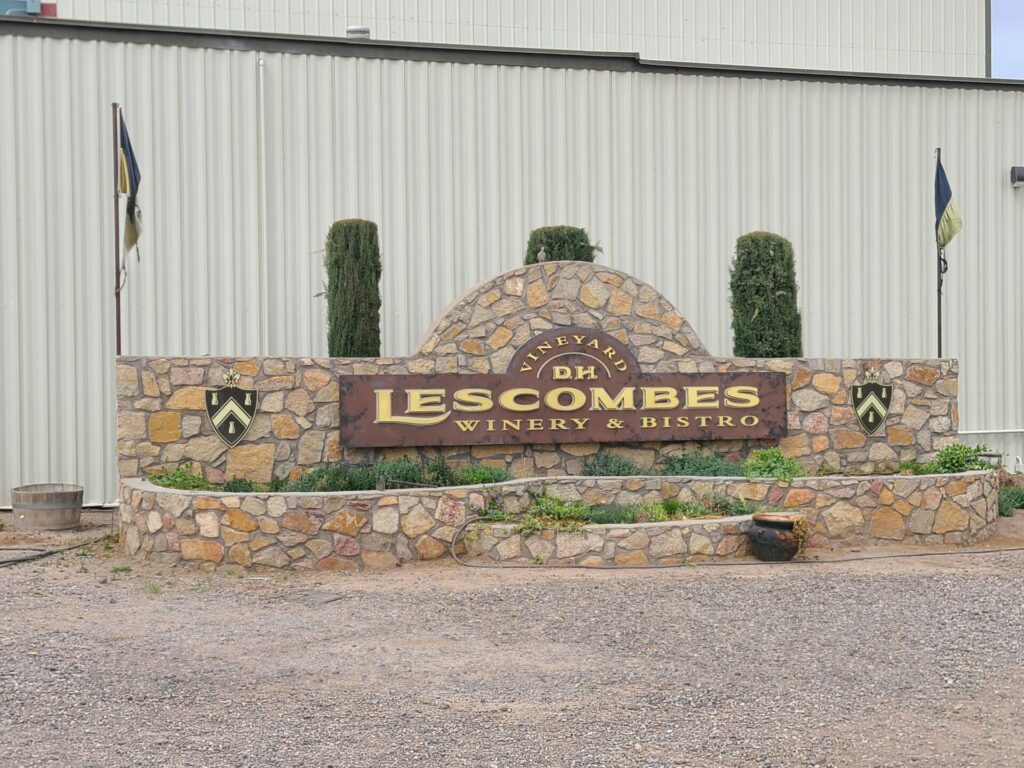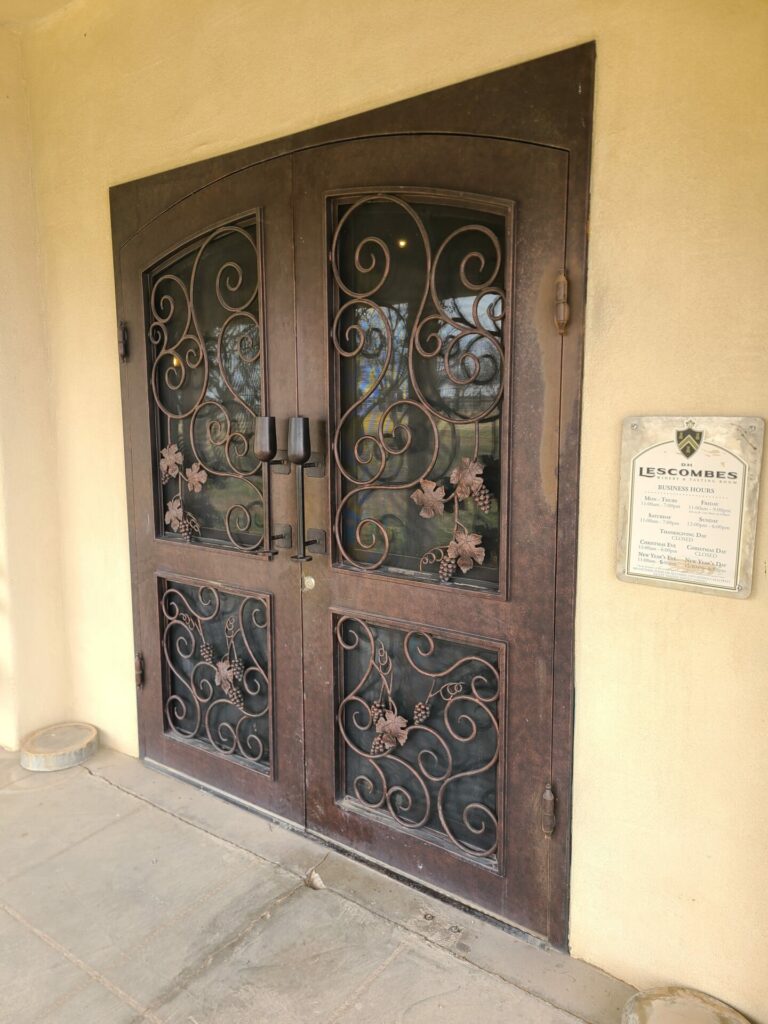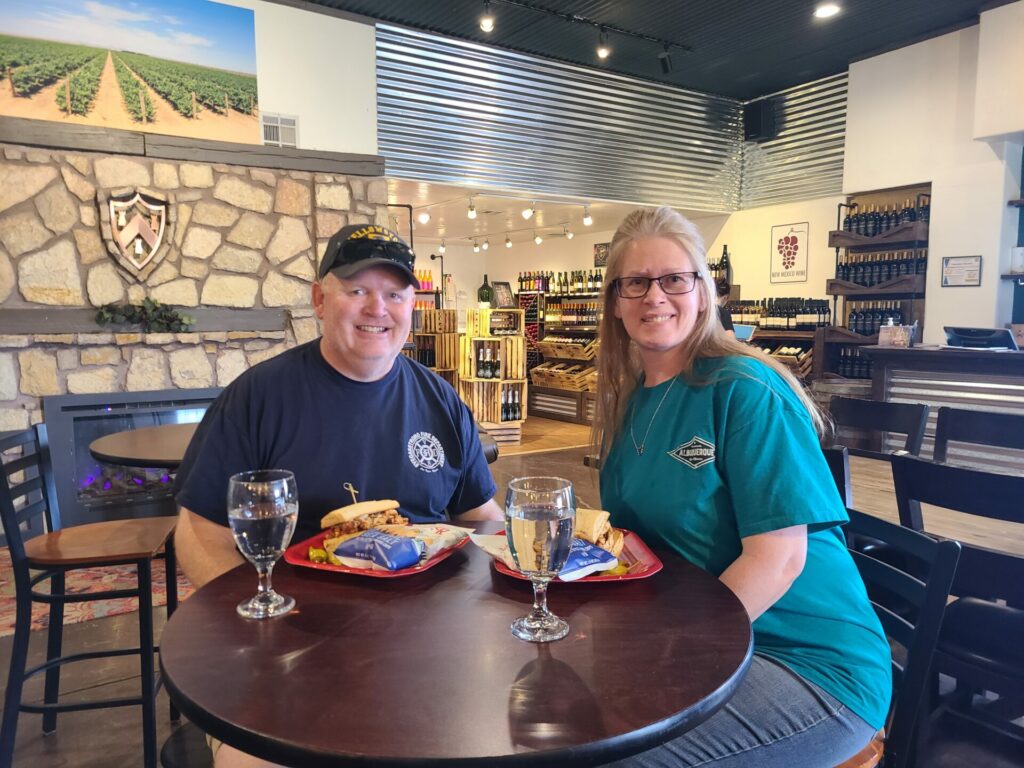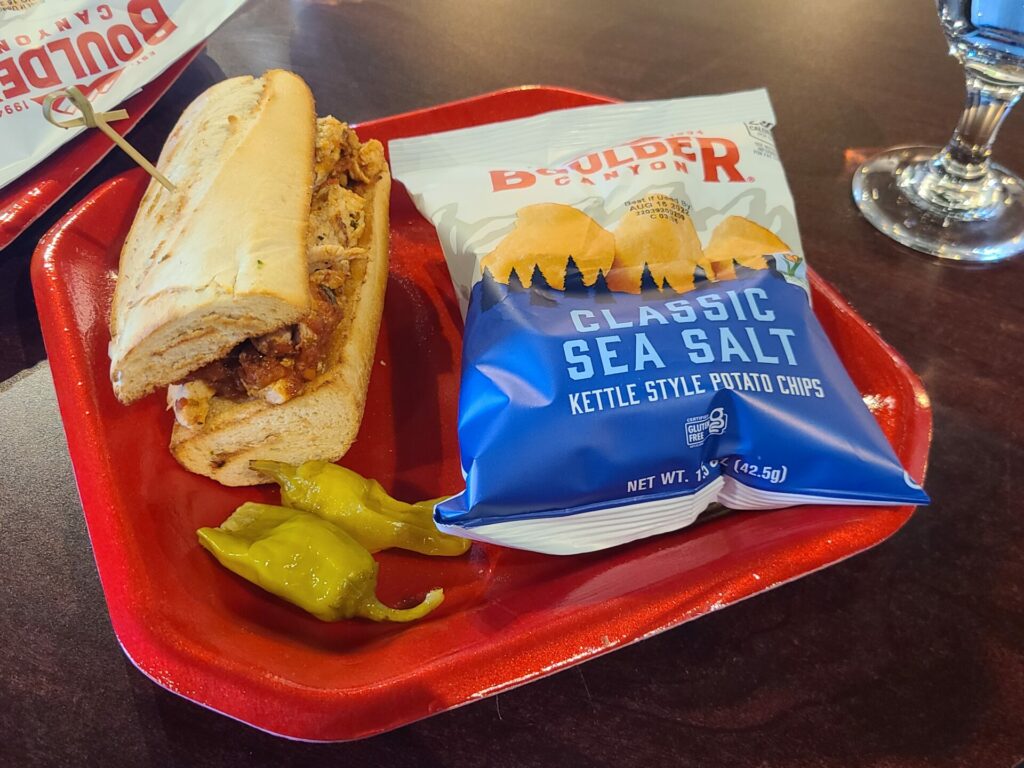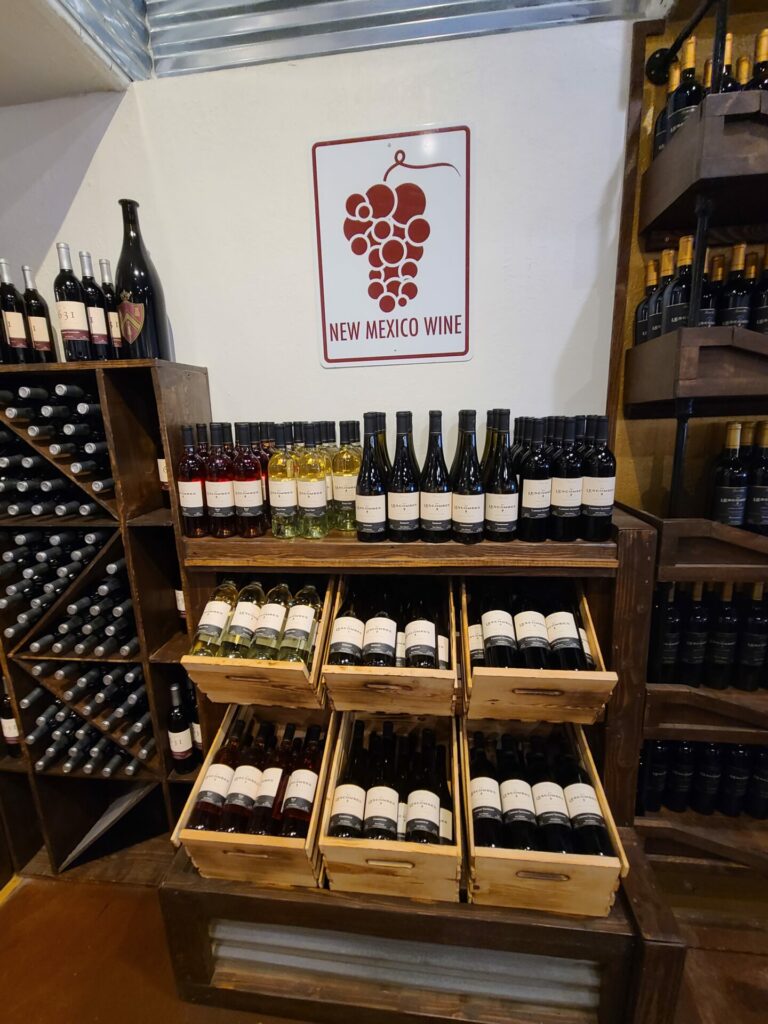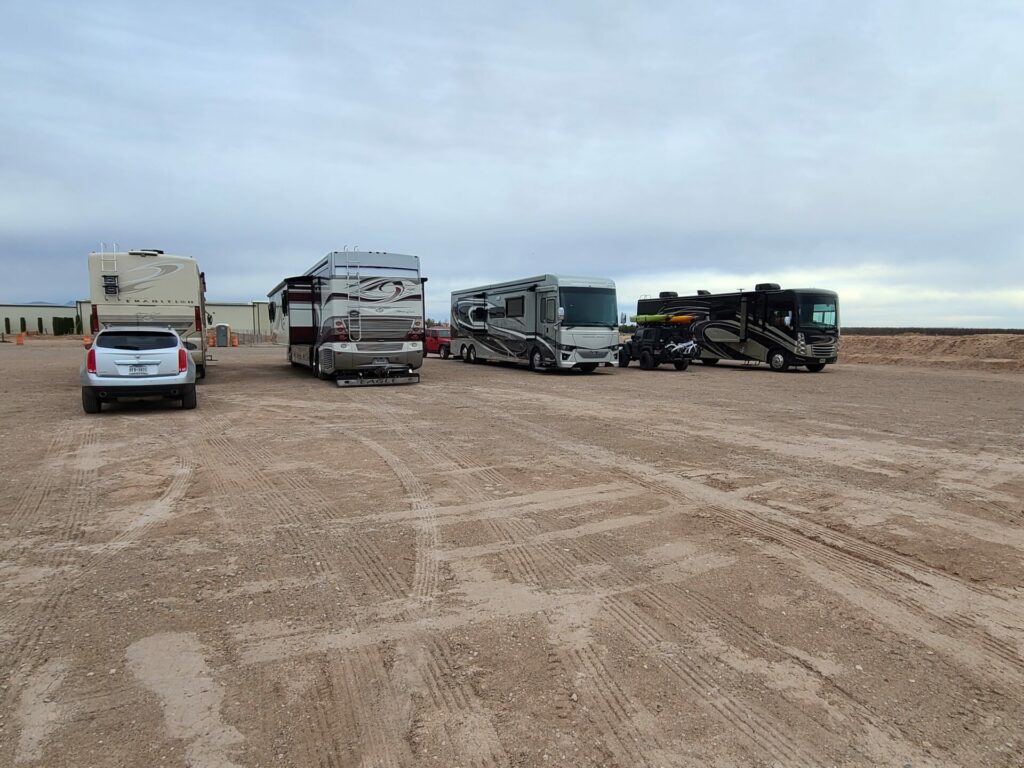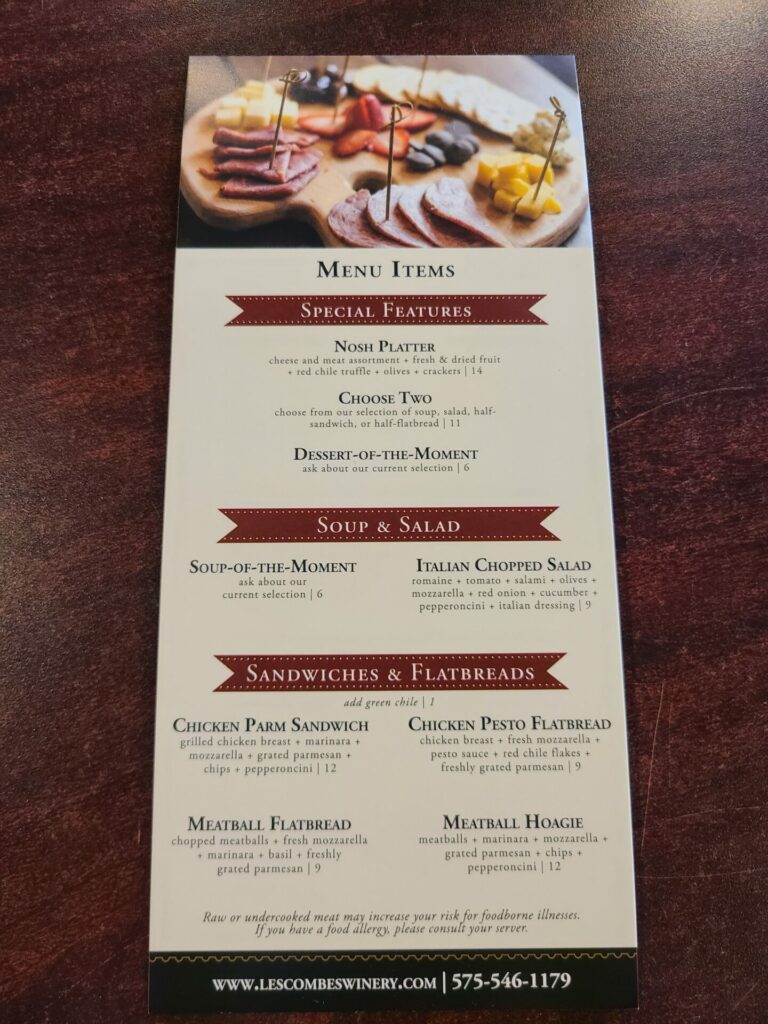 Boogie's Brewery & Distillery – Deming, New Mexico (March 29, 2022)
We wanted to spend a couple of days in Deming on our way to Arizona so we booked two separate Harvest Host stays while we were in town. This was our second of back-to-back stays in Deming. Thankfully we made those plans as a big wind storm came through and would have kept us in town anyway.
Boogie's Brewery & Distillery is away from town a bit, making it nice for a quiet stay. They have plenty of parking for a bunch of RVers passing through. While there is plenty of room to park the area is dirt and we had a big dust storm that day. Our motorhome was full of dust. The rustic feel of the bar was nice as was the staff. While they didn't have any beer of their own ready when we came through, we tried some other New Mexico brews. We wanted to do their Taco Tuesday deal but it didn't start till later and we were ready to eat earlier.
This is the first Harvest Host location we were able to socialize with other RVers that were staying the night as well. It was an enjoyable evening.
We tasted their cinnamon whiskey and coconut rum. Both were delicious. The cinnamon whiskey is smooth and much more gentle than other cinnamon whiskeys I've tried which I thought was great! It reminded me more of a cinnamon toothpick than a harsh whiskey. My wife loved the coconut rum and I thought it was good too.
Our purchases at this location were drinks at the bar. We also wanted to purchase bottles of their cinnamon whiskey and coconut rum. They told us they didn't have labels for their cinnamon whiskey yet so we couldn't buy that at the time but we did buy a bottle of coconut rum to take with us.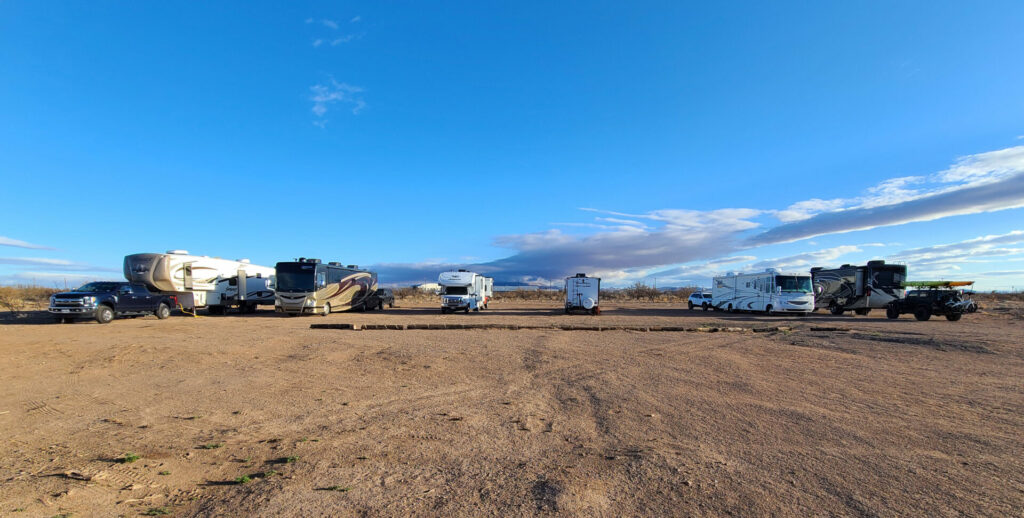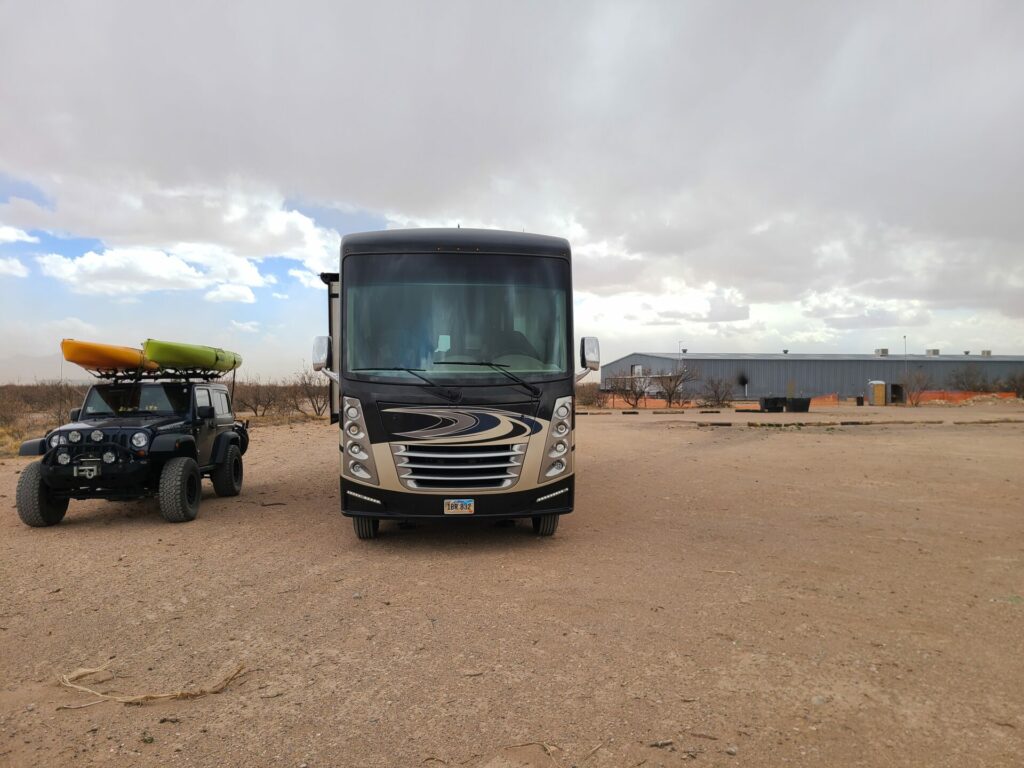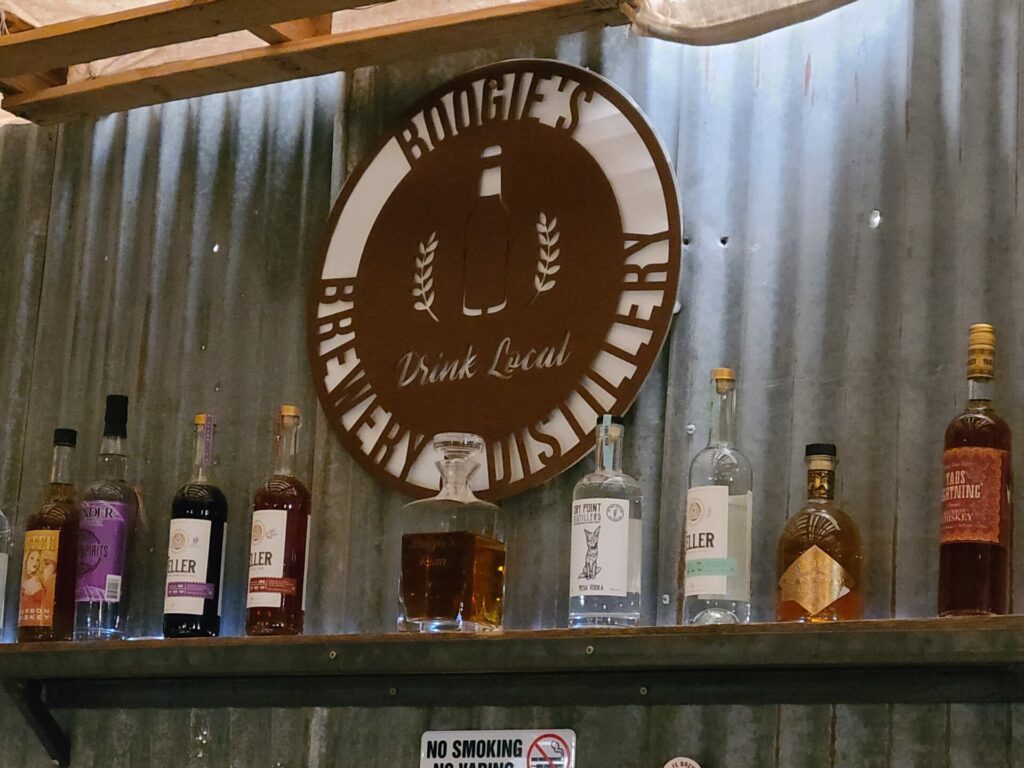 Conclusion
Harvest Hosts has quickly become one of our favorite RV memberships. The variety of places you can stay definitely bumps them to the top of our list for overnights along the way to our final destinations. With the very reasonably priced membership and a bit of money for a souvenir or meal at each stop, it comes in way cheaper than staying at an actual campground for one night. The membership fee pays for itself after staying at 2-3 hosts.
We look forward to seeing many more interesting places in our travels using Harvest Hosts.
Are you members of Harvest Hosts? What have been your favorite places to stay? We're always looking for neat out-of-the-way places to put on our list of must-sees. Thank you for reading our article. If you have any comments or questions we'd love to hear from you below.
If you're looking to build your own home-based business like we have with this webpage, check out Wealthy Affiliate.
Wealthy Affiliate is an all-in-one platform that you can build your whole affiliate marketing business on. It combines training, software, and website hosting into one. This makes the whole process of starting an online business from scratch much easier, especially if you're new to building a website.