Colorado River Thousand Trails Campground has 189 campsites, 100 of them are brand new and opened while we were here in January 2022. They also have a few cabins for rent.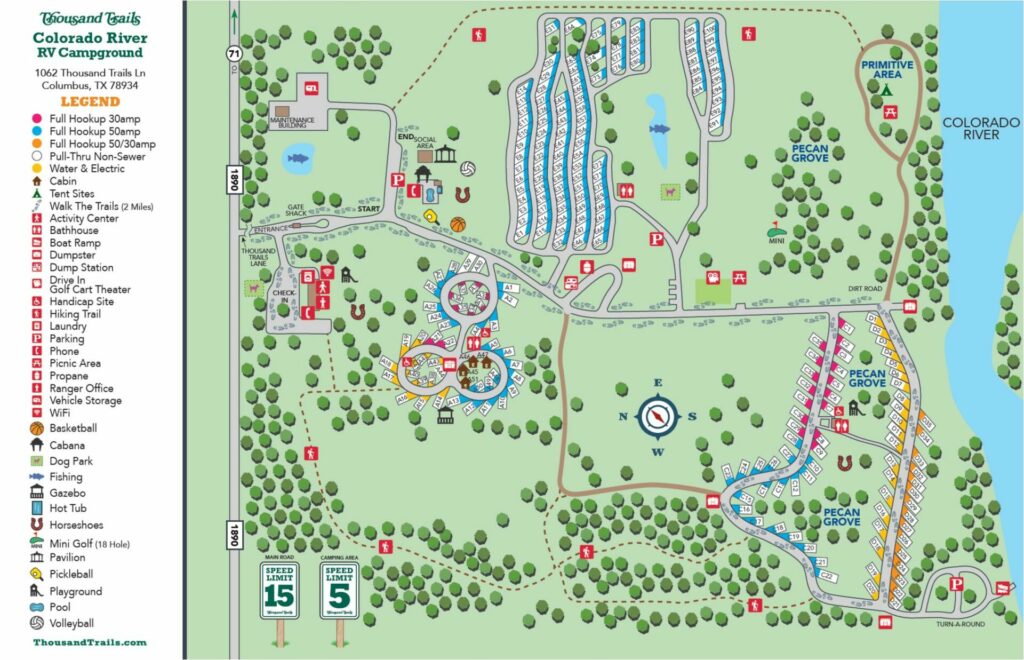 This post contains affiliate links. As a participant in Amazon Associates and various affiliate programs, we are compensated when qualifying purchases are made through our referral links at no additional cost to you. Full Disclosure
We do all our trip planning with RV Life Trip Wizard. RV Trip Planning Made Simple! RV Life Trip Wizard is by far the best RV route planner we've found. Get your 7 day Free Trial
This RV campground and preserve lie among green fields and pecan groves along the shores of the Colorado River, midway between Houston and San Antonio or Houston and Austin. Abundant wildlife, including deer and armadillos, can be seen throughout the Colorado River RV Campground.
Hiking, canoeing, and fishing are popular activities here. Colorado River RV Campground guests can easily relax in their peaceful riverside RV campground in Columbus, Texas.
With easy access to the freeway, a trip to the big cities that lie east or west offers a fun day out, before returning to the sanctuary of this RV preserve.
Location
Located midway between Houston and San Antonio and nearly halfway between Houston and Austin makes Colorado River RV Campground a great place for a basecamp.
1062 Thousand Trails Lane
Columbus, TX 78934
Price
As part of a Thousand Trails Membership stays at Lake Texoma are Free. If you stay in one of the new campsites that recently opened the campground charges a $3 per night premium fee. Without a Thousand Trails Membership, it'll cost you about $52 per night to stay.
Reservations
For Reservations Non-Thousand Trails Members go to: rvonthego.com or call 877-570-2267.
For Thousand Trails Members go to: ThousandTrails.com or call 800-388-7788.
Our Review
We are Thousand Trails members, so stayed here "Free" with our membership. Upon arrival, we were told we could choose one of the available open spots, but they had no full hook-up sites available. We were told we could go on the full hook-up list and should get a full hook-up site in a day or two.
We chose our spot on the D-row and an hour later the office called to inform us that they had a full hook-up site for us the next day. The next afternoon we moved to our new 30 amp full hook-up site under the trees in the A-Loop. It was a really nice site that had plenty of room between us and our neighbor.
The campground is better than the average Thousand Trails we've stayed at. The sites are fairly spacious. For the most part, the park was really quiet and relaxing. The new section that opened during our stay looks very nice! We would definitely stay here again.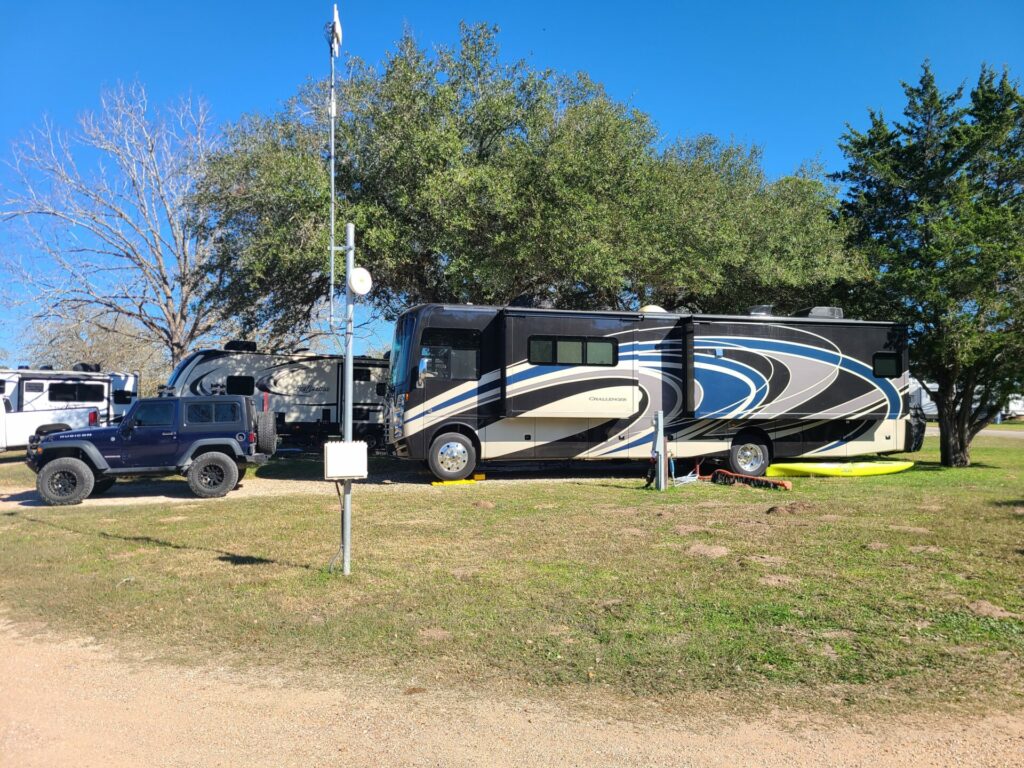 New Section
The new section opened on January 15, 2022. It has 100 brand new 50 amp full hook-up sites that are all level with nice room between them. A thousand Trails charges a $3/day premium for these sites. If you arrive at Colorado River Thousand Trails and can't get one of the older sites they will want you to stay in one of the new sites and pay the $3/day or leave the campground.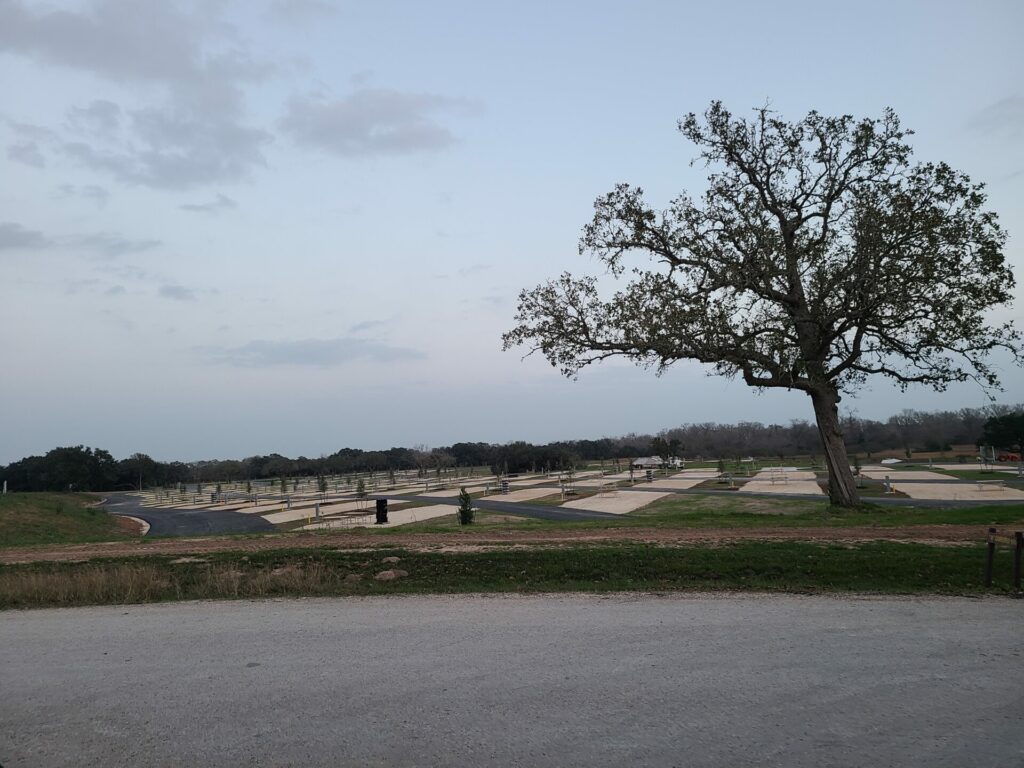 Amenities
Colorado River Thousand Trails has most of the amenities you'd want from a campground. The staff is very friendly and helpful with any questions you may have.
The restrooms and showers looked new and were clean when we were there.
The laundry room is located in the Lodge building. The cost to wash was $2.00 and the cost to dry was $1.75.
There is a small Dog Park near the main office at Colorado River Thousand Trails and plenty of room to walk dogs on a leash. We heard they are building a larger dog run near the new section.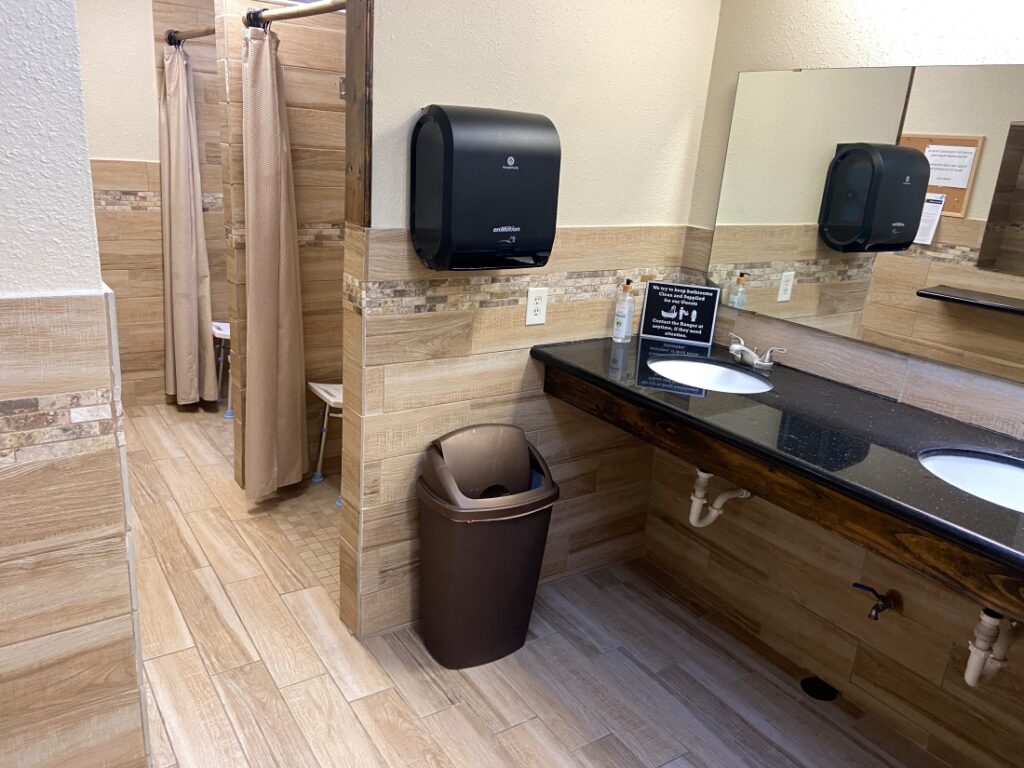 The Lodge has a lounge with a pool table.
Colorado River Thousand Trails has a lovely pool and hot tub. Hours for the pool were 10am-8pm.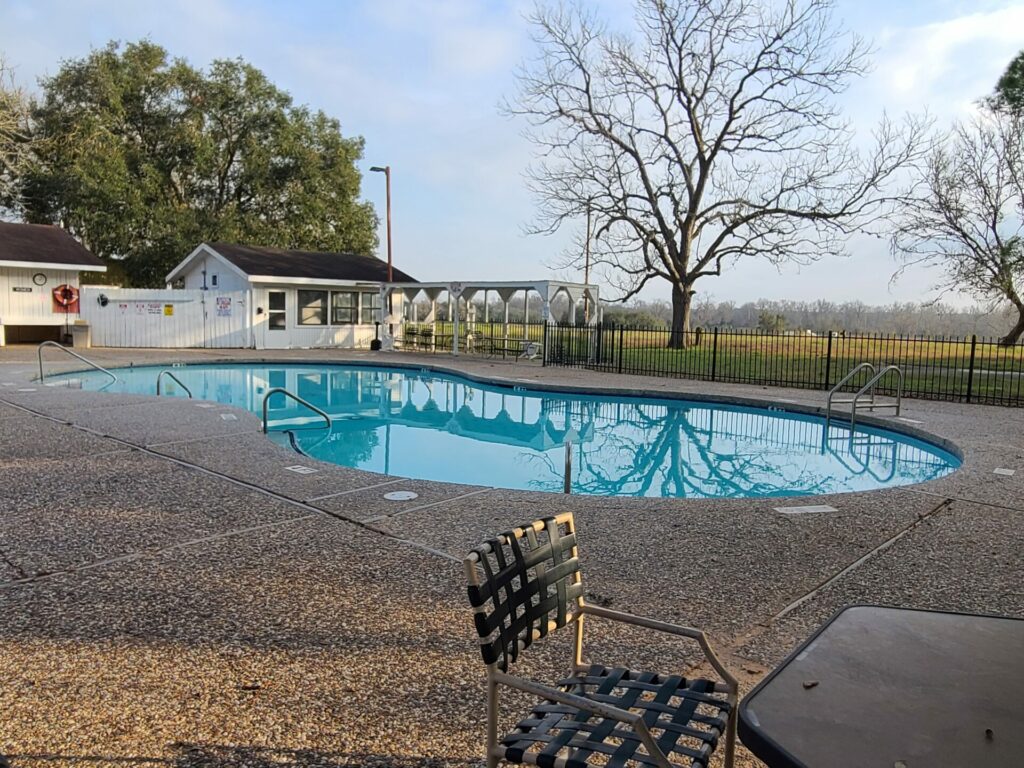 Phone and Internet Service
We use T-Mobile for our phone service. Service at Colorado River Thousand Trails was OK with 2 to 3 bars of service.
Our Verizon MiFi received 3 bars of service and we were able to use our Fire Stick and stream Netflix with no problems.
For our mail, we used General Delivery at the Columbus Post Office. The campground does accept packages for a $5 fee.
Sports, Recreation, and Playground Area
Like most Thousand Trails campgrounds this one has a mini golf course, playground equipment, basketball court, and horseshoe pits.
Things to see/do nearby
We made the most of our time while at Colorado River Thousand Trails. Columbus is a cute little town. It's worth a visit to see the historic buildings around town.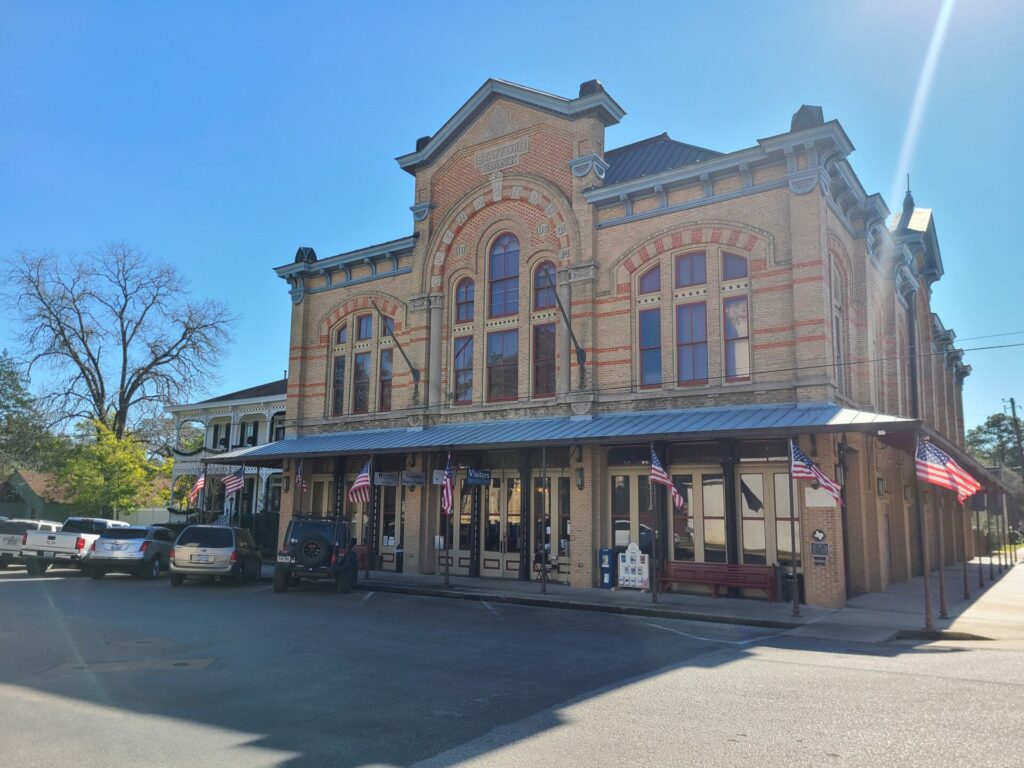 Painted Churches of Schulenburg, Texas
During our stay in Columbus, Texas we passed a sign advertising The Painted Churches of Schulenburg. When we looked into them they seemed really cool. They are actually amazing!
German and Czech immigrants built The Painted Churches of Texas dating back to the late 1800s and early 1900s when they came to Texas to start a new life. They built dozens of churches across Texas, that appear unassuming as you approach them, but hold magnificent masterpieces as you enter the front doors.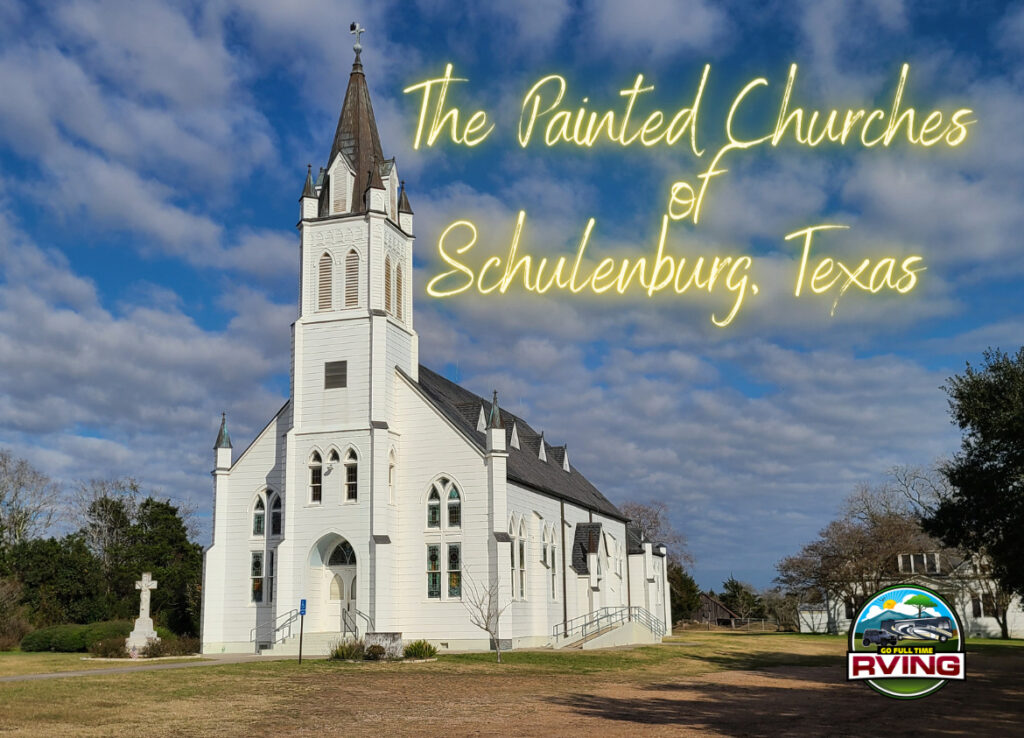 We made a few trips to Houston during our Colorado River Thousand Trails stay. It's a fun city with a lot of things to see and do.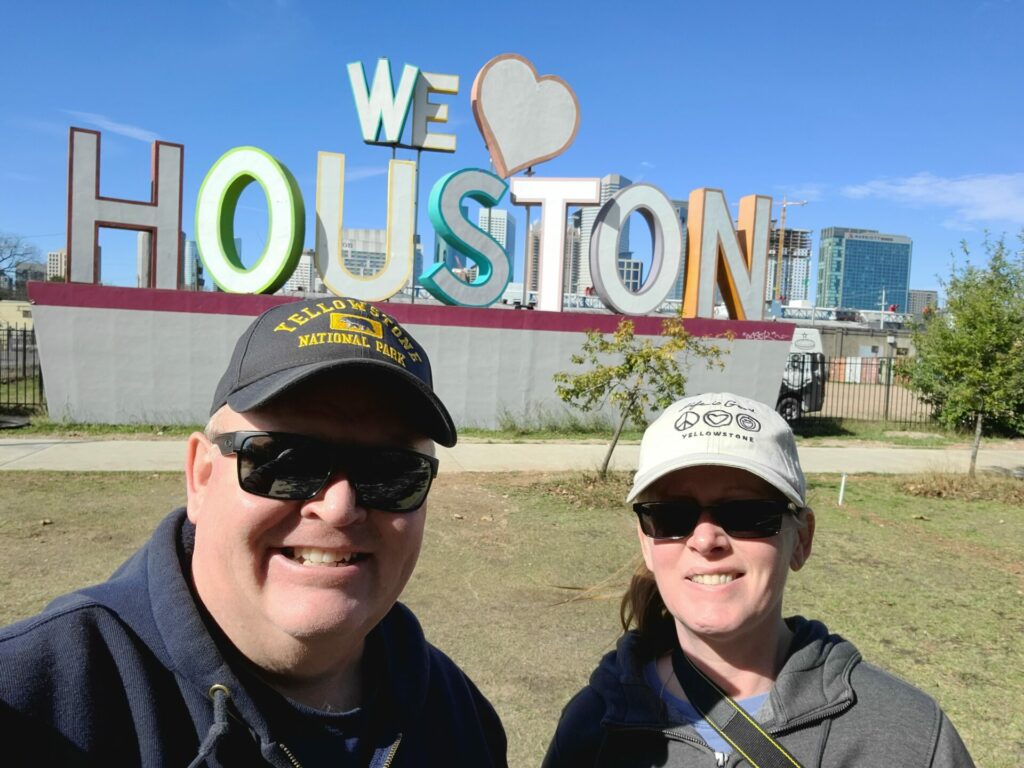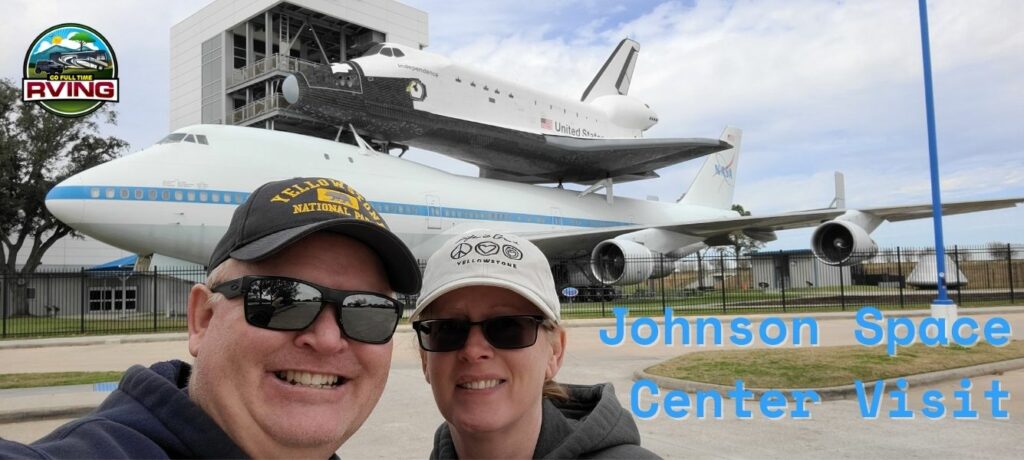 I got my Geek on at Johnson Space Center! It takes me back to my childhood, all the NASA stuff! My bedroom as a kid was full of pictures and souvenirs from the Apollo and early Space Shuttle days. I wrote to NASA and received packages full of pictures from them. Pictures of Rockets, Astronauts, Space shuttles, Space Stations, Launches, and more decorated my walls.
An immersive art experience you'll never forget. The Immersive Van Gogh Experience is a 360º digital art exhibition in Houston (and other cities) that invites you to step into the universe of the artist, Vincent Van Gogh. You will experience Van Gogh's art in a completely new and unforgettable way.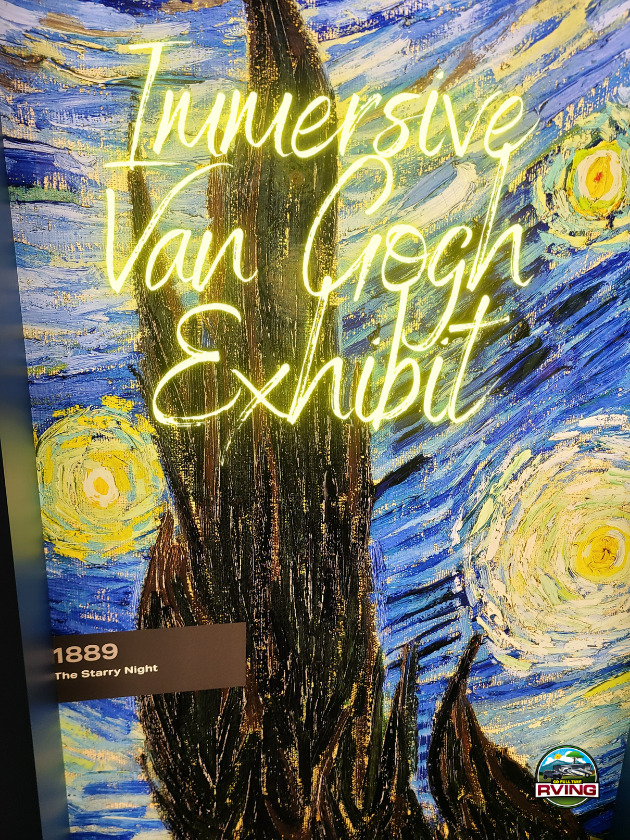 Not far from the campground is FreBo Ranch with many exotic animals you'll see as you're driving down Highway 71.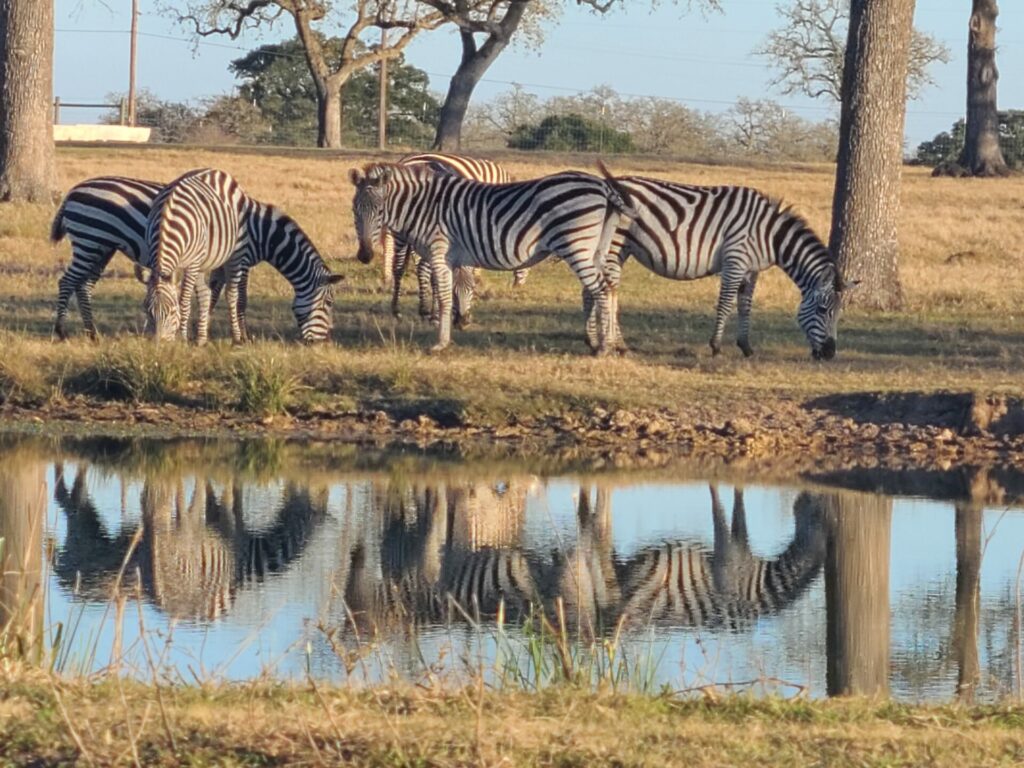 Conclusion
Colorado River Thousand Trails is a lovely campground, especially with the new sites. It is one we'll definitely come back to when needing a place to stay near Houston, San Antonio, or Austin. There is plenty to keep you busy in any of these large cities as well as in the nearby surrounding area.
What interesting places have you been to and can recommend? We're always looking for neat out-of-the-way places to put on our list of must-sees. Thank you for reading our article. If you have any comments or questions we'd love to hear from you below.
If you're looking to build your own home-based business like we have with this webpage, check out Wealthy Affiliate.
Wealthy Affiliate is an all-in-one platform that you can build your whole affiliate marketing business on. It combines training, software, and website hosting into one. This makes the whole process of starting an online business from scratch much easier, especially if you're new to building a website.