The MarCELL is an all-in-one RV pet temperature monitoring system that can monitor temperature, humidity, power, and water. The device operates independently with a built-in cellular connection, so you don't need to locate reliable WiFi. There is a monthly fee to maintain the cellular service, and the initial cost of the unit is fairly expensive. However, for pet owners that want complete peace of mind when leaving their furry friend behind, the MarCELL just can't be beaten.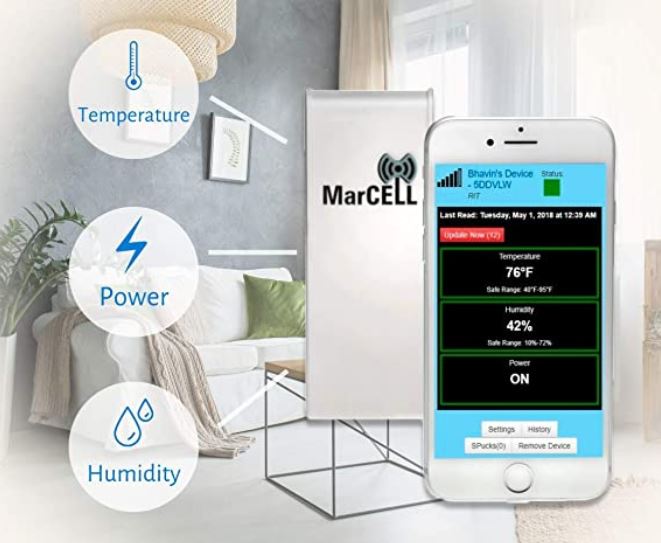 This post contains affiliate links. As a participant in Amazon Associates and various affiliate programs, we are compensated when qualifying purchases are made through our referral links at no additional cost to you. Full Disclosure
Wi-Fi Pet Temperature Monitors
A Wi-Fi pet temperature monitor works by connecting to the Internet via Wi-Fi to send you alerts and relay information. In order to operate effectively, it requires a reliable internet connection. Guest networks at RV parks are notoriously unreliable and sometimes require you to reconnect every couple of hours manually. For this reason alone we don't recommend Wi-Fi Pet Temperature Monitors.
Cellular Pet Temperature Monitors
A cellular pet temperature monitor has its own inbuilt cellular network connection which is usually more reliable than a WiFi connection when on the road. However, these devices can be more costly to run as they do have subscription fees to maintain the mobile service. We feel that Cell connected Pet Temperature Monitors are the better option for RVers.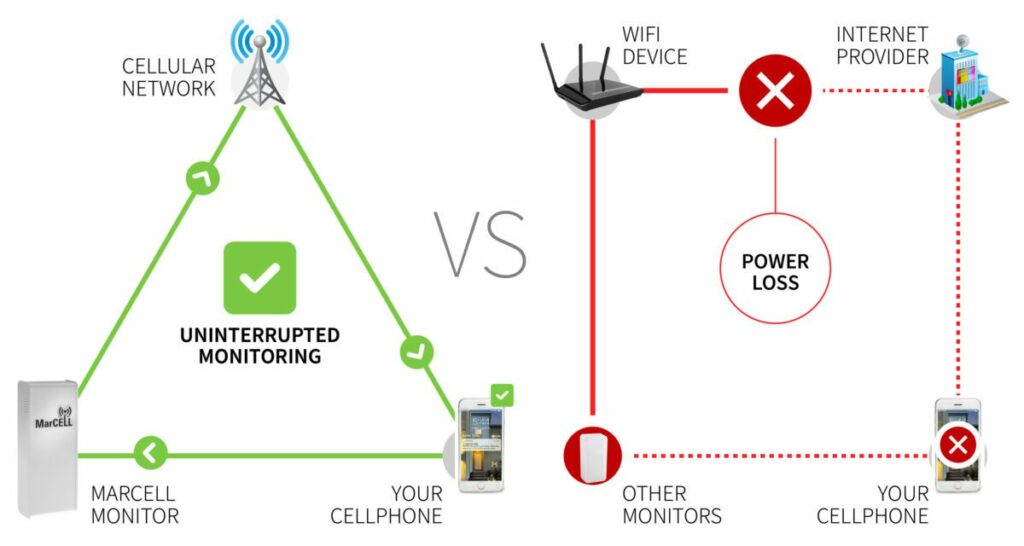 It's important to remember that even the best RV pet temperature monitors are only machines. They must be used with human common sense. Do not leave your pet inside your RV if temperatures are going to be extreme, even with a monitor. You may not have time to make it back to your pet before it gets too hot for them. Also, remember that RV pet temperature monitoring systems require you to have a working cell phone on hand and for you to be in the cellular range to receive alerts.
HOW IT WORKS
The MarCELL Pro uses a built-in cellular connection to operate. There is no need for an existing phone line, WiFi, or internet connection. Due to the cellular connection, MarCELL has a small fee to maintain the service each month. The fee can be paid annually at a cheaper rate or month-to-month when required.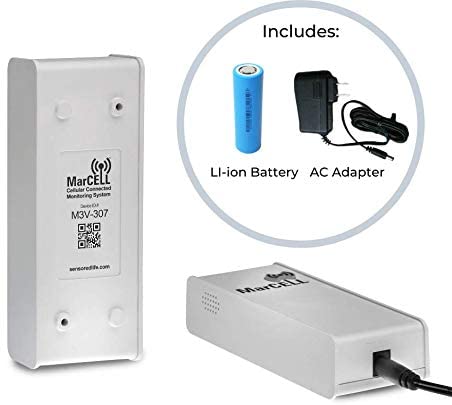 MarCell Pro can monitor temperature, humidity, water leaks, and power status, and it will send alerts if the safe ranges that you set are exceeded via either a text message, phone call, or email.
This extensive range of data collection is handy for RV owners because not only will the MarCELL tell you when your ideal temperature or humidity levels have been exceeded, but it can also tell you if your RV has lost power (causing the air conditioning to stop working) or with the optional SPuck water sensor it can tell you if there is water inside your RV (useful if a pipe bursts, for example). This pet temperature monitor will provide reliable alerts so you can immediately return to your RV to rescue your pet before the inside temperature rises to a dangerous level.
It's important to note, that if an alert is triggered because the temperature inside your RV is too hot for your pet or other conditions are beyond your safe ranges, an alert will be sent instantly and automatically to your mobile device via email, text message, or a phone call. The MarCELL Pro checks conditions every 10 seconds.
Our Review
Traveling with pets is so much fun and a great way to keep the family together on long road trips in your RV. But of course, there are times when taking your dog or cat with you just isn't possible, and you have to leave them behind in the RV.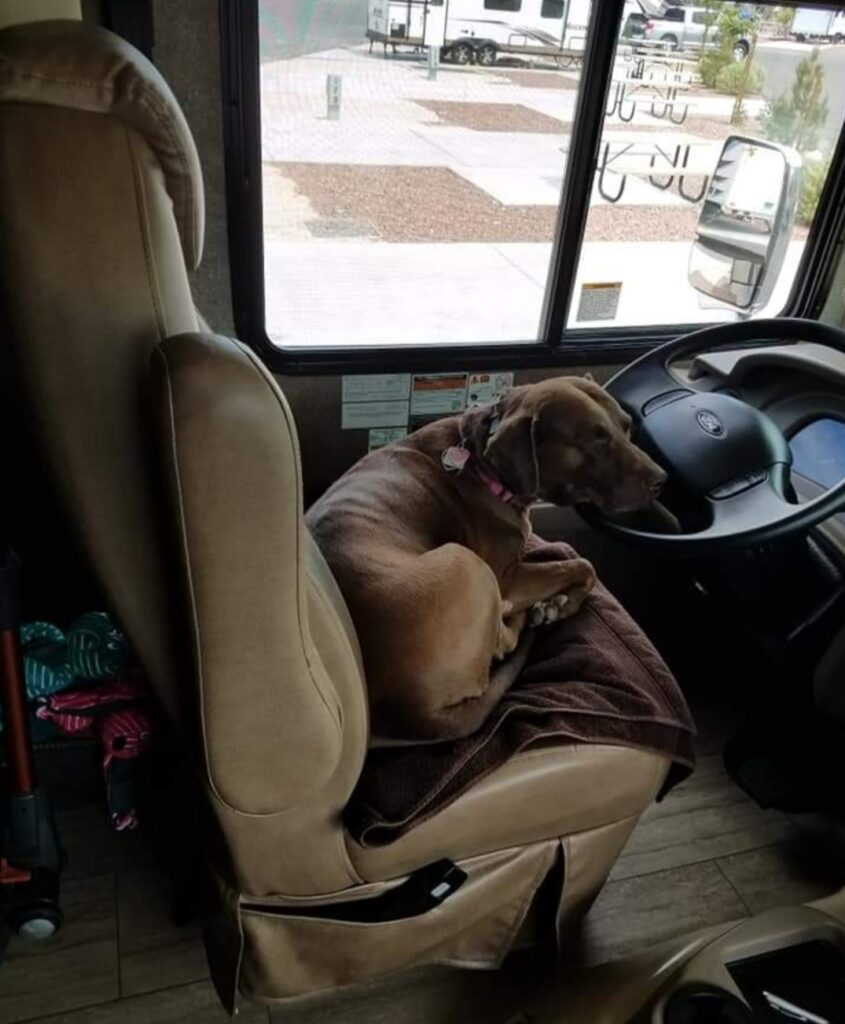 Even when it's mild and sunny outside, the temperature inside an RV can get surprisingly hot very quickly putting your pet's life at risk. Similarly, even when there is only light snow outside, an RV interior can cool down fast. That's why having a pet temperature monitor in your RV is essential.
A pet temperature monitor allows you to leave your dog or cat in the RV but still keep tabs on what's going on while you are away. It sends data about the temperature, humidity, power status, and presence of water inside the RV to your smartphone via text, email, or phone call. You set the safe temperature range, and the monitor will alert you when your RV is outside this zone.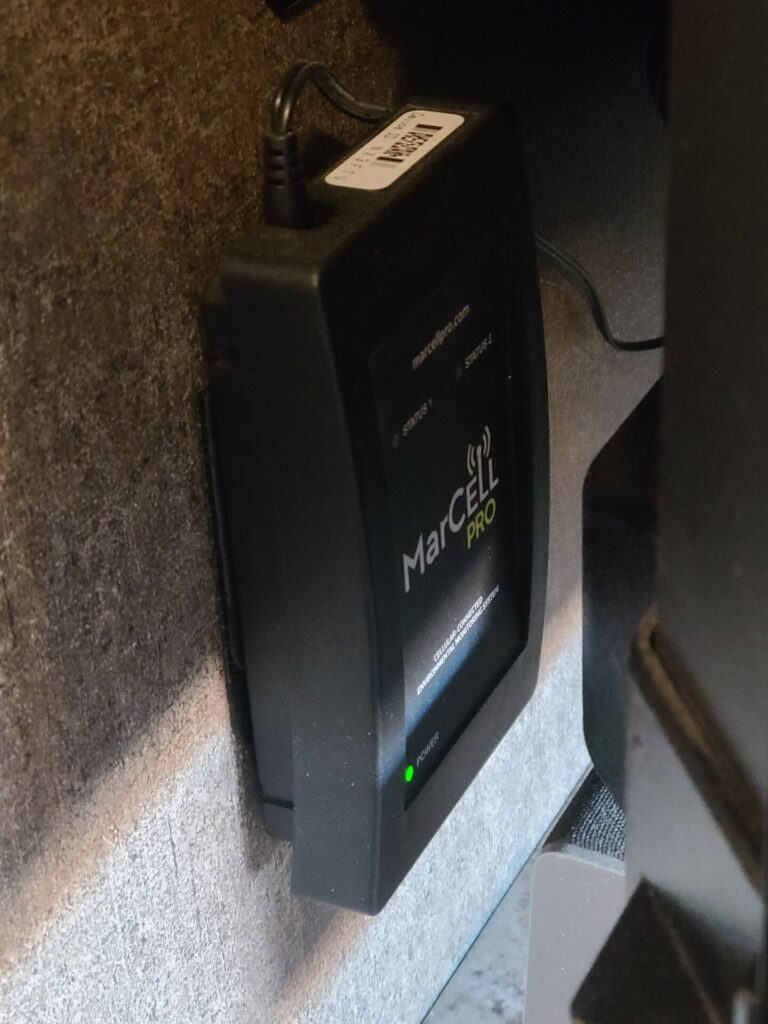 We chose the MarCell Pro Temperature Monitoring System mostly due to it having a cellular connection. While RVing we've found that WiFi signals can be poor a lot of the time. Normally cell service is much better.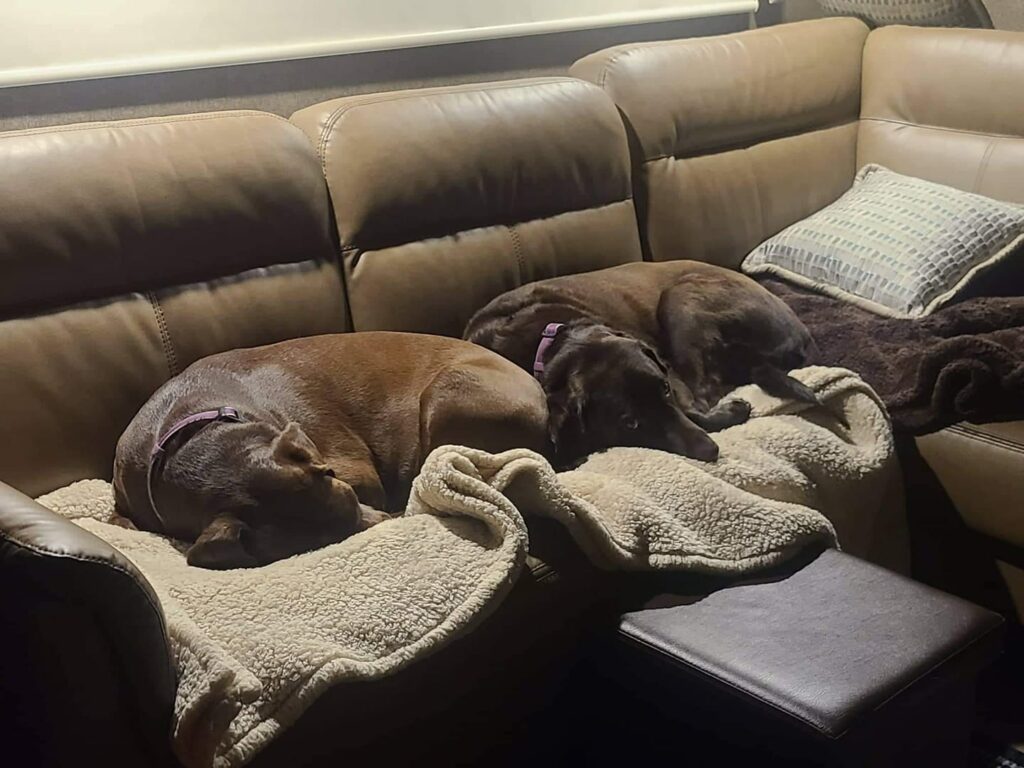 We've been using the MarCell Pro for nearly three years now. Whenever we leave Sierra and Ruby alone at home it gives us peace of mind knowing if power were to go out or our RV gets too warm, we'll be notified that we need to take action. We won't leave our dogs behind without it.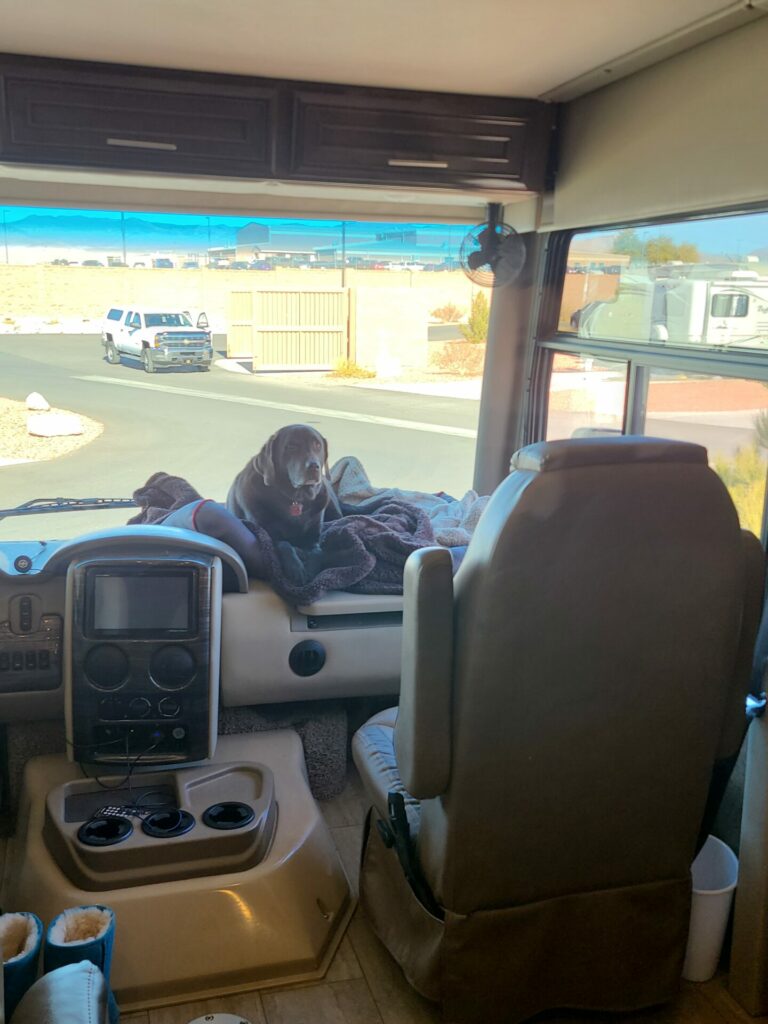 There have been a couple of times when the power has gone out while we were Workamping. MarCell Pro let us keep an eye on the situation and ensure power came back on before our motorhome got too hot for our pups. Thankfully the time or two the power went out it came back on before things got dangerous.
We can't think of a better way to keep track of conditions in our RV while we are away than to use MarCell Pro. Use Promo Code: GFT20 to receive $20 off your MarCELL Pro order.
Pros
Real-time remote monitoring with instant alerts
Text, email, and phone call alerts
Also monitors water leaks and power status
Operates on an independent and reliable cellular network
A comprehensive dashboard monitoring system
Made in the USA
Cons
Subscription fees
One of the more expensive devices on the market
What monitoring systems have you tried or are interested in?
What interesting places can you recommend? We're always looking for neat out-of-the-way experiences to add to our list of places to visit. Thank you for reading our article. If you have any comments or questions we'd love to hear from you below.