We love life on the road and traveling in our RV. It is a fun lifestyle and one we enjoy with our dogs Sierra and Ruby, two chocolate labs. At 65-70 pounds each, neither are exactly "travel-sized," but we love spending time with them. In fact, they played a major role in our decision to purchase a Class A Motorhome instead of something smaller. Traveling with dogs or pets, in general, can be fun but you can't be with them all the time. You need to have some time away from them as well. Some places don't allow you to bring your pets with you. What to do with Fido when you're away from the RV is a question we get often.
You will regret putting your traveling dreams on hold if you decide you "can't do it" because you "have to take care of your pets" or "they just won't like it".
This post contains affiliate links. As a participant in Amazon Associates and various affiliate programs, we are compensated when qualifying purchases are made through our referral links at no additional cost to you. Full Disclosure
Designate a place for your dog to travel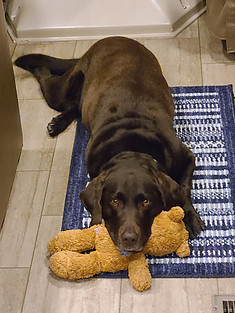 When traveling with your RV from place to place, you will need to have a location for your dog to ride. If your RV is a motorhome, your dog may initially be nervous at first. The feeling of being inside a moving motorhome is a bit different from being inside a moving car. But since most dogs tend to enjoy riding in the car, this shouldn't be too much of an issue.
Your dog may need some time to adjust. Consider laying their beds somewhere near where you will be riding or encouraging them to rest on the couch. This will ensure they are relaxed and less anxious during travel. No matter where you choose for your dogs to ride, be sure that they are comfortable when driving long hours, and plan to stop every few hours for bathroom breaks and water.
If you are towing a fifth-wheel or travel trailer, your dog will need to ride in the truck with you. It is never safe for anyone to ride in the trailer while towing. It wouldn't be any different from going for a ride without the trailer.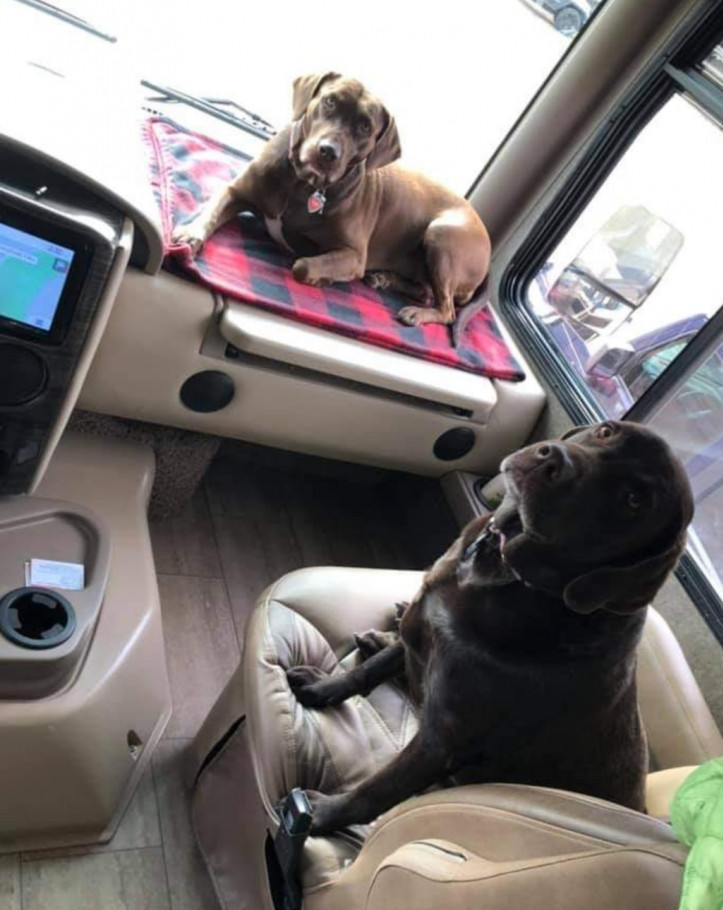 Having a place your dogs are comfortable while traveling is also the best place to have them stay when they are left at home alone. Deciding where to leave your pup when engaging in activities that are not dog-friendly.
This tends to be one of the biggest factors when bringing your dog along on an RV trip. Perhaps you want to check out a local restaurant without a dog-friendly patio, or maybe you want to take a hike in a national park that does not allow dogs. This may require you to leave your dog alone for a few hours at a time.
RVs have plenty of space for your dog to wander, and most dogs should be fine with being left behind for a little while. After all, most dog owners leave their dogs alone at home whenever they are running errands or working, so this is something your dog is already accustomed to.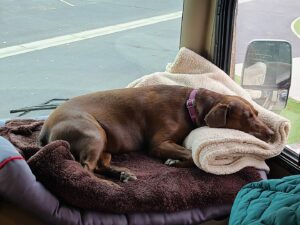 If you're planning to leave your pets alone in your rig while it's parked in a campground, you'll first need to make sure that your pets will not disturb your neighbors while you're away.
Also, some campgrounds have rules prohibiting pets from being left unattended, even inside your coach – likely due to bad experiences with dogs "serenading" the other guests. So, be sure you know the policies when you make your reservations.
If your dog is a "barker" or you are truly uncomfortable with leaving your dog alone for a few hours, try to plan only dog-friendly activities. If this is not possible, seek out a local pet sitter or dog walker to spend time with your dog while you are away.
Home Alone – Leaving the Dogs in the RV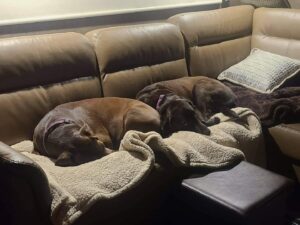 Start with short trips. The first time we left the dogs alone in the RV, it was only for 30 minutes. When they handled that fine, we started to leave them for longer and longer periods so they could adjust. We worked our way up to leaving Sierra and Ruby alone for up to six hours, as long as we prepared them with a long walk and made sure they'd taken care of all their business.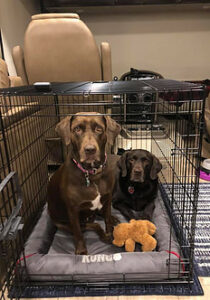 You may need to go through the adjustment period again if you have issues. On Christmas Eve 2019 after being on the road for nine months we came home to what looked like a break-in. Ruby tore up our dinette seat cushion and all the papers and stuff that had been on the dining room table.
Two days later she did it again. She would need to be crated when we left. We purchased a crate that we had to set up for her while we were gone. We hated doing it but, with $300 for an RV cushion, we couldn't afford to have her just tear the place up.
It was about five months before we decided maybe we should start letting her stay out when we left. We started again by leaving the dogs for a few minutes at a time, then longer and longer. Thankfully we haven't had any more issues. After traveling for so long without any incidents we think that maybe someone was antagonizing Ruby while she lay on the dash. The campground we were staying at wasn't the best place.
Keeping your pets safe while you're gone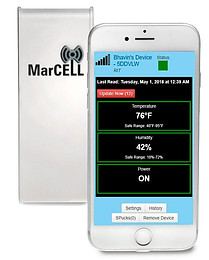 The most important thing with leaving your dogs behind is making sure they are cool and safe while you're gone. Just like your car, even on cooler sunny days, the inside of your RV can reach over 100°F! Make sure you leave the AC on. It can be nerve-wracking wondering if the campground power stays on and the AC working.
We recommend having a temperature monitoring system of some type. We use the MarCELL temperature monitoring system to keep track of the power and temperature in our RV. See our full MarCell Pro Review Here. If the power does go out or the temperature reaches a certain threshold that you can set, it will alert you by text, email, or both, so you can get back to the RV ASAP and save your pet's life.
We've been notified a few times of power outages in the campground. These notifications give us peace of mind. Being able to monitor the temperature and knowing if we needed to rush home to save the dogs.
Get your MarCell Pro by Clicking Here. Use Promo Code: GFT20 to receive $20 off your order
Be aware that if you don't have cell service at the campground or where you're currently at with your phone this system won't work! You also must be close enough to your coach to get back before the inside temperature rises to a dangerous level.
Watching over your pets
Ever miss your pet when you're gone for the day? Can't leave the house without wondering what your fur babies are up to and whether they're safe?
You might want to consider investing in a pet camera. Fortunately, there are plenty of cameras on the market that let you monitor the inside of your RV and any pets within view—from your phone. We use battery-powered Ring Stick-Up Cams in our RV for security and monitoring our dog's activities.
The Ring cameras activate upon movement notifying us and recording the activities. They record video and sound and you can even talk to your pets through the camera.
During our time Workamping at JCPenney we were working 10-hour shifts. On breaks, we'd check in on the dog's saved videos and live view. One morning I opened a video of Sierra helplessly barking near the front door. She sounded so pitiful.
Our dogs are very quiet and don't bark often. In the next video, I could see something all over the floor. Poor Sierra was sick and had an accident in the RV. Lisa rushed home before the pet sitter arrived for the dog's 11am walk. As she opened the door Sierra rushed out past her running for the dog park. It's the only accident we've had but thankfully we were made aware that something was up by using our cameras. And thankfully our dog walker didn't need to deal with a sick dog. We would have felt terrible about that.
Pet sitting options
More unique dog boarding options for RVers and travelers are springing up every day, it can be tough to know which ones offer the best care for your dog's needs. When you still want to stick to your itinerary that isn't dog-friendly, dog-sitting sites like Rover.com allow you to keep trekking along without a second thought.
Rover.com operates an online booking system so you can find reputable and inexpensive dog boarding services in areas you're traveling on your own terms. You can plan to have a pet sitter come to your RV or you can drop your pets off at their home before you head out for your next adventure. You can't bring your pets everywhere, so these sites make it easy to work around activities that aren't pet-friendly. Rover is our preferred provider for finding pet sitters/walkers.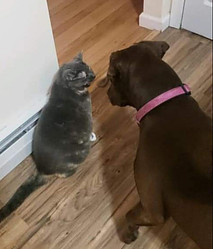 If finding an online pet sitter isn't for you the good news is you don't have to stick your pets in any old kennel. We don't recommend using veterinarian kennels to board your animals. With constantly barking dogs caged up, they are very stressful places for your pets. Not to mention there may be sick animals being kept over.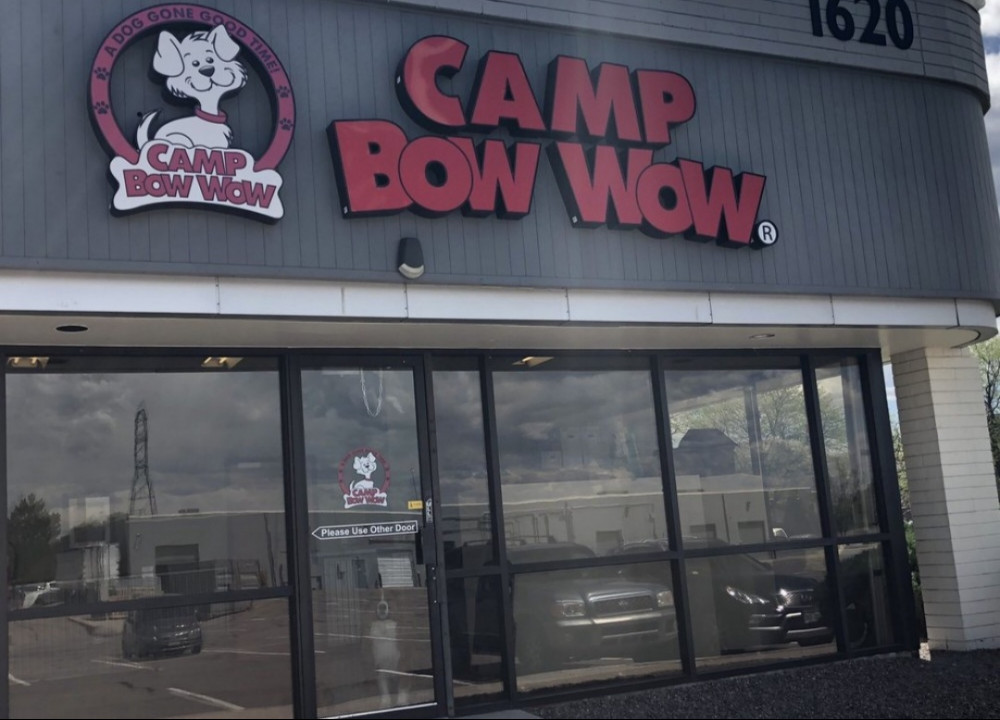 We have found some amazing boarding places during our travels. One of our favorites with over 170 locations across the country is Camp Bow Wow. An all-inclusive doggie daycare and boarding facility. Sierra and Ruby were always pulling for the door when we took them there. Your pup can romp and play all day long, socializing with other dogs and humans. They are always tired from playing when we'd pick them up.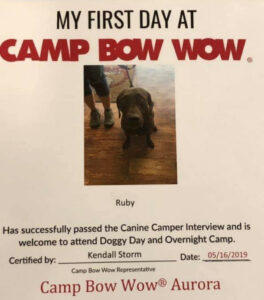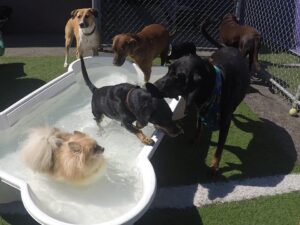 The most amazing place our dogs stayed was at Bunk & Biscuit in Niles, Michigan. For a couple of Labs, this place is heaven with a heated indoor pool and stress-free boarding we're lucky Sierra and Ruby still wanted to come home with us. It's a luxury All Suite, All Inclusive Pet Retreat but still very affordable.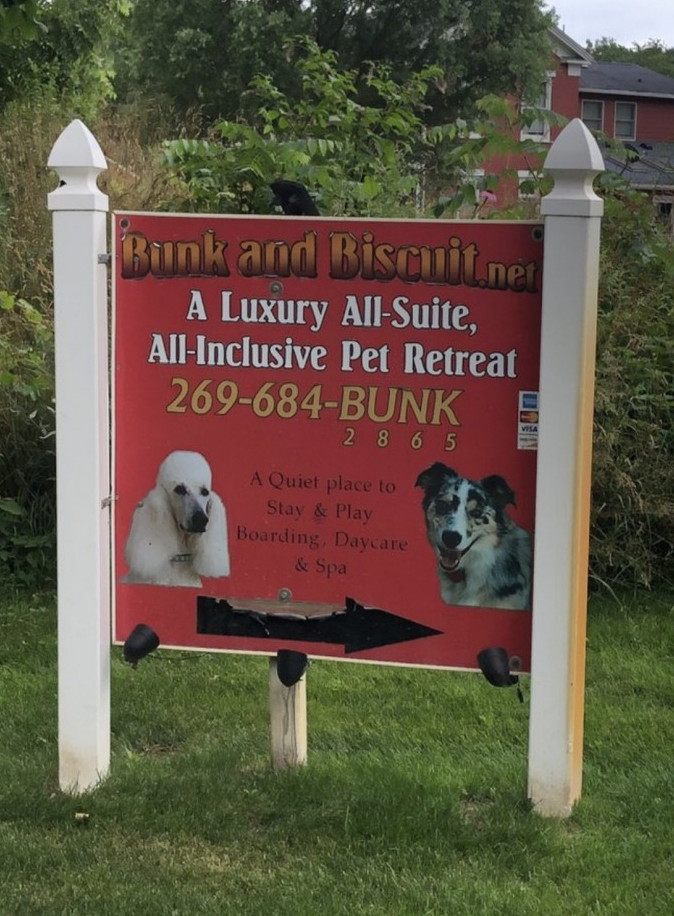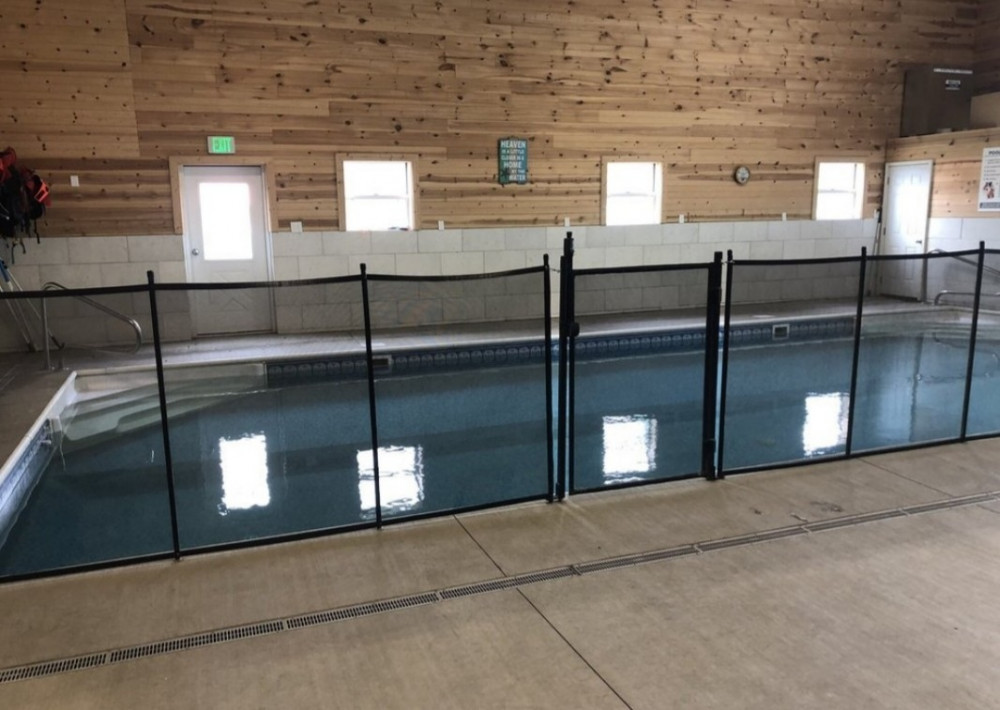 Dog care providers often take an a-la-carte approach to how they look after your dog, and pricing often depends on:
Length of daycare or overnight boarding stays
The size of the kennel your dog requires
Are they providing food, or if you are
How much interaction your dog requires with people and/or other canines
Medications that need to be given
Grooming needs
A qualified dog boarding facility will allow you to check out sleeping quarters, and dog runs, and ask as many questions as you like to feel confident about allowing your dog to stay there.
Find time to inspect the facility before your dog's drop-off date, and don't leave without asking yourself:
Are the kennels clean and odor-free?
Is there an adequate ratio of dogs to human supervisors?
Who supervises the facility at night?
We've left a couple of boarding facilities that we weren't comfortable leaving Sierra and Ruby at.
Have a plan in case an emergency situation should arise.
Emergencies are unlikely, but it is always good to be prepared. Have the number for a local veterinarian handy just in case the worst should happen. Be careful not to let your dog escape when coming and going from your RV, and keep an ID tag on their collar at all times. This will ensure that someone can find you if your dogs were to get separated from you.
Bring Fido Along
Finally, if you can't bear leaving the dogs at home there are plenty of pet-friendly places you can find along the way. Find dog-friendly places that allow you to bring your fur family along by checking out Bring Fido, DogFriendly.com, National Park Paws, and Pets Welcome.
Conclusion
RVing with your dog may seem like a hassle, but most dog owners can agree that it is more fun to bring your dog on vacation than it is to leave him at home. In addition, you can usually forgo the cost of a pet sitter by bringing your dog along. Most dogs are fairly adventurous and enjoy experiencing new things with their owners. With some prior research and thoughtful considerations, you can surely plan a trip that both you and your dog will enjoy together. Even while RVing there will be times you need some "human only" time, using Rover or a boarding facility can give you peace of mind knowing your beloved family members are taken care of while you are having your own fun.
Thank you for taking the time to read this article. Do you RV with your dogs? Do you have any tips to add? Feel free to comment below.
If you're looking to build your own home-based business like we have with this webpage, check out Wealthy Affiliate.
Wealthy Affiliate is an all-in-one platform that you can build your whole affiliate marketing business on. It combines training, software, and website hosting into one. This makes the whole process of starting an online business from scratch much easier, especially if you're new to building a website.