I hope 2022 was a great year for you as it was for us. Thank you in advance for taking the time to read our Wrap-Up – 2022 Year in Review. These things usually take on a life of their own when I'm writing them. I'm sure this one will be no exception.
Our 2022 Stats:
We traveled slightly more this year than in 2021.
2019, we traveled 8312 miles hitting 32 states, and camped at 35 different campgrounds.
2020, we only traveled 3424 miles, hitting 4 states and 15 different campgrounds.
2021, we traveled 5340 miles, hitting 15 states and 31 campgrounds, not all different ones this year with our multiple trips to Yuma.
2022, we traveled 5483 miles, hitting 11 states and 28 different campgrounds. Two campgrounds we stayed in twice each.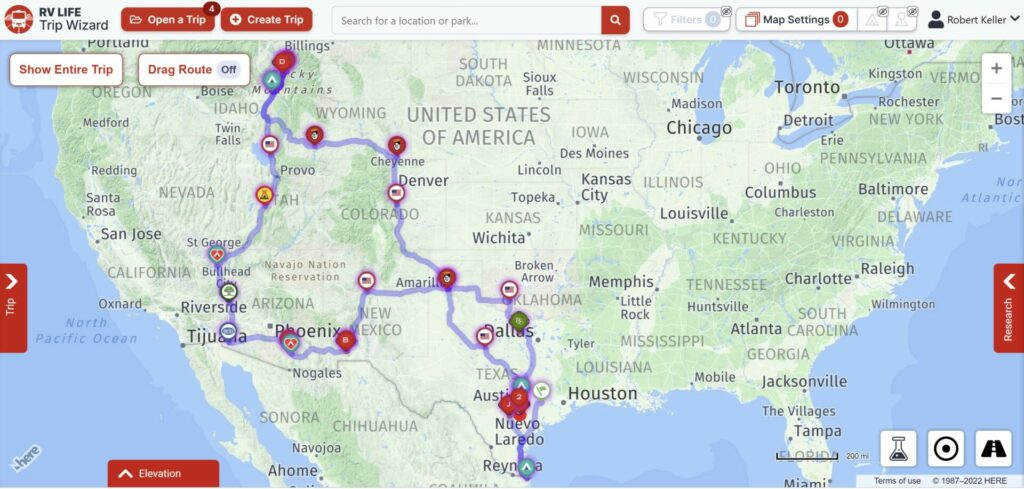 This post contains affiliate links. As a participant in Amazon Associates and various affiliate programs, we are compensated when qualifying purchases are made through our referral links at no additional cost to you. Full Disclosure
We do all our trip planning with RV Life Trip Wizard. RV Trip Planning Made Simple! RV Life Trip Wizard is by far the best RV route planner we've found. Get your 7 day Free Trial
Average Costs:
Camping: 365 Nights at an average of $11.26 per night down from $13.02 per night in 2021. This includes 147 nights in West Yellowstone for our second summer. In addition, we spent 66 nights at Thousand Trails Campgrounds with an average cost of $23.89 per night. Our stays at Thousand Trails are usually free, this is the cost after factoring in our membership yearly dues. We also paid extra at a couple of campgrounds for 50 amp service.
Fuel: We used 911 Gallons of fuel at an average price of $3.79/gallon which is strangely the same amount of fuel we used last year although the average price was nearly a dollar higher this year compared to an average price of $2.95/gallon in 2021. When we started RVing we budgeted $3.00/gallon for gas. Thankfully prices have come back down at the end of 2022. The $5.00/gallon prices were scaring us. We averaged 5.98 mpg in 2021 slightly up from 5.89 mpg in 2021 for our motorhome.
Our total cost per day average was $32.34 up from $29.49 in 2021 and $22.02 in 2020 but down from $39.57 in 2019. This includes Camping, Motorhome Insurance, Motorhome Fuel, Propane, and Motorhome Service.
This doesn't include the money spent on upgrades to our RV. In 2022 we spent a big chunk of money to improve our home. In total, we spent $21,098.56 to bring our motorhome back into like new condition. Our upgrades included reupholstering our furniture, having a new Vroom Slide System installed, and replacing our flooring. After 3½ years in our RV, it was time to do these upgrades.
2022 Year in Review
Texas
Our year started in Columbus, Texas about an hour or so West of Houston. It was a nice area with good access to the bigger city.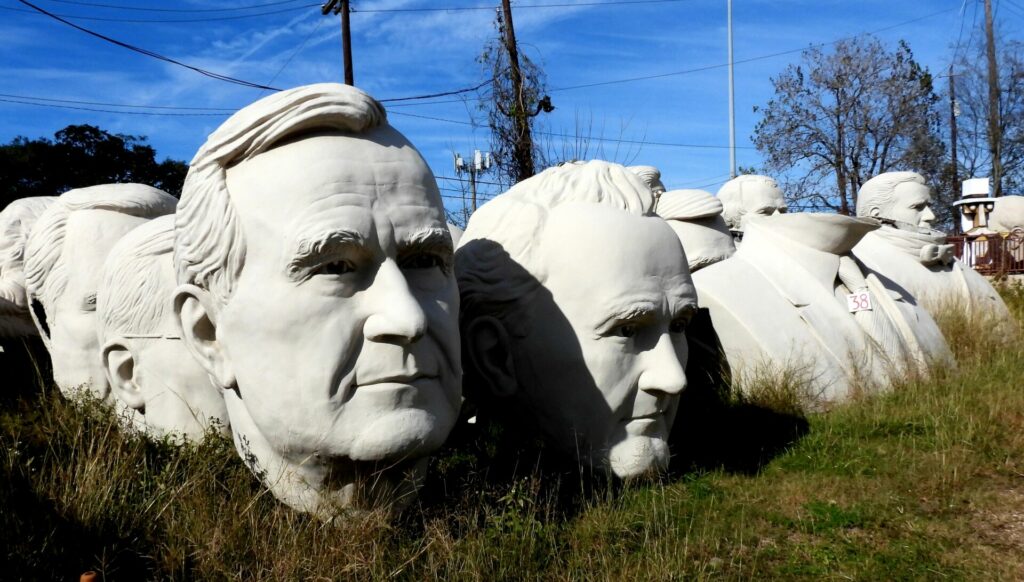 We loved The Painted Churches of Schulenburg and Johnson Space Center, especially the Apollo 11 Mission Control tour that makes you feel like you were there during the first moon landing.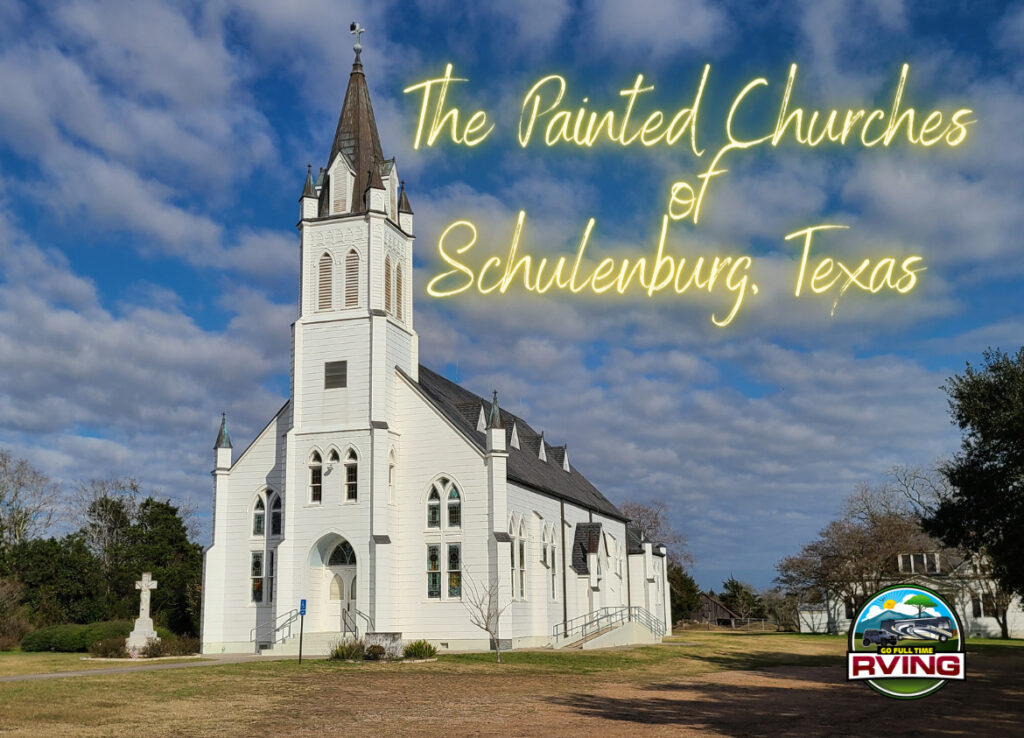 Of course, Lisa's favorite part was the exotic animals that were on ranches near the campground we stayed at.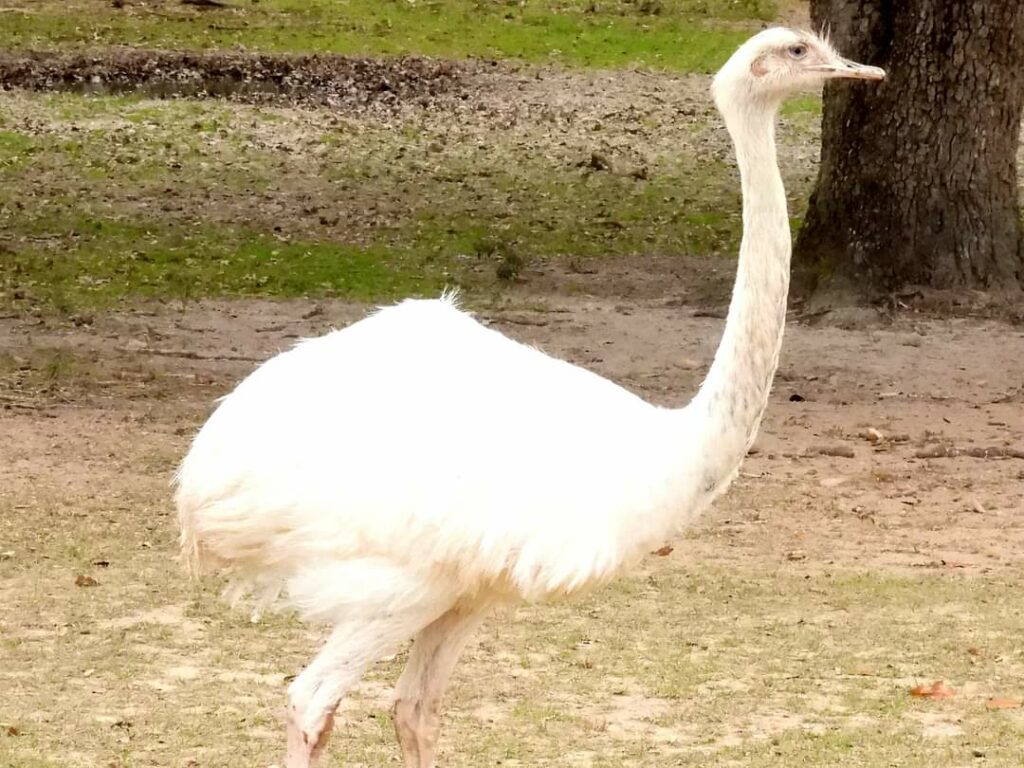 In 2022 we planned to spend three months in the Brownsville, Texas area. We had a great time sightseeing, birding, and checking out the area. We loved South Padre Island and Starbase!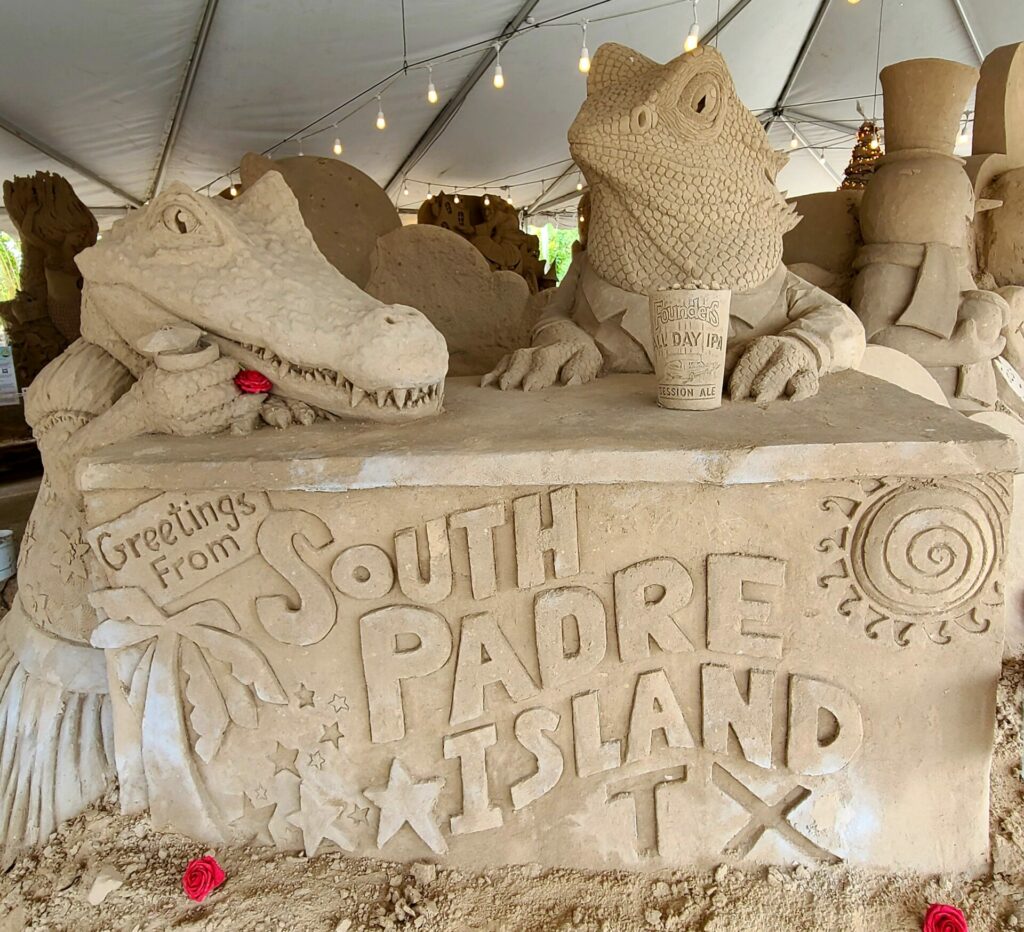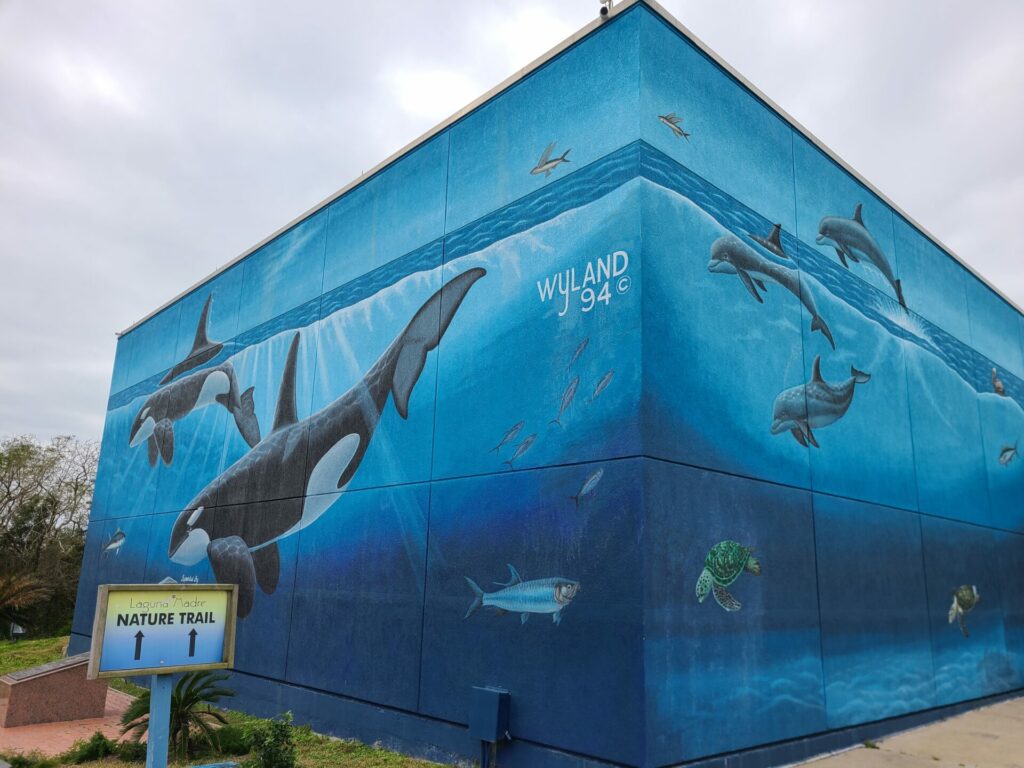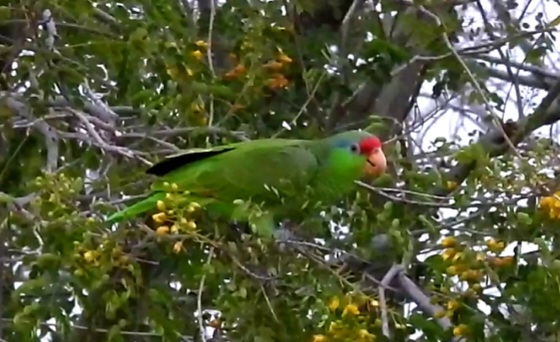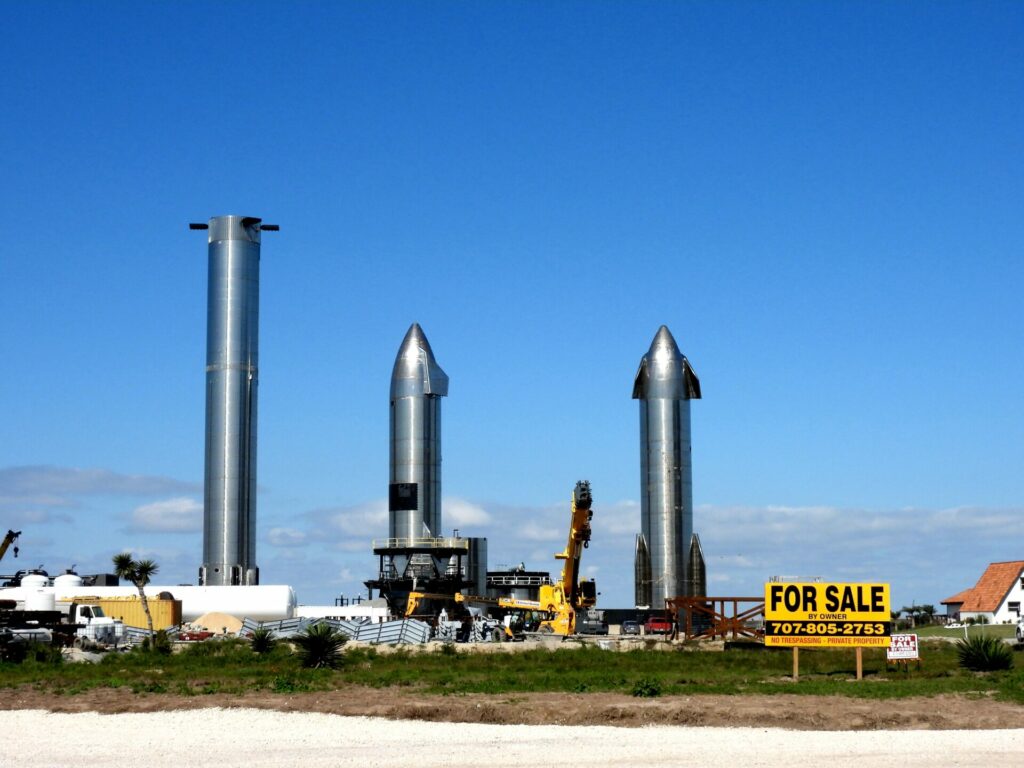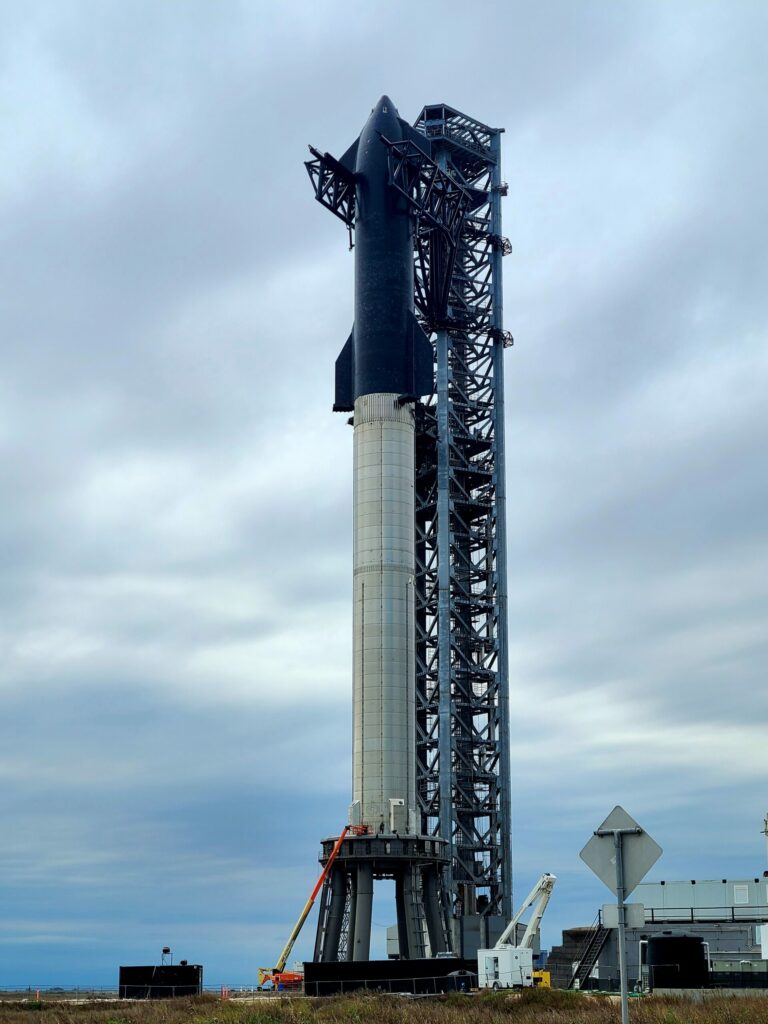 We were looking to get new upholstery while in Brownsville since the crappy material they use in RVs was already wearing out. Of course, Ruby didn't help it much either. We ended up only spending a month when we couldn't find anyone in the Rio Grande Valley that did upholstery work. I finally found someone in Austin, Texas that could do our seats the last week in February, so we headed North.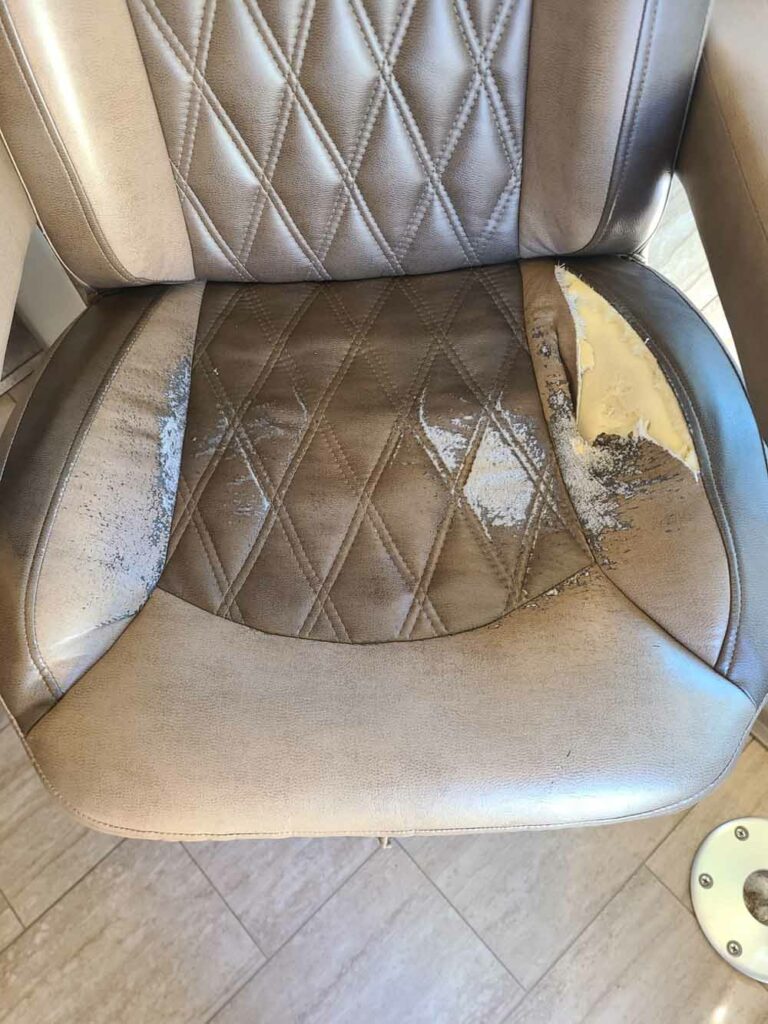 The upholstery work ended up being a disaster! Even though the guy did some amazing workmanship he used the wrong color material! Instead of tan and brown, we got tan and red. It definitely didn't match our blue motorhome. All I could say when I saw it was "That's not our color!" We were shocked!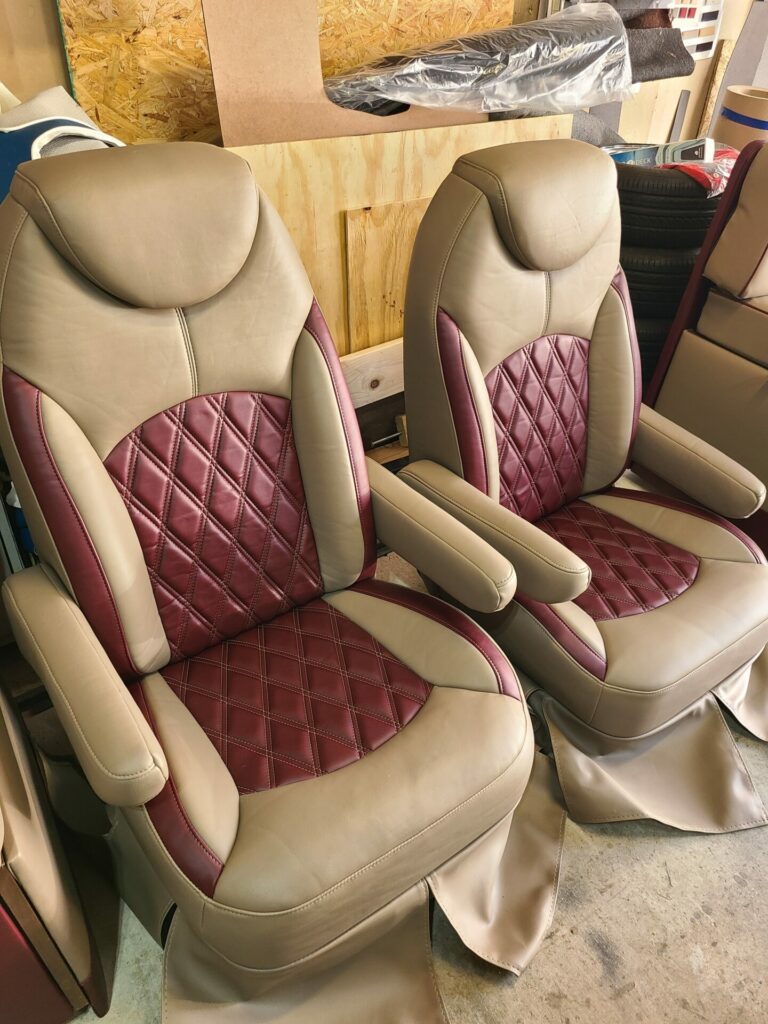 We specifically talked about tan and brown, when the color red came in he looked at his notes and the number was right. Come to find out the number for the brown color we chose was wrong in his sample book and had the number for the red material tagged on it.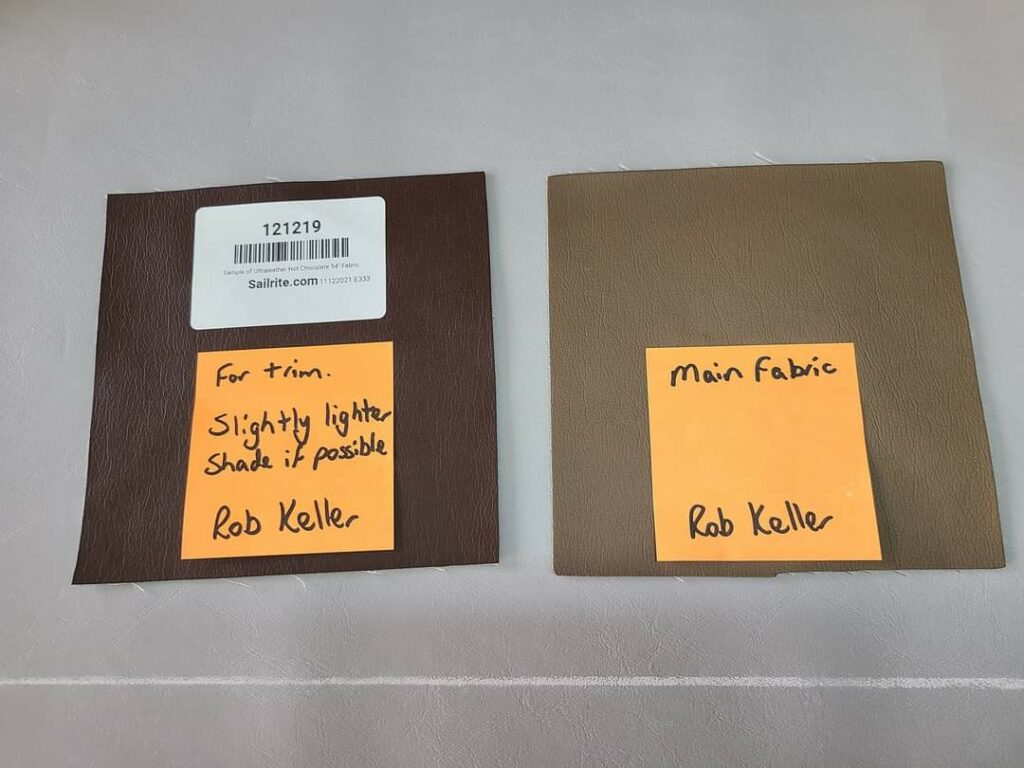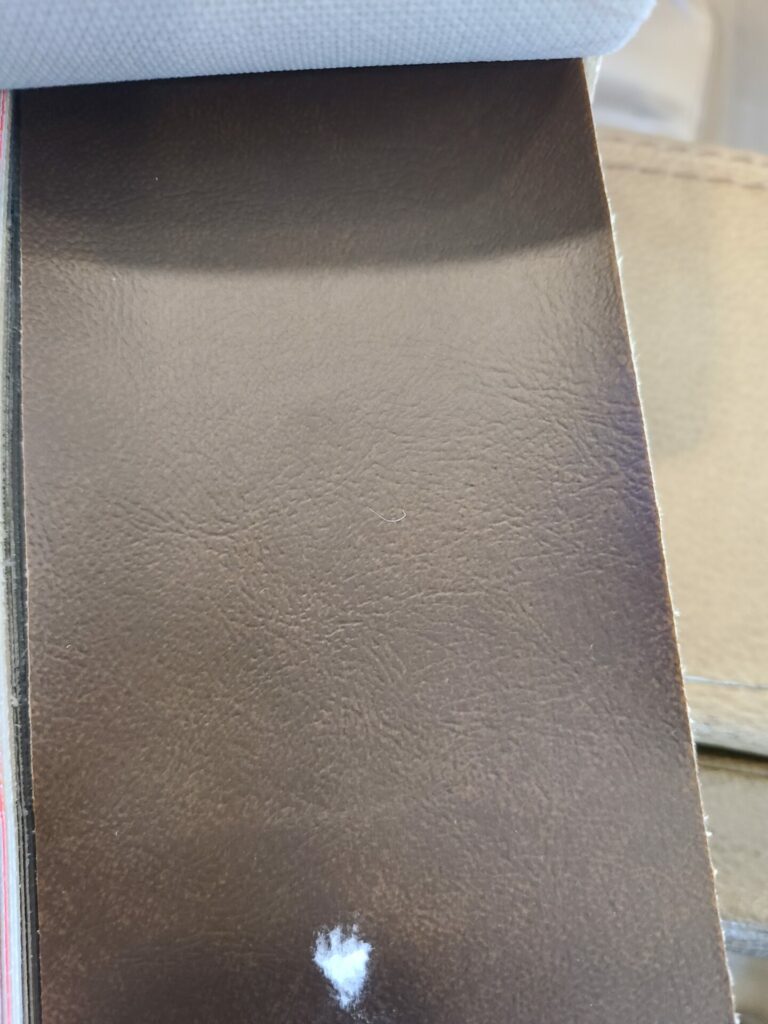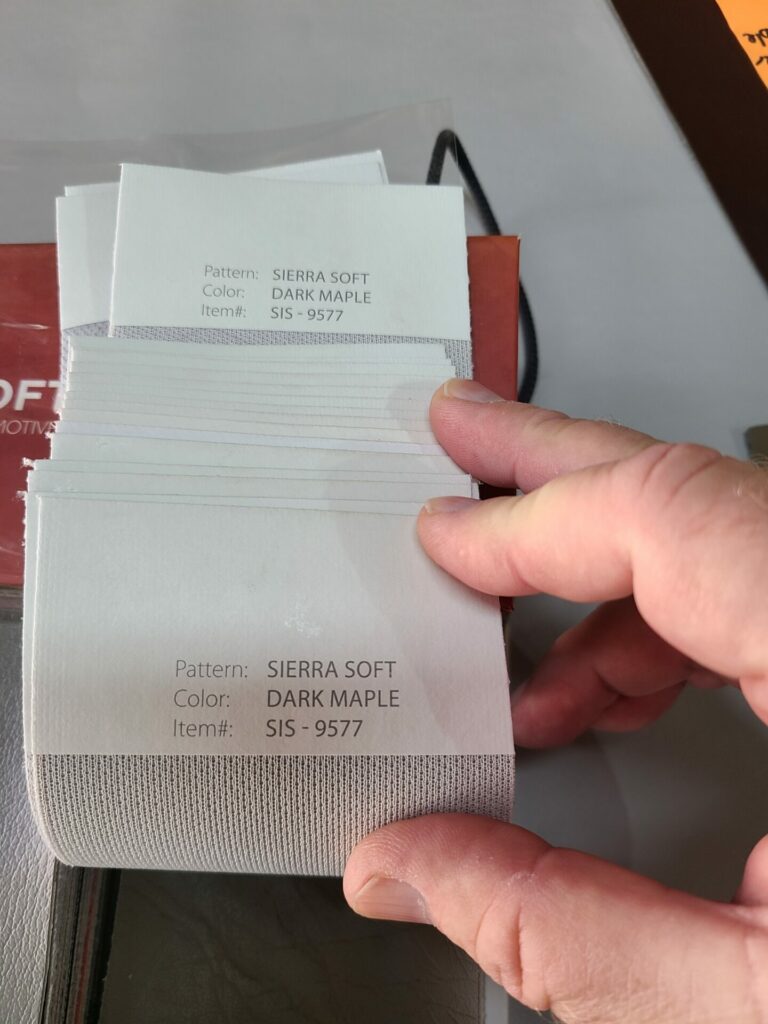 He was booked for the next few months and we didn't have time to wait around for our seats to be redone since we had to get to Tucson to have our slide system worked on. We'll discuss our return to Texas later in this article.
After we got our red seats put in our motorhome we headed further North for a few days outside of Fort Worth. While there we took in PBR Golden Cup and American Rodeo at the Cowboys Stadium and got to see Tim McGraw and Faith Hill perform.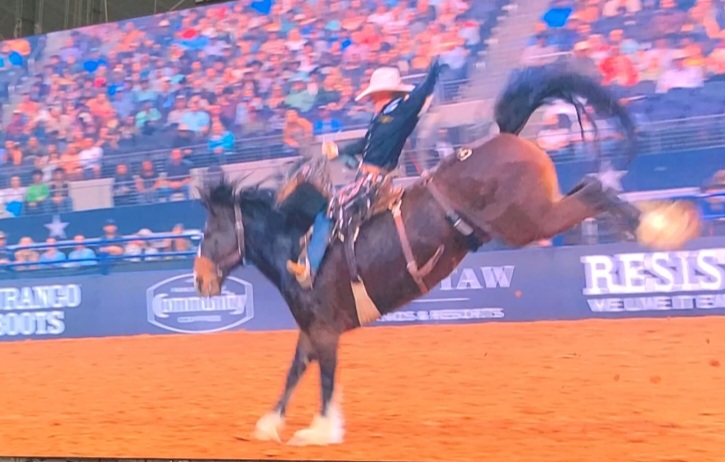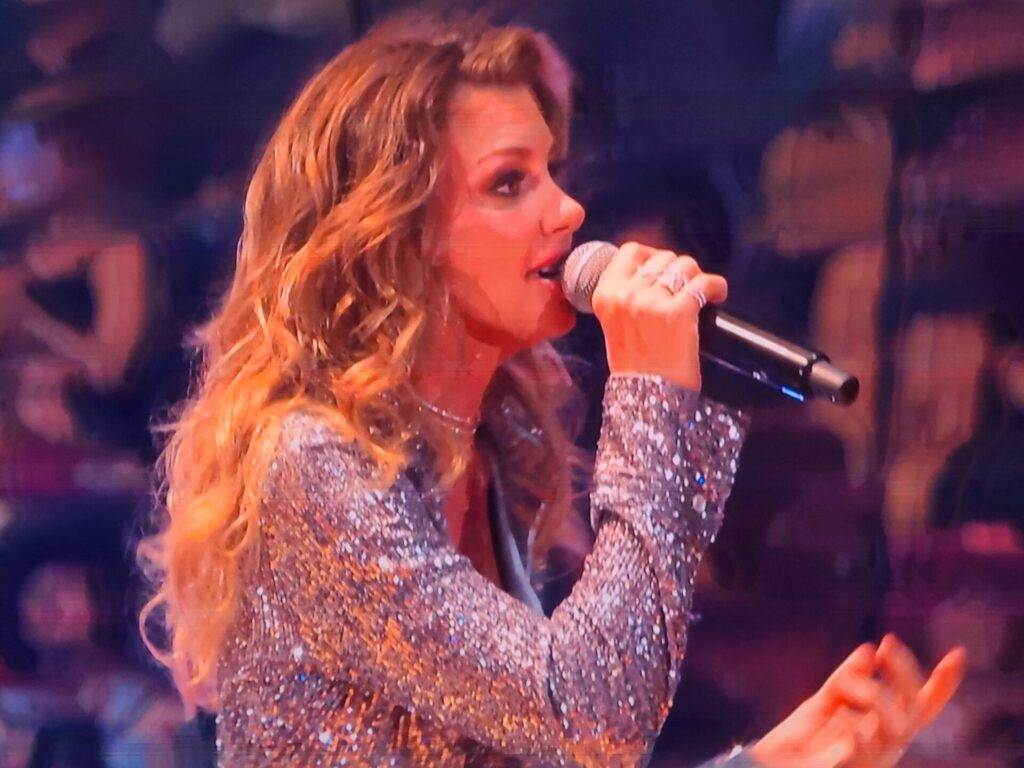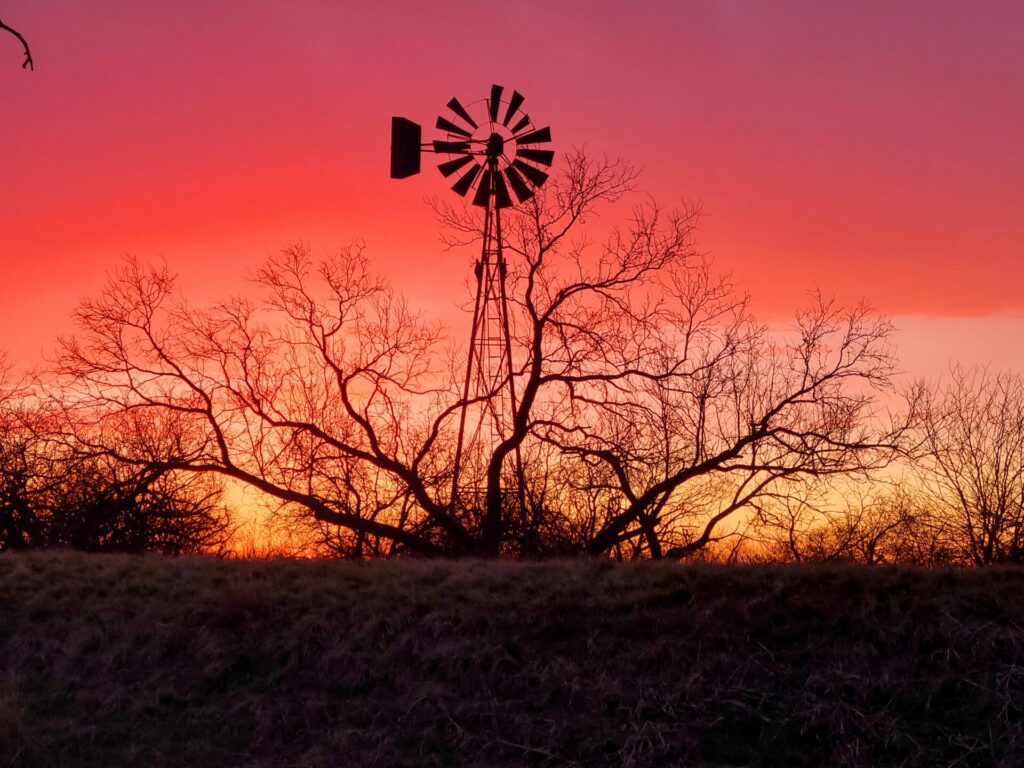 While in the area we also had a Keller sort of day. We spent the day in Keller, Texas where we did all things, Keller!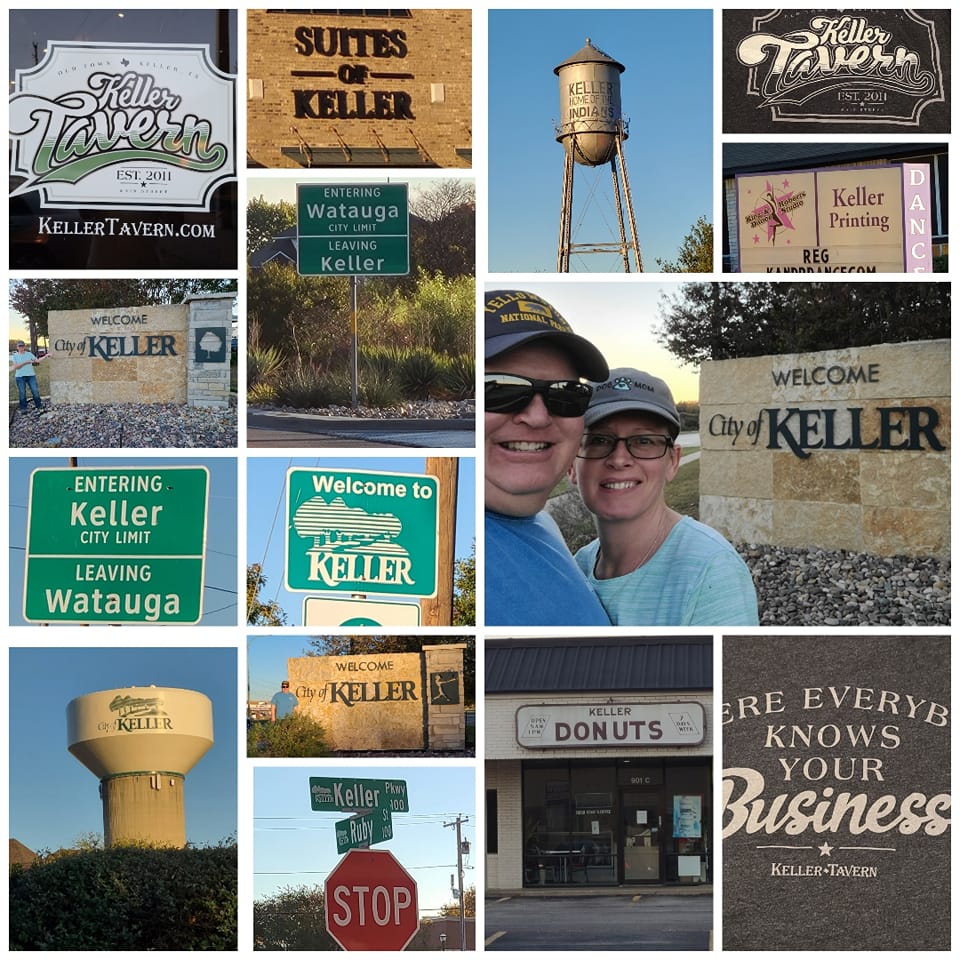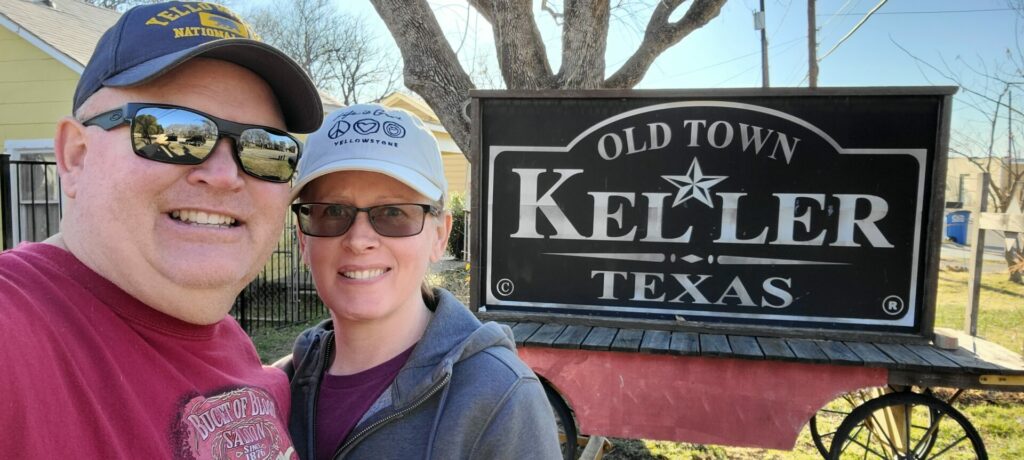 Oklahoma
Before heading West we made our way to Oklahoma to see my nieces Jayla, Ashley, and Natalie, and Jayla's daughter, Emma. It was our first time seeing them since Jayla's wedding in 2019.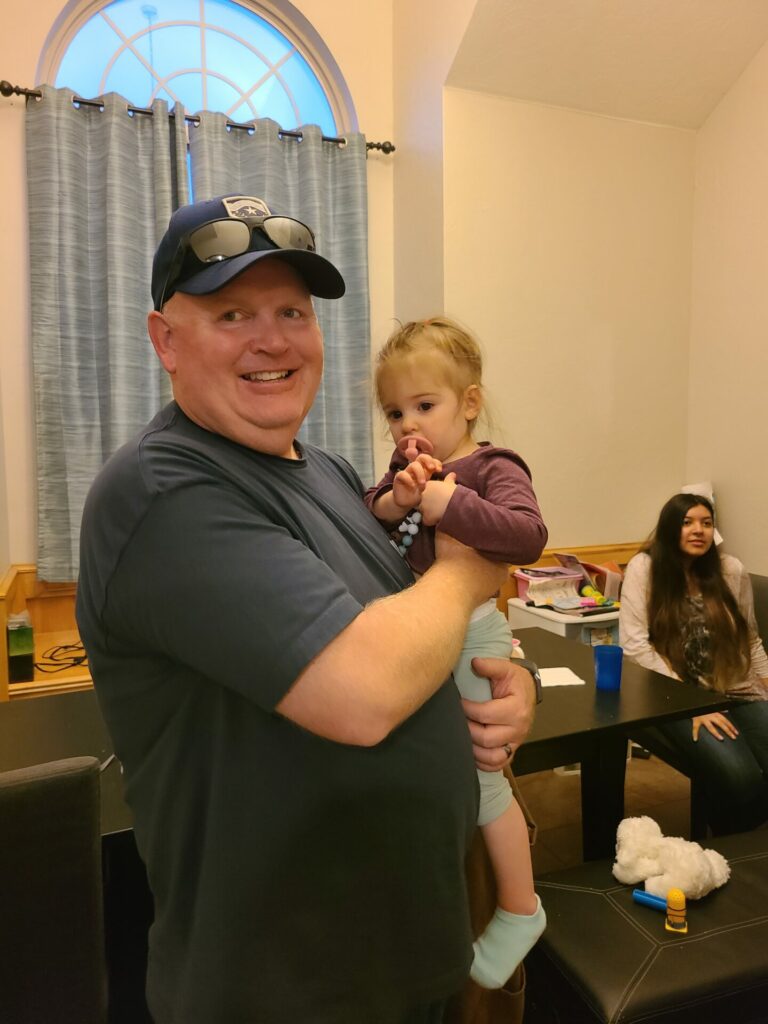 We took in the Oklahoma City Zoo, Medicine Park, and Witchita Mountains National Wildlife Refuge while we were in the area.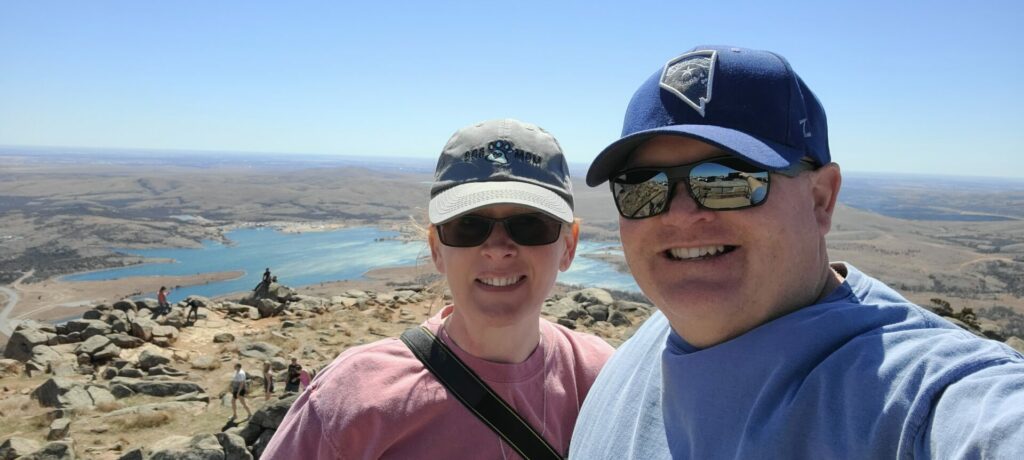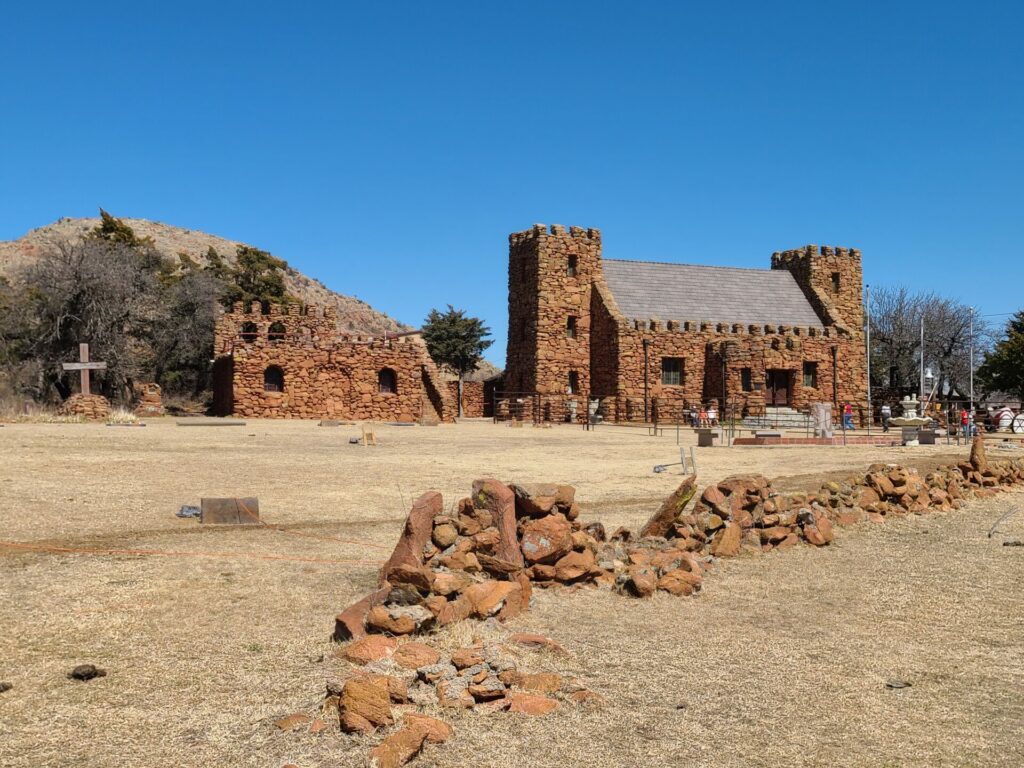 Texas Panhandle
The week went by too fast, but we had a great time. From Oklahoma, we headed West to Amarillo, Texas, and spent just long enough in the area to get a feel as a freak winter storm blew in on us.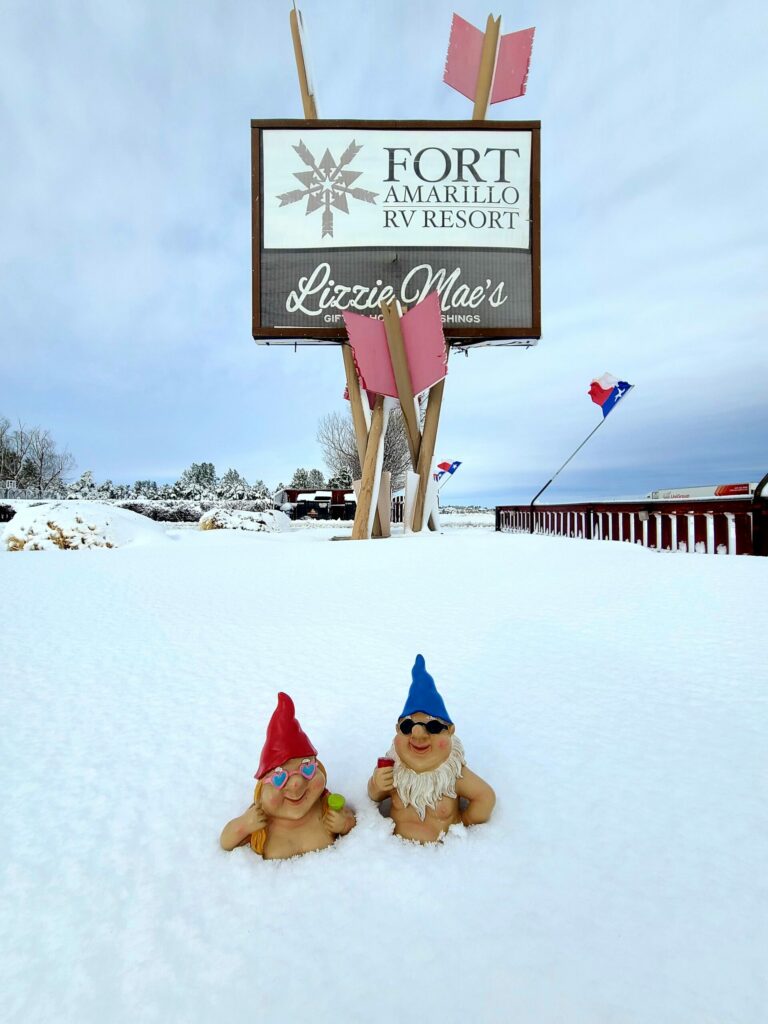 New Mexico
From Amarillo, we headed further West to Albuquerque, New Mexico. It was our first time in the area and we really enjoyed it. We had a lot of fun hiking around Petroglyph National Monument, checking out old town Albuquerque, and all the Breaking Bad stuff in the area. We are planning on going back for the Balloon Fiesta in October 2023.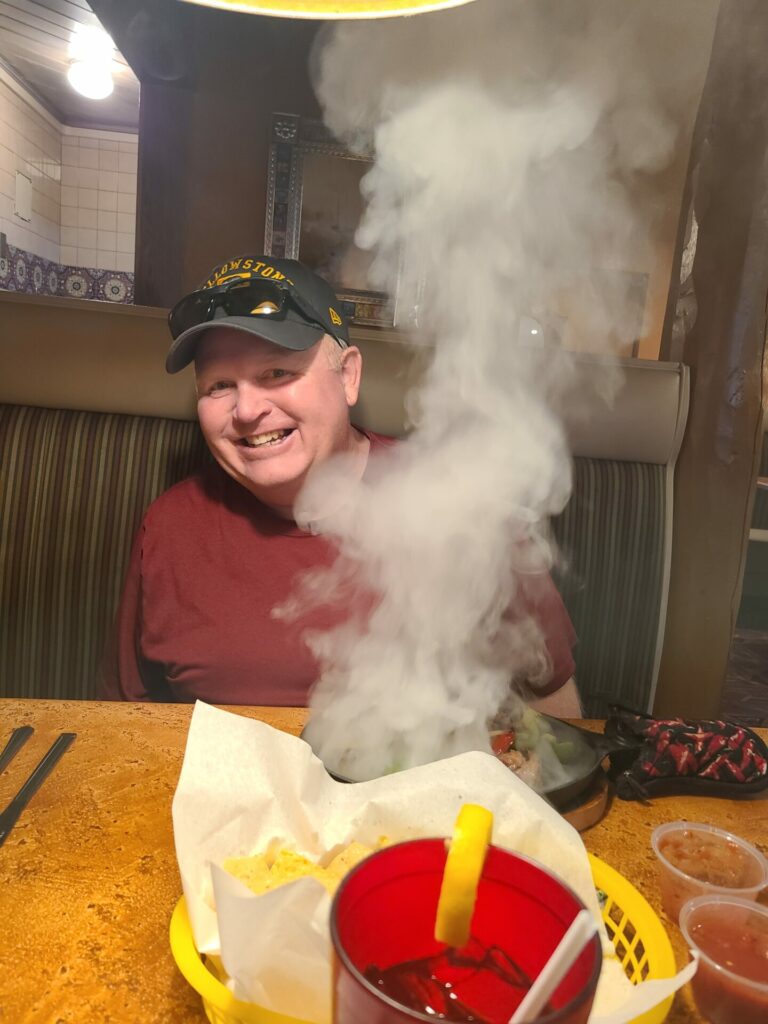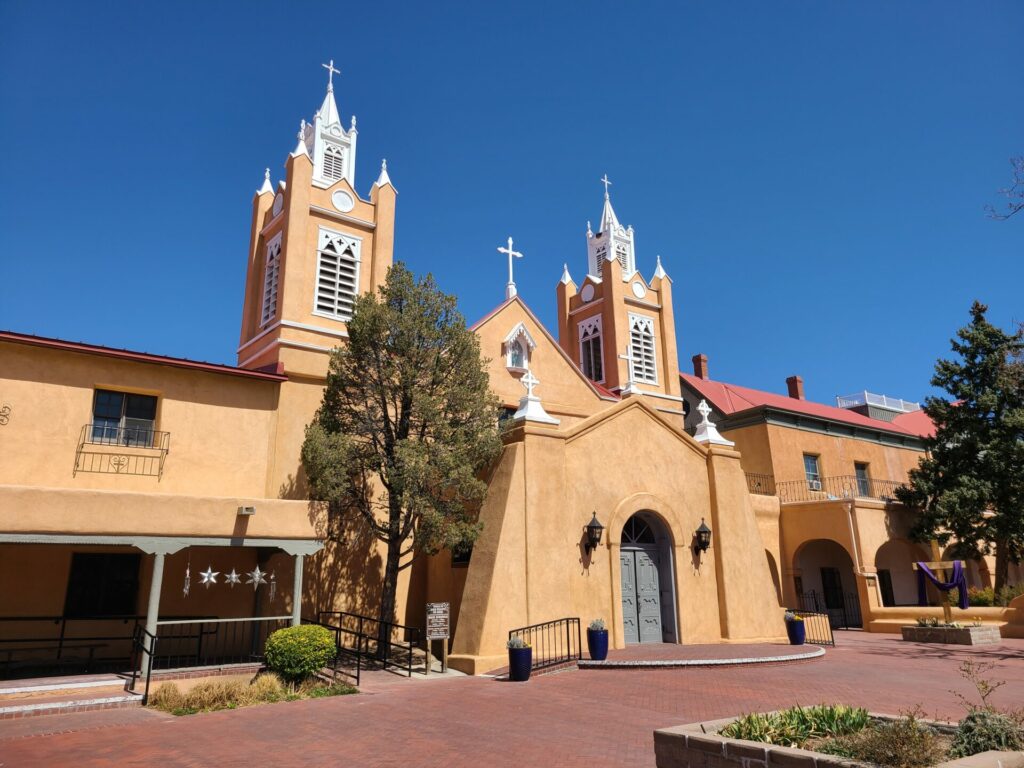 Albuquerque to Tucson is a bit far for a single-day RVing trip so we split it up with a couple of days in Deming, New Mexico where we stayed at two separate Harvest Host locations. We didn't do much else in the area since the winds were blowing so hard our whole stay.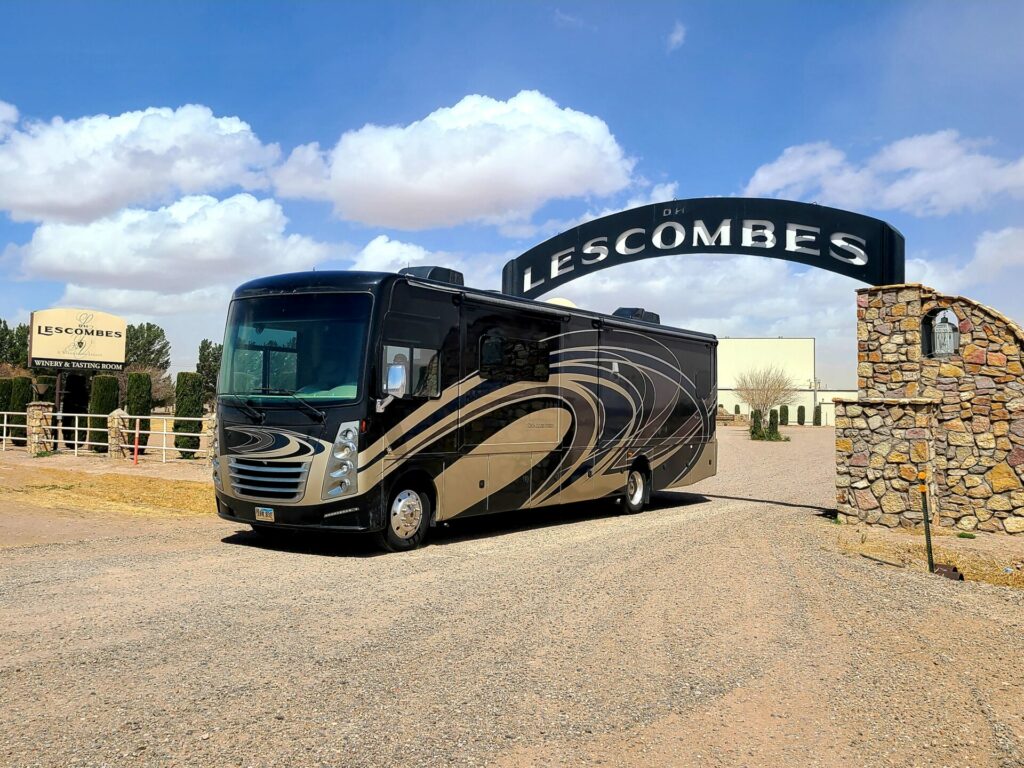 Arizona
From Deming, it was on to Tucson where we were excited to have our Schwintek Slide System replaced with the Vroom Slide System. We didn't do too much else while we were in town on this trip. But happy to have our slides updated, so we don't have to pray and hope that they function properly. And glad we got them done when we did. Not only is the wait nearly a year out now, but the prices have also gone up from $2500/slide to $4500/slide.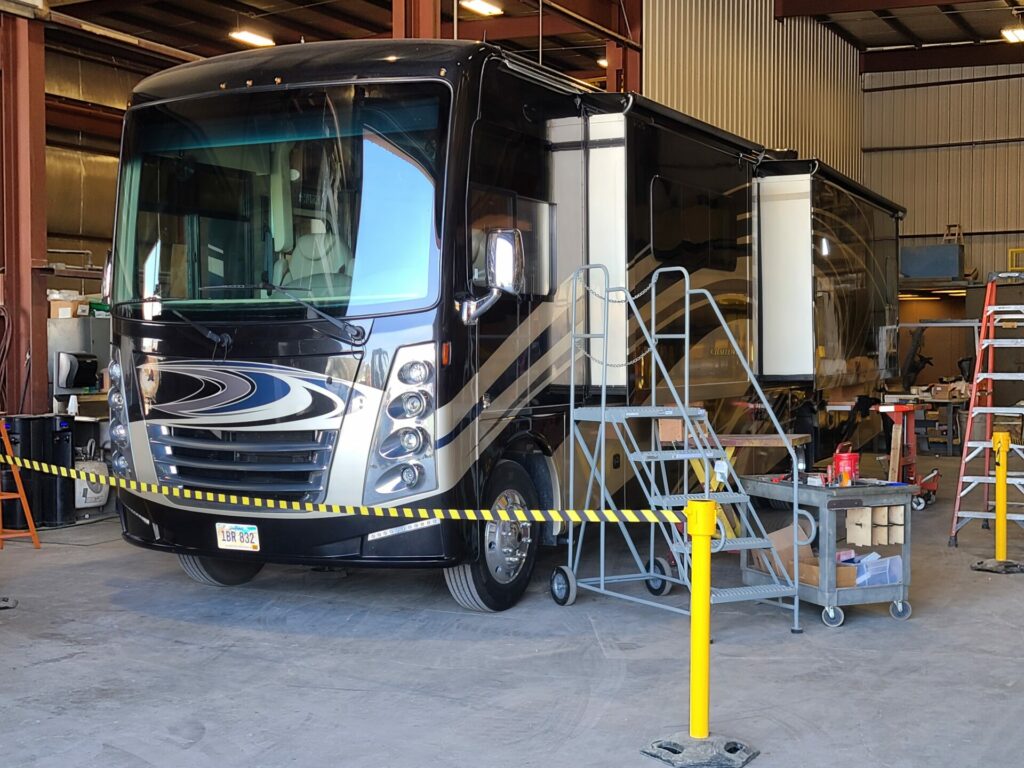 With our slides working better than ever we headed to Yuma. If you read our 2021 Wrap Up you may remember Lisa having work done on her teeth in Los Algodones and it not being a good experience. Well, she needed to have some of the work redone, so it was another trip to Yuma and Los Algodones. At least we got to do some shopping and have tacos at our favorite restaurant.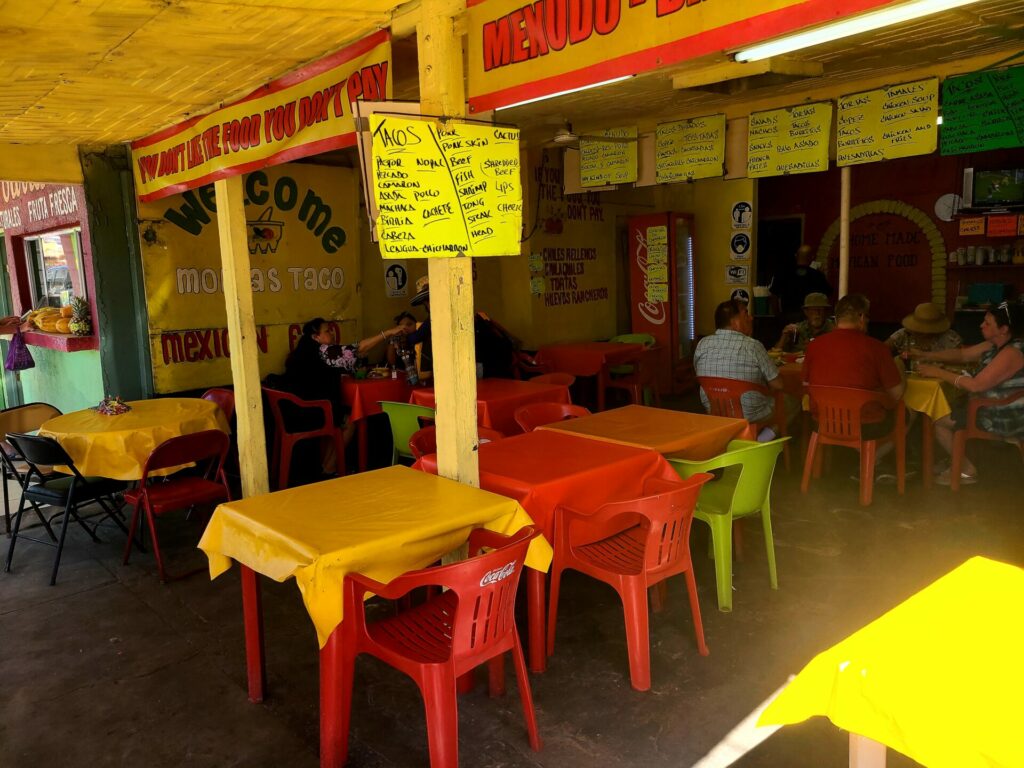 Following our time in Yuma, we started our trek North, with our first stop in Lake Havasu City. It's one of my favorite towns to visit. With the London Bridge, and the Lighthouses of Lake Havasu the beauty is amazing.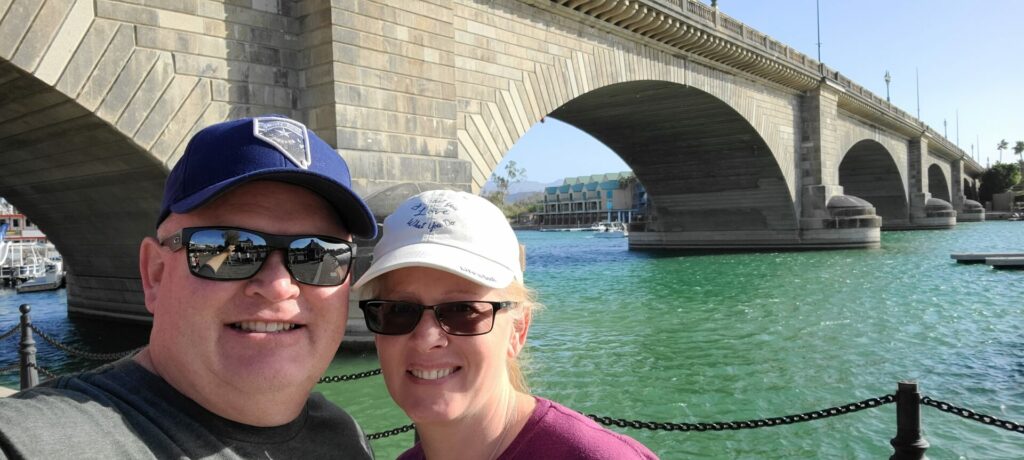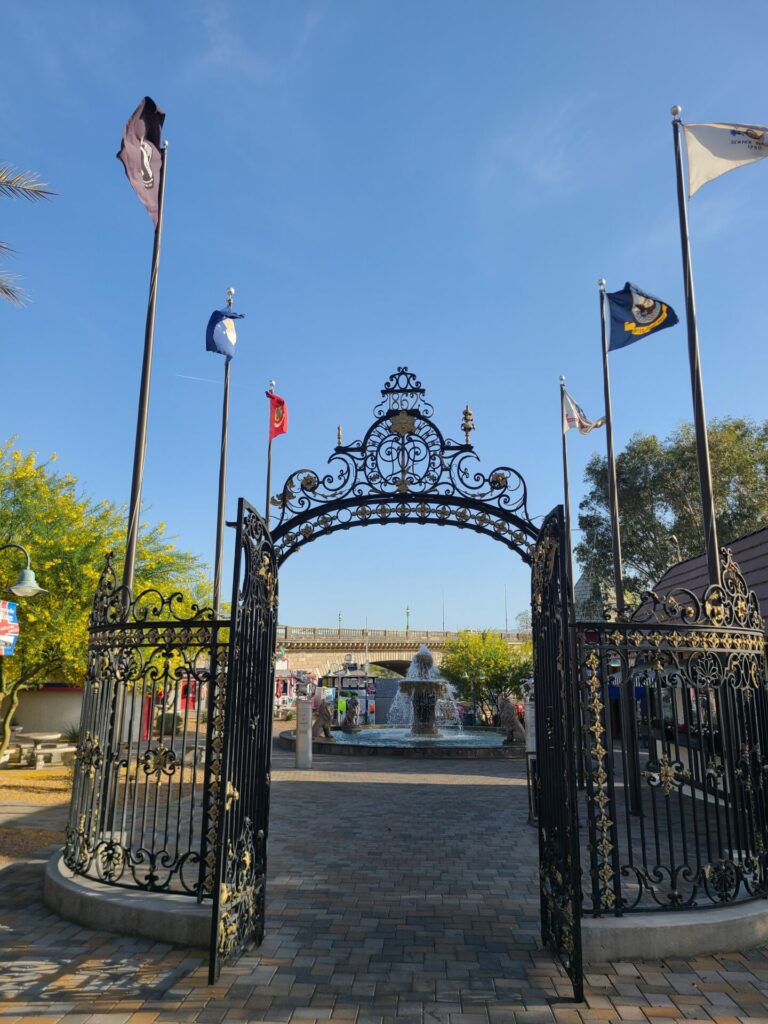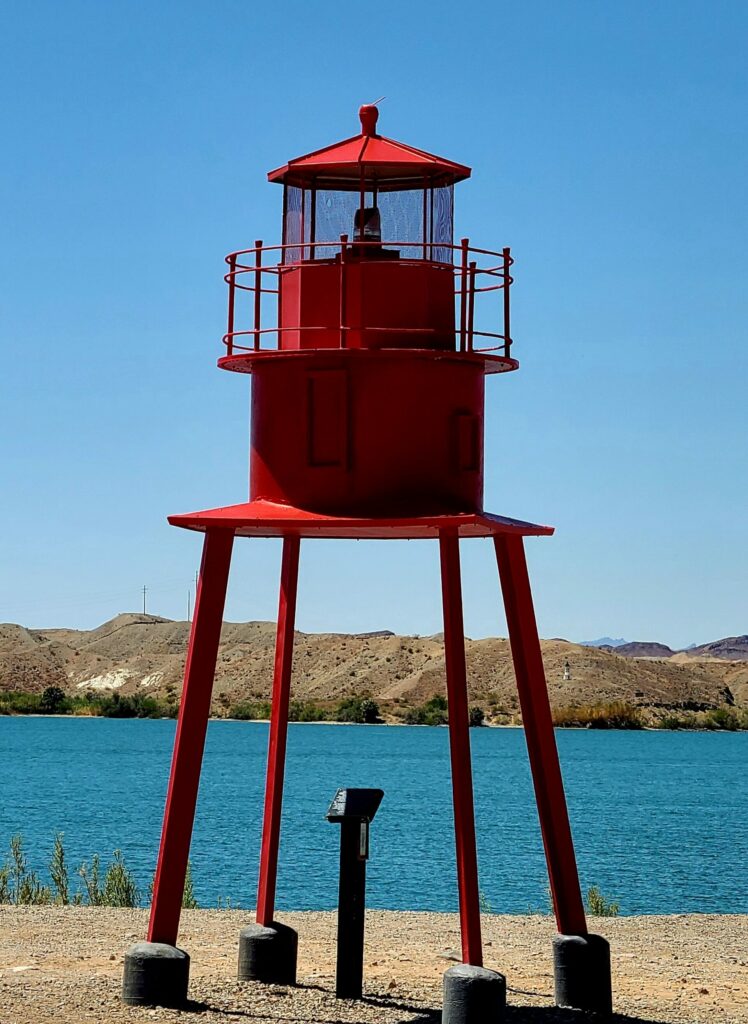 Nevada
With our time up in Lake Havasu City, we were excited to head to our home base of Las Vegas for a couple of weeks of fun! Unfortunately, a day after we arrived we stopped in to check on our storage unit only to find out that someone had broken into it since we were there last. They stole over $10,000 worth of our belongings including all my guns and Lisa's Vegas Golden Knights memorabilia. This put a huge damper on our stay as we had to move our remaining belongings out to a new storage unit. The insurance we paid monthly only covered $2000 toward our stuff. Ridiculous!
Of course, it is Vegas so we still had a good time doing things we love to do in this city. We checked out the new Pinball Hall of Fame which was a huge improvement over their old location.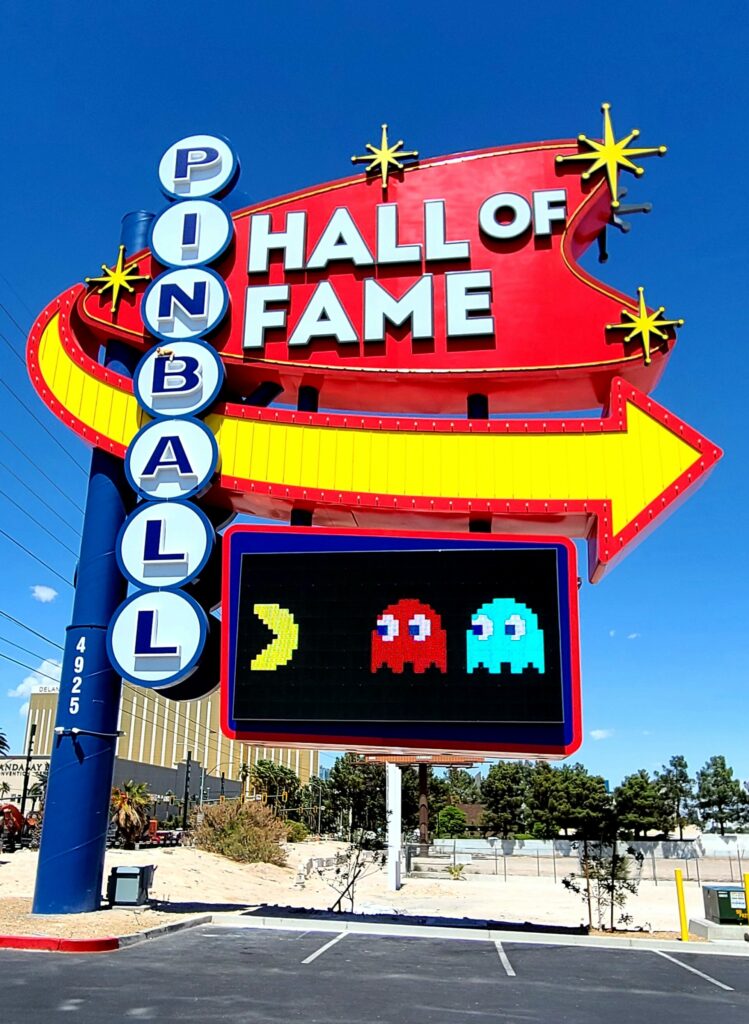 With our VetTix account, we always have to get tickets to a show or something. Lisa got tickets to The Backstreet Boys and a show called Rouge. While the Backstreet Boys are not my cup of tea, they did put on an entertaining show. Rouge was a sensual Cirque-type show that was really good as well.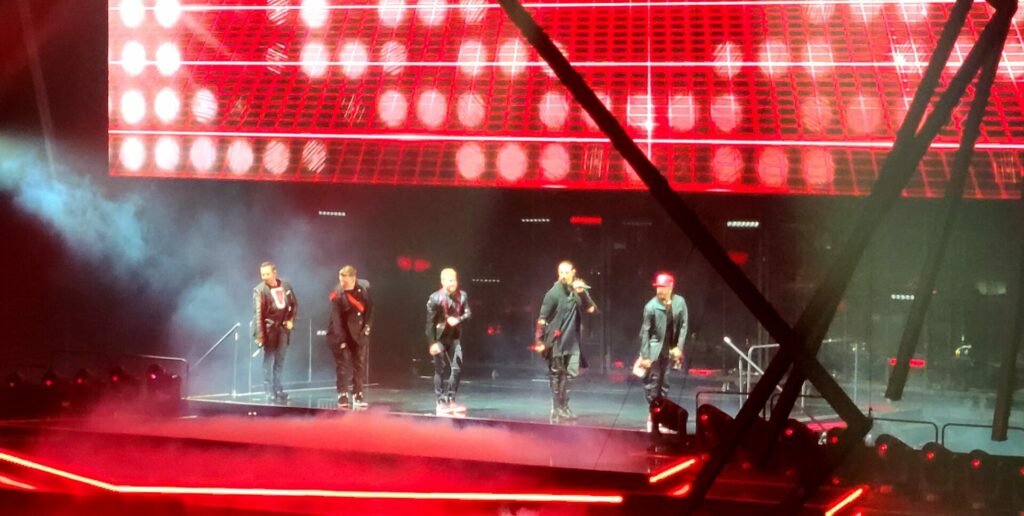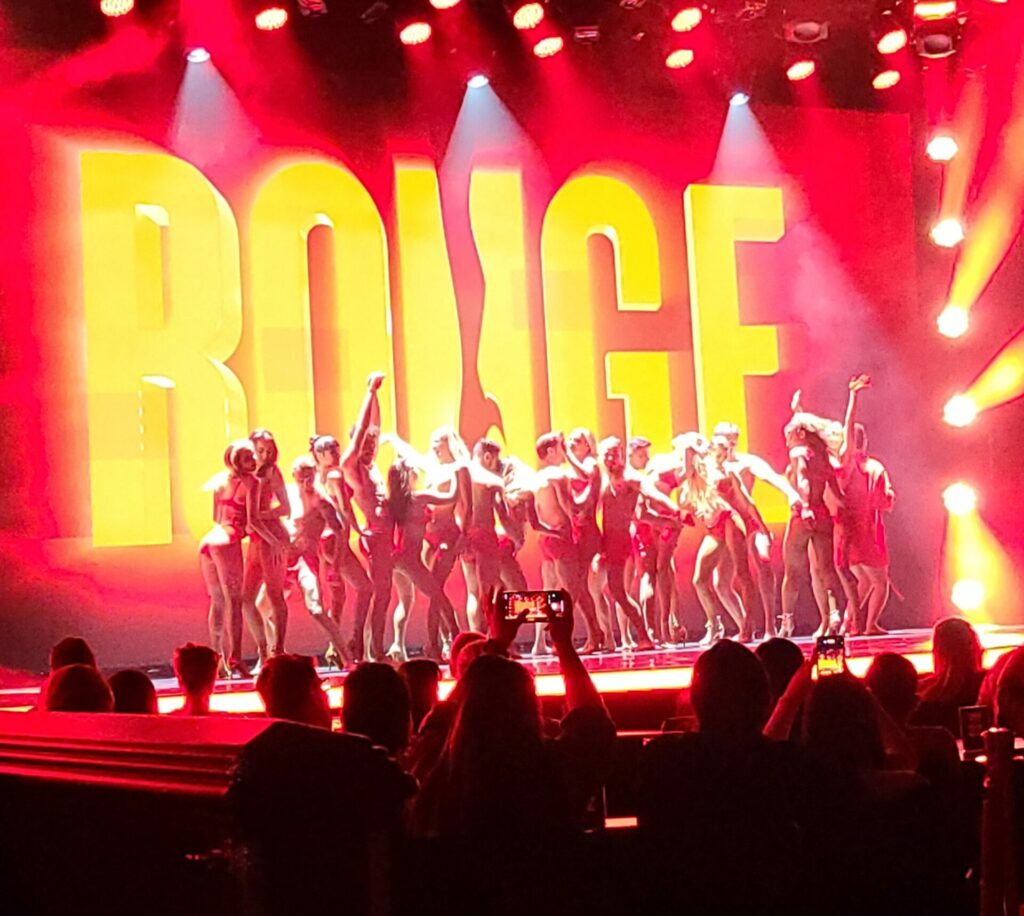 With our stuff moved to a new storage unit and all the other things we needed to take care of while in town completed it was time to head toward summer #2 in Yellowstone!
Idaho
We made a stop for a few days near Salt Lake City, then headed North to our supposed Workcamping job at Drift Lodge in Island Park, Idaho. The owners told us there was still "a little mud" and that they hadn't finished the campsites yet. We weren't prepared for how much mud there was. It was like a construction site. The owner wanted to park us in a place I knew we would sink up to our axles. I told him we couldn't do that, so he put us in the middle of the driveway and ran water and electricity 50+ feet from either direction.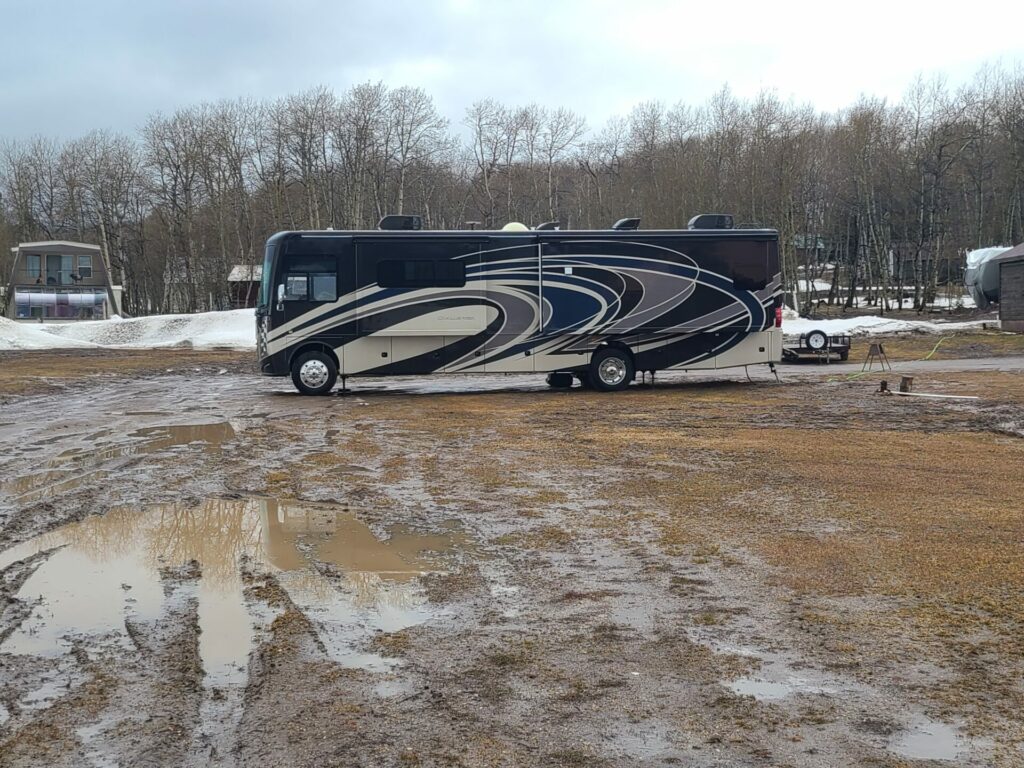 We couldn't do anything outside including walking the dogs without totally trashing our motorhome with mud. When we asked how long it would be until the sites were ready we were told between two weeks and two months. We decided this job wasn't going to be for us and started looking for something else before we even started.
Montana/Wyoming
That same evening I saw a post on Facebook that The Yellowstone Camera Store was hiring Workampers. I told Lisa I wanted to check it out and be there at 9am to talk to them. We also applied for jobs with Xanterra and Delaware North in the park.
The next morning we got to the store and talked with one of the owners. The following day we stopped in again and were offered a job. It was an awesome job that taught us so much about photography. And because we volunteered to work the afternoon/evening shift it gave us a lot of time to go into the park and explore before our shifts.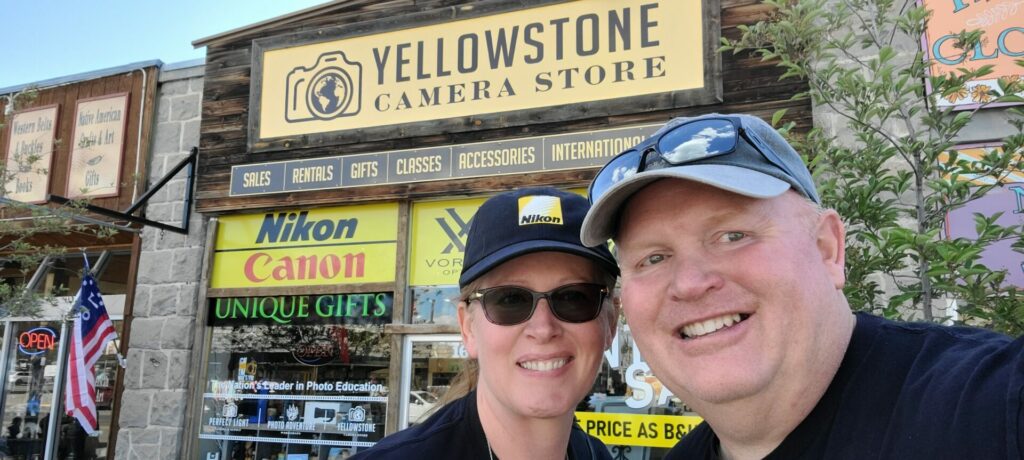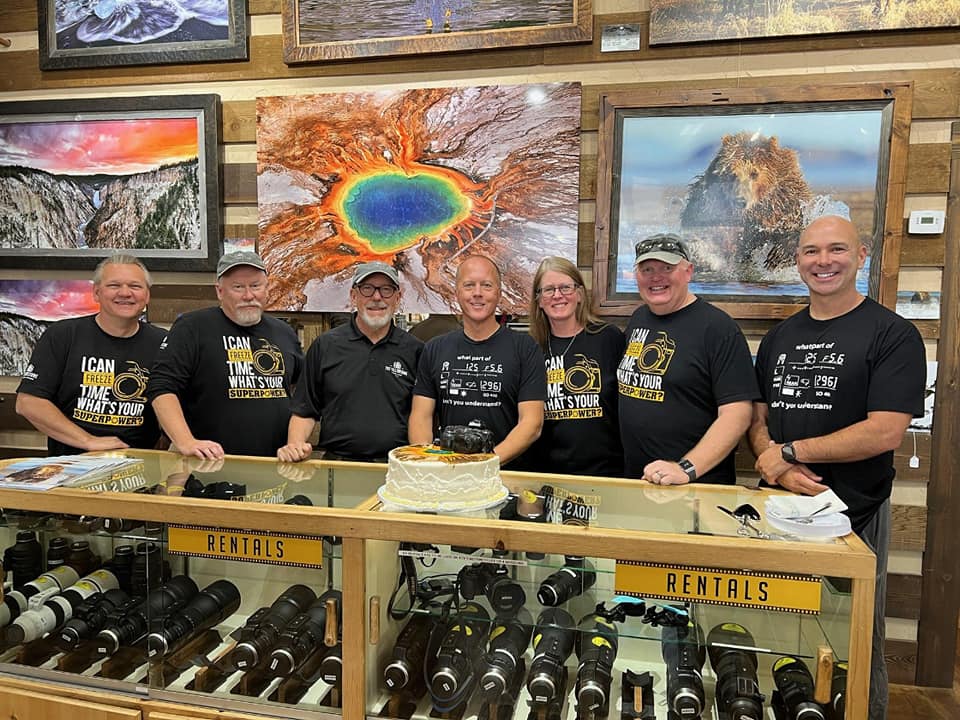 Our second summer in Yellowstone was even better than the first! It was absolutely amazing, to say the least! Working in the camera store we learned so much and would talk to people coming into the shop and hear what they saw and where they saw it. We'd get information on where to see certain animals and go there and actually see them.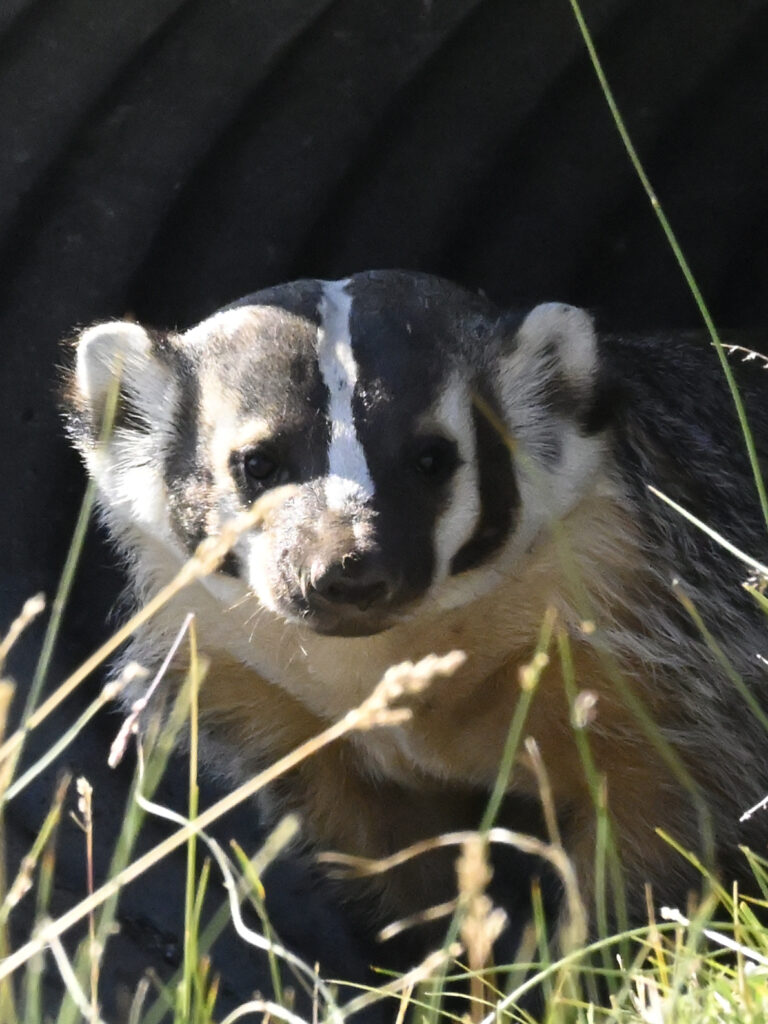 We saw most of the animals we wanted to see this year. The flooding in the park put a big damper on things for a while. But when the park was closed we found other things to go do and see in the area.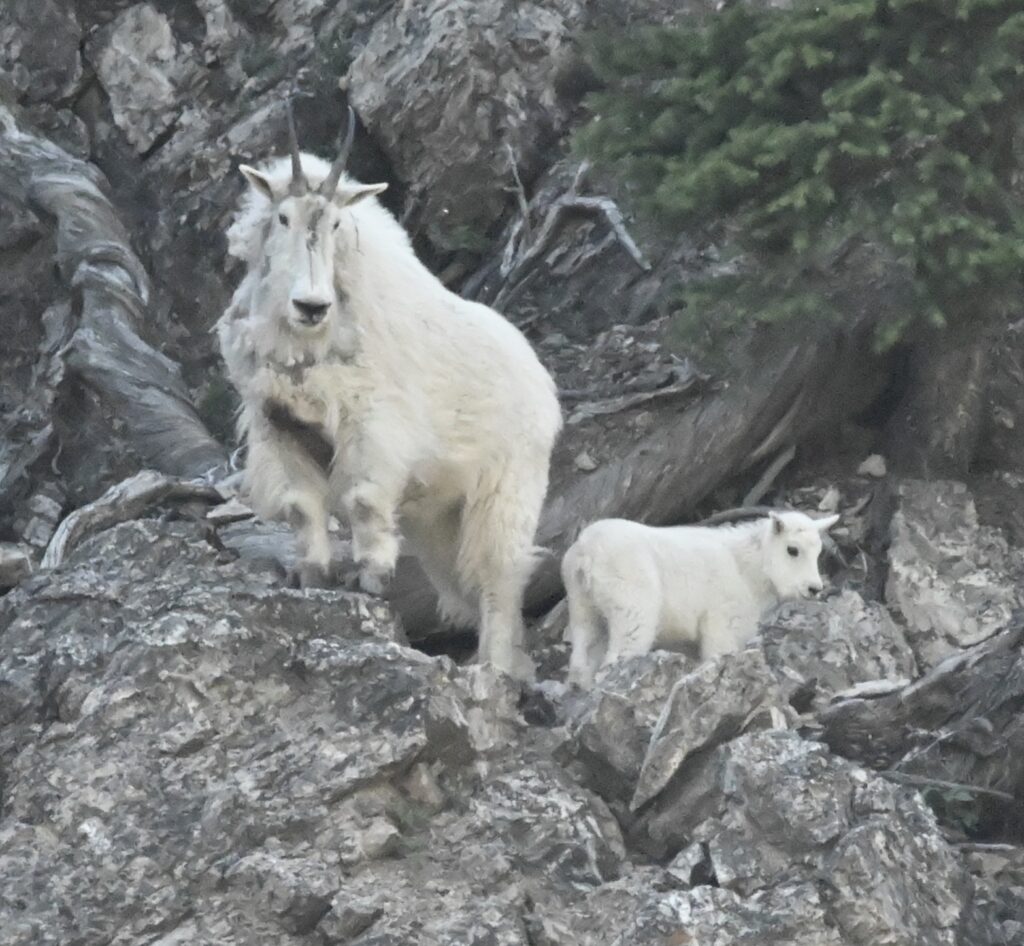 We had the opportunity to shoot pictures at some great events in West Yellowstone. One of my favorites was the Big Sky Round-up at Diamond P Ranch. It is a shooting competition where riders on horseback shoot balloons. It was a lot of fun to shoot!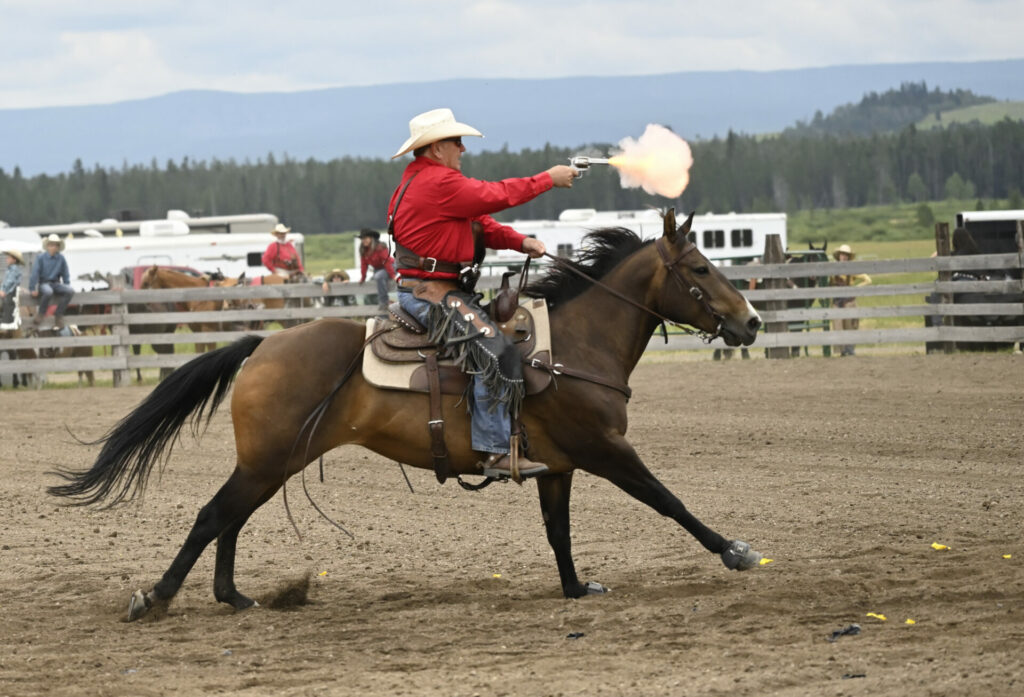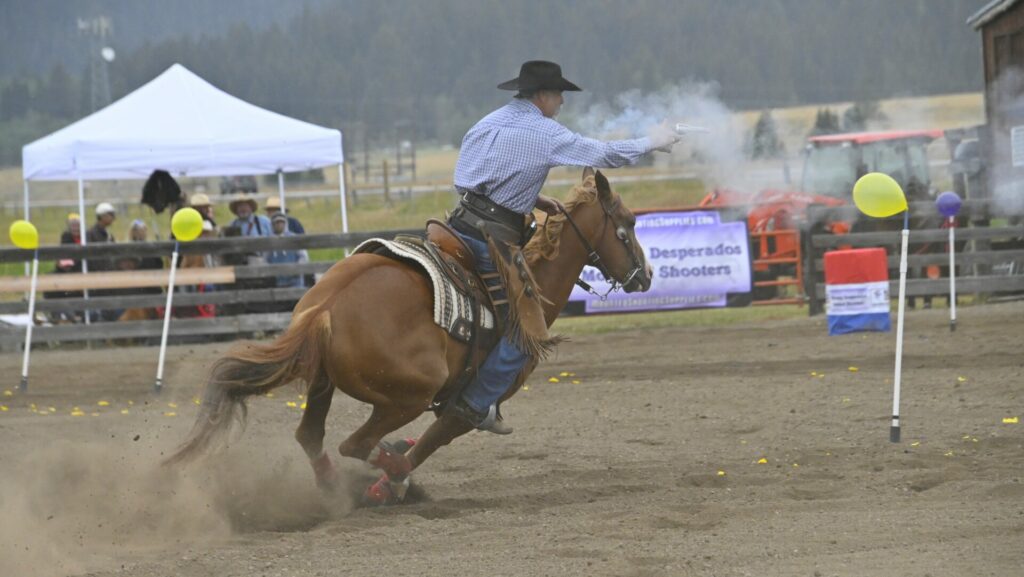 We were also able to get our kayaks out on the water this year. We had a great time paddling around Quake Lake and Big Spring.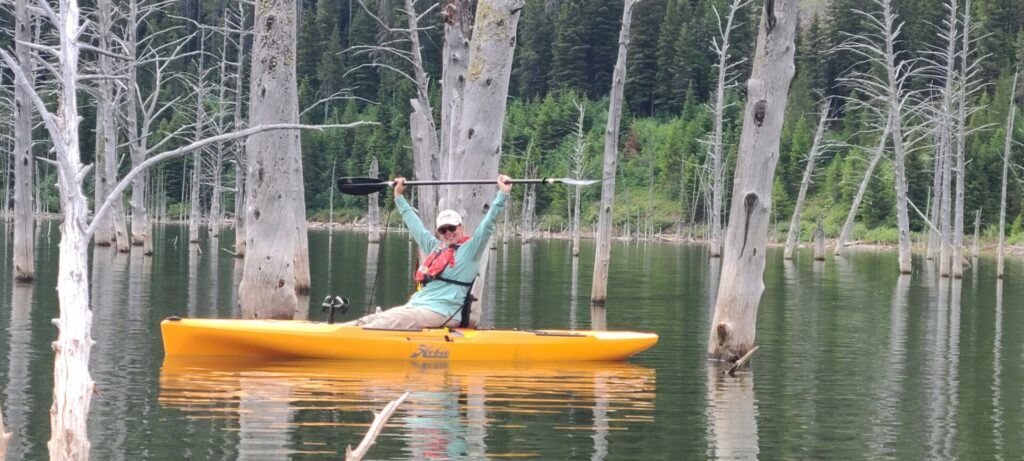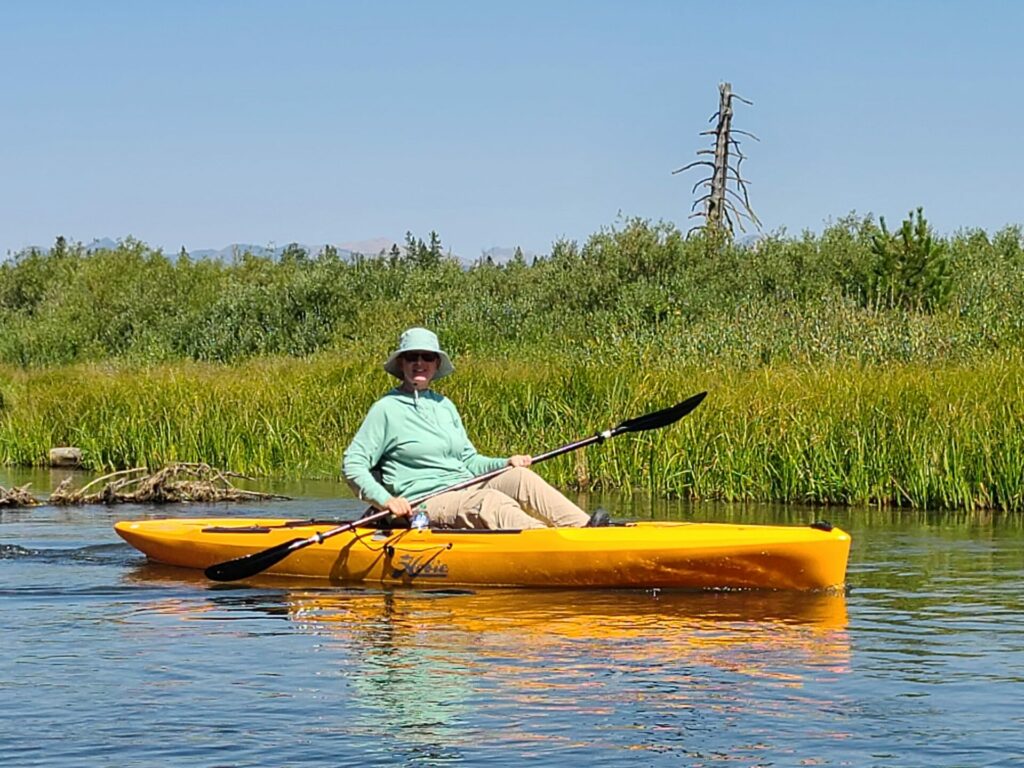 Hiking is always one of our favorite hobbies and we did some epic hikes in Yellowstone this year. Some of our favorites were Tomato Soup Spring. Lisa found pictures of it online and we had to go check it out. This off-trail back-country hike is so awesome! Out away from all the tourists and feels like you have the park all to yourself. We did see one other couple back there but that was it. Some of the thermal features in this area of the park are out of this-world beautiful.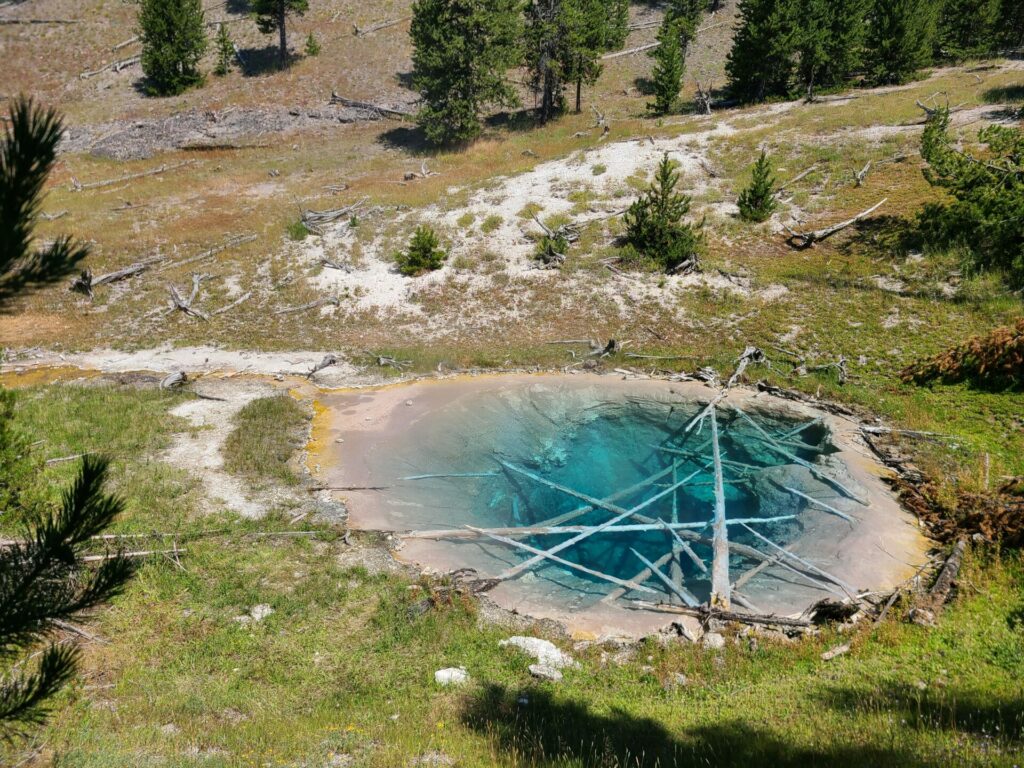 A couple of other favorites are Imperial Geyser and Lone Star Geysers. They are both backcountry hikes that get you away from the crowds.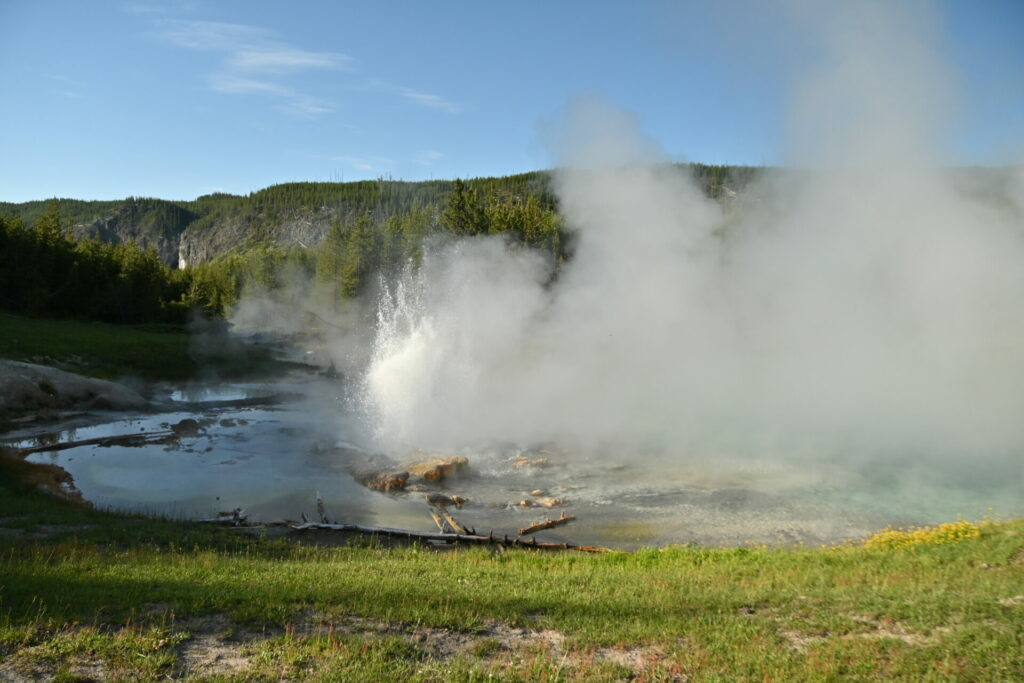 Our summer in Yellowstone wouldn't be complete without a trip over to Cody, Wyoming. We made a trip over for Lisa's birthday. She got to have her baths and we got to go see the wild horses in the McCullough Peaks Wild Horse Herd Management Area just outside of town.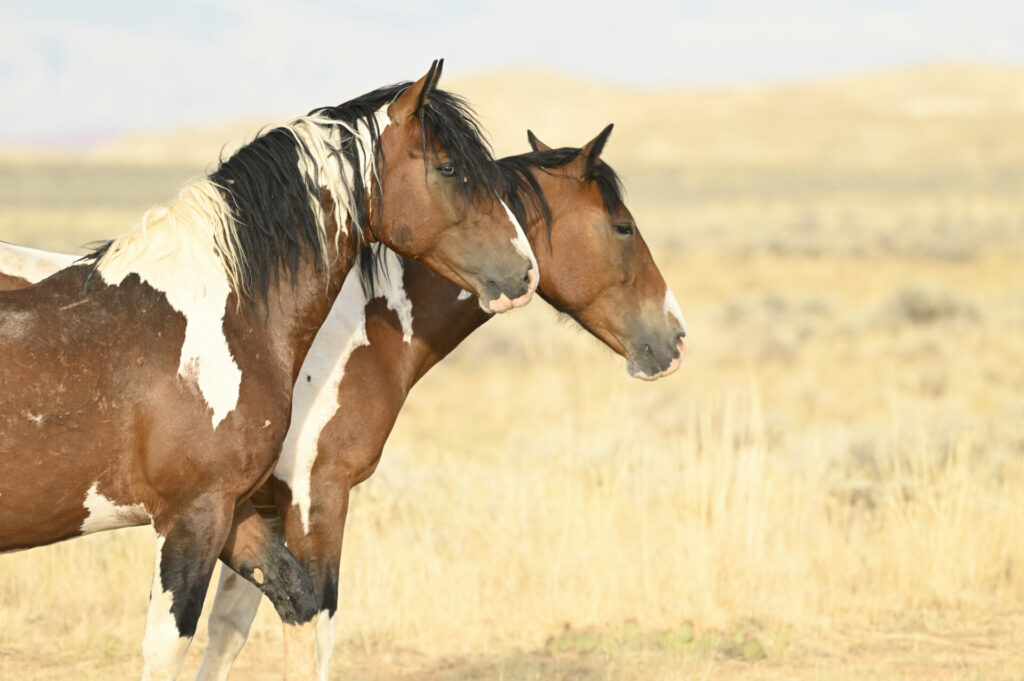 This year was the 150th anniversary of Yellowstone National Park. While we wished the National Park Service did more to celebrate we really liked the teepees they brought in for a few weeks.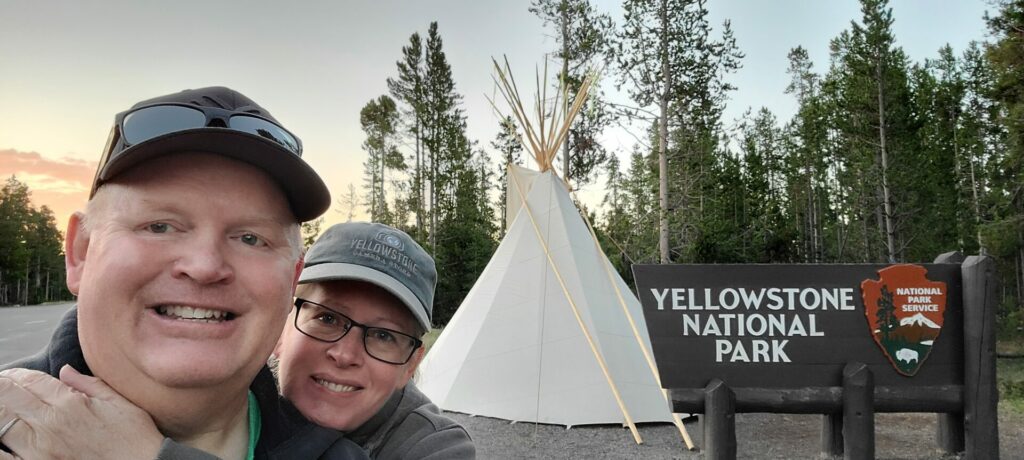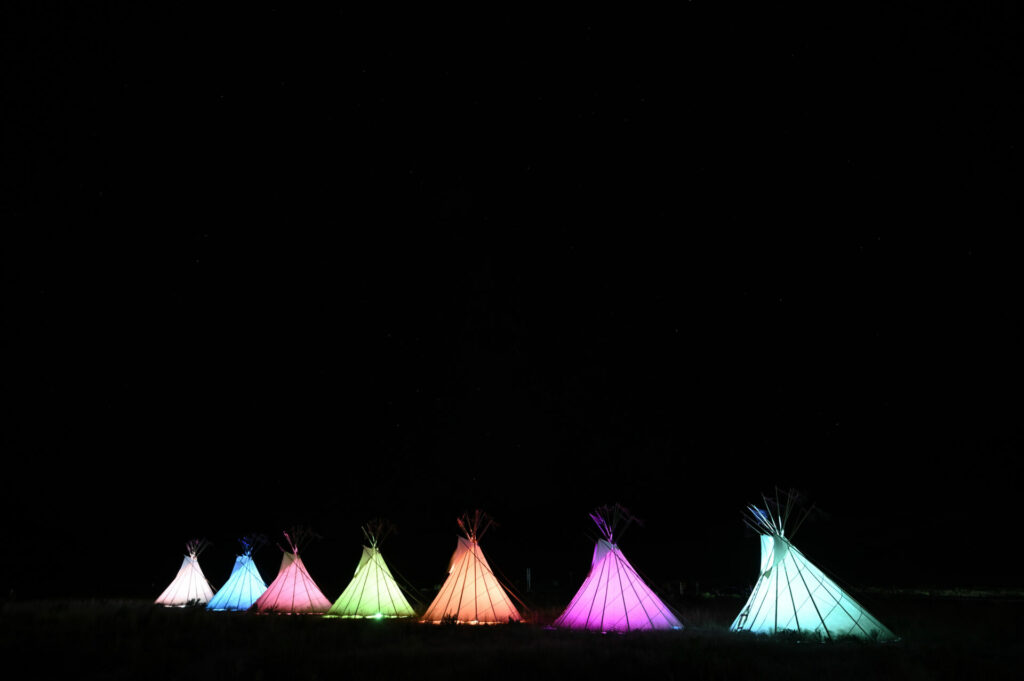 One of the things we hoped to catch was an eruption of Steamboat Geyser. The eruption intervals for Steamboat Geyser range from 3 days to 50 years. We had missed major eruptions by less than 12 hours twice in the past two summers. With only a week or so left in the season, I went fishing on the Gibbon River one morning. Lisa came with me and was relaxing in the Jeep. As I fished I looked up to see a huge steam plume rising at Steamboat Geyser. I hurried back to the Jeep and we headed over to catch the eruption.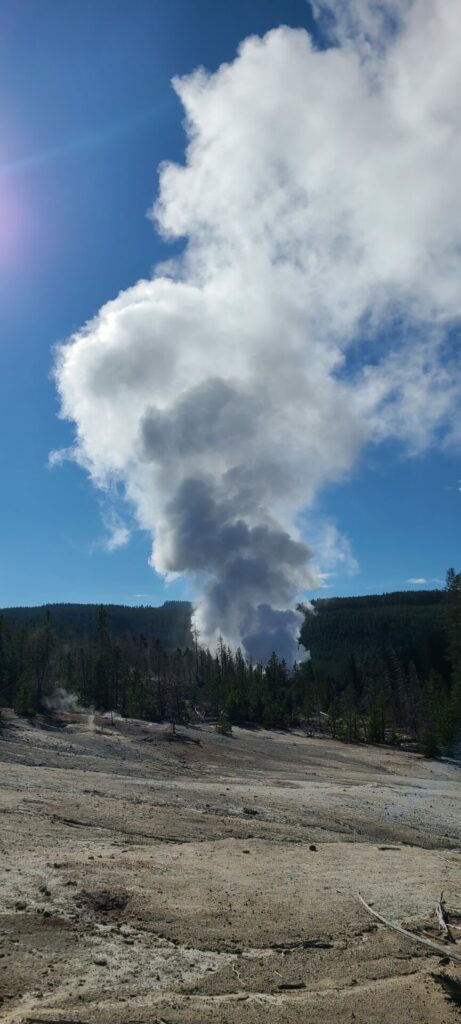 A major Steamboat eruption happened on September 18th, 89 days after its previous eruption, this was three days later on the 21st. While they didn't classify this eruption as a major one it was way bigger than anything we had seen previously in the park. Happily, we'll say we saw an eruption of Steamboat Geyser.
As the summer wound down we had a strange ending to working in the camera store. We got fired with six days remaining in the season. The owners had gone on a photography tour and missed our payday. Three days later when we said something about it the hotheaded owner fired us. First time either of us had ever been fired and it was for something the owner did. Crazy!
With our summer in Yellowstone done we started making our way back to Texas.
Idaho Again
From Yellowstone, we headed South and spent a few nights at one of our favorite boondocking campgrounds, Beaver Dick Park in Rexburg, Idaho while we waited for our already planned reservations to come up.
Southeastern Wyoming
From Beaver Dick Park we headed to Green River, Wyoming for a one-night stay over on our way to Cheyenne, Wyoming. We had passed through Cheyenne before our RVing life but never stopped there. It was a nice stay and we got to take in quite a bit in our three days there. We checked out the Wyoming State Capital building and the Cheyenne Big Boot Trail.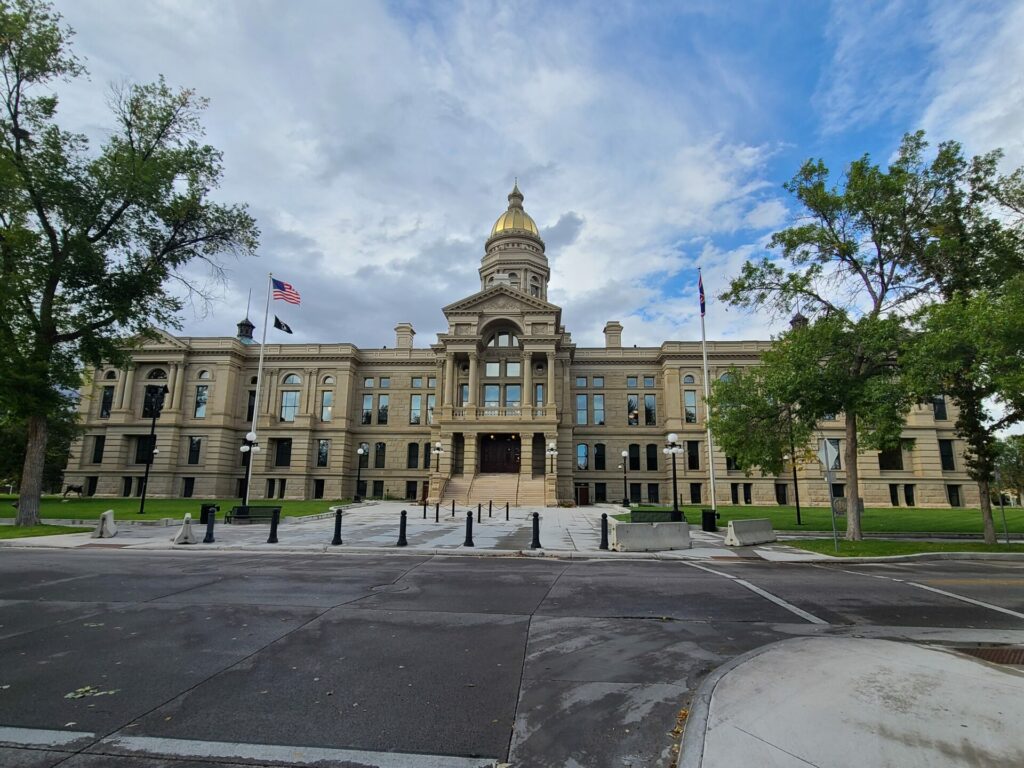 Colorado
From Cheyenne, we headed South toward Colorado Springs. We made a stop in Loveland to put another lock of love for our wedding date on their Love sculpture.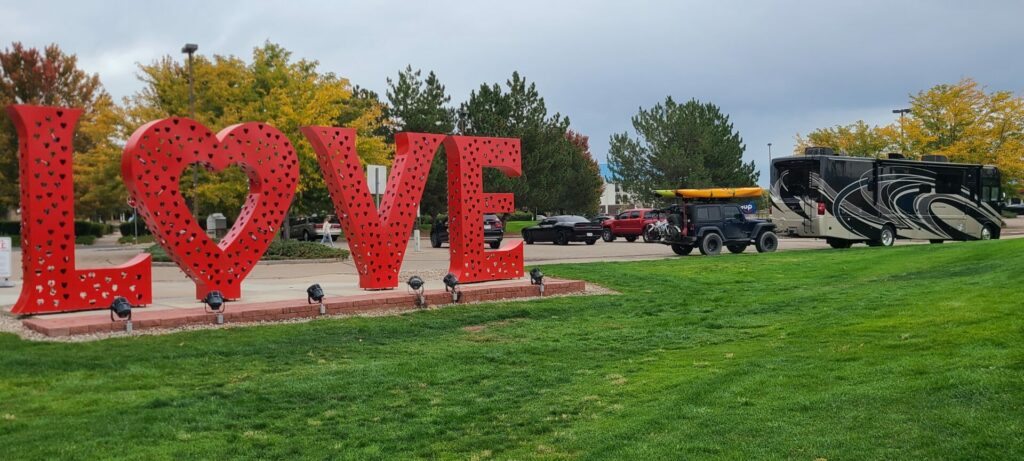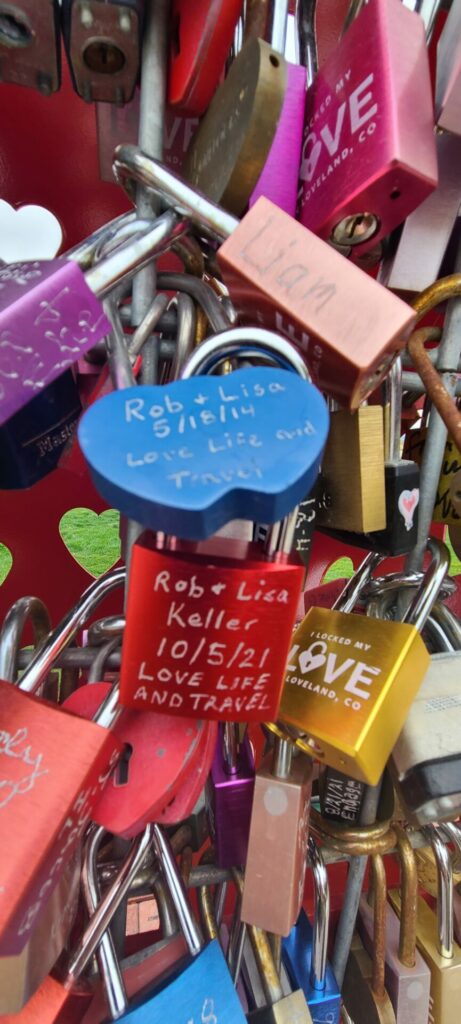 In Colorado Springs we stayed at Peregrine Pines FamCamp at the Air Force Academy. It's a beautiful campground with lots of room between sites.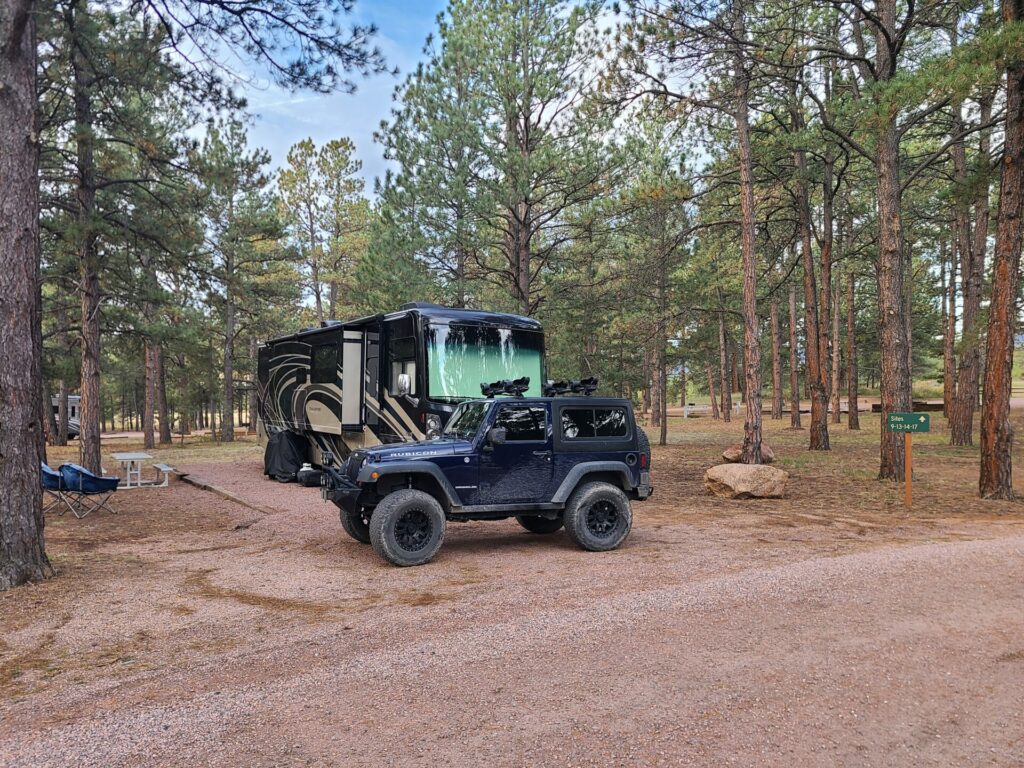 While in the area we checked out Manitou Springs and the Manitou Cliff Dwellings.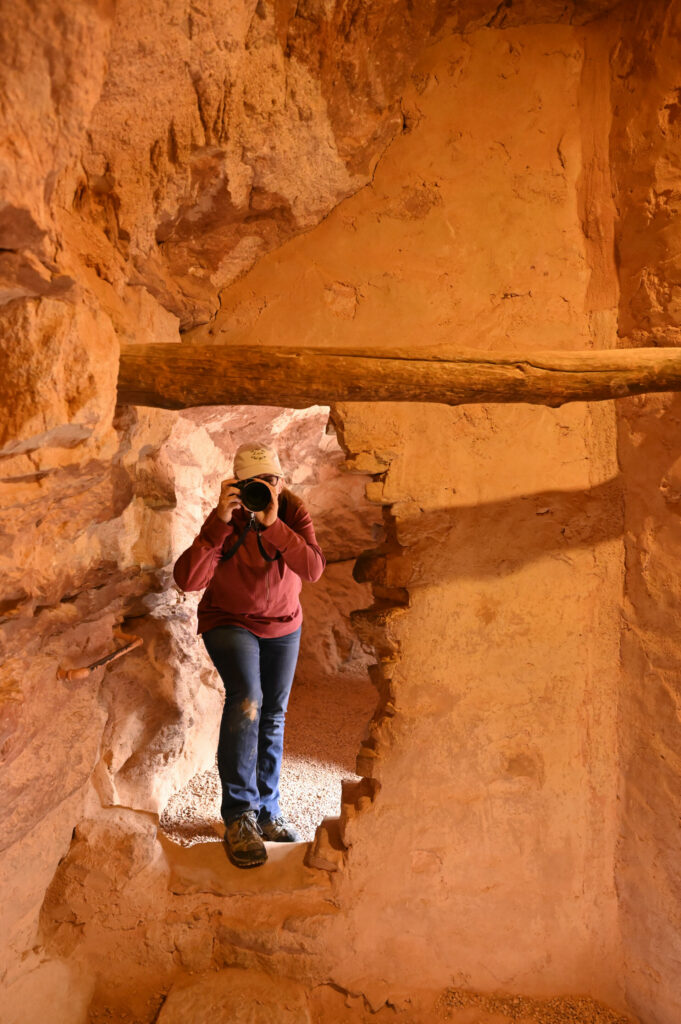 Texas Again
From Colorado Springs we continued South back to Amarillo, Texas again. We stayed at the same Fort Amarillo RV Campground. This time it was much warmer and dryer than it was back in March. Amarillo kept us busy on this trip. There is so much to see in the area with all the Route 66 places nearby. We took in Jack Sisemore's Classic RV Museum and had dinner at The Big Texan Steak Ranch, home of the 72 oz Steak Challenge.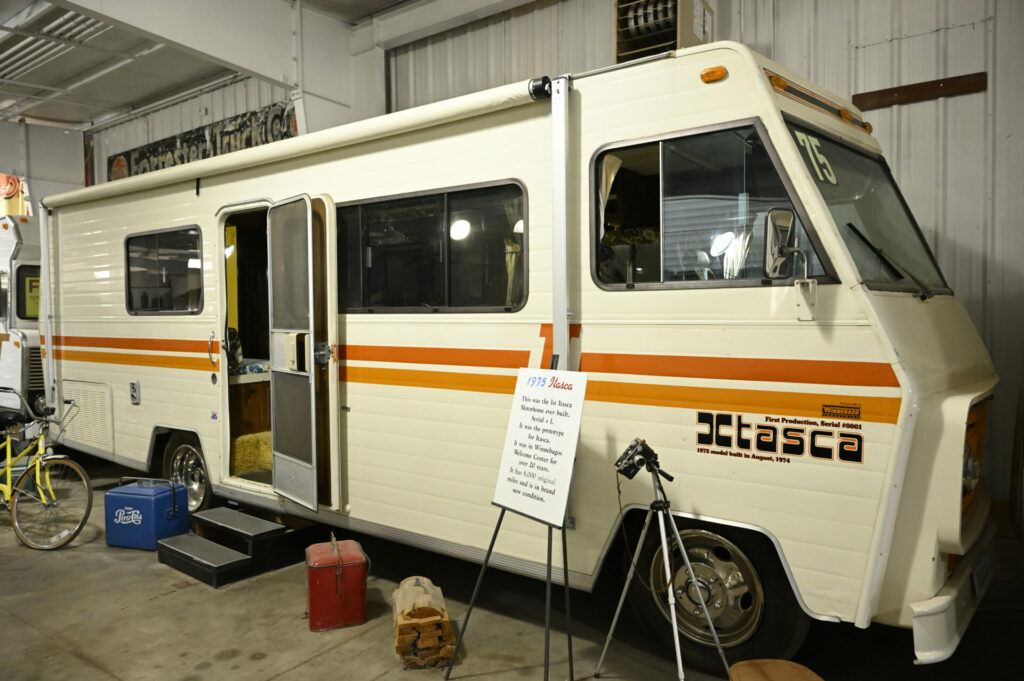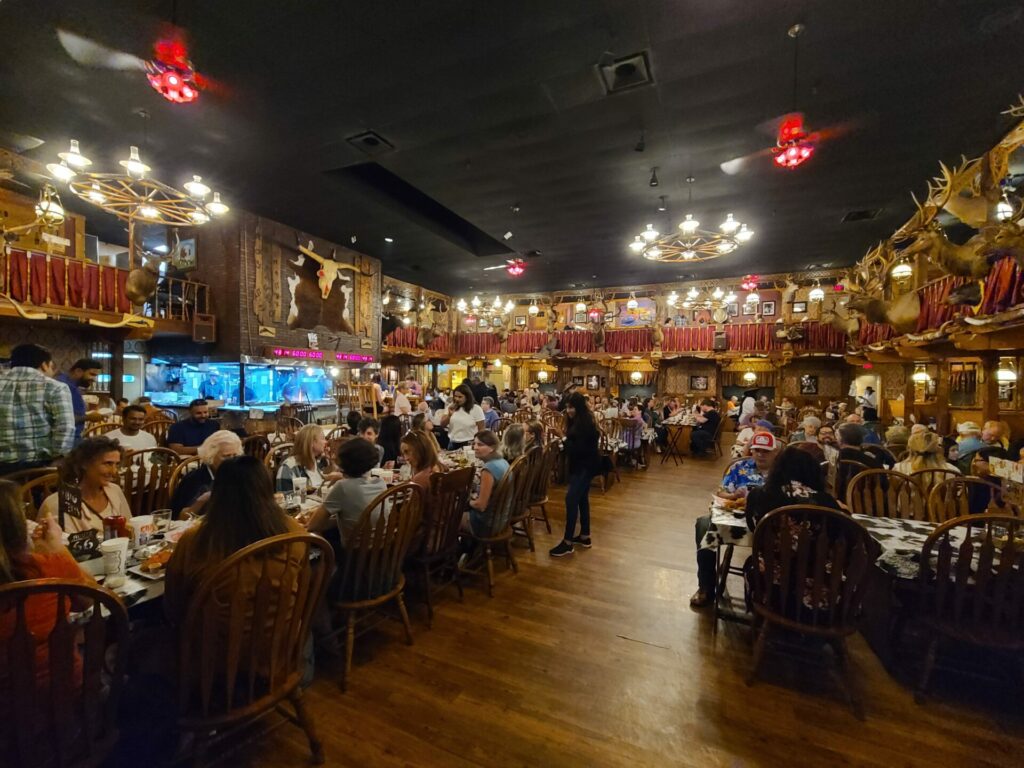 We returned for a few trips to Cadillac Ranch again too.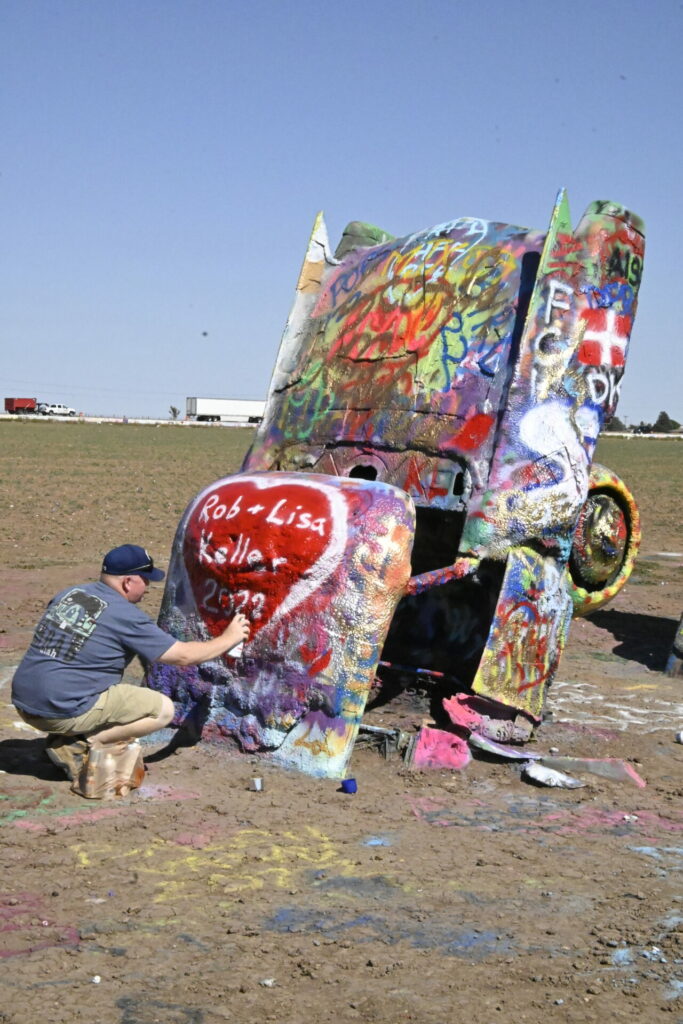 Also while we were in the area we spent a day hiking at Palo Duro Canyon. We hiked the Lighthouse Trail. It was a really nice hike that we needed.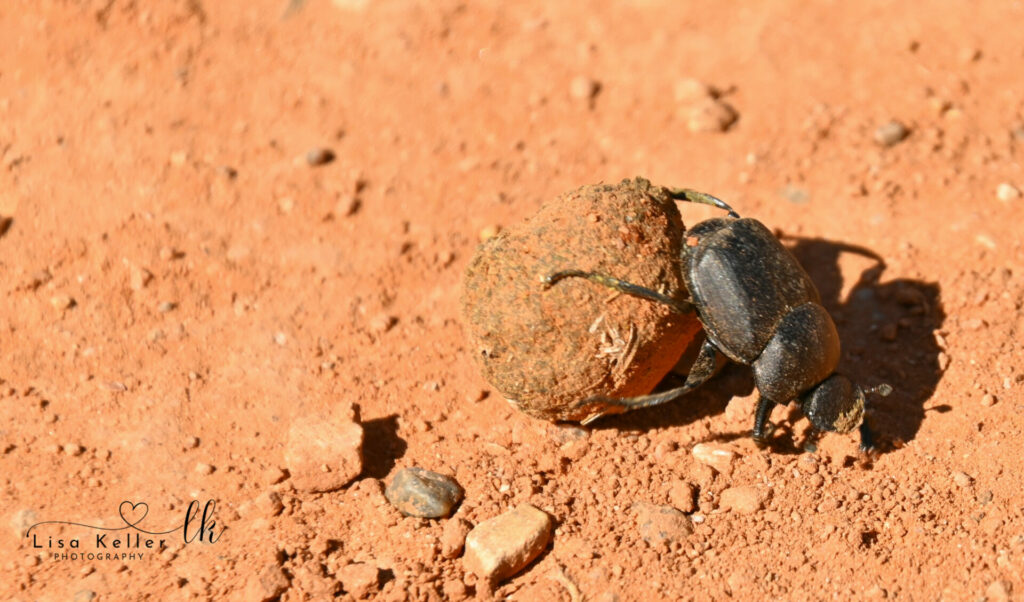 After Amarillo, we headed down to Abilene, Texas where we spent a few days mostly relaxing. While there we did make a trip over to Cisco to see a friend I hadn't seen in quite a while. In Cisco, we saw Conrad Hilton's first hotel the Mobley Hotel. We also did a small hike at an abandoned zoo. It was an interesting and fun little hike.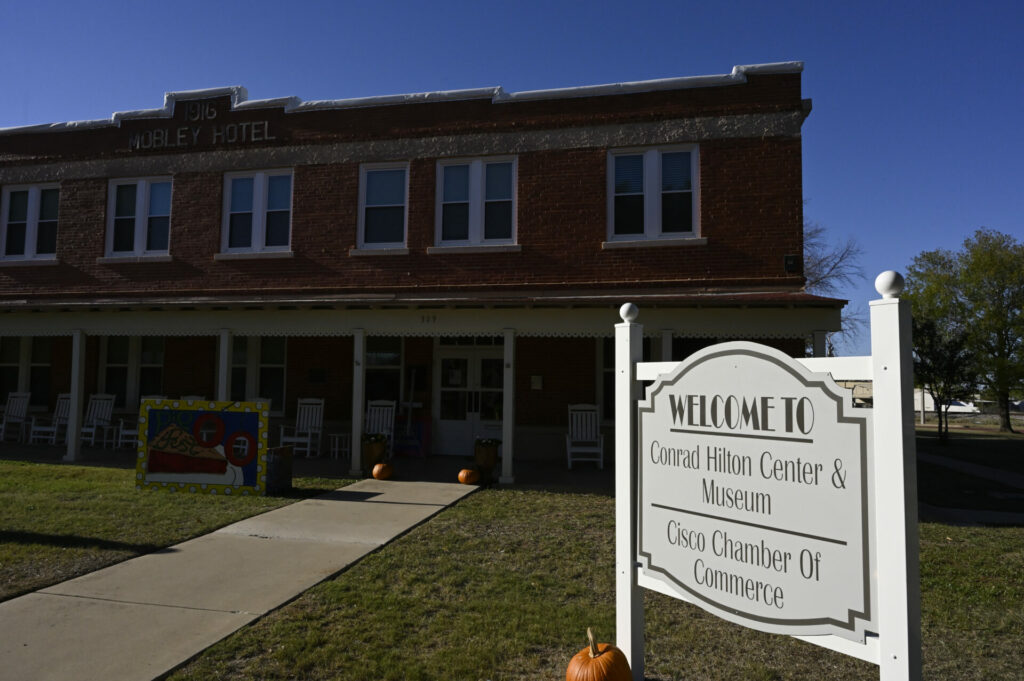 Following our stay in Abilene, we went back to the Austin, Texas area where we were scheduled to get our furniture re-reupholstered. Again we stayed at Longhorn RV Resort in Neiderwald, Texas.
We spend about a month in the Austin area. While there we took in a Day of the Dead parade, played Chicken Shit Bingo at the Little Longhorn Saloon, went to a Carrie Underwood concert, and made a couple of trips to Fredricksburg and San Antonio.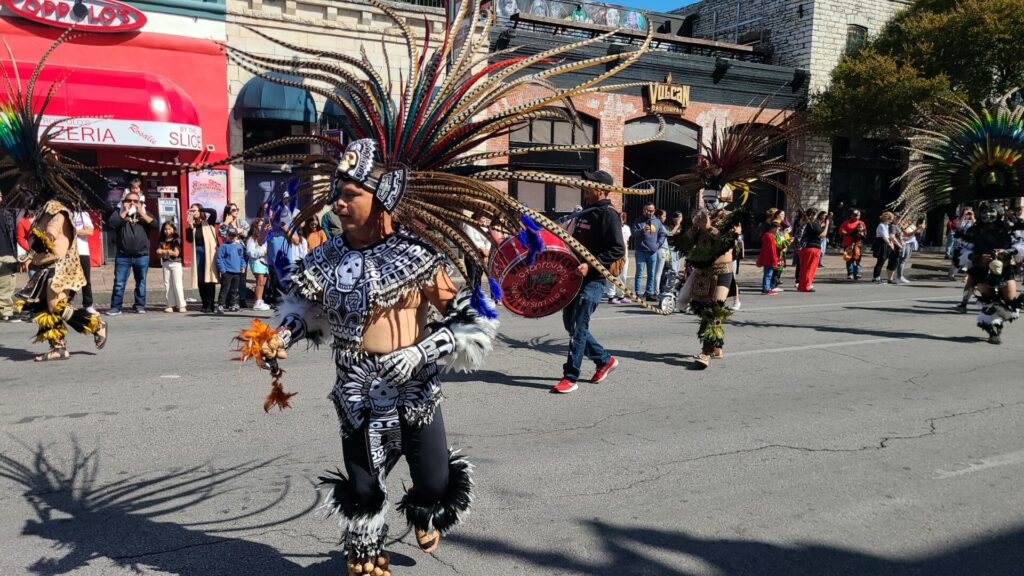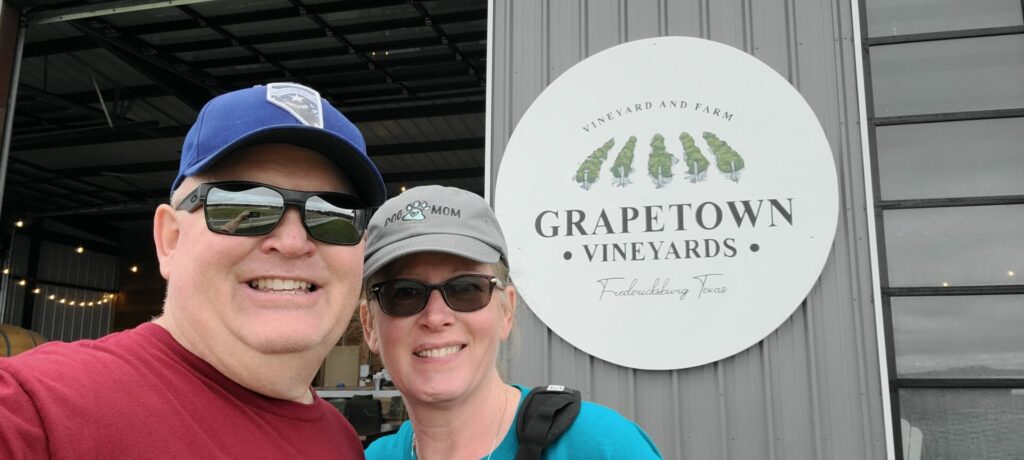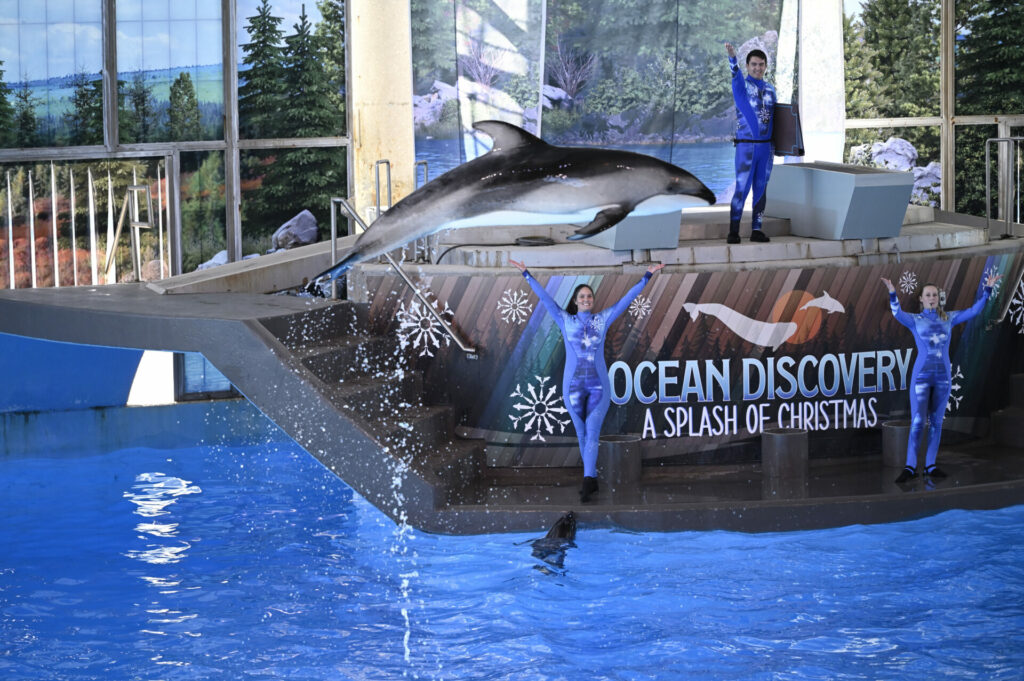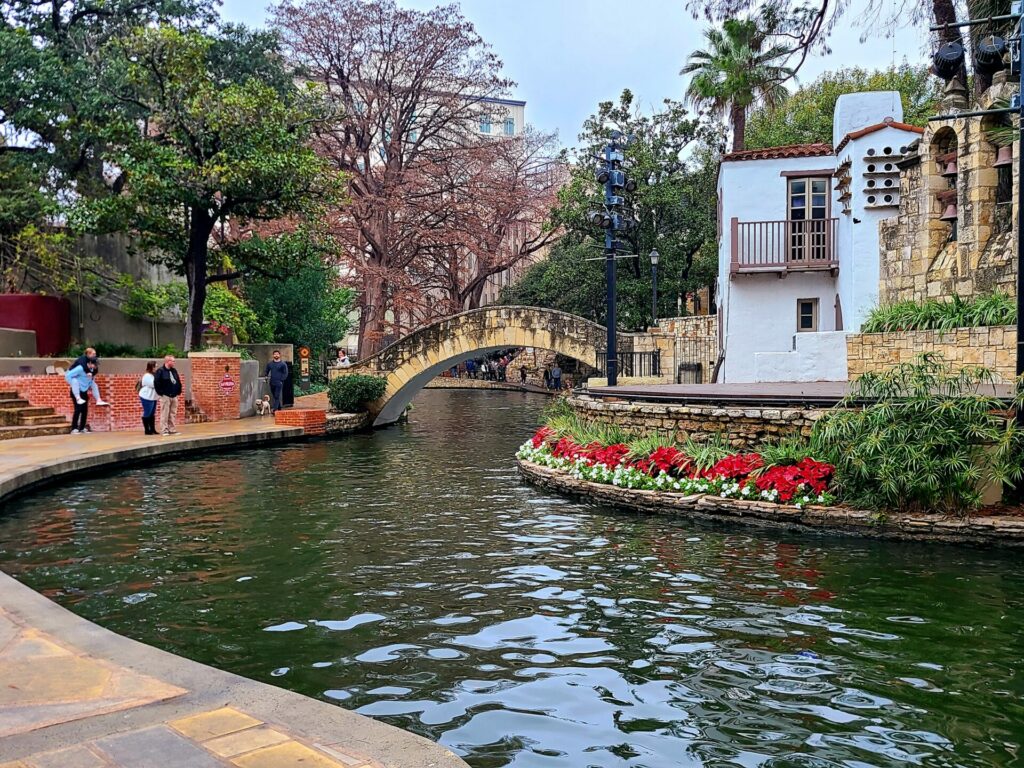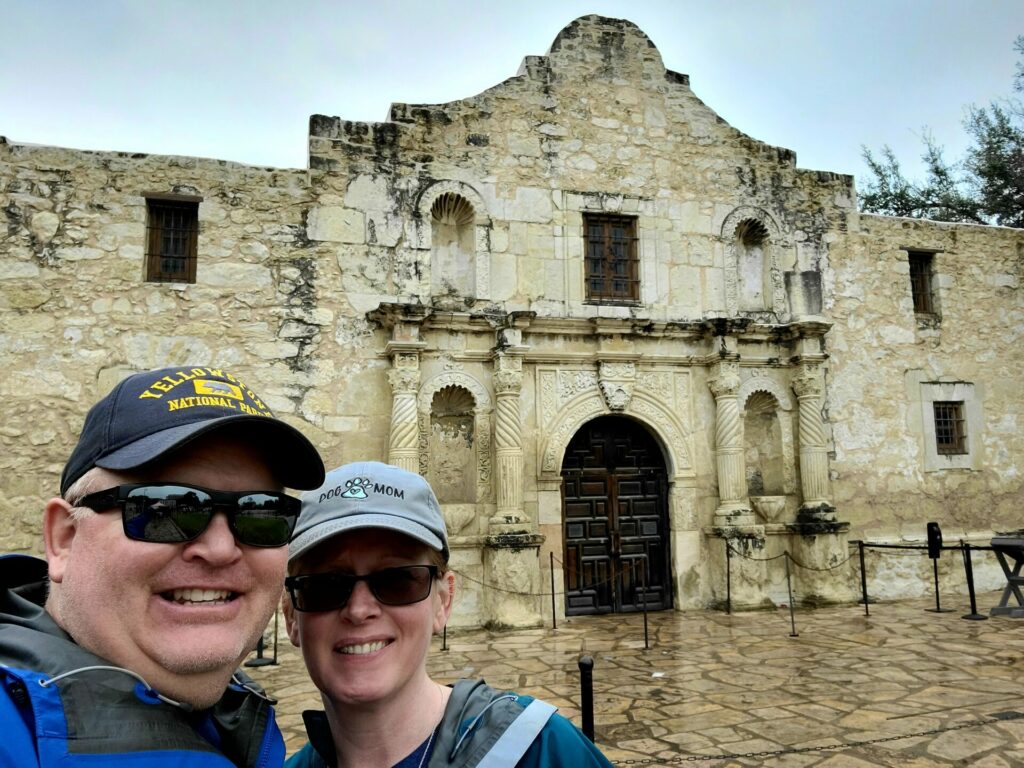 Finally, we got our furniture re-reupholstered. It was a long journey but the work turned out awesome!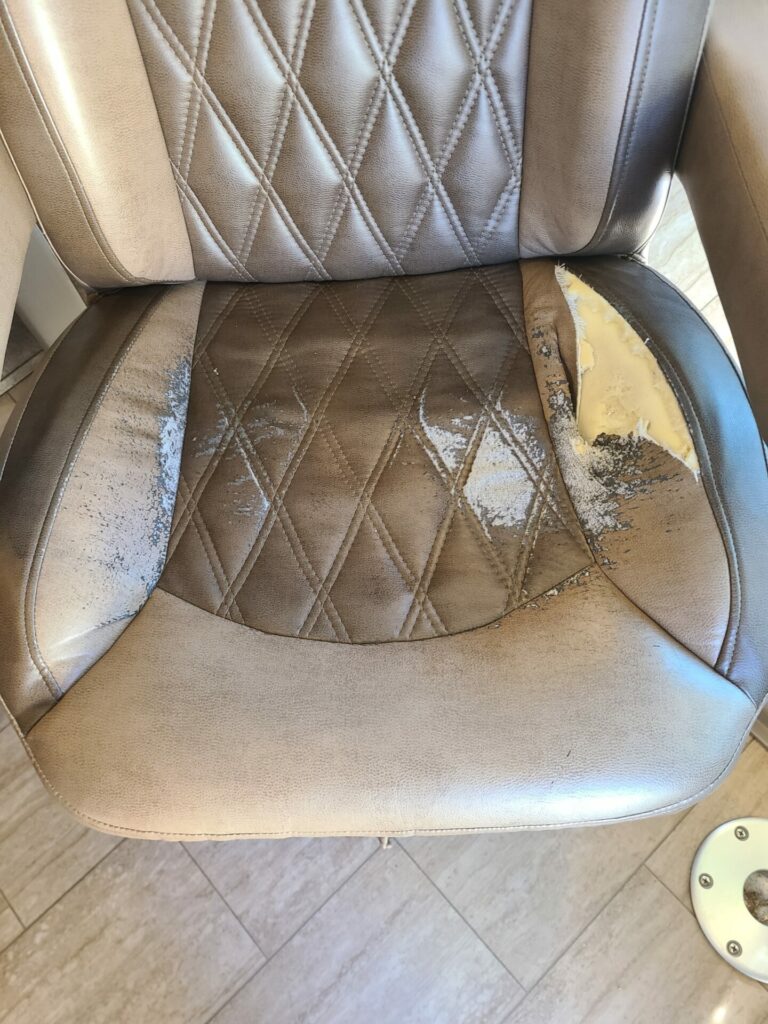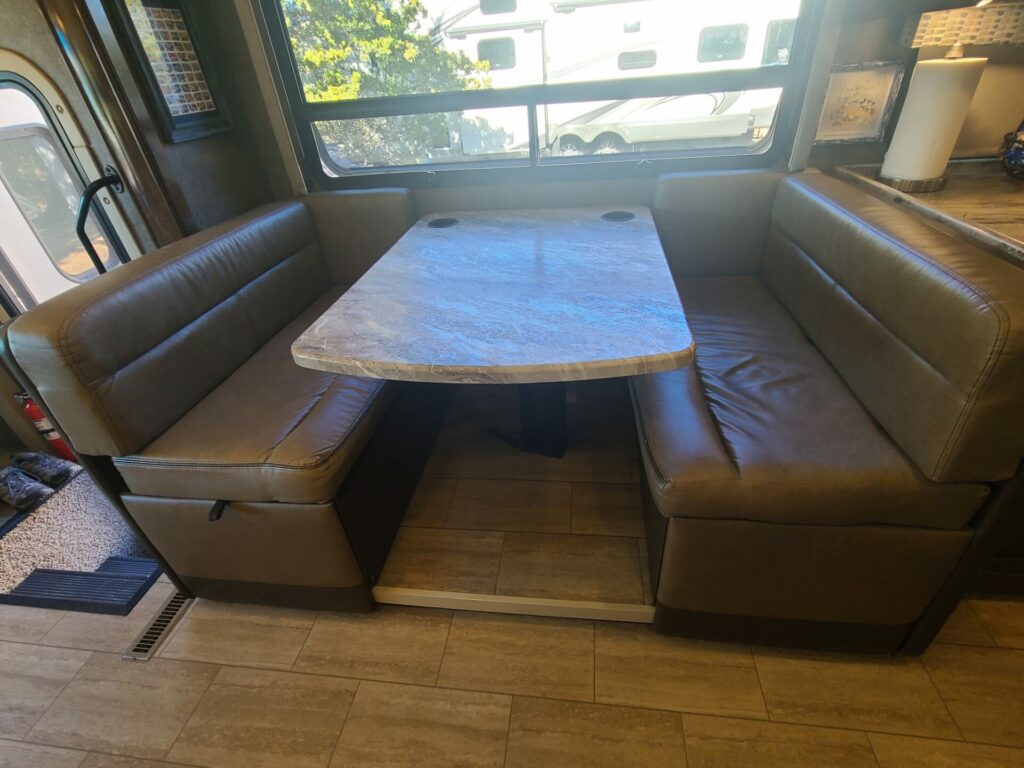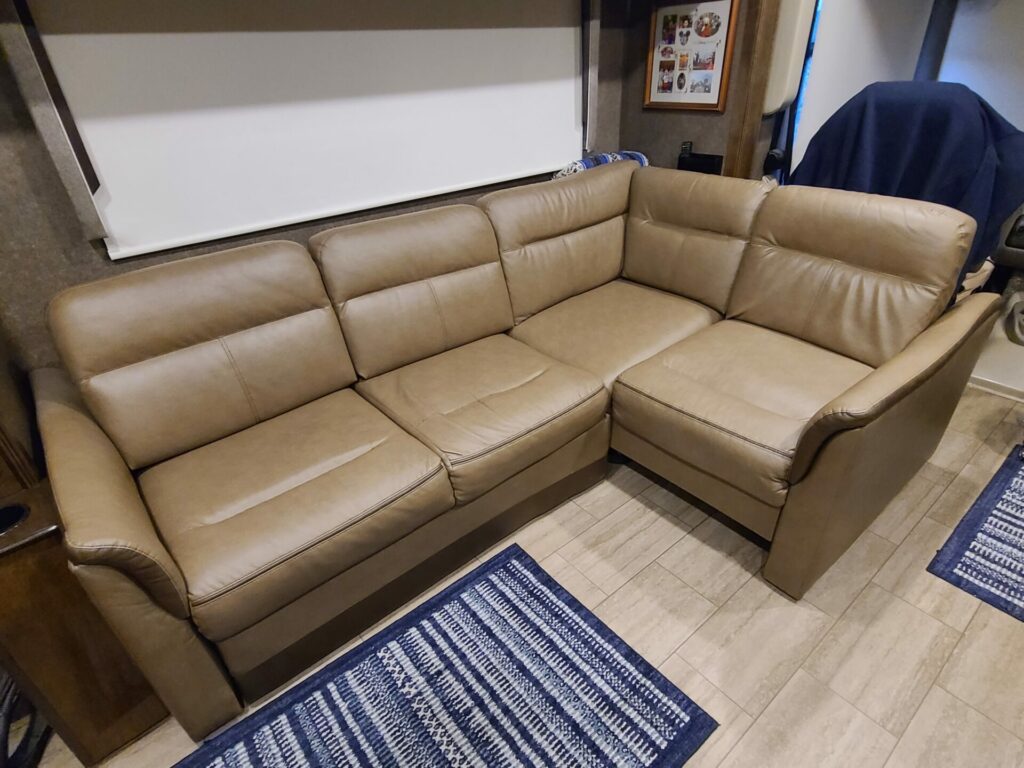 While the furniture was out of the RV we decided it would be a good time to redo the floors too. Lisa never liked the flooring that came with our motorhome. We wanted to put in something better so we went with vinyl plank flooring. It made a huge difference in the feel of our home.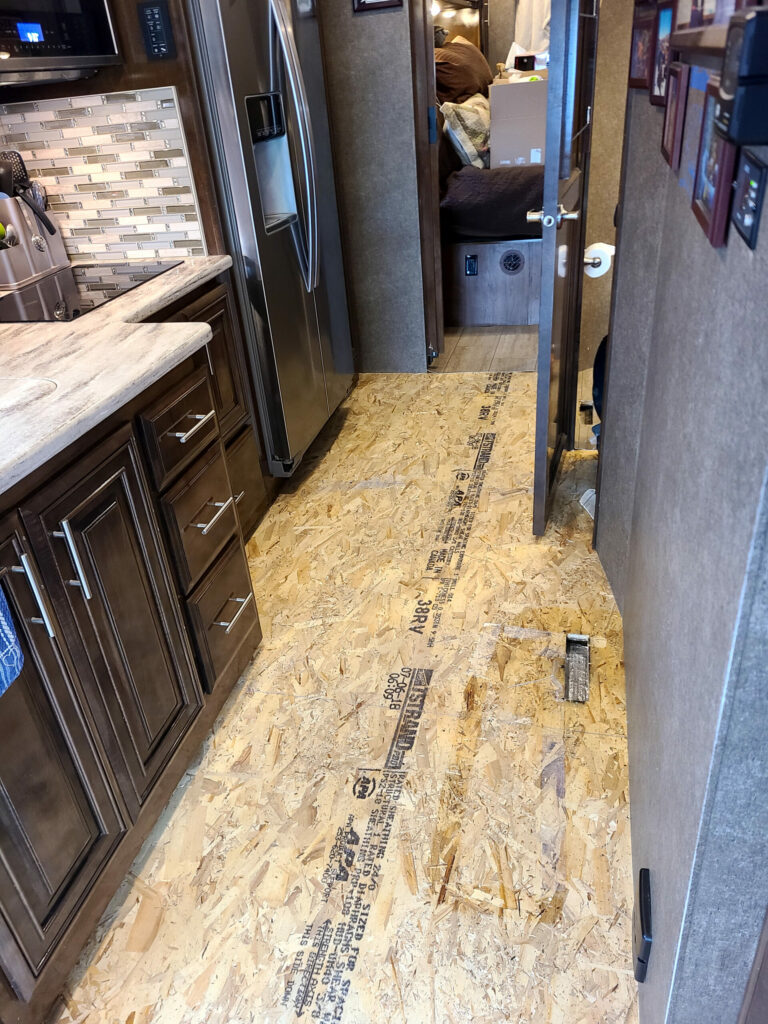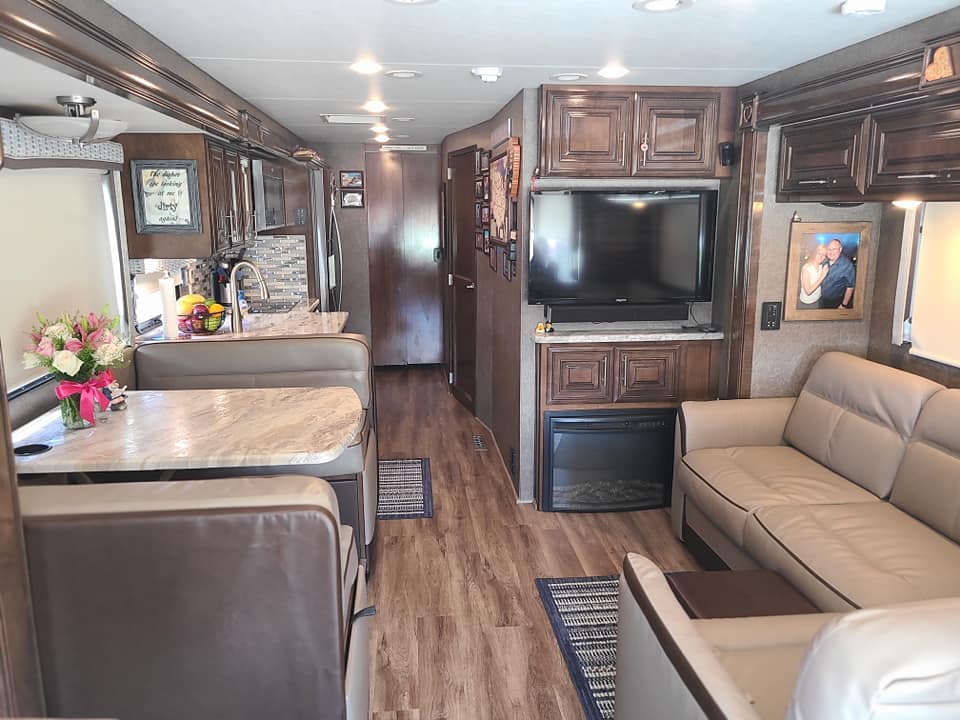 Once all the work was done on our motorhome it was time to head on to the winter Workamping job we had planned. Before we left West Yellowstone we had decided that we would do Gate Guarding in the oil fields of Texas once our RV Upgrades were done.
We got a job working for J&G Security out of San Antonio.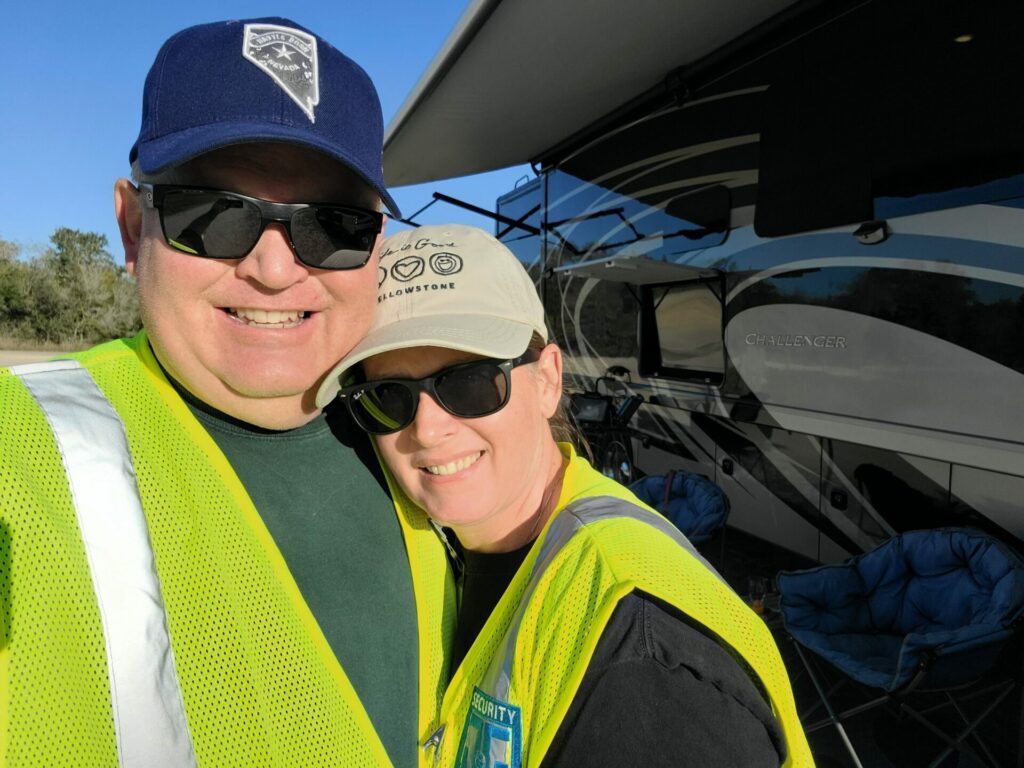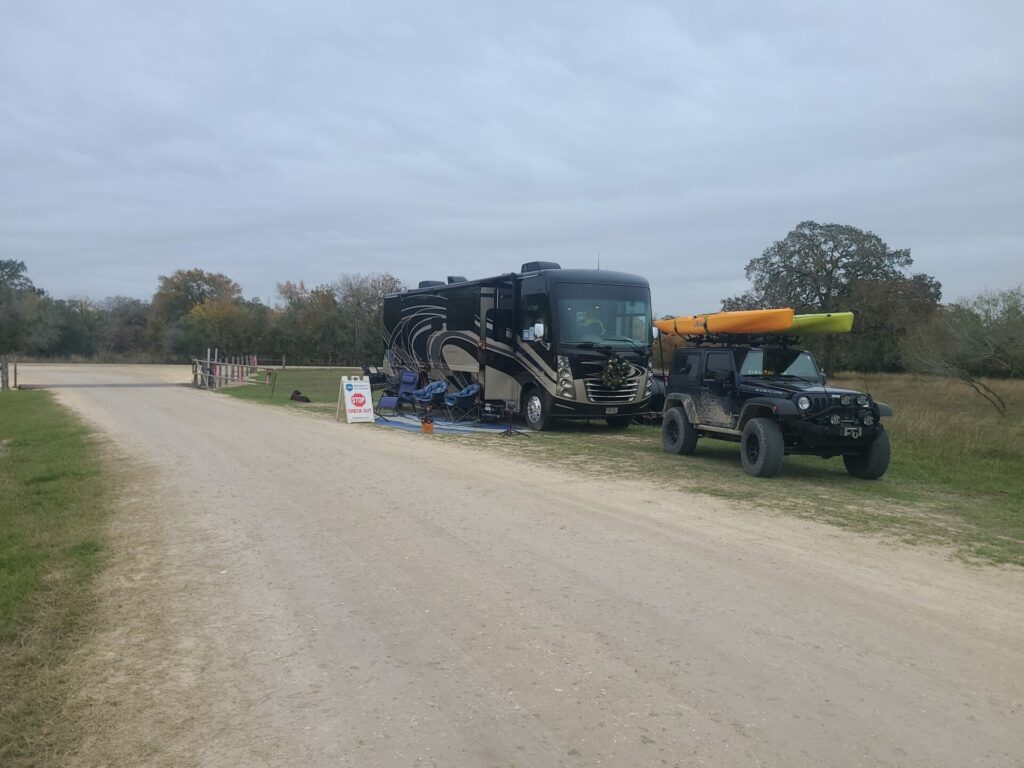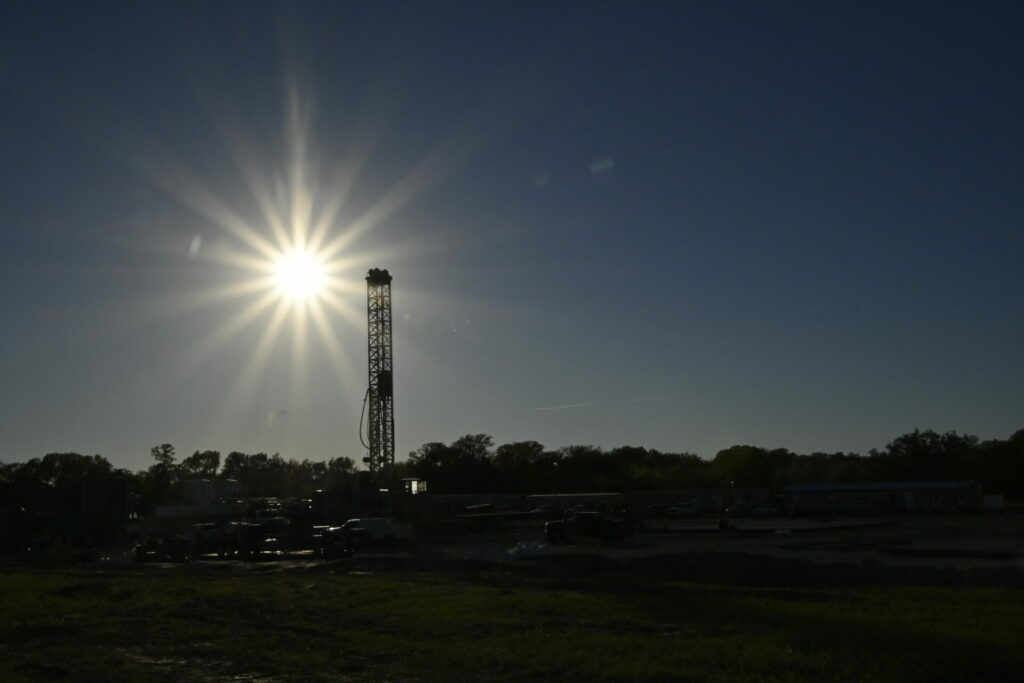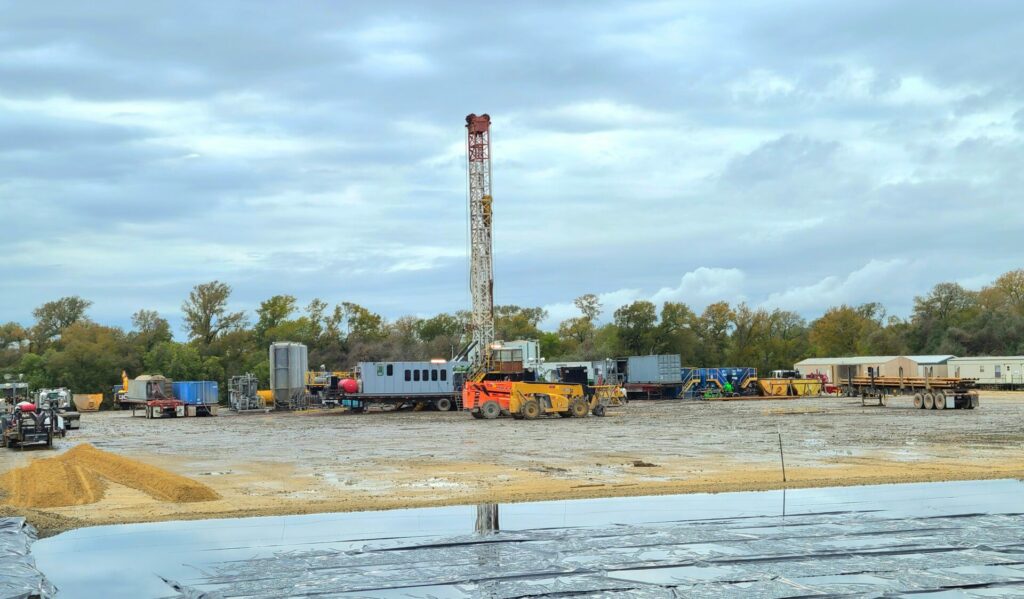 We love gate guarding! Our first gate was at what they call a Spud Rig. The Spud Rig comes in and drills a pilot hole to make it easier for the big oil rig to drill afterward. It goes really fast. They drilled four holes in 10 days. Our job was to log trucks in and out of the entrance on an iPad. It pays good money and it is super easy work. Once the job was done we stayed on site for about a week before they moved us to our second gate.
There is a ton of free time to do other things like reading, watching TV, and working on our blog. The only drawback is that we only get to spend a few hours together since we need to man the gate 24/7.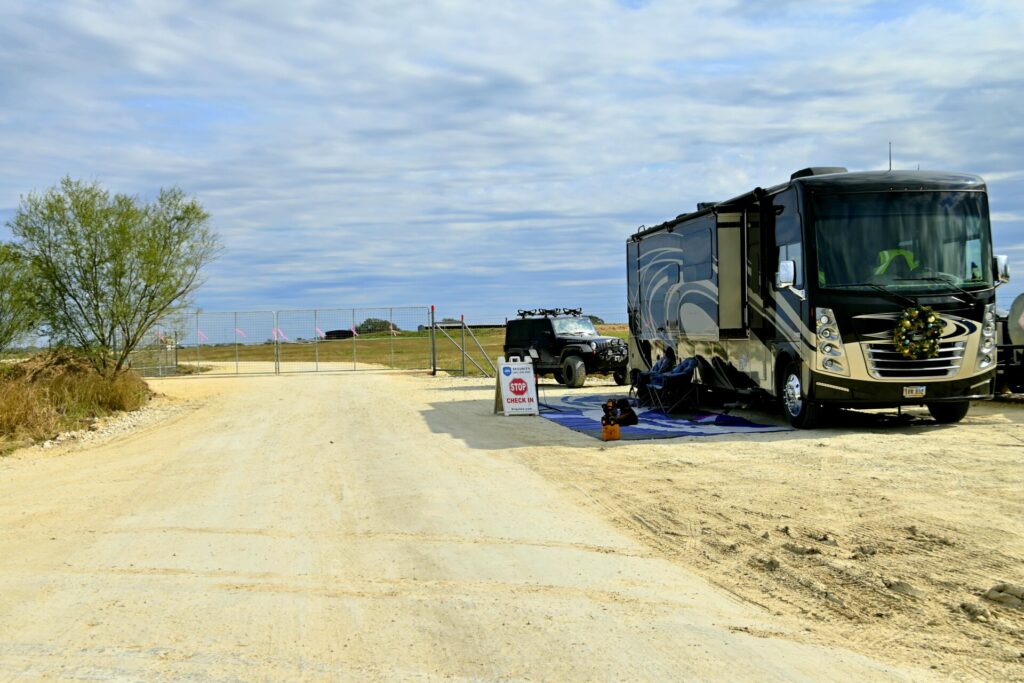 At our second gate, the spud rig already left before we got here. We are just watching over a gate to make sure the animals don't get out. There really hasn't been anything going on since we've been here. Sounds like there won't be much going on there until after the New Year. One drawback to this gate is there is a lot more dirt than at our first one. With dirt comes mud on rainy days.
There are a lot of ranches that raise exotic animals in the area. Lisa loves being able to go out and shoot photos of all that are nearby.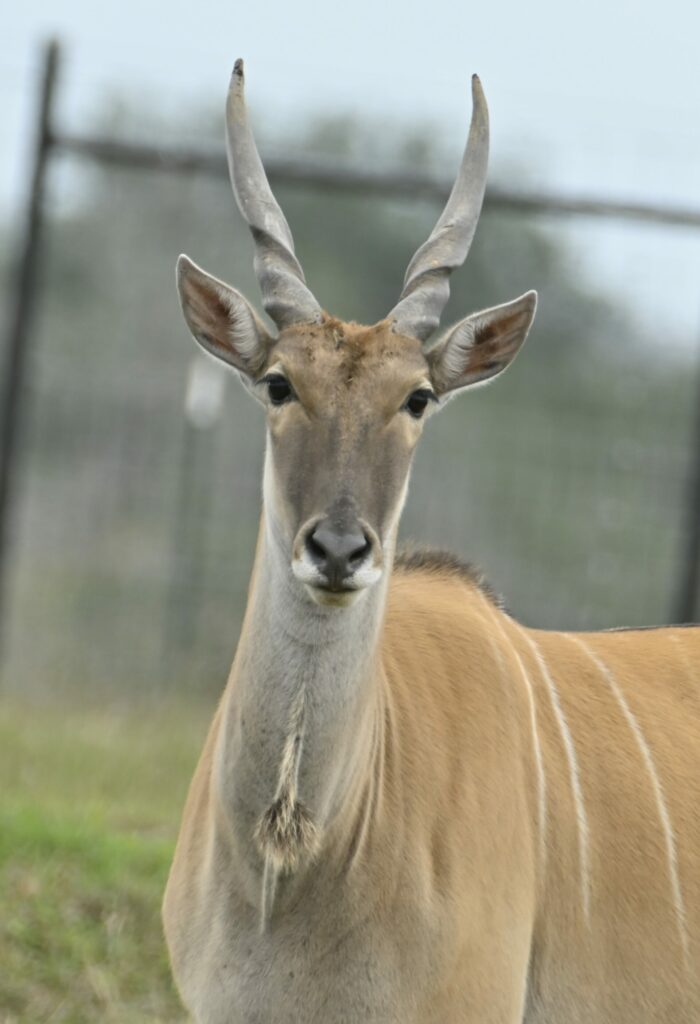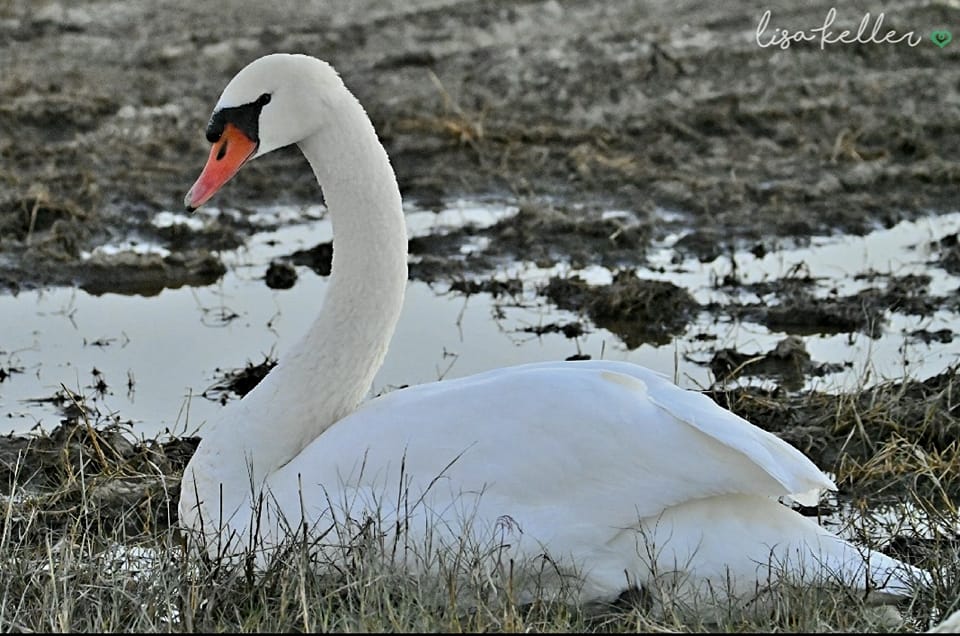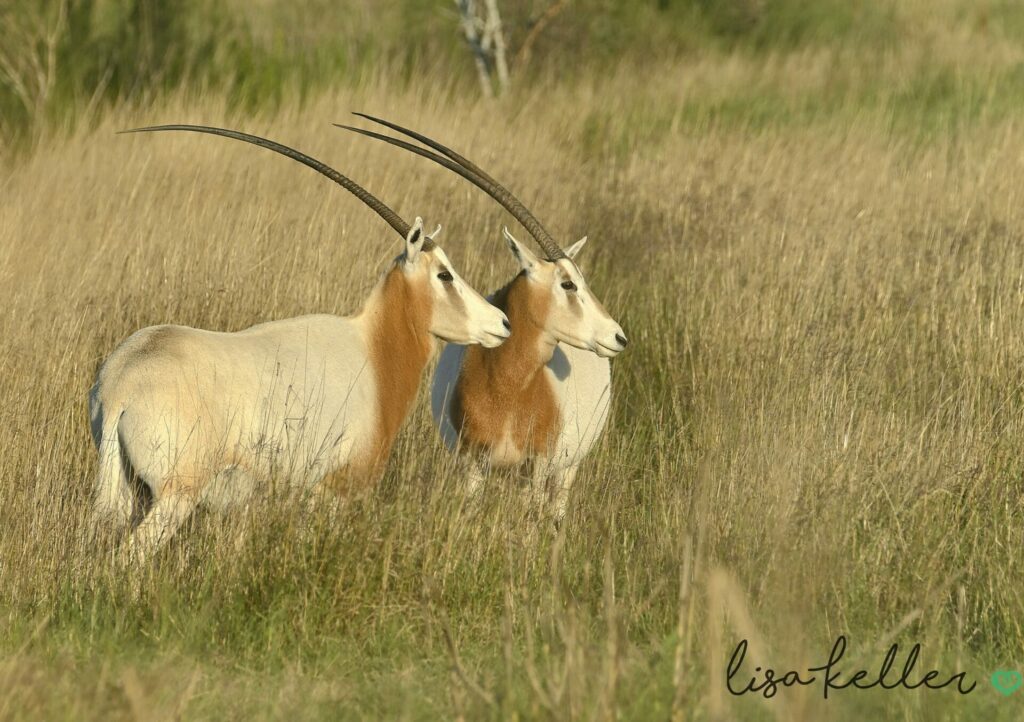 As I said these Wrap-up posts take on a life of their own. 2022 has been a great year. Time flies by so fast but when I do these posts I see all we did over the year. We did so much and there are a lot of things I just didn't have room for here. We plan on doing the gate-guarding thing until about the 1st of June next year.
Our plans for the rest of 2023 are to take the summer off, and travel along the Gulf of Mexico catching the states we haven't been to yet. Head over to Florida and then Northwest for the Great Smoky Mountain Jeep Invasion in Pigeon Forge, Tennessee. From there we plan on a roundabout way to the Albuquerque Balloon Fiesta in October before heading back to Texas for a second round of Gate Guarding. If there is someplace we should see near this route please let us know so we can possibly add it to our plans.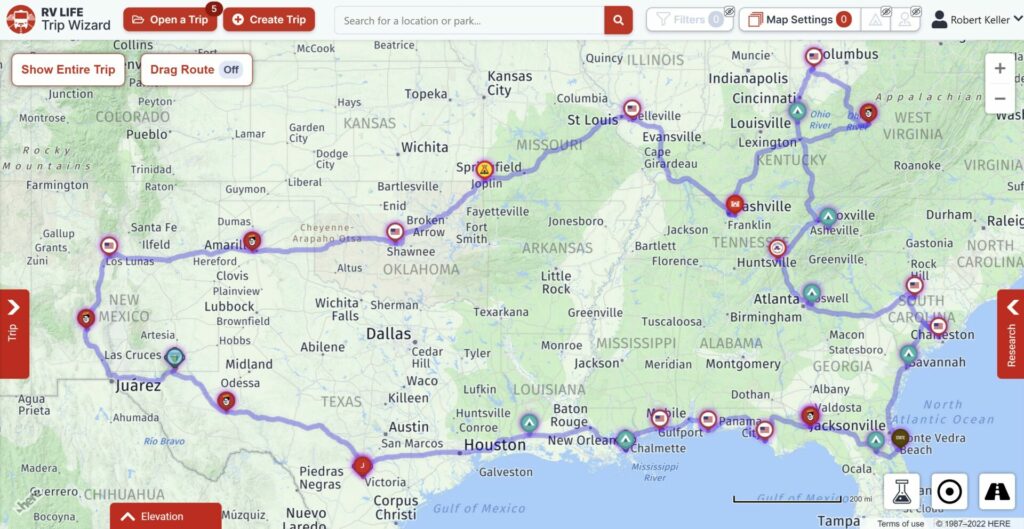 What interesting places have you been to and can recommend? We're always looking for neat out-of-the-way places to put on our list of must-sees. Thank you to everyone that followed along on our journey and thank you for the recommendations for places to see and things to do on our way. We hope you and yours have a happy, and healthy 2023. Here's to new adventures!